This week marked the start of something bittersweet – we transitioned Adriana to her big girl crib for overnight sleeps! It was clear that she had outgrown her bassinet, and I started to feel guilty for putting her down at night in the bassinet when she had this amazing crib mattress to sleep on. We knew it was time. I was a bit emotional about my sweet baby leaving our bedroom, but I think I handled it pretty well and she seems to love her new crib! She slept in a co-sleeper in our bed from months 0-2.5, then we transitioned her to the bassinet next to the bed from 2.5-4ish months and now into the crib this week. I think this gradual transition has worked well as first time parents. She's been napping in her crib for the past two weeks to help get her used to sleeping in that room. We've had no problem putting her down to sleep (she tends to fall asleep quickly these days), but the challenge has been keeping her asleep. As you may know, we've been struggling with the 4 month sleep regression for a while now and she has been waking a lot during the night.
One rather sleep-deprived night, I sent a desperate text to a friend looking for suggestions on how we could improve her current routine. Her first suggestion was to put Adriana down for her first nap 2 hours after waking. We had been putting her down for her first nap much sooner than 2 hours so I figured it was an easy change to try. The other suggestion was that her latest nap should be no later than 4:30pm. Our nap times have always varied each day, but I noticed some days we let her take her last nap around 5-5:30pm which I now think was probably too close to her bedtime. Her last nap is now around 4-4:30pm. So we tried both of these things out and we saw an improvement almost immediately. She now takes 3 naps a day rather than 4. We've had two great nights where she is up around midnight and then not again until 5:30-6ish. It's still too soon for me to say if she's back on track as we've had some rough nights too, but I definitely think we are making p-r-o-g-r-e-s-s! The nights/days where she sleeps well I notice such an improvement in her mood. It's like night and day! When she doesn't sleep well she is cranky and easy to cry all day long. Well-rested babies are happy babies for sure.
It's so great to be able to use the nursery at long last. The nursery is used so much now – not just for all of her sleeping, but diaper changes, nursing, etc. It's nice to consolidate things a bit more. Eric moved my glider chair back up into the nursery again. It's such a peaceful room and it brings me so much joy! [Here is our nursery tour in case you missed it.] I love our peaceful moments together in there.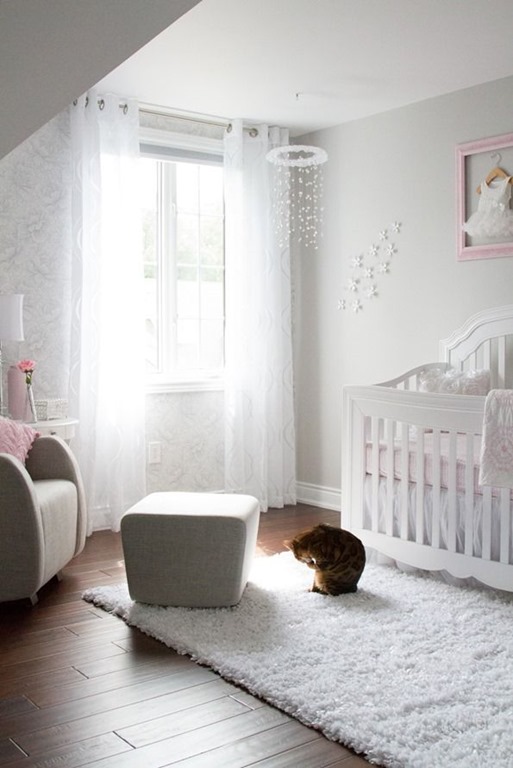 In my last update a couple weeks ago, I wrote that it would be any day that she'd roll from her back to her tummy and sure enough she did it the day after I wrote the 18 week post. Once she figured out how to roll from back to tummy she became obsessed with doing it. As soon as I'd put her down on her activity mat, she would instantly lift her legs, roll to the side and flip herself over. It was THE thing to do!! It's been almost two weeks of her rolling over non-stop and she finally seems like she is getting bored of it. Who knows what she'll do next.
Adriana seems to get bored easily these days and always has to be doing something, so we usually rotate between a bunch of activities when she is awake. She is now more interactive with her activity centre, exersaucer, toys, etc. Once she gets bored of one thing, we're onto the next. I can only imagine how much energy she is going to have when she's actually crawling/walking, etc!
Her new fav. thing is sticking out her tongue and blowing bubbles (I read this is called "blowing raspberries"). We do it back and forth and she thinks it's quite the thing. Apparently this helps with language development. She also makes a high pitched squeal when she does it sometimes. Lately we love to blow on her stomach making a vibrating noise and she giggles like crazy…it's way too much fun. It's amazing how much she interacts with us now. I miss her so much when she sleeps! It feels like Christmas morning when I go into her room to get her each morning.
Nursing sessions have decreased in duration lately. We are averaging about 1.5 hours of nursing per day. This is down from 5 hours when she was a newborn. Huge change! I think she's more efficient at getting the milk out now. She loves to squirm and wiggle her legs during feeds. She still loves to stop eating and look up at me with a goofy grin and wide eyes. That's probably my favourite thing in the world…it just melts my heart to see her gazing up at me with such wonder. Sometimes we go into the nursery and keep the light off to minimize distractions if I feel like she needs a good feed.
I recently picked up a new breastfeeding pillow last week called My Brest Friend. Many of you recommended it way back when I was pregnant. For the past 4 months I've been using the Boppy Pillow which is also very popular. I didn't find the Boppy Pillow worked well when Adriana was a newborn (she was just soooo tiny and was too low even when placed on the pillow – but that could've also been my own awkwardness), but once she grew I started to enjoy it more. The one thing I don't like with the Boppy is that it's hard to use when I'm alone (there isn't a strap around the waist so it often slips out of position when I place her down) and it doesn't have back support so I had to prop two pillows behind my back while nursing. I bought the My Brest Friend Pillow because it has good reviews and it has a belt with a padded back support – genius!! So now when I nurse, I strap the My Brest Friend pillow around my waist, then pick her up, and then sit down and position her. It doesn't fall off and works great. At first I hated it because it's much more stiff compared to the soft and pillow-like Boppy, but I've gotten used to it now and Adriana doesn't seem to mind it either. I also love that it has a pocket in the front where I can stash my phone or water bottle! It's like a tool belt for nursing! haha.
I've done well with exercise since I got back on track with it a few weeks ago (mostly treadmill hill workouts and core work). I figured out that sleep deprivation doesn't mesh well with morning workouts, so I moved my workouts to the early evening. Oddly enough, I have much more energy around that time of day so I'm going with it. It's funny how a simple change in workout time can make such a difference.
Have I mentioned that I can't wait until spring/summer? Yes, yes I have. February is a hard month, isn't it? A lot of my mama friends and I are feeling the winter blahs lately. It's hard not being able to get out as much, but on the positive side I think the days are slowly getting longer!! I can't wait!
I hosted our monthly potluck this week and it was so much fun to get together with the girls. We got to meet the newest lady in the group – sweet Liliana, just 7 weeks old! It's hard to believe that there were 5 baby girls born into our group in 2014. What a wild year! I am so grateful for my friends…they are a great support system and I don't know what I'd do without them.
Reading/Watching:
What the experts say about introducing solids (and why I'm in no rush) – Kelly mom

I watch this video whenever I need a good laugh – Jim Gaffigan via YouTube