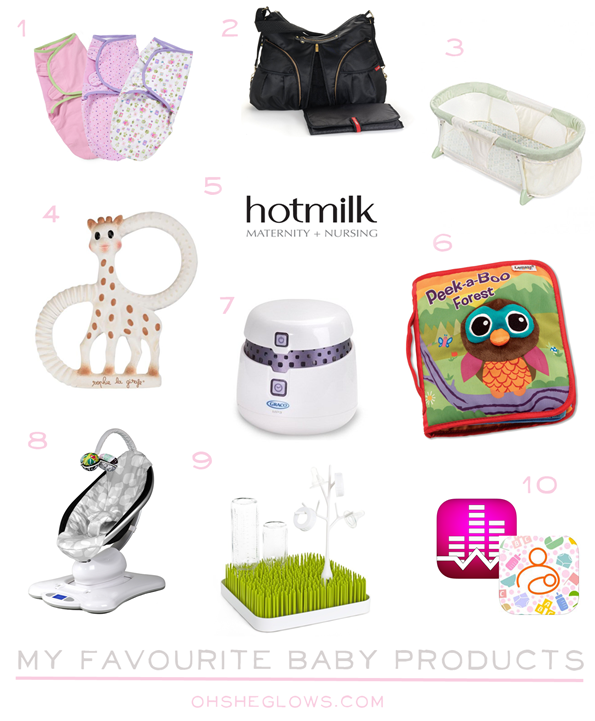 I remember feeling so clueless as to what I should buy and register for when I was pregnant. Babies and mamas are so unique, so there will never be a one size fits all list. That being said, I always enjoy seeing the products other moms rely on each day! I hope my favs will spark some ideas for you too (or maybe baby shower gifts for friends!). The items below were either purchased by us (or in the case of the apps – were free) or were baby shower gifts.
I only put items on this list that 1) we use (or used) daily, and 2) we'll save for a future baby or would buy again.
1. Summer Infant Swaddleme Organic Adjustable Infant Wrap
These swaddlers have velcro sides which help keep the baby secure, warm, and cozy. Perfect for the baby who loves to wiggle out of traditional swaddle blankets. They also have quite a bit of leg room so baby can still rock his/her natural frog leg pose. Might I add they are SO easy to use…even when you are groggy at 4am after 2 previous wake-ups. Once Adriana hit around 3 months, we started to swaddle her with her arms out so she could soothe herself during early teething. Last week, we also started to use this sleep sack during naps with great success (her naps have gone from 25-30 minutes to 45-60 minutes). And holy crap, it makes her look like a cute fluffy marshmallow…I die every time!
This diaper bag is practical without looking like a typical diaper bag. It's a good size too – not huge, but not too small. I adore this bag. Eric doesn't even mind carrying it around. It comes with a small fold up change pad, 2 insulated bottle pockets, a phone pocket, an expandable interior, and more.
3. Summer Infant By Your Side Sleeper
This co-sleeper gave us the peace of mind that Adriana was safe and secure, but still within arm's reach. She outgrew it at 3 months (sniff, sniff!) and then we transitioned her to the bassinet, but it was great while it lasted. It folds up so you can travel with it too; I managed to fit it into my suitcase when we went to Alberta for Christmas and we were so happy we brought it! We have a king-sized bed so we still had plenty of room – I'm not sure how well it would fit in a queen so I recommend taking measurements first. My main complaint with this co-sleeper is that the sides are quite high. I wish they were lower to make reaching in to get the baby easier. This co-sleeper might be a better option. The base also moves so once she started doing body slams with her legs, we had to stuff a blanket under the base to prevent it from making a loud noise when it hit the mattress. lol. #newbornproblems
4. Sophie Giraffe Teething Ring
We have the regular large Sophie and this smaller teething ring. At this age, Adriana prefers this smaller teething ring as it's easier to hold and she can fit it in her mouth a bit easier. I'm sure as she grows she will take to the larger Sophie too.
5. HotMilk Maternity + Nursing Lingerie
After wearing a frumpy nursing bra for weeks on end that I absolutely loathed (I seriously want to burn that thing), I was determined to find beautiful yet functional nursing wear. I searched for eva! Enter HotMilk. I especially love the Eclipse nursing bra. Dare I say that I feel a bit like my old self in it and it's functional at the same time.
6. Cloth books
Adriana LOVES her cloth crinkle and peek-a-boo books! Once she got into her scratching and grasping phases these books became instant hits.
7. Graco Sweet Slumber Noise Machine
We use this every night and it does its job. We also brought it with us during holiday travel which came in very handy. You can plug in your MP3 player to use your own music (which I admit, we've never done) and it has 12 of its own sounds to select from. It also has a blue night light on the top which comes in handy during middle of the night diaper changes.
8. Mamaroo
I know that some parents say their babies don't like the Mamaroo, but for the babies who do like swings it's a lifesaver! Adriana used to nap in it a lot before she got into that stage where she needed to nap in a dark, quiet room. It has different types of swing motions, a built-in white noise machine, and varying speeds. I think you can also plug in your MP3 player, but we never used this. Tip: Buy a gently used 'roo on Kijiji to save some cash! You can also sell it for a good price when you are done with it. She is getting to the point where she is almost grown out of it now (around 4 months), and she kind of gets bored in it now that she's more active so we don't use it much anymore. We will definitely save this for a future baby as I expect it still has a ton of life left in it. Our only complaint? They don't make an adult-sized version. FAIL. hahahaa.
9. Boon Lawn Countertop Drying Rack + Boon Twig
I love this drying rack for bottles and pump parts! It adds a fun pop of green on the countertop and it works really well to hold bottles and supplies upright without any fuss.
10. Free Apps
This list wouldn't be complete without sharing my favourite baby apps. The first is the White Noise Lite (great for travel) and the second is the Baby Tracker app (amazing for tracking naps, breastfeeding, pumping, growth, diaper changes, etc!). Both are FREE with upgrade options (but I never bothered to upgrade).
Now tell me, what are your favourite baby products? Mamas with older babies – which products do you think would be helpful for the 6-12 month range?
Stay tuned for Part 2 in coming months!