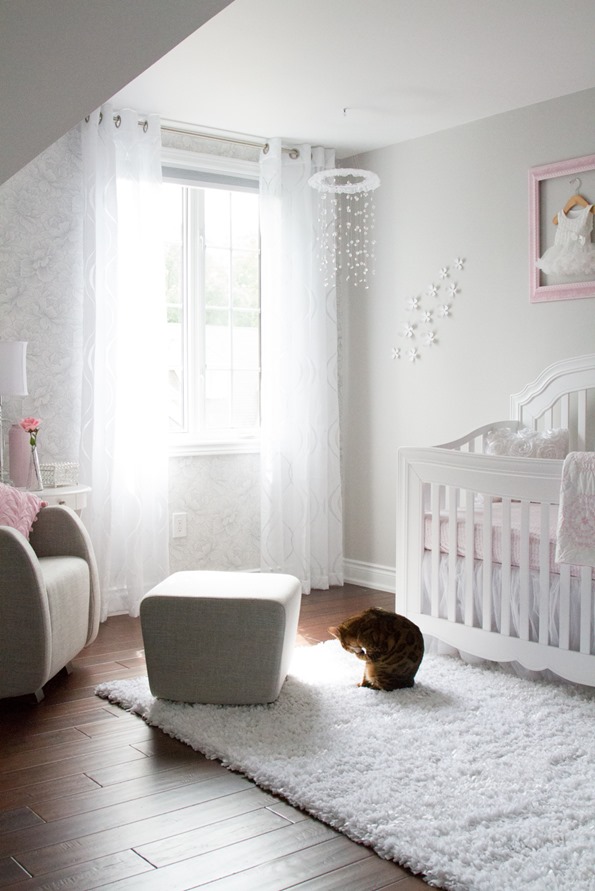 After going back and forth many times on how to decorate Adriana's nursery (check out the variety of styles on my Pinterest board!), I finally settled on this soft pink and gray theme. It's whimsical, airy, and feminine which is exactly how I hoped it would turn out. Well, that's after I changed my mind on my original bright purple, yellow, and pink colour scheme. This is the first room I've ever designed on my own, and I'll be the first to admit that colour schemes and décor do not come to me naturally. At all. I'm pretty sure I drove Eric crazy with my major preggo indecision. But if a preggo girl can't drive her hubby cray cray what can she do??
This nursery is a mix of DIY creations and new pieces. The crystal mobile is the DIY project I'm most proud of. I also bought a lot of used picture frames, removed the glass, and painted them for the collage above her crib. The dresser was purchased from Goodwill, sanded, and painted. Lots of small and large projects went down. We have still yet to use the nursery because Adriana sleeps in our bedroom. If this nursery was currently used, it would probably look like a tornado went through it (much like our master bedroom has since we brought her home!). We also moved the glider chair into the family room where it gets used all the time. The change pad, her current clothing sizes, and the baby monitor are all in our bedroom now too. As we all know, the reality is often much different from the original plan/vision!
But what's more important than the design is what this room means to me. For months during my pregnancy, I dreamed of the day I would bring our baby girl home for the first time. It was an emotional experience to finally hold Adriana in her nursery after months of eager (and nervous) anticipation. I may have even teared up a little in all of my hormonal glory.
Love her.
Enjoy the nursery tour!
As you'll see, the paint on the wall looks different based on the time of day the photo was taken (it's warmer in the morning and cooler as the day goes on), so keep that in mind as I shot these pictures at random times of the day. I always recommend testing paint colours on the wall and then looking at it different times of the day to be sure it will be a good fit. While I do enjoy this paint colour (Benjamin Moore Natura in "Barren Plain"), I think next time for a nursery I would go with a warmer undertone because I find it a bit on the cool side. I also listed retailers for everything I could remember at the bottom of this post.
This photo below was taken after we ripped out old carpet, put in hardwood, and primed the walls. Unfortunately, I can't find the original before picture for the life of me. Just picture peach walls and really dingy, old carpet!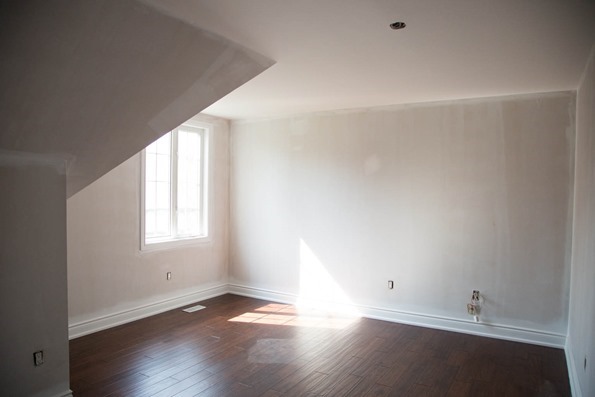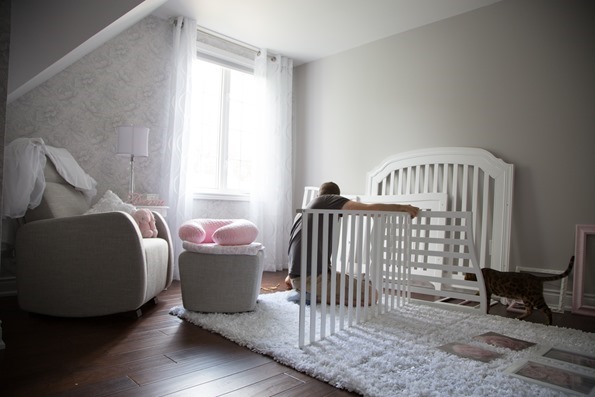 As you'll see our cat Sketchie, oversaw the entire project! There wasn't a day when he wasn't in here with me.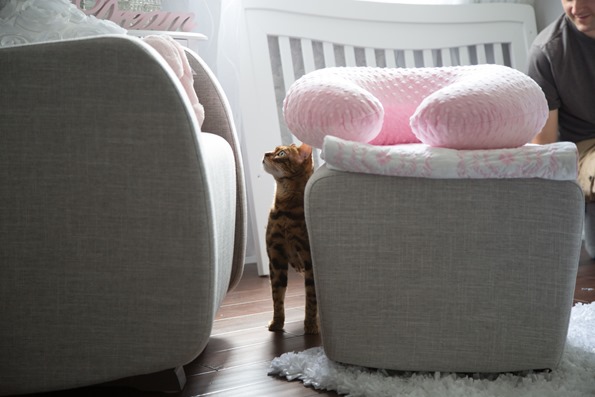 Our original idea was for Eric to build a bookcase for the nursery, but we ran out of time. So I loved this idea for a bookshelf that I saw on Pinterest. These are picture frame ledges from Ikea! The small size was too small and the large size too big, so Eric ended up trimming some off so it was a perfect fit. Then I touched up the ends with white paint.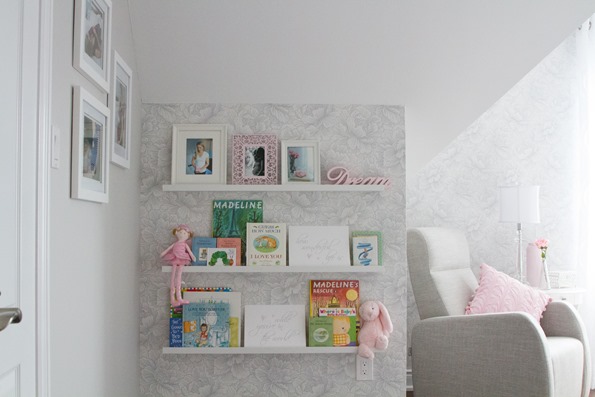 I also hung some of my favourite maternity photos next to the book shelf thingy. I'll probably end up replacing some these photos with photos of Adriana as she grows, but it works right now!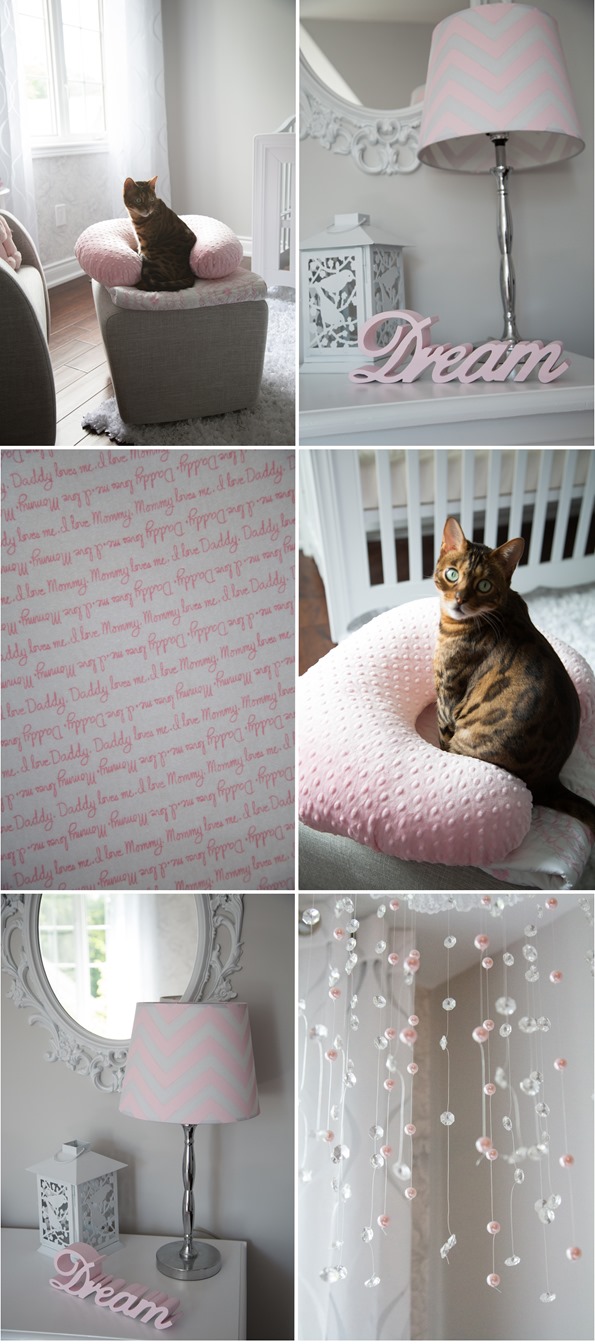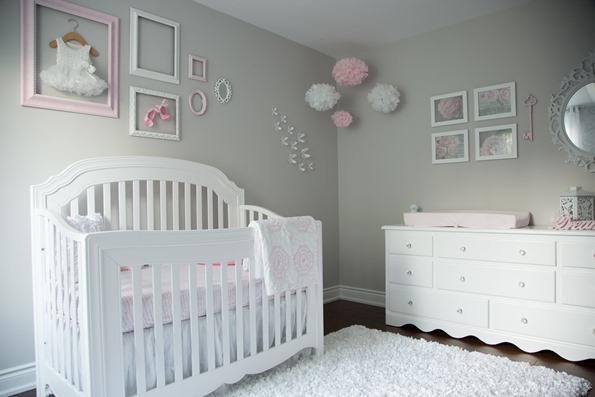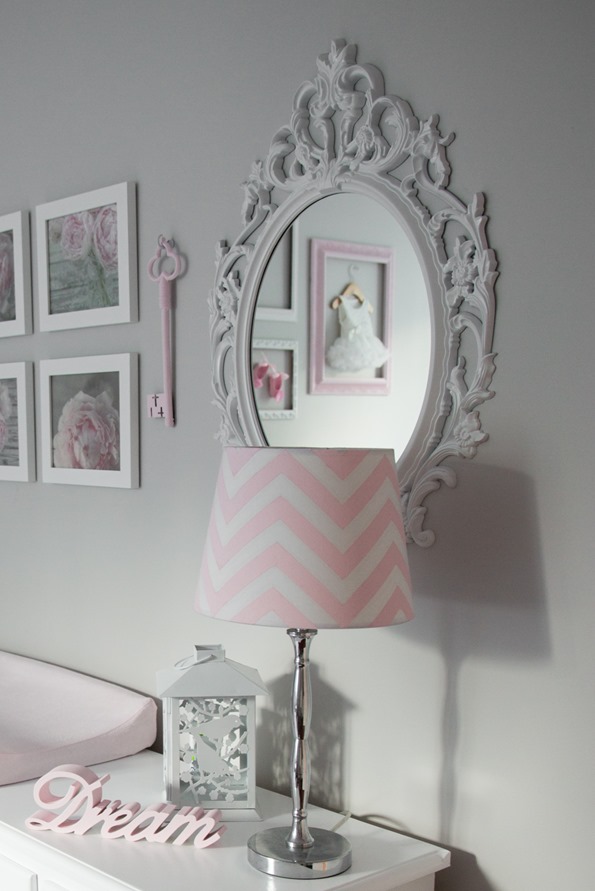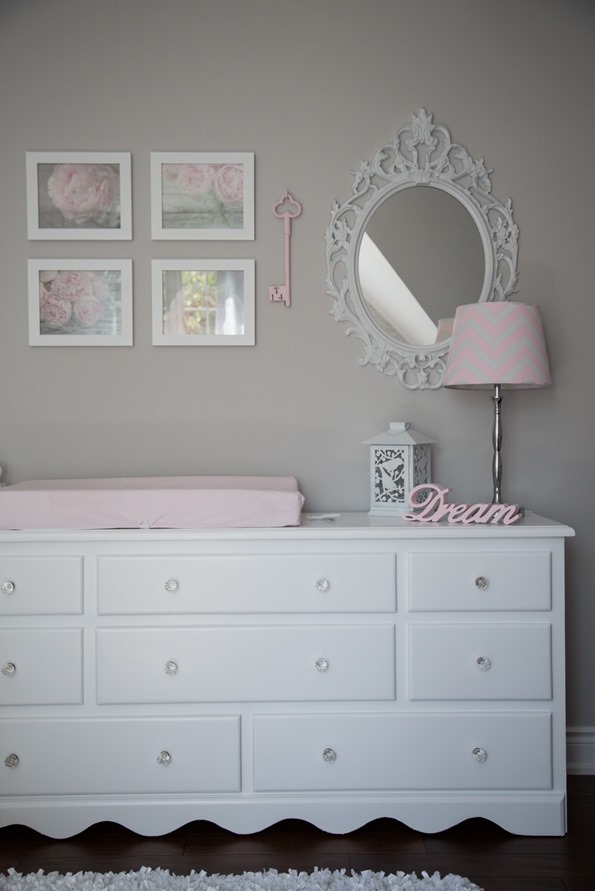 When I received Adriana's newborn photos (taken at 1 week old) I decided to swap out the peony photos for her newborn shots (at least until I get some more frames hung). Cuteness overload!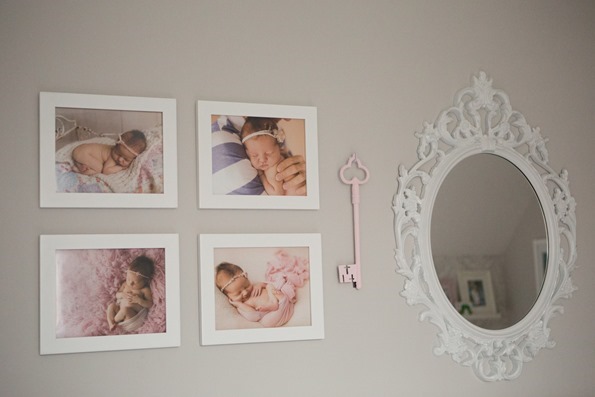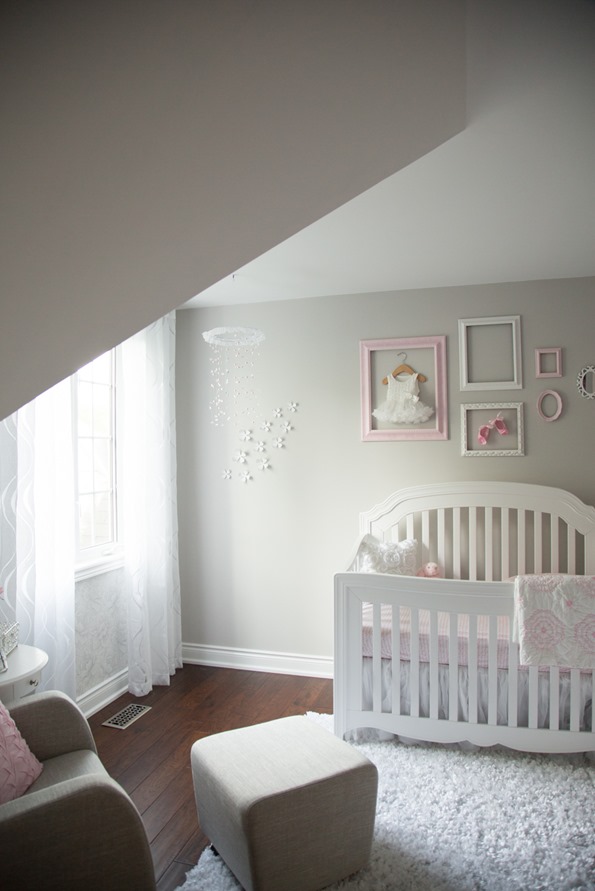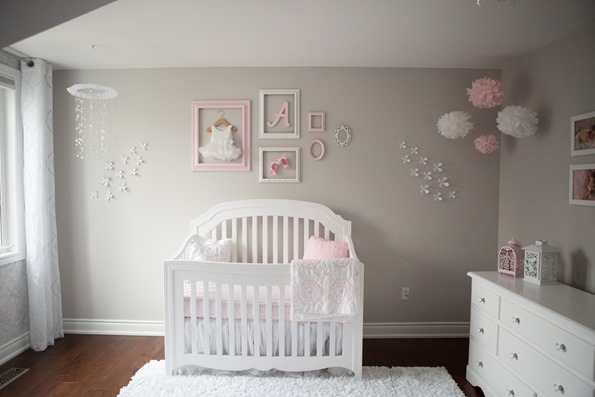 Call me crazy, but I'm already looking forward to designing the room again when Adriana gets a bit bigger and wants something different. If she's anything like I was as a kid, she'll want neon pink, orange, green, and yellow. #bringbackthe80s haha!
Paint – Benjamin Moore Natura in Barren Plain

Wallpaper – Graham and Brown, "flourish"

Dresser – Goodwill (sanded and painted)

Chevron lampshade – DIY project

White lantern – used

Mobile – DIY project (I bought faux crystals from Ebay and other supplies from Michaels)

Crib – Natart (thanks mom!)

Glider chair – Dutailier

White dress on wall – Ebay

Wooden letter A on wall – Michaels (I painted it pink)

Curtains – Linen Closet

Frames above crib – Goodwill

Other frames – Michaels and Ikea

Book Shelves – Ikea (picture frame ledges)

Chandelier – unknown

Pink change pad cover – Babies R Us

Umbra Wallflower Wall Decor – Kitchen Stuff Plus

Mirror – Ikea UNG mirror in black (Eric spray painted it white)

Pull down blind – Home Depot

Lamp – Homesense

Maternity and newborn photography – Sarah Martin Photography

"Tulip Shag" Rug – Home Depot

White nightstand – Walmart

Faux crystal dresser knobs – Home Depot

White Tulle Crib Skirt – Pottery Barn

Crib Quilt – Pottery Barn "Veronica"

White and pink pouf balls – Etsy

Pink Peonies photography – Etsy

Boppy pillow cover – Etsy

"Dream" accent – Winners (I painted it pink)