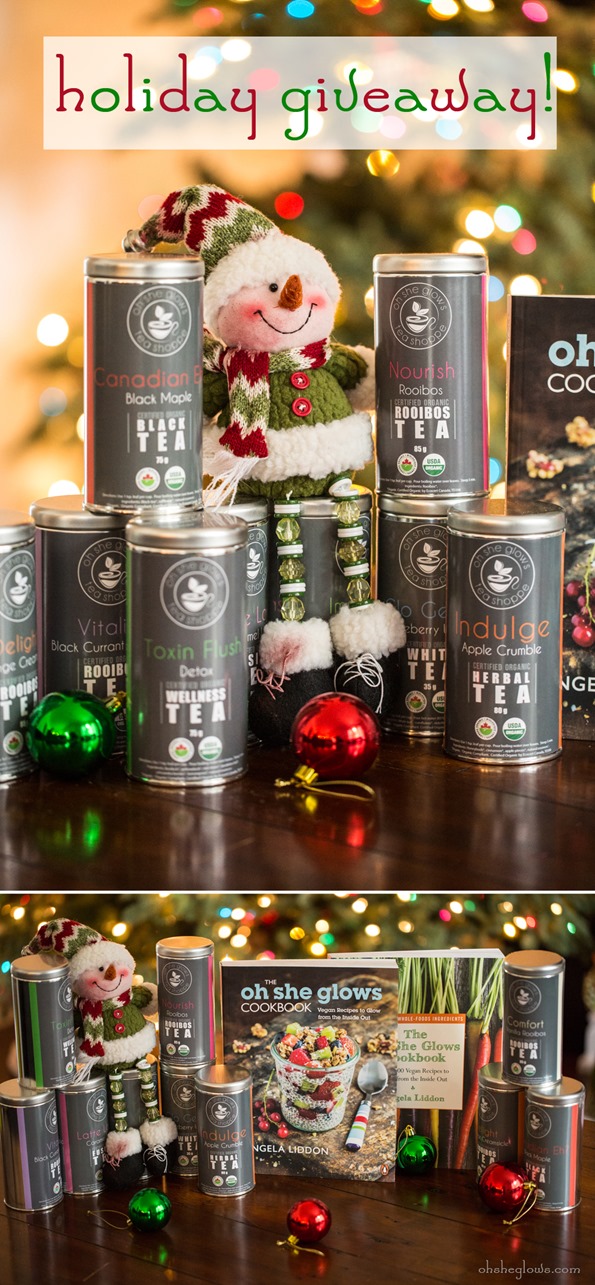 Tea and cookbooks make me veeeeeery happy. In fact, they are two of my favourite things. I like nothing more than to sit down with a few cookbooks, a hot mug of tea, and get lost in the cozy.
For the holidays, I've put together this giveaway as a thank you for all your amazing support this year. I hope you are as excited about this giveaway as I am!!
In this huge gift pack, you'll find:
1) One signed copy of The Oh She Glows Cookbook! I will personalize it however you wish. Whether it's for yourself, your partner, veggie-lovin' best friend, or your vegan skeptic parent who is trying to make some healthy changes in 2015…this cookbook has you covered. Bonus: You choose whether you receive the US or Canadian cover!

2) Ten, yes 10 (!), tins of the best-selling certified organic loose leaf teas from The Oh She Glows Tea Shoppe! (If you don't know what I'm talking about, see my original post). That is a boat-load of tea, my friends! If you are feeling generous you can gift a couple to the very special people in your life or heck, throw a tea party (I recommend serving some ginger cookies too). You'll receive: Canadian Eh? (Black Maple) // Delight (Orange Creamsicle) // Toxin Flush (Detox Wellness Blend) // Vitality (Black Currant Rooibos) // Indulge (Apple Crumble) // Comfort (Vanilla Rooibos) // Nourish (Rooibos) // Glo Getter (Blueberry White) // Latte Lover (Caramel Latte) // Immunity (Cold & Flu Wellness Blend).
This contest is open to anyone in Canada and the US (I'm sorry we can't ship overseas at this time even though I would love to in the future!). If you are randomly selected as the winner, we will ship you this awesome gift pack just in time for the holidays so you can kick off the New Year in glowing good style! Awww yea.
P.S.- Snowman doll not included. He's like my best buddy and you aren't going to take him from me. We can negotiate the bulb ornaments though.
For the 6 ways to enter, see the Rafflecopter giveaway below!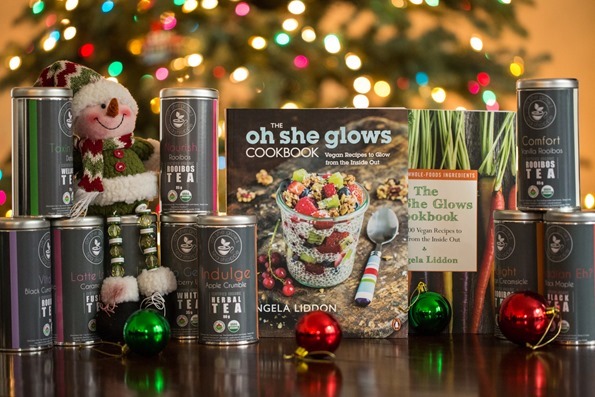 Pssst! The Oh She Glows Tea Shoppe currently has a 20% off sale on all of our loose leaf teas until Sunday December 14th! Rumour has it there is also going to be a Boxing Week sale going down, so be sure to check back and follow us on our Facebook page for the latest updates.
Cheers!