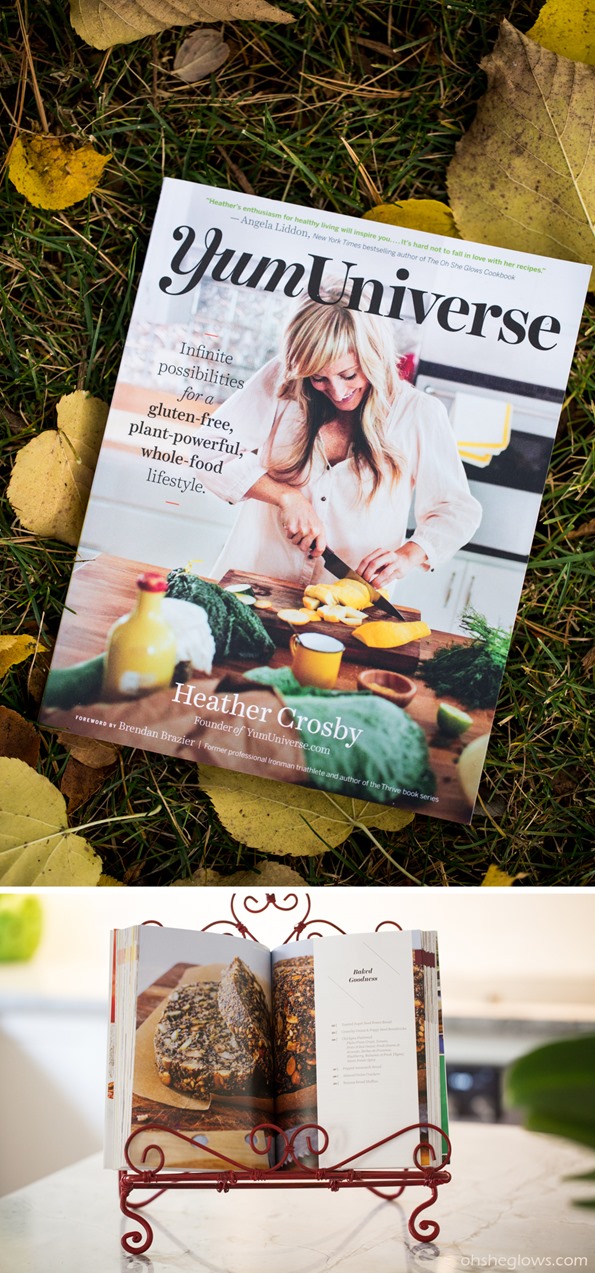 Earlier this year, I had the opportunity to preview Heather Crosby's new book, Yum Universe, while it was in the final stages of production. Yum Universe is a guidebook to living a gluten-free, plant-based, vibrant whole food life, and includes oodles of healthy recipes, photographs, and tips to get you started. Many of you may know Heather's inspiring blog by the same name and if you've read for any length of time, you know how passionate she is about a plant-based lifestyle. A former veggie-phobe, she now loves to encourage others to make positive changes in their own diets. I've especially enjoyed her YU Should Know series where she interviews other plant-based enthusiasts about how they've made the shift (you might remember my interview with her in the spring!).
Today, I'm sharing one of my favourite recipes from Yum Universe – Heather's Toasted Super Seed Power Bread. It's a recipe I've made a dozen times now and it never lasts longer than a few days in this house. It's loaded with chia seeds, pepita seeds, almonds, sunflower seeds, sesame seeds, hemp seeds (my addition), and the only flour you'll find in this bread is high-protein chickpea flour. I expect you could easily make this nut-free by swapping out the almonds for another seed. My brother in law likes to call this "bird seed bread" which I can't really argue with. I love me some bird seed!! Think: Mary's Crackers meets bread. It reminds me of Sarah's Life Changing Loaf of Bread, which I've made in the past and also loved. I'm all about this trend of bread moving from nutrient-void to nutrient-packed. Bring it on.
Speaking of nutrient-packed, each small slice boasts 6.1 grams of protein and 4.6 grams of fibre (I calculated the nutritional info in the recipe notes below, just for curiosity). It's also loaded with healthy fats. If you enjoy a hearty slice of crunchy, chewy bread this recipe is for you. Some people I served this to were expecting a traditional fluffy bread, so just be warned that it doesn't produce the traditional bread we grew up with. It won't be for everyone, but hey…more for us, right? I really think you have to try it at least once! To be honest, I would take a slice of this bread over the regular stuff any day. Bird seed for life.
Try it toasted with a pat of coconut oil on top. Minds will be blown. Stomachs will do happy dances.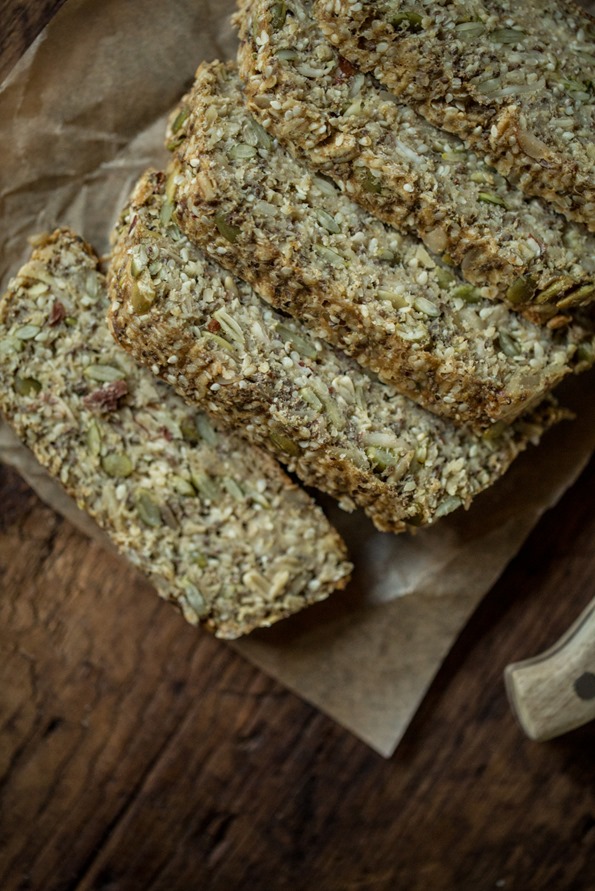 I couldn't help but play around with the recipe a tiny bit, so I'll let you know my modifications in the headnote. Let us know what you think of it if you do try it out! Thanks Heather for letting me share your recipe today. Be sure to check out her book – Yum Universe – in bookstores now!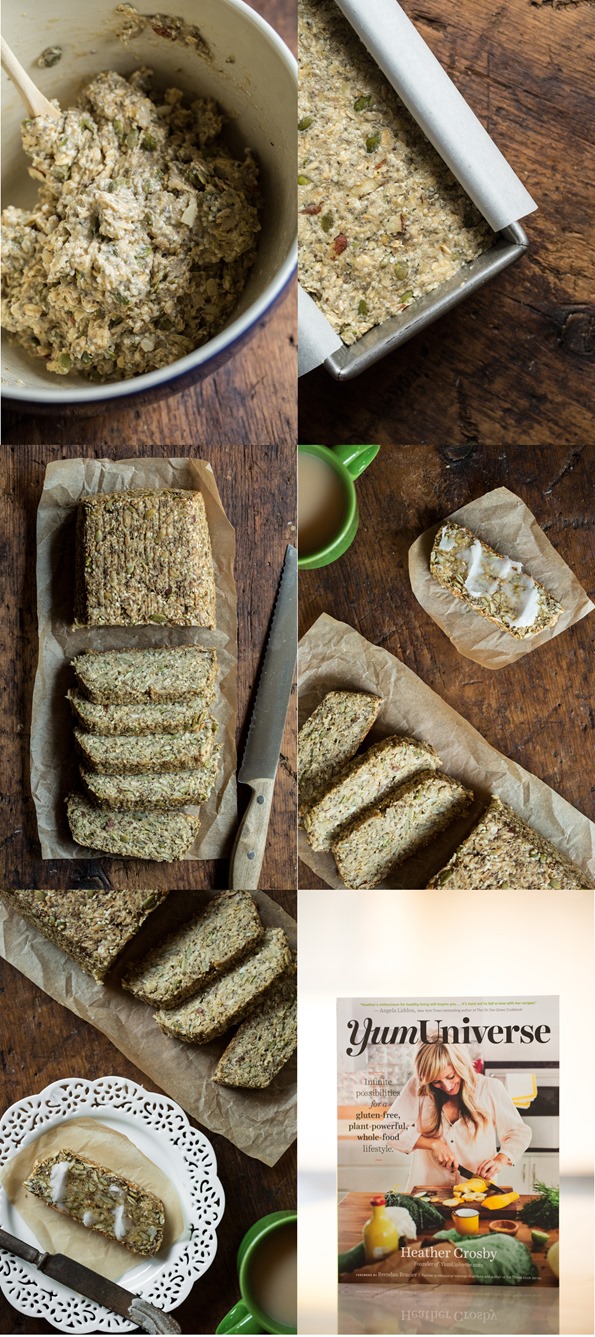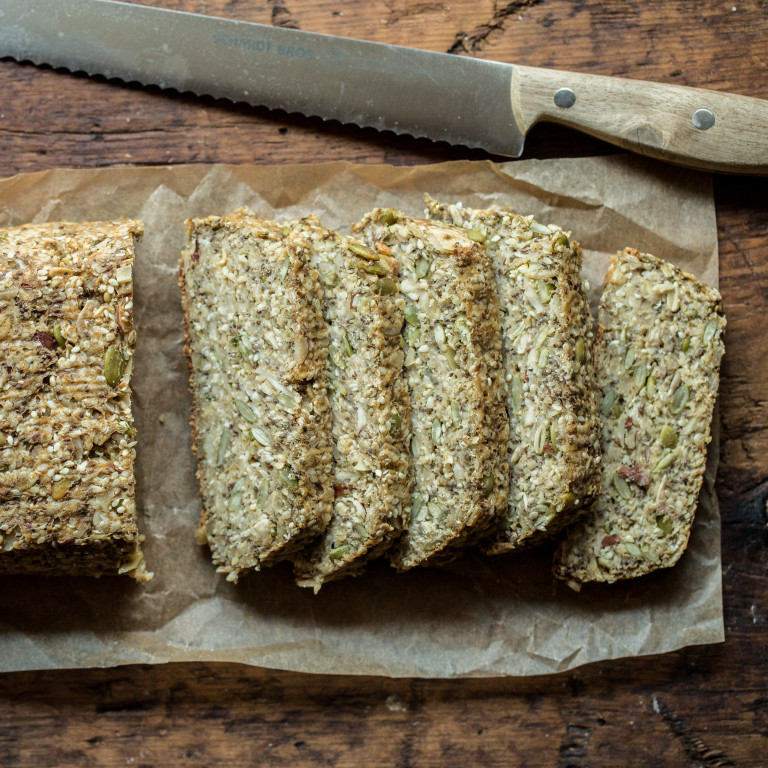 Heather's Toasted Super Seed Power Bread
Vegan, gluten-free, refined sugar-free, soy-free

Yield

14 slices
Soak time

1 hour
Prep time

Cook time

Total time

A hearty, crunchy, chewy, high-protein and fibre bread free of gluten! What's not to love? This recipe is lightly adapted from Heather Crosby's Yum Universe cookbook (2014). Some of the changes I made to this recipe are the following: Instead of letting the dough sit overnight, I was impatient (nothing new here!) and only let it sit for an hour. To my delight, it still worked out lovely. Just a tip in case you are short on time or patience like me. I didn't have any poppy seeds on hand so I subbed them with hemp hearts which adds a nice bit of complete protein and healthy fats, however my loaf is lacking those beautiful specks of black seeds. I imagine that you could change up the nuts and seeds as you see fit in this recipe. It's pretty versatile! Lastly, I used coconut sugar instead of Sucanat and I used thinly sliced almonds instead of whole almonds (so it would be easier to slice). I don't recommend skipping the toasting step - I tried this recipe both ways and taking the time to toast the nuts/seeds/oats in the beginning resulted in a more flavourful loaf.
Ingredients
1 cup rolled oats (use certified gluten-free if necessary)
1/2 cup sesame seeds
1/2 cup pepita seeds
1/2 cup thinly sliced almonds
1/4 cup sunflower seeds
1/2 cup chickpea flour
1/4 cup hemp hearts
1/4 cup chia seeds
3 tablespoons psyllium husk powder
2 tablespoons virgin coconut oil, melted
1 tablespoon coconut sugar (or granulated sugar of choice)
1 teaspoon fine grain sea salt
2 cups water
Directions
Preheat oven to 325F and grab an extra large baking sheet. Add the oats, sesame seeds, pepita seeds, almonds, and sunflower seeds onto baking sheet. Spread out evenly and toast in the oven for 7-10 minutes. Transfer to a large bowl.
Add the remaining ingredients to the bowl and stir to combine. The dough will be very watery at first, but thanks to the psyllium husk powder and chia, it will thicken up quickly. After stirring, cover the bowl with a tea towel and let it sit for around an hour on the countertop. The dough will be very thick.
Lightly grease a small loaf pan (9" x 5") and then line it with a piece of parchment paper so you can easily pull the loaf out. Scoop the dough into the loaf pan and press it down firmly and evenly.
Bake the loaf at 325F for 30 minutes. Grab a baking sheet. Now remove the pan from the oven and carefully lift out the loaf. Carefully, flip the loaf upside down onto the baking sheet and bake it for another 45-50 minutes, uncovered, watching closely during the end of the bake time. The loaf will be lightly golden and firm when ready.
Cool loaf completely on a cooling rack. Slice and enjoy! I love toasting this bread and spreading some coconut oil on top. It's just divine. Also try it with avocado and hummus, jam, or vegan butter.
Tip:
Nutritional info (per slice, based on 14 slices per loaf): 157 cals, 10.5 g fat, 130 mg sodium, 10.9 g carbs, 4.6 g fibre, 1.5 g sugar, 6.1 g protein
Notes: 1) Heather says you can use 1/4 cup psyllium husks instead of the 3 tablespoons psyllium husk powder. Where to find the psyllium husk powder? I've had success finding it in the vitamin/protein powder aisle of Whole Foods. 2) Do not skip the psyllium husk powder - it binds the loaf together. 3) Feel free to toss in finely chopped dried fruit like dried cranberries.
Nutrition Information
(click to expand)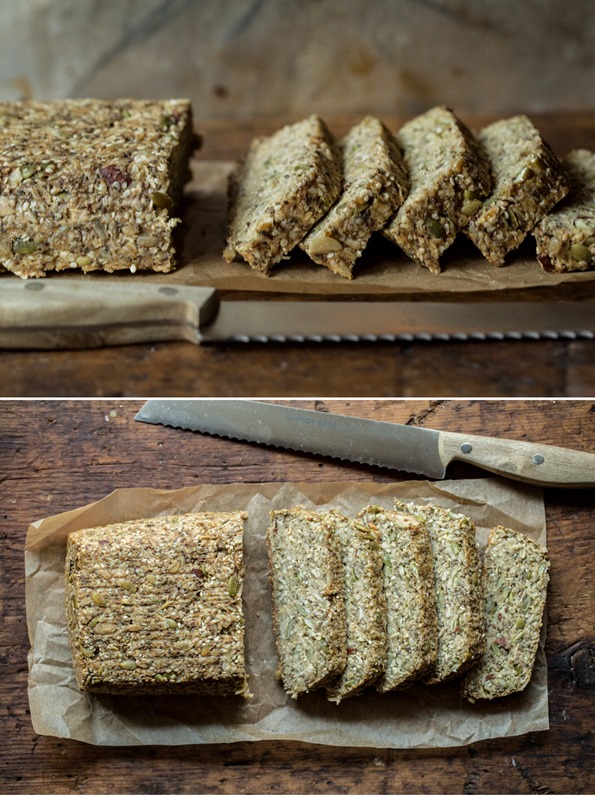 I got word yesterday that The Oh She Glows Cookbook advanced to the semi-final round in the Goodreads Choice Awards! Thanks to those of you who voted last week! If you'd like to see the cookbook advance to the final round you can vote again in the Best Food & Cookbooks of 2014. This round of voting is open until November 15th. hugs!