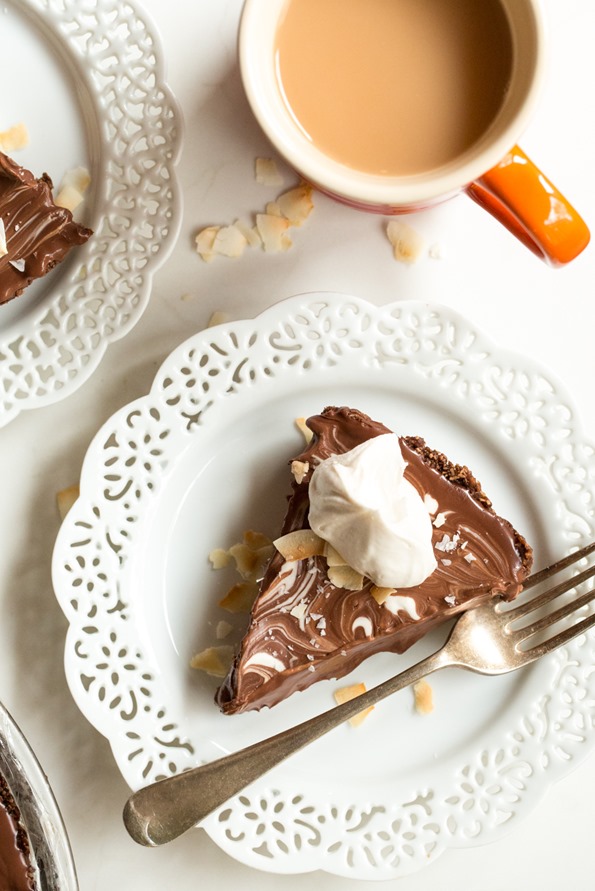 Halloween week without chocolate is simply a crime. We must fill our quota! Luckily, I have the perfect solution..
After teasing you with this dessert the other week (and seeing you lose your mind over it) I figured I better deliver the goods. I set a lofty goal of making this chocolate pie as friendly to as many different dietary needs as I could. I always love a good challenge in the kitchen; it keeps me on the brink of crazy town.
In addition to being vegan, this pie is also gluten-free, grain-free, and nut-free. A Halloween miracle if you ask me!
It's also free of self-control because it's impossible to have any when this pie is near. Obviously.
Halloween chocolate quota fulfilled. Check, check, GULP.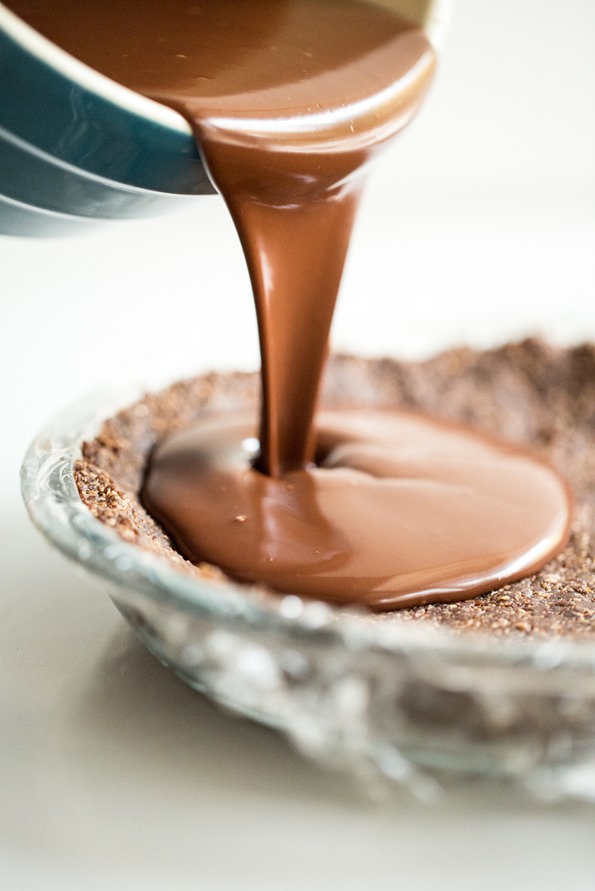 After drowning myself in chocolate, I'm absolutely thrilled with the final result. Plus, now I have a freezer full of chocolate pie for a couple parties we're hosting this week. [Eric said, "Well that's if I don't eat it all first!"]
And of course, let's not forget HALLOWEEN. Adriana is going as a carrot to balance out the chocolate. I know…she's going to hate me. But come on, a newborn carrot bunting costume? JUST STOP.
Tip: I had major trouble with the pie crust sticking to the dish in an early trial. Eric saved the day with his genius solution. It involves three strips of parchment paper placed on the base of the dish, and then you cover it with a piece of plastic wrap on top. This way you can pull out the entire pie using the parchment paper. It still takes some wiggling to pop it out, but this worked so much better than my other attempt. Thanks Eric for letting me sleep at night. Note: The pictures below don't show the parchment strips because it was an earlier trial.
Ok enough chit chat. I'd say there's still time to whip up a crazy decadent, show-stealing, rich chocolate pie. And it's no-bake to boot. Thirty minutes of prep and a few hours in the freezer is all that stands in your way. Nothing scary about that!
PS- Don't mind the long recipe – I learned a lot of tips as I made this pie so I wanted to be as helpful as I could when writing up the recipe.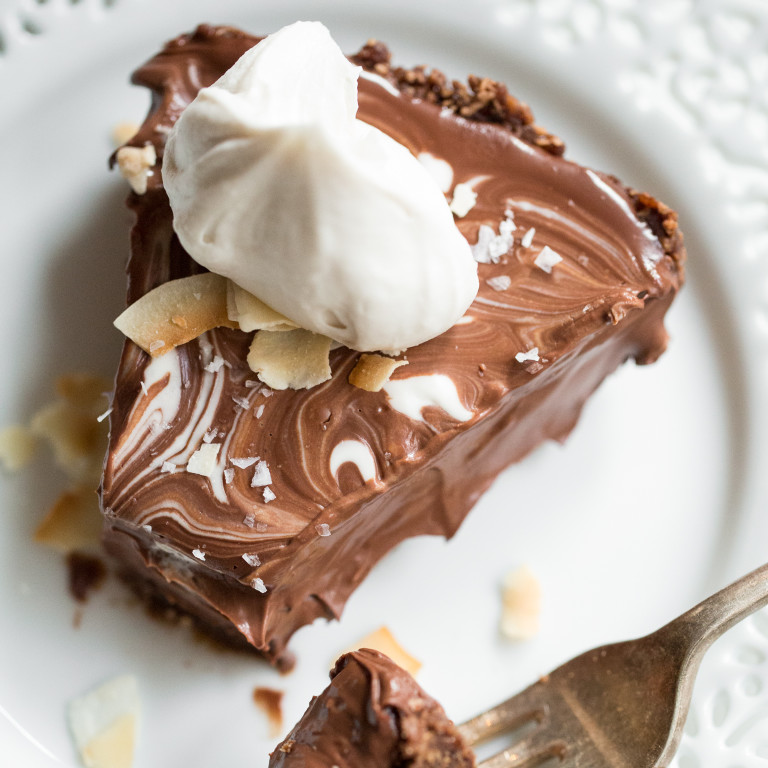 Double Dark Chocolate Coconut Macaroon Tart
Vegan, gluten-free, grain-free, no bake/raw, nut-free

Yield

9-12 servings
Prep time

Cook time

Chill time

3 hours
Total time

Calling all chocolate macaroon lovers! That's everyone, right? This tart combines two of my favourite flavours - dark chocolate and coconut. The velvety filling is made up of 70% dark chocolate and rich coconut milk while the coconut, date, and cocoa crust tastes just like a chocolate macaroon. Be sure to read the entire recipe before you begin to pick up my helpful hints.
Ingredients
For the crust:
1 1/4 cups packed pitted Medjool dates (see note)
1 1/4 cups unsweetened shredded coconut
2 1/2 tablespoons ground flax seed
2 1/2 tablespoons unsweetened cocoa powder
1 tablespoon coconut oil
1/4 teaspoon fine grain sea salt, or to taste
1 teaspoon water (if needed to bind the dough)
For the filling:
3 (70%) good-quality dark chocolate bars (300 grams total)
1 (400ml) can full-fat coconut milk, room temperature
4 tablespoons pure maple syrup (or liquid sweetener of choice)
1 teaspoon pure vanilla extract
small pinch fine grain sea salt
Coconut whipped cream (optional):
1 (400ml) can full-fat coconut milk, chilled overnight
1 tablespoon pure maple syrup (or liquid sweetener of choice)
For the garnish:
1/2 cup toasted large flake coconut, flaked sea salt, leftover coconut whipped cream (optional)
Directions
Toast the coconut

(optional step, but recommended): Preheat oven to 325F. Place shredded coconut and large flake coconut (if using for garnish) on baking sheet. Keep separate on baking sheet. Toast in the oven for 5-10 minutes, until lightly golden but not brown. Set aside to cool.
Line a 9-inch glass pie dish with 3 (2-inch wide) strips of parchment paper, one going each direction, with overhang. Now place a large piece of plastic wrap on top and press down (see this photo for a visual). The parchment strips will allow you to lift the pie out after freezing. I highly recommend doing this or the crust will stick miserably to the dish.

Prepare the crust

: In a heavy duty food processor, add the pitted dates and process until finely chopped. A big ball will form. Add in the rest of the crust ingredients (including the toasted shredded coconut - but

not

the large flake coconut) and process until everything is combined. The dough should stick together when pressed between your fingers. If it doesn't, add optional water and process again.
Spoon the crust mixture into the prepared pie dish. Spread out evenly. Starting at the centre, press down firmly moving outward and up the sides of the pie dish. Place dish in the freezer while you prepare the filling.

Prepare the filling

: Break up chocolate bars into chunks and place into a medium-sized pot. Melt the chocolate over the lowest heat setting (or use double boiler). When the chocolate is 2/3 of the way melted, remove from heat and stir until completely melted and smooth.
Shake the can of room temperature coconut milk. Open it and measure out 1/4 cup of milk. Save the 1/4 cup of milk for another use (such as a smoothie) and pour the rest into the pot with the melted chocolate. Whisk vigorously until completely smooth. Finally, whisk in the maple syrup, vanilla, and a pinch of salt until smooth. Set aside.

For the whipped cream

(optional): Open the can of

chilled

coconut milk and scoop off the cream portion only. Discard the water or save for a smoothie. Place the cream into a bowl along with one tablespoon of pure maple syrup. With electric beaters, whip the cream until smooth.
With a spatula, scoop the chocolate filling into the pie crust until almost full (to avoid overfilling, you might want to refrain from using all the filling- see my note below).
Drop a few tablespoons of whipped cream all over the chocolate filling and swirl it all around with a knife. Carefully transfer the pie dish into the freezer on a level surface for approx. 3 hours, or until firm throughout.
Remove pie dish from freezer and let sit on the counter for 5-10 minutes. Grab the parchment paper and lift the pie out of the dish (I had to grab the strips of paper and wiggle it back and forth several times before it popped out).
Slice and garnish with toasted coconut flakes, leftover coconut cream, and flaked sea salt, if desired. Serve immediately as pie will soften quickly.
Tip:
Notes: 1) If your dates are firm, soak dates in a bowl of water for 30 minutes prior to starting. Drain well. 2) You can totally skip the coconut whipped cream if you prefer. 3) The chocolate filling makes almost too much filling for the pie and it nearly overflows. If you prefer, you can leave out 1/4-1/2 cup of filling. You can place leftover filling in a small dish and freeze it, then cut into "freezer fudge" - just an idea! 4) For how to make coconut whipped cream, see this tutorial.
Nutrition Information
(click to expand)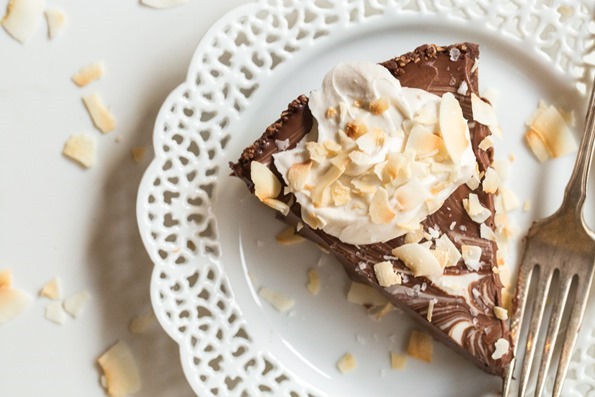 PS – Looking for other Halloween recipes? You're in luck – I have 3 pages of recipes
PPS – Don't forget there is still time to enter The Oh She Glows Tea Shoppe giveaway!