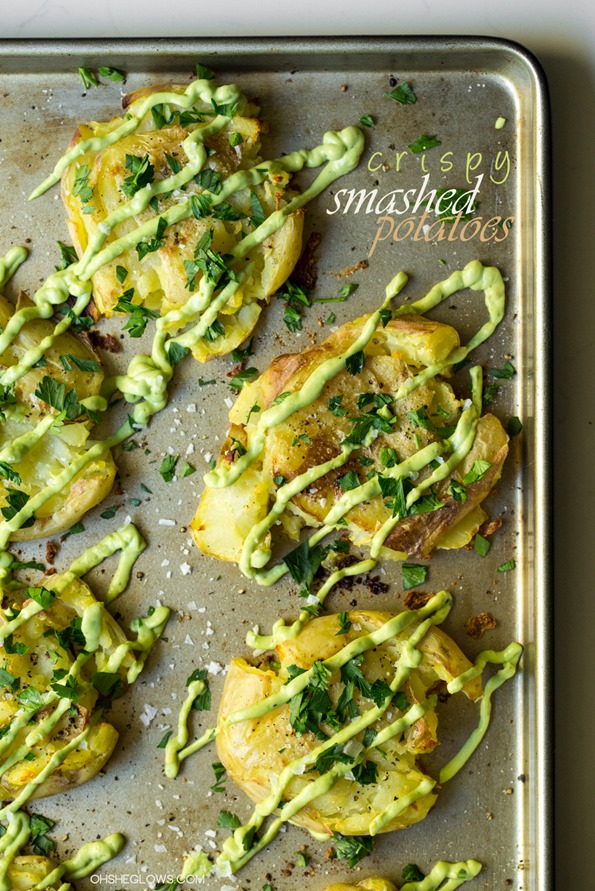 Meet our new favourite side dish. Yukon Gold potatoes are boiled, smashed, roasted until crispy, and then topped with a decadent, yet heart-healthy, avocado garlic aioli. Be still my heart. In the spirit of new beginnings for our little family of three, I decided to add something new to my Thanksgiving repertoire this year. Eric and I polished off the first batch all on our own…no regrets! hah. Well, my only regret was that I didn't make a bigger batch.
Here's a quick visual how-to…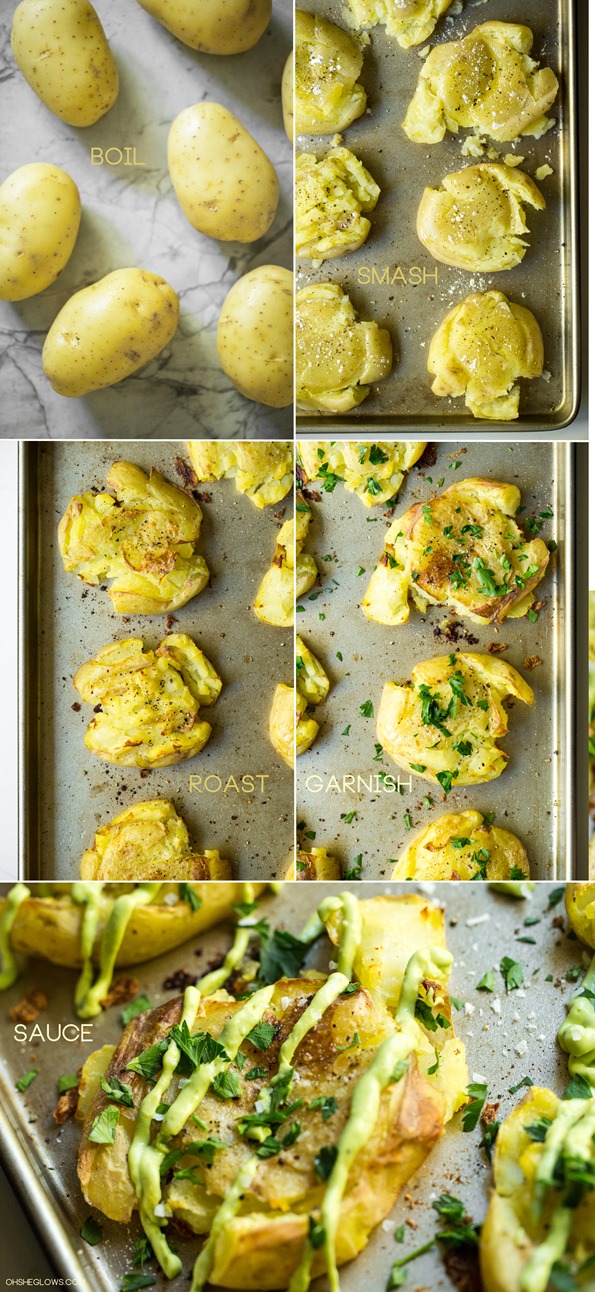 These are incredibly easy to make, yet taste like something from a high-end restaurant. Yup, that's right, we're getting fancy pants up in here.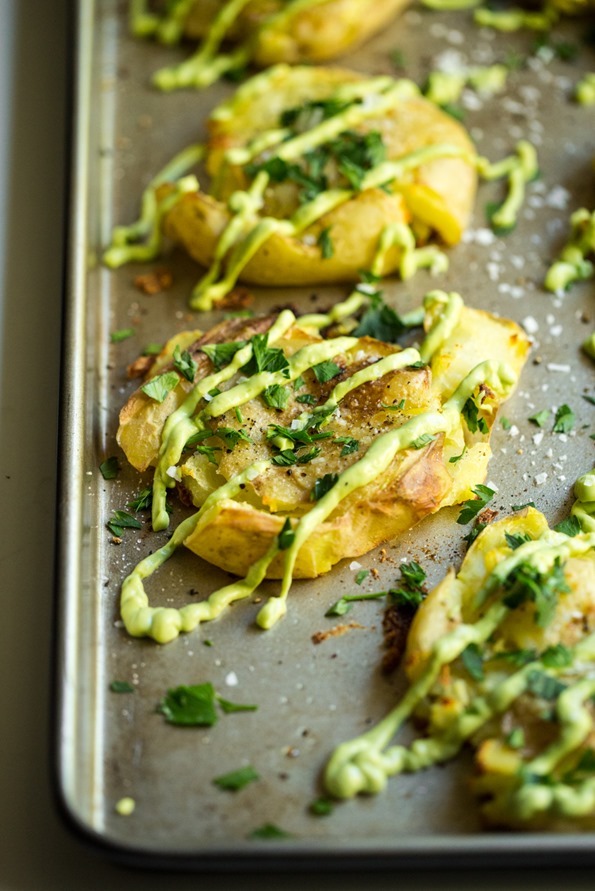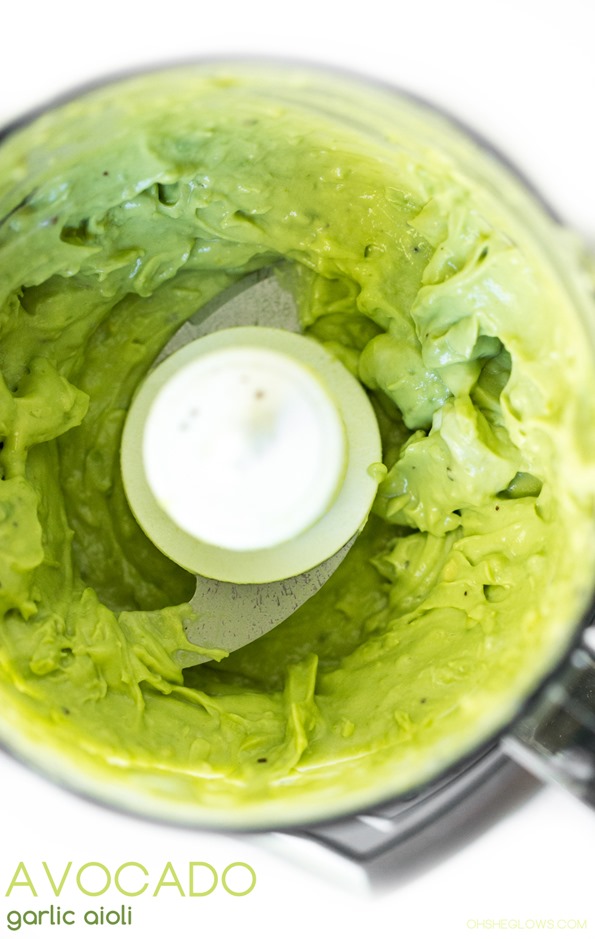 In conclusion, I recommend making this recipe as soon as humanly possible. You won't be sorry. I know this dish is going to be on high rotation in our house this winter (much like our old stand by). Who said winter was all gloom and doom? I beg to differ. Bring on the comfort food!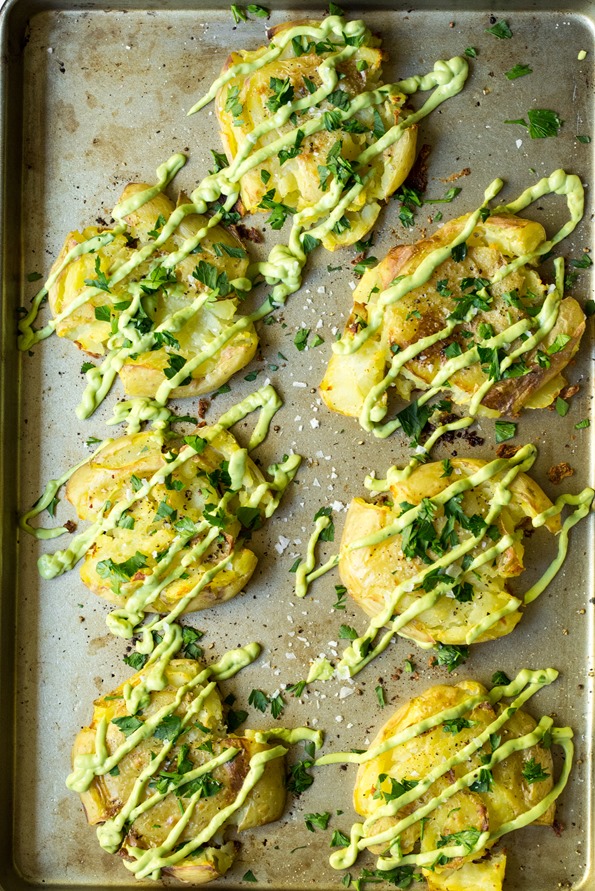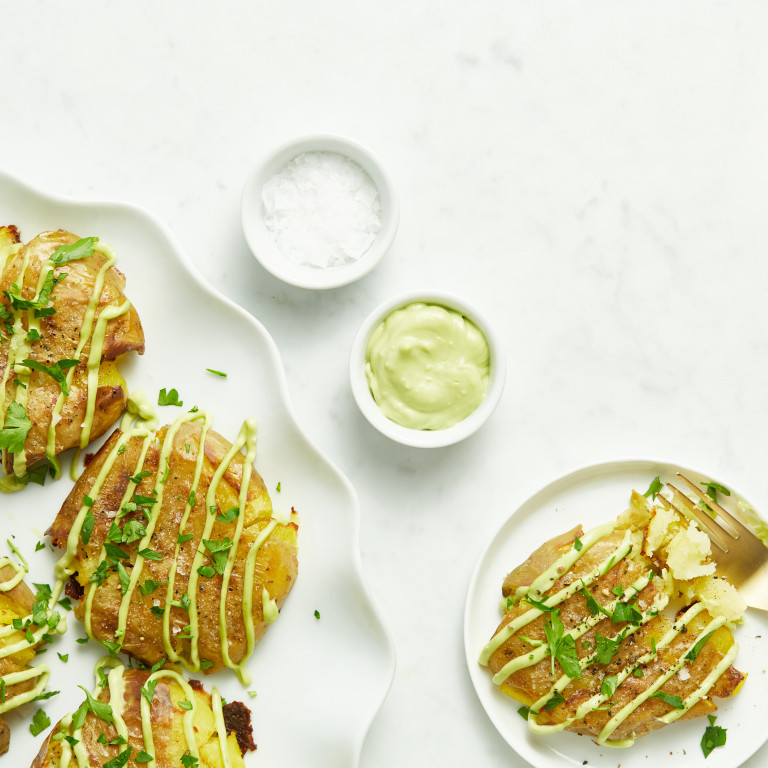 Crispy Smashed Potatoes with Avocado Garlic Aioli
Vegan, gluten-free, grain-free, nut-free, refined sugar-free, soy-free

Yield

7 medium potatoes
Prep time

Cook time

Total time

One of my all-time favourite ways to enjoy Yukon Gold potatoes! Smashed, crispy, and served with an addictive—yet healthy—avocado garlic aioli sauce. These smashed potatoes make a killer side dish. I recommend looking for potatoes on the smaller side if you can, as they "smash" a bit easier, but larger potatoes will turn out fine too. Smashed potatoes inspired by Leaf.
Ingredients
For the potatoes:
2 to 2 1/2 pounds Yukon Gold potatoes (or try red or new potatoes)
2 to 3 tablespoons (30 to 45 mL) extra-virgin olive oil
Fine sea salt and freshly ground black pepper, for seasoning
Garlic powder or granules, for sprinkling on top
1/3 to 1/2 cup fresh parsley, minced
For the Avocado Garlic Aioli:
1 large avocado, halved and pitted
1 large or 2 small garlic cloves
1/2 tablespoon (22 mL) fresh lemon juice, or more to taste
1/4 cup (60 mL) soy-free Vegenaise (or vegan mayo of choice)
Fine sea salt and freshly ground black pepper, to taste
Directions
Add potatoes into a large pot and cover with water (do not peel the potatoes). Turn the heat to high. When the water starts to boil, reduce heat slightly, and simmer the potatoes uncovered for 20 to 25 minutes, until fork tender.
When there is about 10 minutes left of boiling the potatoes, begin preheating the oven to 450°F (230°C).
When the potatoes are fork tender, drain in a colander and cool for 5 minutes or so.
Place the potatoes on a large, lightly greased baking sheet. (Skip the parchment paper for this recipe, as an oiled baking sheet with produce crispier potatoes.) With the base of a mug or metal measuring cup, "smash" (press down on) each potato until each one is mostly flattened. Some potatoes might break apart a little, but this is totally fine!
Drizzle each potato with about 1 teaspoon of oil and sprinkle on a generous amount of salt and pepper. Finally, sprinkle on some garlic powder.
Roast the potatoes in the oven for 25 to 33 minutes until crispy, golden, and browned on the bottom. Keep an eye on them as cook time will vary depending on the size of your potatoes. I love to roast these until the skins become a deep golden brown and crispy—they are so delicious to eat!
Meanwhile, prepare the Avocado Garlic Aioli: Add garlic into food processor and process until minced. Now add the rest of the aioli ingredients and process until smooth, scraping down the bowl as needed.
Remove the potatoes from the oven and sprinkle each with chopped fresh parsley, more sea salt, and pepper. Serve immediately with avocado aioli (piped or dolloped on) and watch them go lightning fast!!
Tip:
If you have any leftover potatoes, they can be reheated in an oven on a greased baking sheet at 400°F (200°C) for 6 to 12 minutes, until warmed throughout. The Avocado Garlic Aioli doesn't heat well (it tends to brown), so I don't recommend heating it, but serving fresh whenever possible.
Nutrition Information
(click to expand)