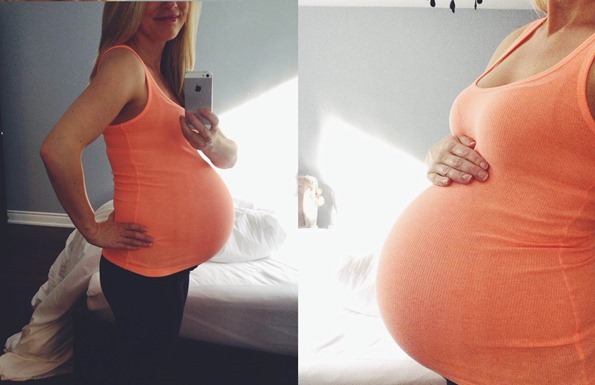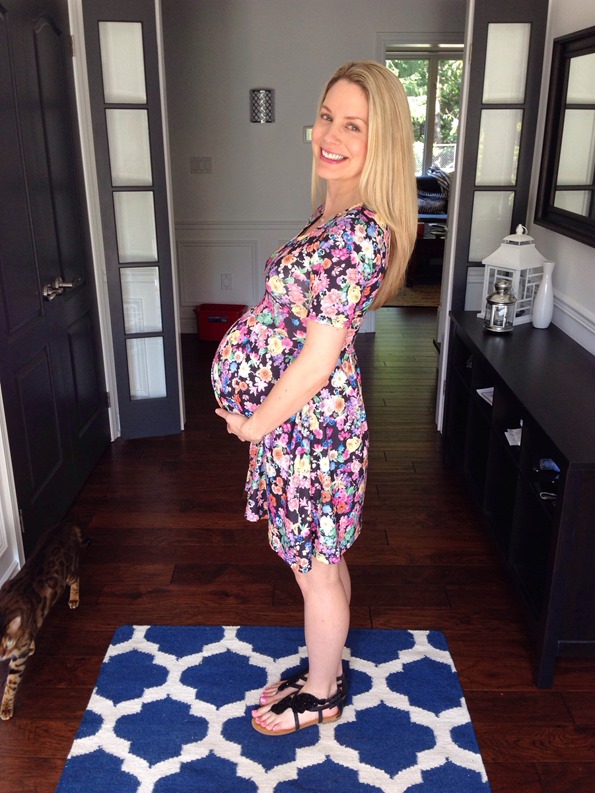 I was procrastinating this week's post because I thought there might be a slight chance I wouldn't have to write it! But lo and behold, here we are just 1.5 days shy of 40 weeks. Baby girl is quite cozy in my belly, it seems! I guess it's pretty common for first timers to think they are going to go early. The joke will be on me if I'm induced on Sept 30th or Oct 1st!
I totally get why pregnant mamas start feeling anxious to go into labour by this stage in the game. I've noticed so many more aches/pains, tiredness, bloating, nausea, and other symptoms this week. It's like all of the pregnancy symptoms and emotions resurface simultaneously during the last week or two.
My energy levels have been so up and down this week. I alternate between feeling full of adrenaline and nesting urges (I scrubbed all the floors on my hands and knees this week, which was quite comical) and then some days I literally have to force myself to do the smallest of tasks because I feel so drained. Sleep has been a joke. I'm averaging 3-4 bathroom breaks a night which really isn't so bad, but then I can't fall back to sleep. I'm also waking up super early in the morning for no good reason. Hopefully I'll be used to the odd waking hours and it won't be such a shock to my system. The natural solution would be to nap during the day, but I've never been able to nap. My mom tells me I completely quit naps when I was only 14 months old (my poor mama, hah). I've napped once this entire pregnancy (when I had the flu). Eric can nap anytime, any place, and is fast asleep within minutes. So jealous! It'll be interesting to see if I can learn to nap when baby is here. Maybe I can try out these tips?
This week's appointment: My OB confirmed what I already suspected – baby dropped even more this week. I can definitely see the difference in the mirror now….my belly is so low and my pants are constantly sliding down. I am 1cm dilated and my cervix is starting to shift forward. As my OB says, the cervical checks don't tell us anything about when labour will begin so I really don't put much emphasis on the numbers. It's just interesting, if anything else. I've had a lot of menstrual-like pains this week on and off which is how I hear labour starts for a lot of women (and is how it started for my mom's first labour too). We shall see! So much excitement.
Food: As I mentioned, I've had some nausea return on and off this week. It's not horrible or anything, but just annoying when you love to eat as much as I do. Sometimes it's hard to think of anything appealing to eat. Other times, I'm totally fine. I still can't get enough of fresh fruit – raspberries, pineapple, Honeycrisp apples are all in heavy rotation!
In reno news, we are officially moved back into the kitchen. I'm spending so much time in there cooking (when I have the energy). We're still waiting on a lot of smaller details to be finished and we need to order a fridge, but at least it's functional and starting to come together.
Eric and I watched a couple baby videos this week – Laugh and Learn about Childbirth and Laugh and Learn about Childcare (it was his first time watching them but I joined along for a refresher). Eric told me the next morning he had nightmares all night long, hah. Oddly enough, the one who has to push out a watermelon hasn't had any nightmares to speak of!
I'll try my best to update when I go into labour, but that'll depend on how it progresses. You can check back here or on my personal Instagram account – @theglowspot for updates!
[I realize I'm writing this post as if I won't have a week 40 update, but I guess that is totally, totally possible. Time will tell.]
xoxo