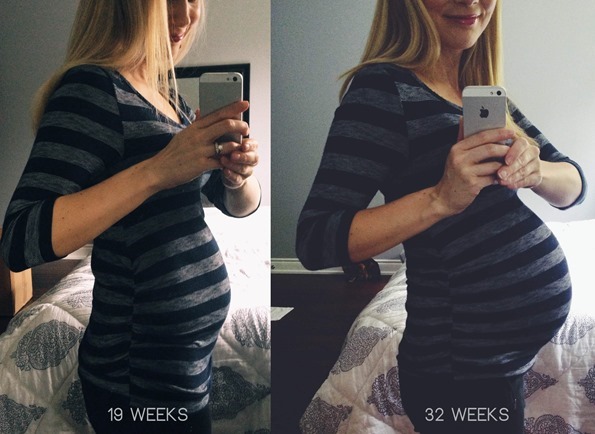 Week 32 finds the baby measuring roughly 3.5-4 pounds and 16-19 inches in length.
In the words of Michelle Tanner – whoa baby!
I definitely think baby had another big growth spurt because my belly has popped again (or so Eric tells me) and my weight has gone up another few pounds in less than a week. Her movements are also more intense. Sometimes she karate chops my right rib or shifts positions and I'm amazed by her strength. All in all, I kinda feel like a kangaroo with a baby in my pouch. Totally normal, hah. I can only imagine how it will feel in 7 more weeks…scary/amazing all at once.
Now that my belly is getting heavier, I notice myself slowing down a bit. I walk slower, get in and out of bed slower (often with a small grunt…I honestly can't help myself), and I generally don't feel like rushing around for anything or anyone. Eric and I joke that my new theme song is "Wiggle" because he says I have a wiggle when I walk now. I'm waiting for a You Tube parody video of preggo ladies dancing to the that song. With a few lyric changes, it could work!
After my baby shower a couple weeks ago, I started to feel super tired. At first I chalked it up to being run down from a busy month, but when it persisted I mentioned it to my OB. He sent me to get my iron & B12 checked just to be sure. My B12 came back great, but my iron was on the low end of the normal range which probably explains some of the extra fatigue. I read that blood volume can increase around 50% in pregnant women so it's very common to have dips in iron levels, especially during the third trimester. So, I've increased my daily 25mg iron supplement to twice a day just to make sure my levels don't fall below normal. I've been doing this for almost a couple weeks and have noticed less fatigue already. I'm also trying to be more mindful of eating iron rich foods (such as pumpkin seeds, tofu, blackstrap molasses, beans/lentils, etc) paired with vitamin C rich foods (like lemon/citrus juice). I'm glad to catch it early because I need my energy these last several weeks!
I took this week off walking to give my body some rest. I'm already anxious to get back to it though and I think I will go for a walk this weekend. Also going to swim outside…yay!
I totally jinxed myself in my 30 week post when I said my rib pains reduced by half and my sleep was doing awesome. The rib pains have been bad again (probably related to the growth spurt) and I'm back to icing my right rib and back on the couch at night. Insomnia has also returned and I'm waking up at random hours and unable to fall back to sleep. After not having many weird dreams throughout the pregnancy, I'm now having really strange baby-related dreams this week! You really don't want to know…trust me.
Food wise, I'm all over the map lately. My nausea came back for a few days this week (I hear this is common in the 3rd tri). I have days when nothing really sounds appetizing and other days when I'm eating non-stop. It's so random. One day I crave sweets and the next day I want nothing to do with them. Just like in the 1st trimester, I'm craving salt and vinegar potato chips once again. Still loving fruit. Gazpacho. Grilled tofu with peanut sauce and veggies (awesome BBQ meal). Semi-frozen peach slices (the best!). Healthy Carob Freezer Fudge (a new recipe I whipped up last week). Carob Banana "Frosties" (another new fav). I'm trying to motivate myself to post the recipes + take the photography.
We made some progress this week getting baby gear and things checked off the list. The car seat and stroller are now purchased. I washed all the baby clothing, blankets, sheets, swaddlers, etc and have almost everything hung up or put away in drawers. I also booked a newborn photography session, a car seat inspection class, and a prenatal breastfeeding info session with a lactation consultant from my doula's group (two more sessions are included after the birth – yay!) It sure is busy the last couple months. As long as baby girl doesn't show up early, we'll hopefully have most of our ducks in a row by mid-September. And if we don't, I know we'll get by just fine.
Can you believe it's August 1st today? Happy (long) weekend!