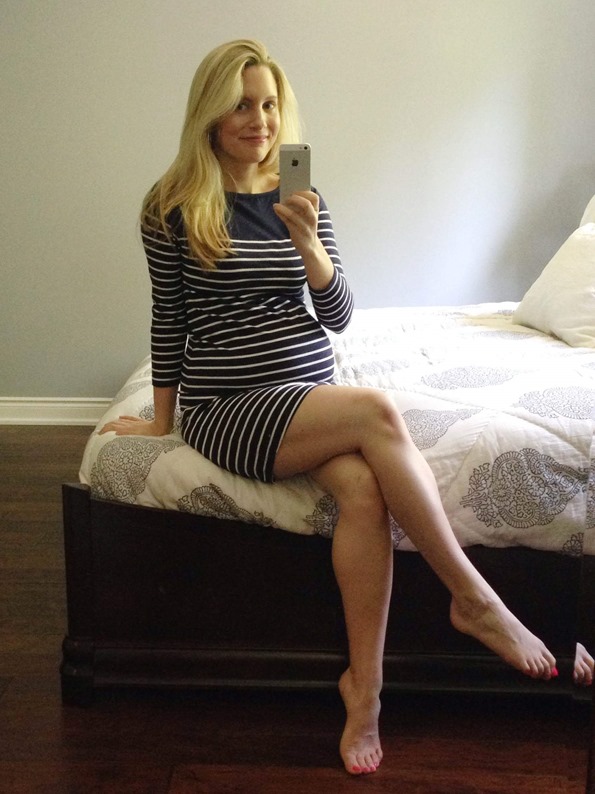 To our baby girl,
Your dad and I can't believe that we're 2 months away from getting to meet your sweet face. I'm getting more excited as the weeks go by, but at the same time I'm trying to savour having you in my belly. I will miss this intimacy that you and I share, but I know it will evolve in other ways that I can only imagine right now. It's hard to believe that my heart will get even fuller than it already is. The aches and pains are all so worth it.
My favourite times of the day are when I get to feel you move. Lately you've been moving around so much at night we call it the Belly Olympics! I love to talk to you to keep you company when you are awake (your dad has to remind me when I'm embarrassing myself in public, hah) and I love giving you rubs on your bum when you stick it way out. The cutest bum ever! I miss you when you sleep. No matter what I'm doing during the day, my mind is always on you. Since you came to be I've been much better at being present and enjoying the moment. Your dad likes to say hello to you and kiss my belly each morning. Sometimes he makes funny voices for us (he's the BEST at those). I'm sure you are familiar with my laugh by this point! You always seem to move around whenever you hear his voice enter the room and just like Sketchie, you love when he plays the guitar at night.
Last week, your Mimi and Aunt Kristi came out to visit you for the baby shower! They spoiled you and made your mom feel so special and loved. We had a really special weekend together and they shared a lot of their pregnancy/parenting wisdom with me. Watch out, I know all your tricks now! Mimi left you the sweetest card in your nursery before she left for the airport. I can't wait to share it with you some day, but most of all I can't wait for you to get to know them. Your Aunt Kristi, Aunt Kerrie, and Uncle Chris are all hilarious and will tell you the best stories. I know you are just going to love spending time together. Your Mimi will be back to visit for a week after you are born. She is just dying to hold you for the first time. I'm hoping she will show me the ropes so I'm more comfortable in my new role. I've been reading a lot and watching videos on labour and newborn care, but part of me knows I will have to experience it first hand before I feel like I'm getting the hang of it.
On Sunday, we had a beautiful baby shower. About 30 of our family members and friends came out. Your mama was so touched by the love everyone showed us. Mimi, Aunt Kristi, and your dad worked very hard to make this event come together. Your great grandpa, great grandma, great/aunts, great/uncles, cousins, grandmas, and friends were all there to celebrate you. We are so lucky to have them in our lives and I can't wait to tell you about each of them some day. To cap it all off, you enjoyed your very first cake!! Then you danced!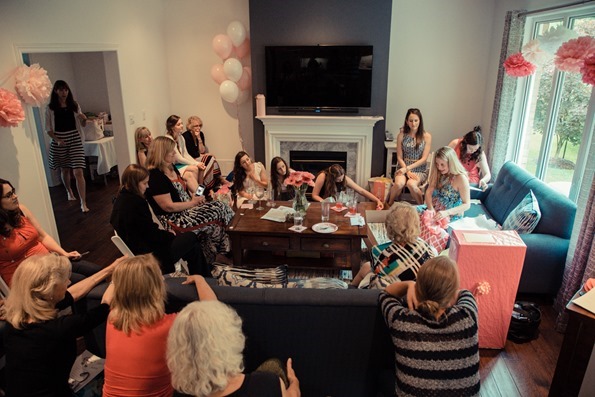 My girlfriends and I are calling this the "Year of the Girl" because there are going to be 5 newborn girls in our group of friends in 2014! My friend Joanna just had twin girls this week. You are due next and then there are two more baby girls due in December. Karly keeps saying there is something in the water at the restaurant we go to! I can't wait for you to all meet each other and hopefully you will be best buddies. One thing is for sure, you should have lots of little girls at your first birthday party. And yes…more cake!
Your nursery is finally coming along after your mama made some unfortunate colour scheme and wallpaper choices a few months ago. It's an ongoing joke between your dad and I that my decision making skills have gotten even worse since getting pregnant. Ugh – it's so true! Even the smallest of decisions lately feel like mountains. So yes, we ended up wallpapering on top of the first wallpaper in your nursery. Is that a crime? It probably should be. In the end I decided to go with a very soft gray and white colour scheme (with soft pink accents) and it turned out exactly as I hoped. Whenever I walk into your nursery I feel so calm and serene – hopefully it has that effect on you too. The summer trees are so full outside your window right now. Everything is vivid green, fresh, and alive. I wonder if the leaves will be changing colours by the time you see them. I'm hoping your dad is going to build your crib this week even though I don't expect you will be in your crib until you are at least a couple months old. Once that is done I'm going to start hanging the artwork in your nursery. We also need to buy you several things like a car seat, stroller, and who knows what else.
Your dad, the fun and laid-back Leo, will be turning 32 in a couple weeks! That probably sounds ANCIENT to you right now, but I promise you it's not! I'm sure you will be such a daddy's girl because he's smart, sweet, and just naturally good at everything he does (but he won't admit that). He also has a huge heart and loves doing nice things for people. You will have him wrapped around your finger I'm sure. He's going to make you laugh so much with his silly faces and hilarious voices. I can't wait!
In a couple weeks, your Uncle Dave and Aunt Ewa are hosting the 3rd annual "Liddonfest" to celebrate his birthday. You will soon see how much fun the Liddon family is – they love to party and have a great time together! It won't be long before you are old enough to play in the bouncy castle with the other kids. Ok, I'm getting ahead of myself now, but I guess this is coming from someone who has already been dreaming of our first trip to Disney Land…or is it Disney World? Man, I'm out of touch!
oh, the fun adventures that await!
With love always,
YO MAMA xo
ps – any chance we can work out one of those super quick 3-hour miracle labours?