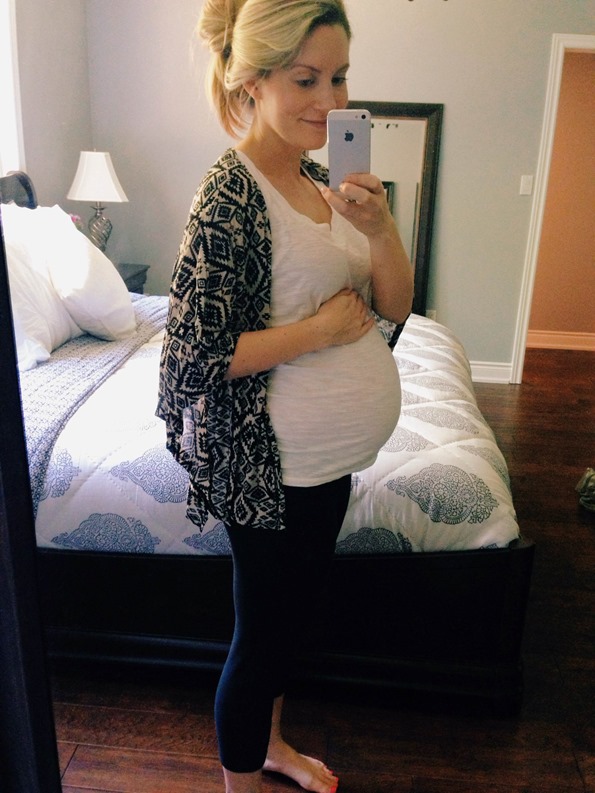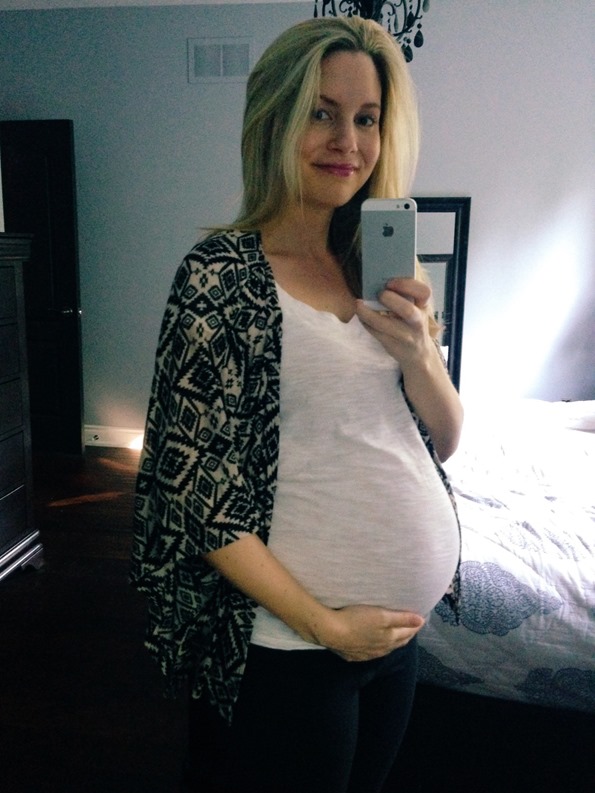 Up until this week I hadn't experienced this whole "nesting" thing, but I'm pretty sure I'm now in full on nesting mode. The hard evidence? I'm ironing curtains, washing baseboards, and scrubbing tiny little crevices in the kitchen tile. I cleaned out the fridge and freezer. I'm crafting at night. Who am I and where did I get this energy from? Eric thinks I've lost my marbles! I told him this is just the beginning of crazy town. Just wait until I'm a week before my due date.
I had an appointment with my OB this week. He confirmed some good news that I hoped for – my low-lying placenta has been moving on up! It's now high enough to meet the "hospital standard", but he is hopeful it will move up even more as the weeks go on. This is great news because it means that a vaginal delivery is in the realm of possibilities for me (of course other issues can come up, but this is a good starting point). Everything looks good and he says we are right on track with respect to measurements and all that.
Our crib and glider arrived recently – several weeks earlier than expected which is always nice. I can't wait until both are set up in the nursery. The nursery is going slower than expected because I changed the colour scheme after we realized our yellow paint had an awful green undertone. Even Eric hated it! Didn't I tell you I wasn't a designer in my previous life? Anyway, the nursery is back on track now, looking better than ever, and I hope to show you the progress soon!
Baby girl is officially taking over my entire stomach! I feel her kicks and hand jabs simultaneously at the top of my rib and very base of my pelvic area. Sometimes her foot kicks way off to the right side of my belly and I'm like how in the world are you way over there? It's so surreal to think she is really that big. I still remember reading the weekly updates on my phone from 1st trimester saying she was the size of a grain of rice!
My What To Expect iPhone app says she now measures about 17 inches for week 29. They go on to say, "Though she's getting close to her birth length, she still has to chub out a bit." hah.
I'm eating lots of healthy fats each day (avocado, coconut oil, algae oil, chia and hemp seeds, etc) to help her chub up!
My sciatica and rib pain is still bothering me – nothing much has changed on that front. Ice is my best friend.
Eric is still playing guitar in the evening for us. The baby perks right up and busts out a few moves for his songs! I don't know if I mentioned this before, but Sketchie is a total groupie. Every time Eric starts playing the guitar Sketchie comes into the room and jumps up on the couch beside him. He just sits there in a total blissed out trance, swaying from side to side. It's the funniest thing. What is it about live music that rejuvenates the soul?
We're gearing up for some special visitors next week and my baby shower next weekend! Eric is sanding and painting the deck this weekend, I'm on a cleaning spree and setting up the guest room and bathroom, and I've been running around getting things for the shower and finalizing the menu.
Other tidbits from this week:
Food loves: toast, grapefruit (1st trimester craving is back with a vengeance!), homemade coconut oil chocolate –> (mix 1/4 cup cocoa powder, 1/4 cup melted coconut oil, a dash of vanilla, and 2 tablespoons pure maple syrup. Pour into lined pan, freeze until firm). It's the best!
Exercise: Still going on my daily morning walks. I can't get enough of walking. I just wish there was a bathroom handy on the trail…my bladder is about to BURST by the time I get home.
Days until due date: 67 or 72 days depending on which due date I go by (Sept 17th and 22nd, respectively).
Days until baby shower: 8
Family flying from out of province: 2 – mom and sister arrive next Thursday!
Belly button: Still an innie, for now…
Baby names: We've had a first and middle name in the #1 spot for weeks now, with a few others as backups. Still not 100% decided though.
Currently reading: Ina May's Guide to Childbirth, Birthing from Within, and various resource books like What to Expect, The Mayo Clinic's Guide to a Healthy Pregnancy, etc.
Ok, tell me how you are doing now