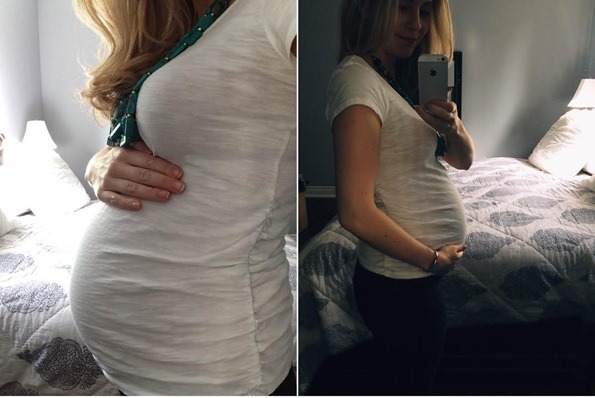 Eric felt the baby kick for the first time this week! It might be one of my all-time favourite moments that we've shared together. He was so genuinely excited and surprised. I'm so happy that he finally got to feel this crazy circus going down in my belly. Lately at night we stare at my belly and watch it move. I talk to her in a creepy baby voice (it's scary, for real) and we try to poke back and forth a few times. I wonder what the kicks will feel like when I'm near the end of my pregnancy? Right now they are soooo gentle and they even tickle me sometimes if she kicks in this one spot on the right. Somehow I don't see them tickling in a couple months! I get some rib pressure lately, but nothing too painful yet. She is still the most active at night and into the early morning hours, but I do feel her in the afternoon hours a bit around 3-5pm. The other morning at 5am she was having a full out dance party in my belly. "Mom, how many kicks will it take for you to get out of bed and feed me?"
I'm still feeling good with energy to spare for exercise. It's such a change from the first trimester when I honestly couldn't fathom moving my body more than a few feet. I think the nice weather helps with energy levels too. I'm going on 50-60 minute daily walks and doing 15 minutes of weights/resistance exercises most days of the week (either with a prenatal video or just doing moves on my own in front of the TV). Lots of lunges and squats with weights and lots of arm work. I'm also trying to do prenatal yoga stretches to end my workouts (with focus on lots of pelvic stretching). I really hope I can keep up with exercise until I get close to delivery because right now I feel so strong physically and mentally. I think there's something to be said about weight lifting for confidence building. It does a mind (and body) good. I hope this carries over into labour!
My baby shower invites were mailed out this week. All I can say is thank goodness for the the talented Etsy designers out there. This is designed by OhSoParty.
I don't know what it is but my interest in food is so fleeting these days. I've heard pregnant women say that they lost interest in food and I never fully understood it (how could you not be interested in foooood?), but now I get it. I'm still eating normally, but food just doesn't seem as exciting as it usually does. Or I will make a recipe, love it to pieces, and then the next day I'm over it and no longer want to post it on the blog anymore. Total Jekyll and Hyde. Hopefully it passes!
I'm getting a lot of belly stares these days. I have to say, men don't hide the stares as well as the women do.

I don't blame people for checking out pregnant bellies…I do it too. It's hard not to because they are quite spectacular in all their glory.
In other belly news, my belly button is slowly disappearing. I think the baby ate it?