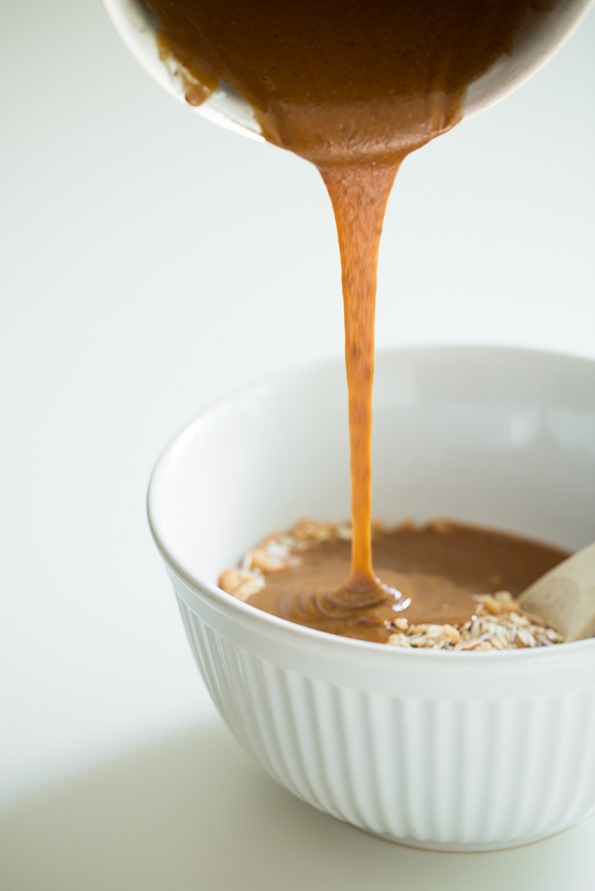 It appears I'm on a granola bar kick this week.
and I can't be stopped.
But I didn't think you'd mind too much?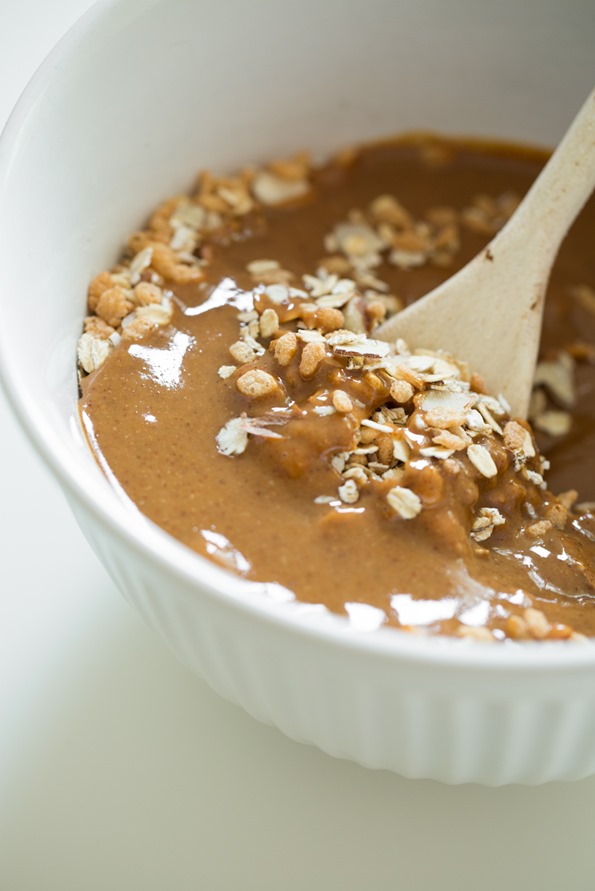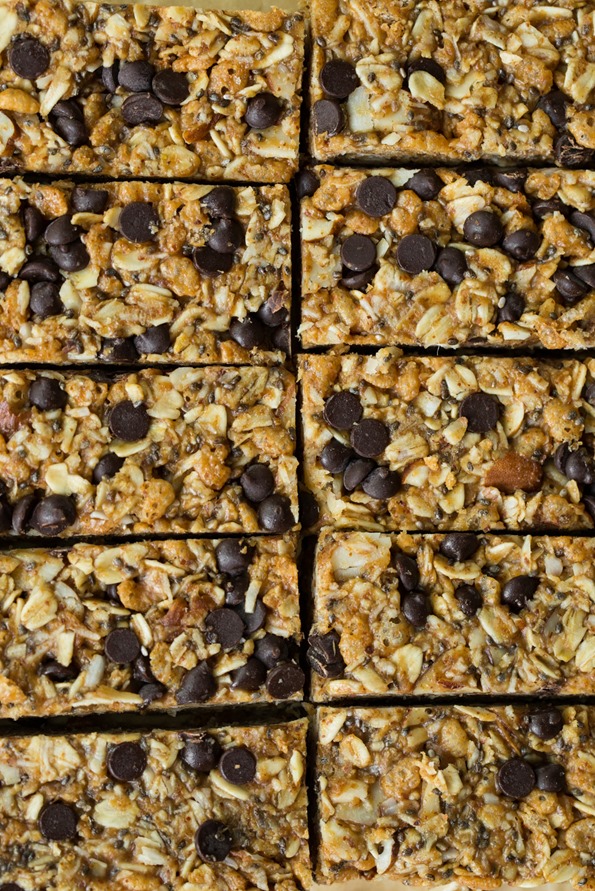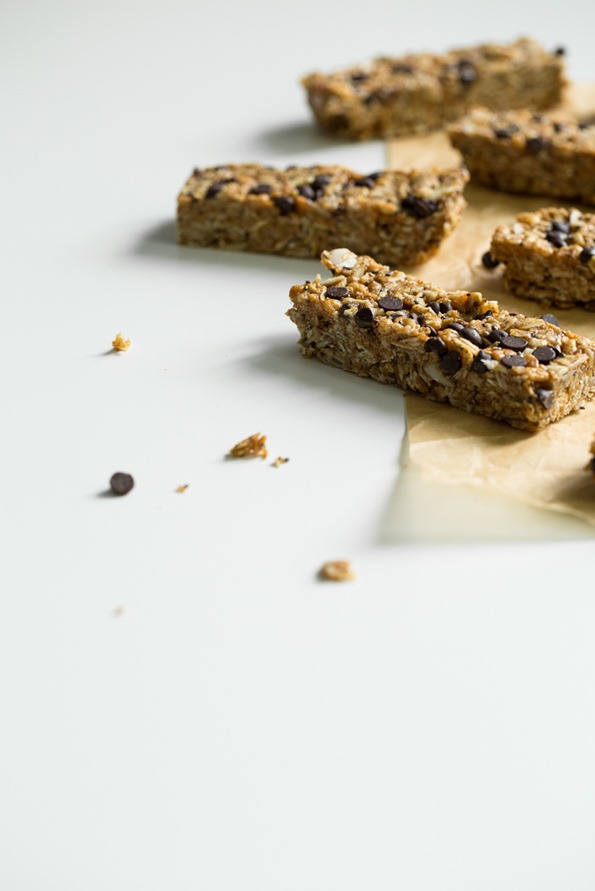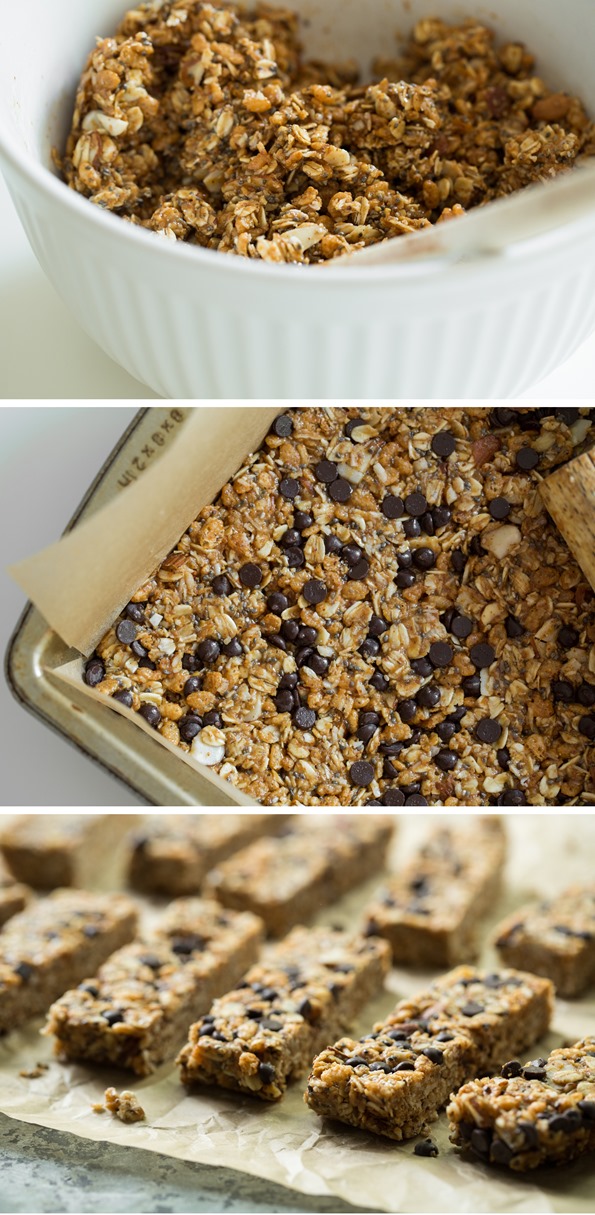 Experimenting with granola bar recipes (and flavours) is one of my favourite things to do. It's rare that I don't have a bar tucked away in my purse for "emergencies". You know, hangry attacks! Eric went so crazy for these bars he insisted I post the recipe on the blog RIGHT THIS SECOND so who am I to argue? I imagine that I'll be making these a lot over the summer and stashing them in the freezer over the next several months. That's if we can keep our paws off them for that long (unlikely, really).
Much like my Feel Good Hearty Granola Bars, these bars are also lower in sugar than most (5.8 grams per bar). This time I used just 1/4 cup of coconut nectar syrup which is a fruity-tasting low-glycemic sweetener. It doesn't seem to give me sugar crashes like regular cane sugar does. Due to its fruity flavour, I don't find it works in all recipes. For instance, it's not my favourite sweetener in some chocolate recipes, but in granola or fruit-based recipes it tends to always blend in nicely.
The only caveat with this recipe is that the bars don't hold together perfectly, so I recommend storing them in the fridge and not letting them sit at room temperature. Best to take one straight from the fridge and stuff it in the face! It's a hard task, I know. They definitely aren't "travel" bars (unless you don't mind it turning into loose granola at room temp).
Oh and for the record, I did try baking a batch in the oven for curiosity's sake and the no-bake version won by a landslide. The baked bars held together a teeny tiny bit better, but they tasted less sweet and a bit bland. I don't think it's worth the extra time or oven heat, personally.
Like most granola bar recipes, this one is versatile so be sure to let me know what flavours you come up with in the comment section. Think we can come up with 52 flavours, or what?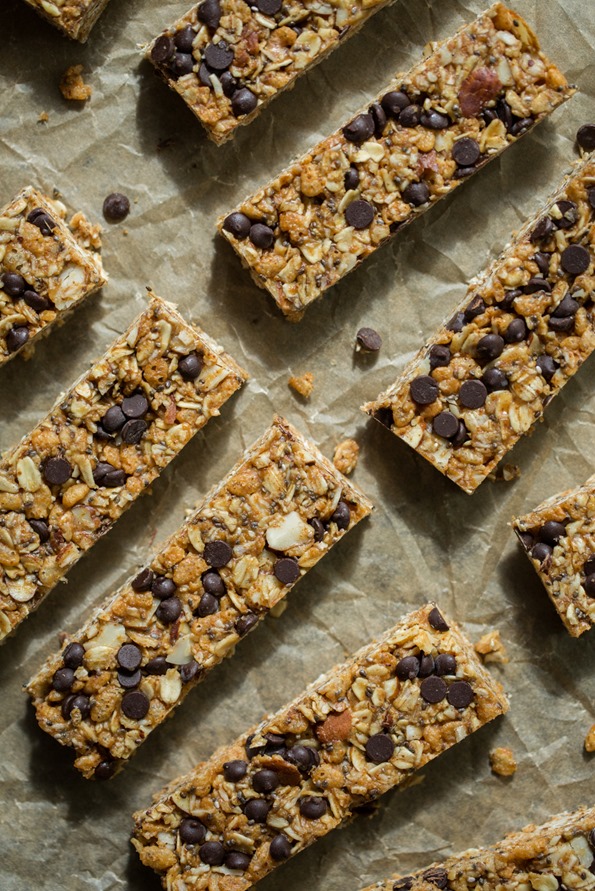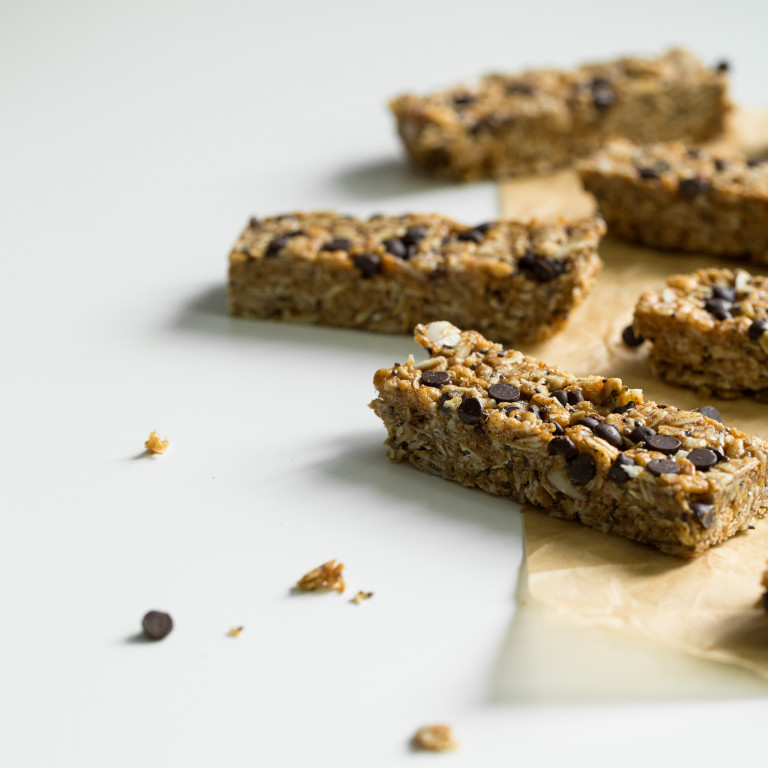 No-Bake Almond Joy Granola Bars
Vegan, gluten-free, no bake/raw, refined sugar-free

Yield

14 small bars
Prep time

Cook time

0 minutes
Chill time

10 minutes
Total time

Easy no-bake granola bars inspired by the popular Almond Joy Chocolate bar flavour. Roasted almond butter, mini chocolate chips, and coconut unite to create one tasty bar that's whipped up in 10 minutes (no oven required!). Recipe adapted from Yummy Mummy.
Ingredients
1.5 cups rolled oats (use certified gluten-free if necessary)
1 cup rice crisp cereal
1/2 cup sliced almonds
1/4 cup unsweetened shredded coconut
2 tablespoons chia seeds
1/4 cup coconut oil, melted
1/2 cup roasted almond butter
1/4 cup coconut nectar syrup (or brown rice syrup - see note)
1 teaspoon vanilla extract
pinch of fine grain sea salt or pink Himalayan salt, to taste
1.5 tablespoons non-dairy mini chocolate chips (such as Enjoy Life brand, optional)
Directions
Line an 8-inch or 9-inch square pan with two pieces of parchment paper, one going each way so it's easy to lift out.
In a large bowl, stir together the oats, rice crisp cereal, sliced almonds, coconut, and chia seeds.
In a medium pot over low heat, melt the coconut oil. Remove from heat and stir in the almond butter, coconut nectar, and vanilla, until smooth.
Pour wet mixture over dry and stir well until thoroughly combined. Add a pinch of salt to taste and stir again.
Spoon mixture into the pan and roughly spread out (but don't pack down yet). Sprinkle on the chocolate chips in an even layer. Wet hands lightly and then press down the mixture until even. Use a pastry roller to roll it out and pack it in even more.
Transfer pan to the freezer for about 10 minutes until firm. Slice into bars, wrap, and store in the fridge or freezer. These bars fall apart easily so I don't recommend leaving them at room temperature for longer than a few minutes.
Nutritional info: (based on 14 servings, per bar with chocolate chips): 193 cals, 12.6 grams fat, 16.5 grams carbs, 3.5 grams fibre, 5.8 grams sugar, 5 grams protein.
Tip:
Note: I do not recommend swapping the coconut nectar or brown rice syrup for any other liquid sweetener. Other sweeteners won't be sticky enough to bind the bars.
Nutrition Information
(click to expand)