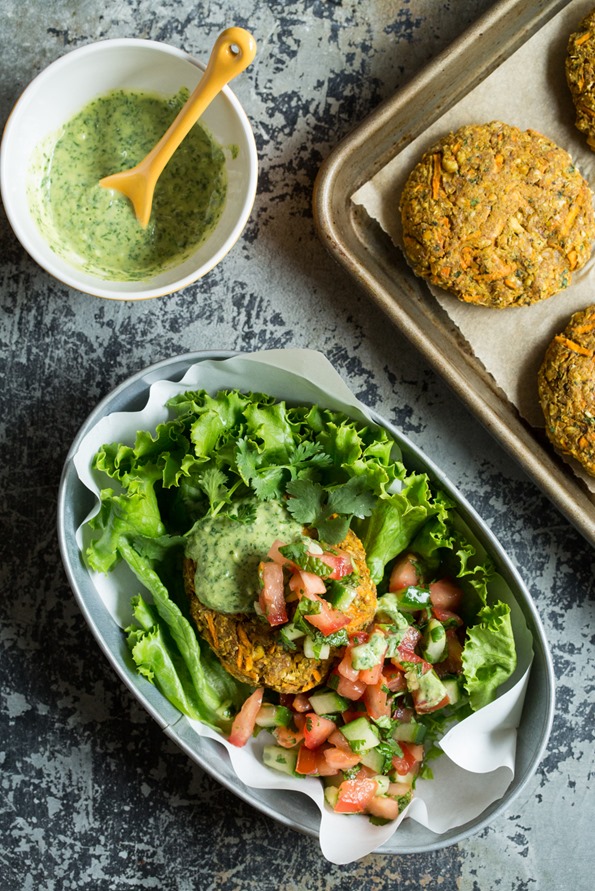 The original plan for today's post was to share this triple layer carrot cake. I was hoping for a birthday miracle – maybe just this once it would work on the first try? Yea right. Three trials later, I don't want anything to do with cake. (Let's be real, that probably won't last more than a day.) Vegan and gluten-free cake creation is not for the faint of heart, I tell you.
Enter Birthday Burgers. This might have to become a yearly tradition! I think I like this meal better than cake anyway. You've probably heard of those BB skin creams and potions that are everywhere these days. Well, I like to think of this as a BB meal. There's no sugar crash – just a boost of energy for hours, a kick in your step, a glow to the skin. Total BB meal. Nourish that skin from the inside out. Wrapped in curly lettuce and topped with a cilantro-lime-tahini sauce and homemade salsa, it's just about the most balancing meal I could've hoped for to kick off turning 31. It's going to be a great year.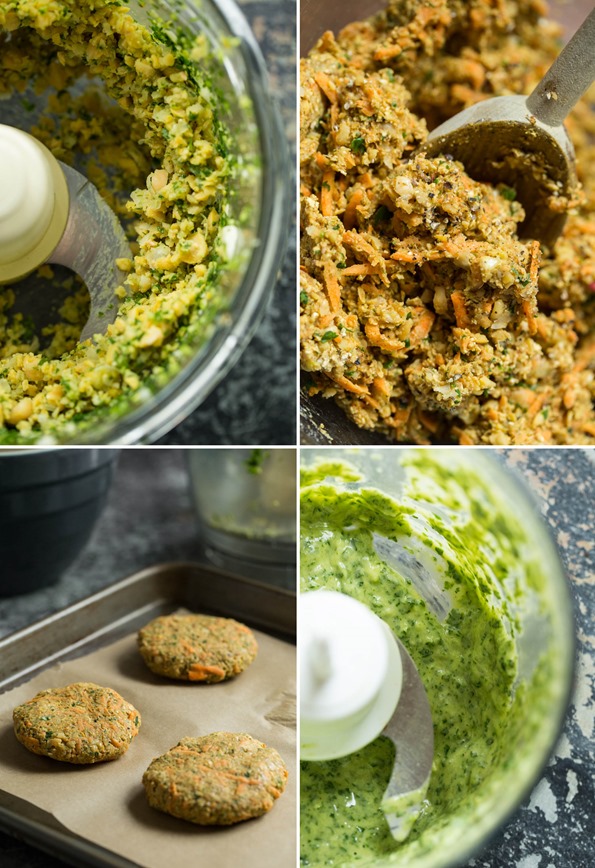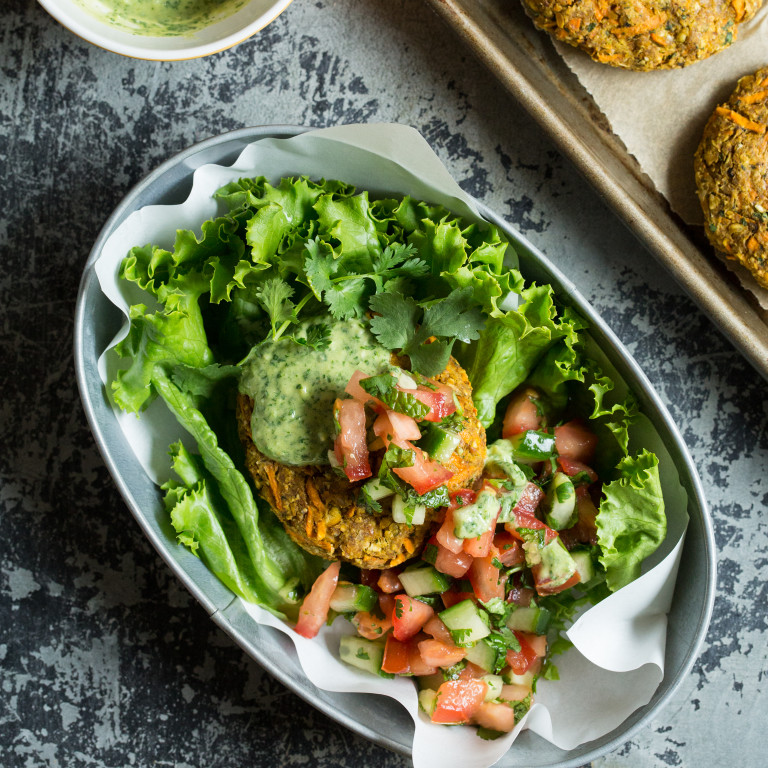 Moroccan Yam Veggie Burgers with Cilantro Lime Tahini Sauce
Vegan, gluten-free, nut-free, refined sugar-free

Yield

6-8 patties
Prep time

Cook time

Total time

A flavourful Moroccan-style veggie burger served with a tangy and fresh cilantro-lime tahini sauce. You can make these burgers soy-free by using coconut aminos and they are naturally gluten-free when using certified gluten-free rolled oats/oat flour. Burger recipe is inspired by Ryan's Moroccan Yam veggie burgers from the Whitewater Cooks Cookbook.
Ingredients
FOR THE BURGERS:
1.5 cups grated yam (I used a sweet potato in a pinch)
2 large garlic cloves, peeled
3/4 cup fresh cilantro leaves
1 small piece of fresh ginger (1 cm cube), peeled
1 (15-ounce) can chickpeas, drained and rinsed (about 1.5 cups)
2 tablespoons ground flax mixed with 3 tablespoons water
3/4 cup rolled oats, ground into a flour (use gluten-free if necessary)
1/2 tablespoon sesame oil
1 tablespoon coconut aminos or low-sodium tamari
1/2-3/4 teaspoon fine grain sea salt or pink Himalayan salt, to taste
Freshly ground black pepper, to taste
1 1/2 teaspoons chili powder
1 teaspoon cumin
1/2 teaspoon coriander
1/4 teaspoon cinnamon
1/4 teaspoon turmeric
FOR THE CILANTRO-LIME TAHINI SAUCE (makes 1/2 cup):
1 small garlic clove, peeled
2/3 cup fresh cilantro leaves
1/4 cup extra virgin olive oil
3 tablespoons fresh lime juice, or to taste
2 tablespoons tahini
2 tablespoons water
1/2 teaspoon cumin
salt and pepper, to taste
Directions
FOR THE BURGERS: Preheat the oven to 350F. Line a large baking sheet with a piece of parchment paper.
Peel the yam. Using the regular-sized grate hole, grate the yam until you have 1 1/2 lightly packed cups. I used the grater attachment disc in my food processor to save time (it takes less than 20 seconds). Place into large bowl.
Remove grater attachment from food processor, and add the regular "s" blade. Mince the garlic, cilantro, and ginger until finely chopped.
Add drained chickpeas and process again until finely chopped, but leave some texture. Scoop this mixture into a large bowl.
In a small bowl, stir together the flax and water mixture.
Grind the oats into a flour using a blender or a food processor. Or you can use 3/4 cup + 1 tablespoon pre-ground oat flour. Stir this into the mixture along with the flax mixture.
Now stir in the oil, aminos/tamari, salt/pepper, and spices until thoroughly combined. Adjust to taste if desired.
Shape 6-8 patties, packing the mixture firmly together. Place on baking sheet. Bake for 15 minutes, then carefully flip, and bake for another 18-23 minutes until golden and firm. Cool on pan.
FOR THE CILANTRO SAUCE: Mince garlic in a food processor, followed by the cilantro. Add the rest of the sauce ingredients and process until smooth and creamy.
Serve the patties with a generous dollop of sauce and optional homemade salsa (from OSG cookbook, p.95) with a bun or lettuce wrap.
Tip:
Note: I was missing a bit of crunch in these burgers, so next time I think I will add 1/4 cup sunflower seeds into the mix.
Nutrition Information
(click to expand)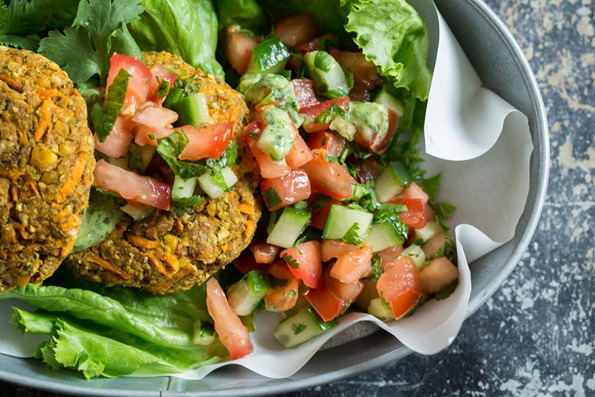 Don't forget – today is the last day to enter the #osgcookbook Vitamix Contest. Keep those pictures coming!