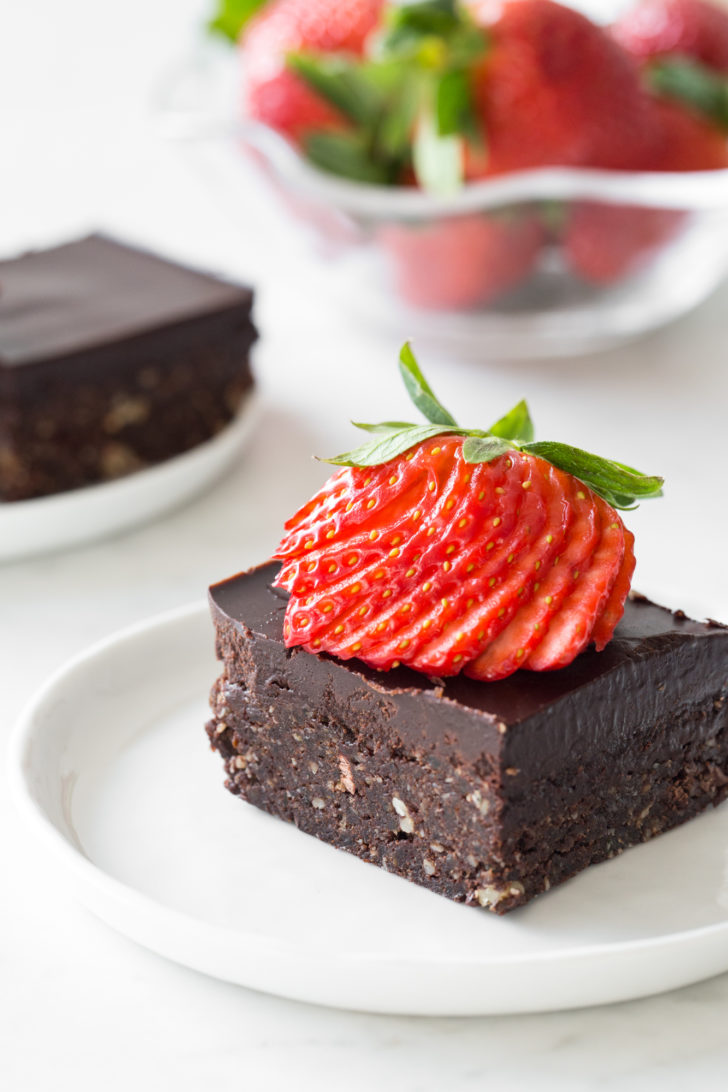 We've been having a total love affair with these raw brownies for the past couple weeks. A little nibble here, a little nibble there. I'm actually amazed that they've lasted this long, but just a small square is enough to satisfy my chocolate cravings. That's how you know a chocolate dessert is the real deal. Plus, if the dancing in my belly is any indication, they are a big hit.
Lately, our evenings go something like this: We put on the hockey game (we're avidly following both the Pens and Habs series which is basically another full time job) and I'm on my laptop doing some nursery planning as I scream at the TV. Eric is searching the freezer for these brownies. Nursery planning leads me to the uneasy discovery that I have zero home décor ability (not to mention decision making skills), but I still hold onto the hope that I can turn the room into the DIY nursery of my dreams. I curse those picture perfect rooms on Pinterest as I eat my brownie and watch hockey. Eric reassures me that the dresser we picked up at the second hand store is going to be transformed into something amazing for the baby's room. I've always wanted to be a crafty goddess, so now I'm excited to start this project and see what I'm really made of.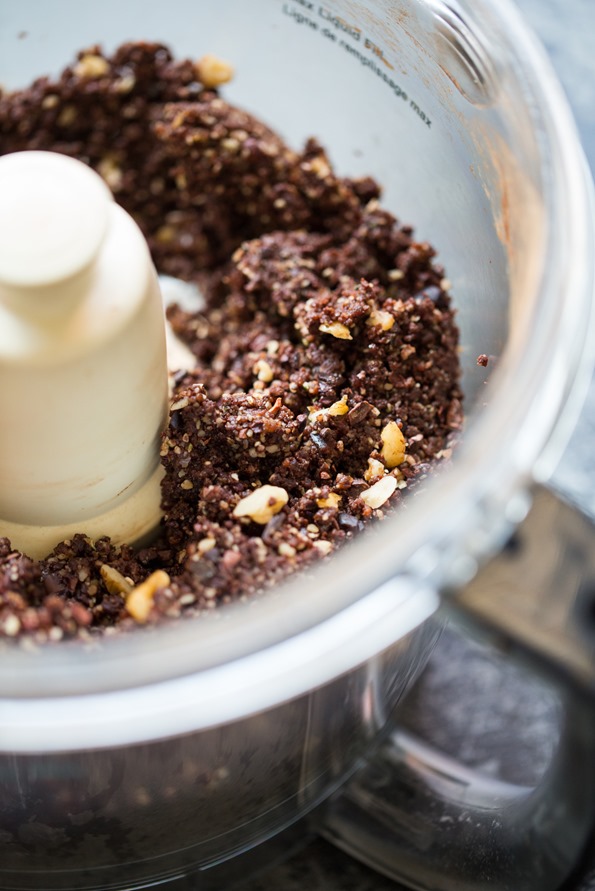 And O.M.G., these brownies. This raw brownie dough is made up with protein-packed hemp hearts, walnuts, Medjool dates, raw cacao powder (cocoa powder works too!), vanilla, and Himalayan sea salt. Just throw it into the food processor and voila. To add some crunch, I pulsed in some cacao nibs and chopped walnuts. The crunch is essential! The result is a chocolaty brownie-like dough all without the using the oven, flour, sugar, or butter.
But I didn't stop with the brownie dough. Of course not. Go big or go home. I poured on homemade chocolate for a second layer. The chocolate hardens into a thick shell, giving these brownies a wonderful snappy texture – best enjoyed straight from the freezer. The contrast of the firm chocolate shell and the chewy brownie is just heaven!
This recipe is quite versatile though so have fun playing around with it. I imagine you could make several different variations on these just by changing the nuts/seeds, extracts, topping, etc.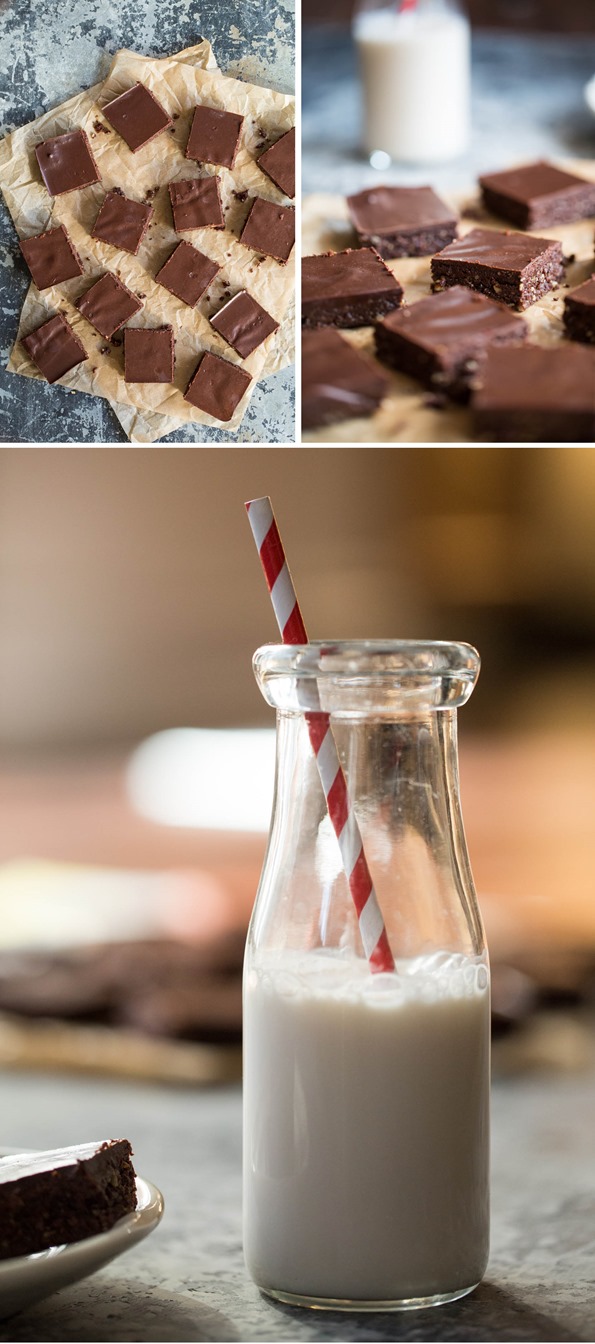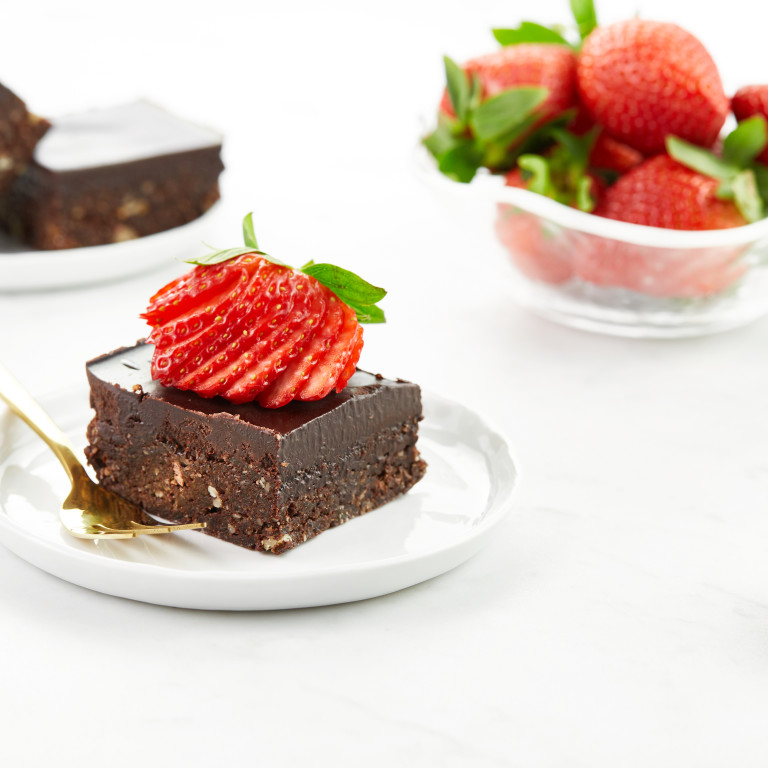 Two-Layer Raw Chocolate Brownies
Vegan, gluten-free, grain-free, no bake/raw, refined sugar-free, soy-free

Yield

12 squares
Prep time

Cook time

0 minutes
Chill time

30 minutes
Total time

Who knew fudgy, decadent brownies could be so packed with protein, omega-3 fatty acids, fibre, and antioxidants? Don't let the healthy, wholesome ingredients fool you though; these no-bake brownies will blow your mind with their intense chocolatey flavour and satisfyingly dense, chewy texture. Recipe inspired by Sweet Talk Blog.
Ingredients
For the brownies:
1 cup (100 g) walnut pieces
1/2 cup (70 g) hemp hearts
1 1/2 cups (275 g) lightly packed pitted Medjool dates

*

1/2 cup (40 g) raw cacao powder or unsweetened cocoa powder
1 1/2 teaspoons (7.5 mL) pure vanilla extract
1/4 teaspoon fine sea salt
1 to 3 teaspoons (5 to 15 mL) water, or as needed
1/3 cup (33 g) chopped walnuts
2 tablespoons (18 g) raw cacao nibs or chopped walnuts
For the homemade chocolate:
1/2 cup (125 mL) virgin coconut oil

*

*

1/2 cup (40 g) raw cacao powder or unsweetened cocoa powder
1/4 cup (60 mL) pure maple syrup
Pinch fine sea salt
1/4 teaspoon pure vanilla extract
Sliced fresh strawberries, for garnish (optional)
Directions
Line a 9x5-inch loaf pan (or an 8-inch square pan for thinner brownies) with a piece of parchment paper, leaving some overhang to remove the brownies in one piece.

Place 1 cup of walnuts into a food processor and process to a fine crumb. Be careful not to overprocess, as too much break-down will turn the walnuts into butter.

To the food processor, add the hemp seeds and pitted dates and process until finely chopped and sticky.

Add the cacao powder (or cocoa powder, if using), vanilla, and salt and process until thoroughly combined. The dough should be slightly sticky; if it's not, add water one teaspoon at a time and process the mixture again. I often add 1 to 3 teaspoons of water to achieve the right consistency.

Add the 1/3 cup walnuts and 2 tablespoons raw cacao nibs (or additional chopped walnuts if using), and pulse the batter until just combined.

Spoon the mixture into the prepared pan and spread it out evenly. If you have a pastry roller on hand, you can use it to roll the dough until smooth on top. Otherwise, simply press the dough down with your hands and ensure the edges are even. Place the pan in the freezer for about 10 minutes.

Prepare the homemade chocolate: Melt the coconut oil over low heat in a medium pot. Remove the pot from the heat and whisk in the cacao powder (or cocoa powder, if using), syrup, salt, and vanilla until smooth and thoroughly combined.

Remove the brownies from the freezer and pour on all of the chocolate topping. Carefully transfer the pan back to the freezer and let rest on a flat, even surface. Chill uncovered for at least 20 minutes, or until the topping is firm enough to slice. You might find the homemade chocolate will freeze a bit unevenly, but this is normal!

To remove the brownies, run a knife under hot water for a minute or so and carefully slide it along the ends of your pan to loosen the slab. Using the excess parchment paper, lift the brownie slab out of the pan and place it onto a cutting board. Run the knife under hot water again and wipe off excess water. Pressing the knife down slowly, slice the brownies into squares. Top with strawberries, if using.

Leftovers can be stored in an airtight container in the fridge for several days, or tightly wrapped and frozen for 1 to 2 months. You can enjoy the brownies frozen, chilled from the fridge, or at room temp...your choice! I personally love them semi-frozen.
Tip:
* You'll want to use soft, fresh Medjool dates for this recipe to ensure your batter is sticky enough. If your dates are firm, try soaking them in water for 30 to 60 minutes—drain well and use as directed.
** Instead of the homemade chocolate topping, you can melt 3/4 cup non-dairy chocolate chips in a small pot over the lowest heat, stirring until smooth.
Nutrition Information
(click to expand)