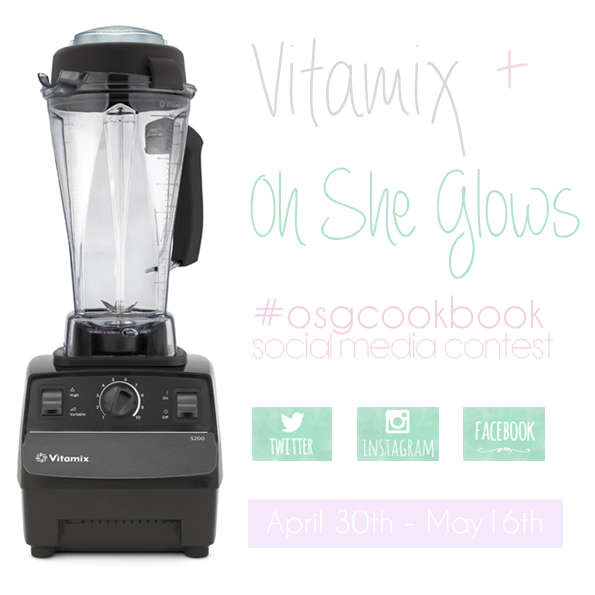 Today I'm excited to let you know that our friends at Vitamix are generously donating a brand new Vitamix machine to one lucky Oh She Glows winner! Exciting stuff! I've been using the Vitamix in my kitchen every single day for years and I can't imagine my kitchen without it. There's something to be said about guzzling the smoothest of smoothies and enjoying the creamiest of sauces that makes my heart skip a beat.
HOW TO ENTER:
Upload a picture of a recipe you've made from The Oh She Glows Cookbook to your Instagram, Facebook, and/or Twitter accounts between April 30th to May 16th and tag the picture with #osgcookbook and #vitamixcontest (the tags are very important so my tracking tool picks up your entry). You can also share pictures of the cookbook in your house/kitchen/outside (get creative!) or snap pictures of yourself/family/friends/pets with the book. I tell you, it's hard to beat a good cat cookbook selfie. hah. If you've posted cookbook recipe pictures prior to April 30th you can re-post them on social media to make sure they get picked up for this contest. Photos posted between April 30 and May 16 will be counted. Don't forget to tag the photo #osgcookbook and #vitamixcontest in order for the contest software to track your entry.
You can upload as many different recipe photos as you want. Each photo will count as an entry (as long as it's tagged properly). So, if you're making lots of recipes from the cookbook, go wild and post as many as you want over the 2-week period. If you post the same photo to Instagram, Facebook, and Twitter, it will count as 3 entries since it's three different social media platforms. Make sense?
Vitamix is opening this contest to US and Canadian residents and it will run until May 16th 2014.
The winner will be chosen at random after contest closing. I will update this blog post with the winner on Saturday May 17th (and on Twitter) so be sure to check back to see if you won! I will also try to notify you via the social media platform you used, however sometimes that doesn't work if you have privacy restrictions set up. If I do not hear from the winner within 1 week's time, I will choose a new winner.
THE VITAMIX AT A GLANCE:
Has the ability to chop, cream, blend, heat, grind, churn, and more, with a single machine
Quick and easy self-cleaning with a drop of dish soap and warm water; just run on High for 30 seconds
7-year full warranty
Easy-to-use equipment paired with extreme versatility
Create smoothies, hot soups, and frozen desserts
64-ounce container
A big thanks to Vitamix for donating this blender. Now go on and tag your #osgcookbook photos. Check back to this post on May 17th to see if you are the lucky winner….best of luck everyone & happy cooking!
WINNER UPDATE!
Hey guys – I'm so sorry for getting the winner up a day late! The weekend totally slipped away from me. Thank you all for the amazing response to the #osgcookbook contest! I had so much fun seeing all of your pictures! We had a total of 1893 entries which is so awesome! The winner was selected randomly as I mentioned (using random number integer) and without further ado the new Vitamix blender goes to #957 – also known as thevickster67 on Instagram! Congrats! Please email press[at]ohsheglows[dot]com so we can ship this blender to you.
PS- Here is the image that was shared via Instagram:
{Please note comments are closed on this post to avoid confusion about how to enter this contest.}