I always wanted to be one of those pregnant women who soared through the first trimester, completing the usual workout routine like it was no big deal. Well, that couldn't have been further from my own experience! Once the nausea and fatigue hit between 6-14 weeks, I couldn't even fathom working out. I did a bit of hiking while we were on our trip (week 7), but it left me feeling exhausted and run down (and wouldn't you know it I got sick after the trip).
I knew I had to listen to my body during the first trimester and focus on getting enough rest during a busy few months. Everyone said I'd get my energy back for the second trimester and while I had my doubts, I sure hoped I did. Lo and behold, around week 14 or so, I started to notice a shift in my energy levels and the nausea started to dissipate too. It was finally time to dig out the prenatal DVD that I ordered and put it to some good use! I don't think I've ever been so excited to workout.
After researching a lot of prenatal DVD's on Amazon, I decided to buy the highly rated 10 Minute Solutions Prenatal Pilates DVD: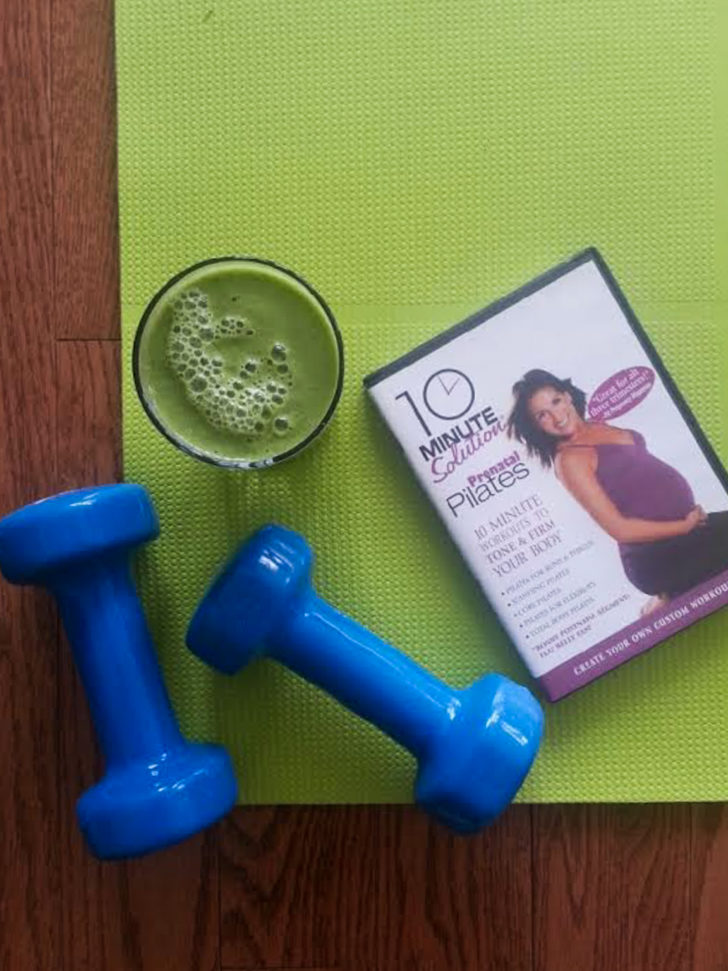 After ordering the DVD, I discovered it's also available on You Tube! I am happy to support her though. I enjoy this DVD because it's broken down into quick 10-minute segments. I don't think I've ever said to myself, "I can't do 10 minutes!" unless we're talking about the first trimester, that is. The instructor, Lizbeth Garcia is 36 weeks pregnant in the video and she looks so healthy and strong! She's definitely inspiring me to keep up with workouts all pregnancy long. My two favourite segments are the Standing Pilates and the Pilates for buns & thighs. Boy, was I sore the first couple times I did the workouts. I should also note that I use 5 pound weights instead of the suggested 2-3 pound weights.
Lately, I've settled into a consistent morning workout routine:
Standing Pilates segment (10 minutes) ~5x per week
Pilates for buns & thighs (10 minutes) ~5x per week
"Madonna Arms" workout on Youtube (10 minutes) 3x per week  <– it's a total love/hate
Walking outdoors – now that the weather is slowly improving, I'm trying to get out trail walking with Eric when we can!
So this is my prenatal routine at the moment, but I can see myself mixing it up soon. Keep in mind that this is what works for me right now and I always recommend consulting your doctor before beginning a new routine! My goal throughout pregnancy is to feel strong & healthy. I'm definitely building muscle and feeling so much stronger over the past month. I'm sure this routine will change as the months go on. I wouldn't mind finding a few more prenatal workouts online or in DVD format to add to the mix! If you guys have any suggestions, leave them below. :)