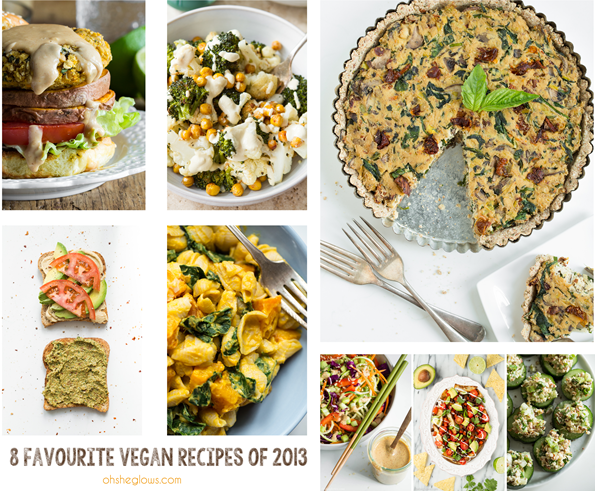 Happy New Year! I hope 2014 is being good to you so far. I spent the first day of the year watching the Winter Classic hockey game (so fun!), working on a bonus e-book (details to come), and making a tasty soup recipe with Eric. It was a fun, quiet day…no complaints here!
This past year brought with it many challenges, as they always do. One major work-related challenge for me was juggling recipe creation, writing, and testing for both the cookbook and this blog. Most of the time I felt like I wasn't accomplishing much on either end, always torn between both demands even though I was working more hours than ever. There were a lot of unexpected stressors that came up along the way. I learned so much from writing a book and I'm so grateful for the experience though. It pushed me way out of my comfort zone and forced me to improve, grow, and learn in many different areas. I like to think of 2012/2013 as recipe creation boot camp. After 2 intense years, I'm eager to start new projects. Oh, and make more time for fun. Who knows what adventures 2014 will bring…
I heard a quote yesterday from Dick Irvin who said something to the effect of, "When life knocks you down, make sure it knocks you forward." What wise words! It reminds me of my dear grandpa who has been through so many difficult challenges with his health over the past few years. They definitely knocked him forward, I can say with utmost certainty. And not only did his positivity get him through the toughest of times, but he tells my mom what a blessing it has been because it brought out the best in his family. My goal for 2014 is to be knocked forward from whatever challenges may come my way. As luck would have it, I trip on things a lot so hopefully this forward momentum continues!
As I like to do at the beginning of each year, I've put together a list some of my favourite vegan recipes from the past year. Since many of us, myself included, tend to be looking for healthy lunch and dinner ideas for the new year, I thought this list would be especially timely. So here they are, my favourite lunch and dinner recipes of 2013! I've included the top 3 most clicked entrée recipes at the end of this post in case you are curious which ones got the most hits. And of course, feel free to tell me yours in the comments!
1. Thai Sweet Potato Burgers with Spicy Peanut Sauce
Vegan, gluten-free, soy-free option, refined sugar-free
Bursting with flavour, these Thai-inspired veggie burgers will make your every dream come true! The patties are made with a base of shredded sweet potato and chickpeas and are flavoured with fresh garlic, ginger, cilantro, basil, and a sprinkle of lime juice and sesame seed oil. Oh my lanta, they are good. These burgers are naturally gluten-free and you can make them soy-free by using coconut aminos instead of the tamari (or simply omit the tamari all together).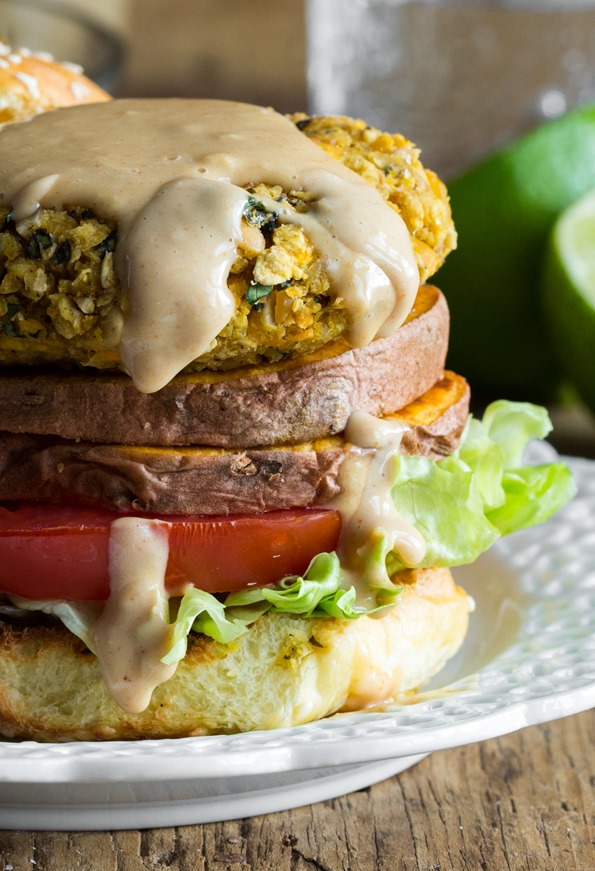 Vegan, gluten-free, grain-free, soy-free, sugar-free
Crunchy roasted chickpeas and hearty roasted cauliflower and broccoli are topped with a creamy cashew-based lemon tahini sauce. Try serving it with a base of quiona for a meal that will keep you going for hours. I've even heard from a few moms that their young children love this bowl!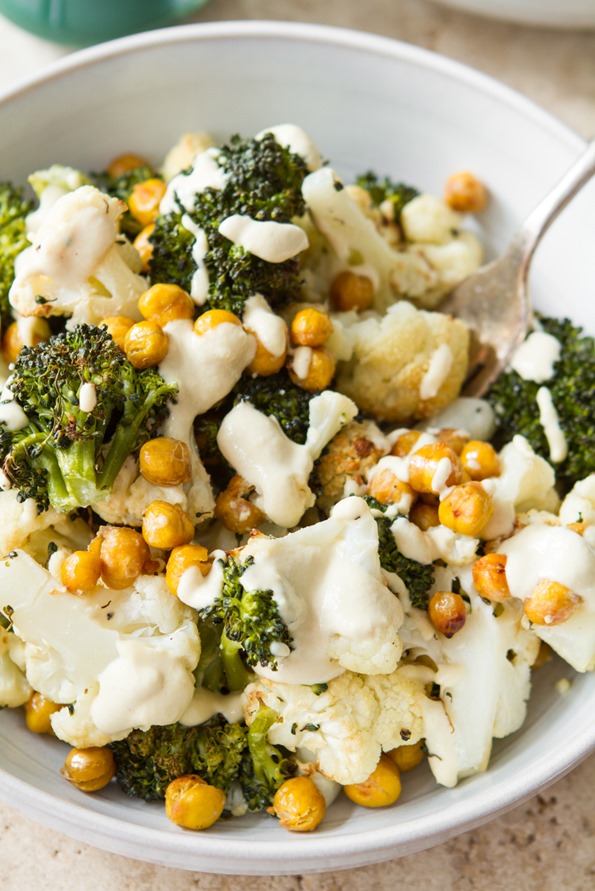 3. Ultimate 4-Layer Vegan Sandwich 
Vegan, no bake/raw, nut-free, soy-free, sugar-free
Do I ever love a great sandwich. Toasted sprouted grain bread is slathered with hummus and homemade sun-dried tomato hemp pesto all topped off with sliced avocado, tomato, and red pepper flakes. This is one vegan sandwich that you won't soon forget! Try it in a wrap if you don't want to use toasted bread. For a gluten-free option, use gluten-free bread (or wrap) or try serving it wrapped in Bibb lettuce for a grain-free option.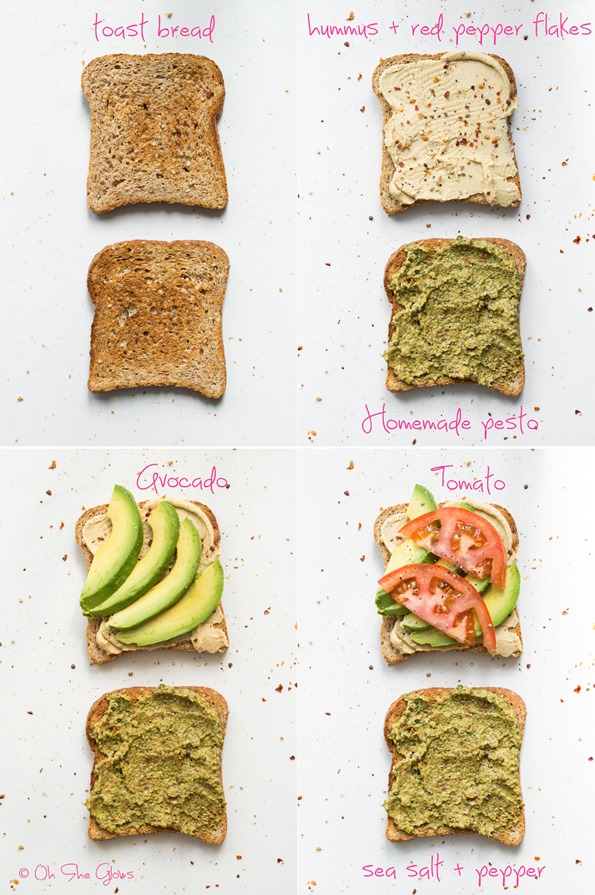 Vegan, gluten-free, grain-free, no bake, refined sugar-free, soy-free option
Ready to feel amazing? This salad is inspired by a raw Pad Thai dish I enjoyed at a restaurant called Marbles in Waterloo. It just might be one of my favourite recipes of all time. It's hard to rival how energized and happy I feel after eating it! For a soy-free option omit the edamame (you can throw in a bean of choice) and use coconut aminos instead of tamari.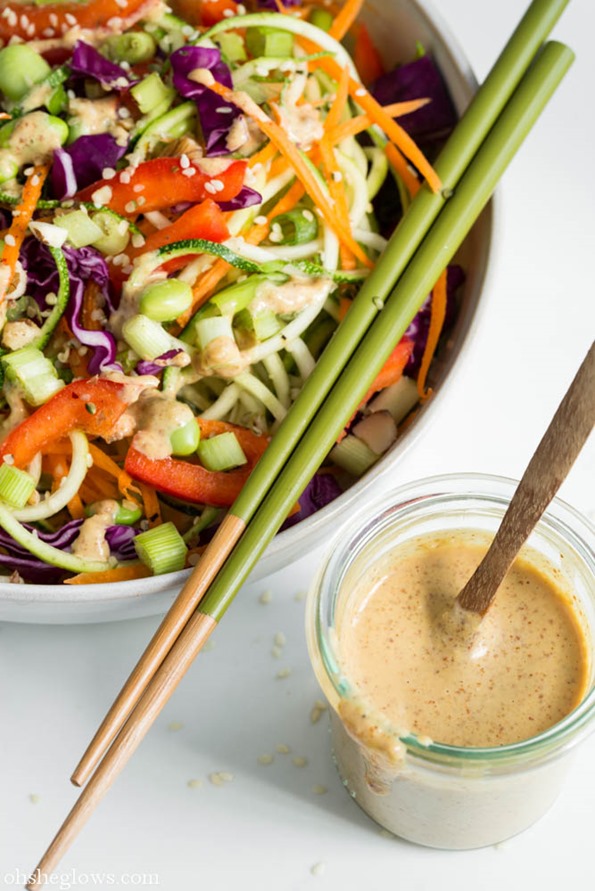 5. Sundried Tomato, Mushroom, and Spinach Tofu Quiche
Vegan, gluten-free, sugar-free
This was my first time making a tofu quiche and it blew us away! Many of you are loving it too; I've had so many rave reviews about this quiche. Enjoy it for breakfast, lunch, dinner, or a snack. I've made this a few different ways simply by changing up the vegetables used. One version used asparagus (1 cup diced) and broccoli (1.5 cups diced), which was also very nice. The only thing I would advise against is using a high-water vegetable, like fresh tomatoes as it might result in a water-logged quiche. Best of all, it reheats well. Simply place leftover quiche on a baking sheet and pop it in the oven for 15-20 minutes at 350F.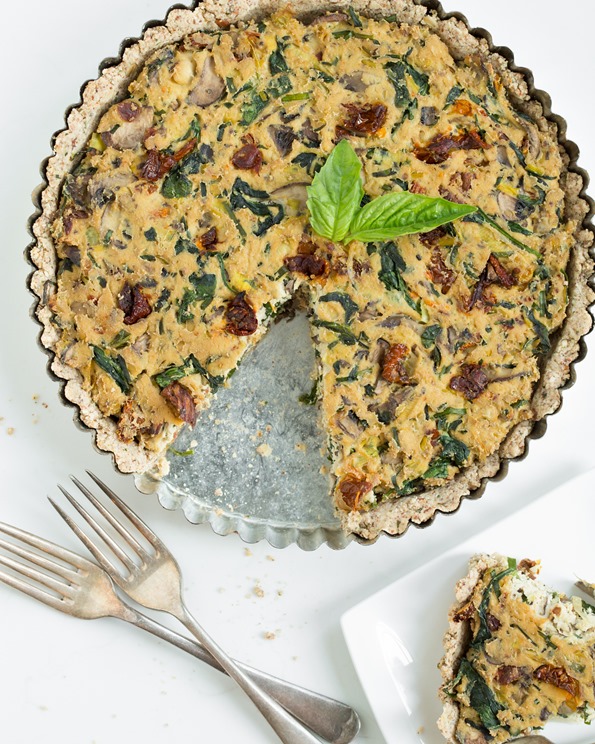 6. Smoky Butternut Squash Sauce with Pasta and Greens
Vegan, gluten-free, oil-free, soy-free, sugar-free
Creamy comfort food at its finest. This recipe is adapted from my Butternut Squash Mac and Cheeze recipe from 2011. While the former version is a huge hit on the blog, some of you didn't like how sweet the sauce is. This version I'm sharing today is still quite sweet thanks to the butternut squash and cashews, but I've tried to balance it out better with some smoky seasonings like liquid smoke, chili powder, smoked paprika, and some hot sauce for a kick and more depth of flavour. It's a big hit in this house. This sauce is also great heated up and poured over roasted vegetables and brown rice if you don't want pasta. Use it any way you see fit! I think you'll be surprised by how creamy and satisfying it is all without a lick of butter or oil.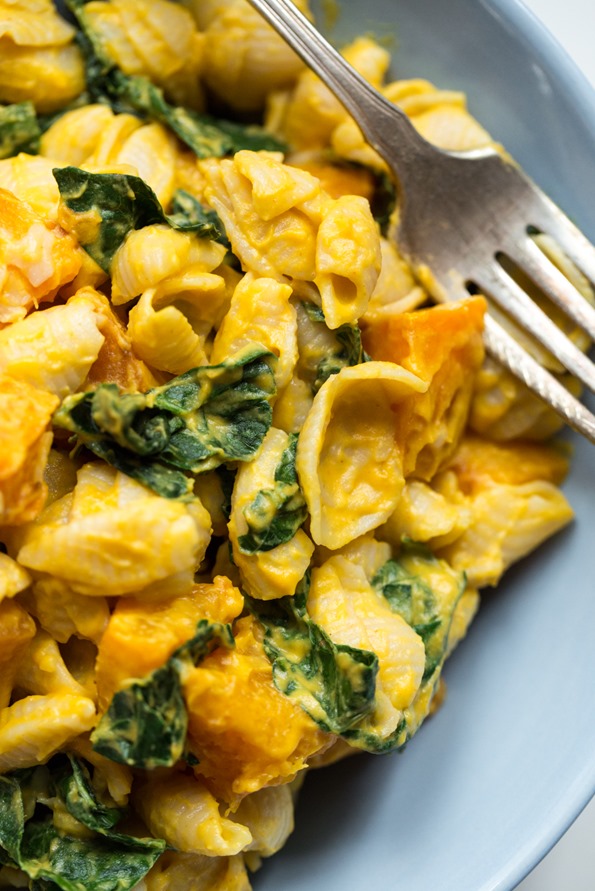 7. Easy Flaked Almond "Tuna" Salad
Vegan, gluten-free, grain-free, soy-free option, no bake
I think this almond "tuna" salad tastes even better than the real thing. The base of this salad is made with plump soaked almonds which are processed until "flaked" in texture. To bulk up the flaked almonds, I added celery, garlic, and green onion for more flavour and crunch. Finally some oil-based mayonnaise, Dijon mustard, salt, pepper, and lemon juice brought everything together. The end result is creamy, crunchy, a bit tangy, and seriously, seriously hard to resist. I couldn't stop eating it straight from the bowl! Try it on top of a salad, in cucumber cups, lettuce wraps, on toasted sprouted-grain bread.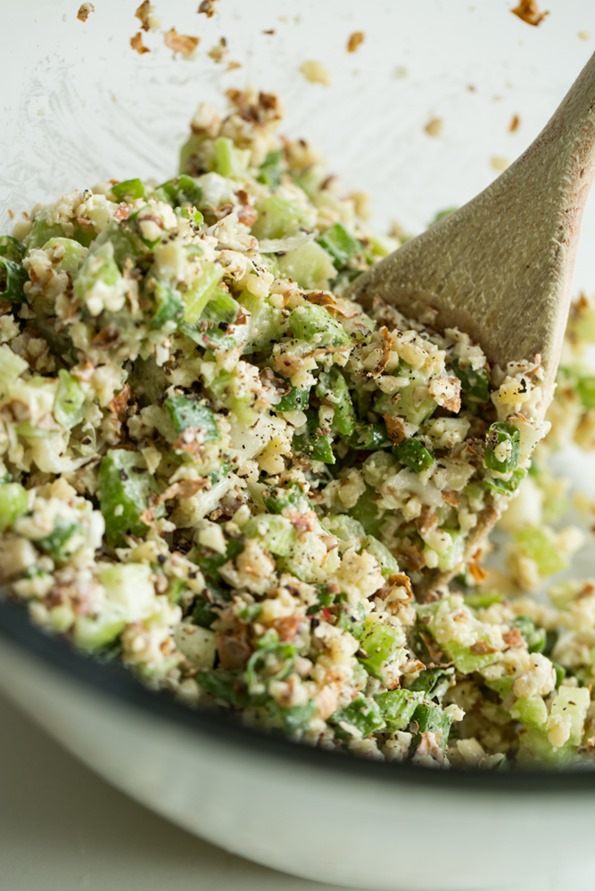 8. Black Bean & Potato Nacho Plate
Vegan, gluten-free, grain-free, soy-free, sugar-free, nut-free
This is the meal to make when you have no idea what to make.
This is the meal to make when you just want to devour a huge plate of nachos and call it dinner.
This plate is a staple in our house because we usually have most of the ingredients on hand. During the months when tomatoes are not in season, I like to use a jar of salsa instead of the cherry tomatoes.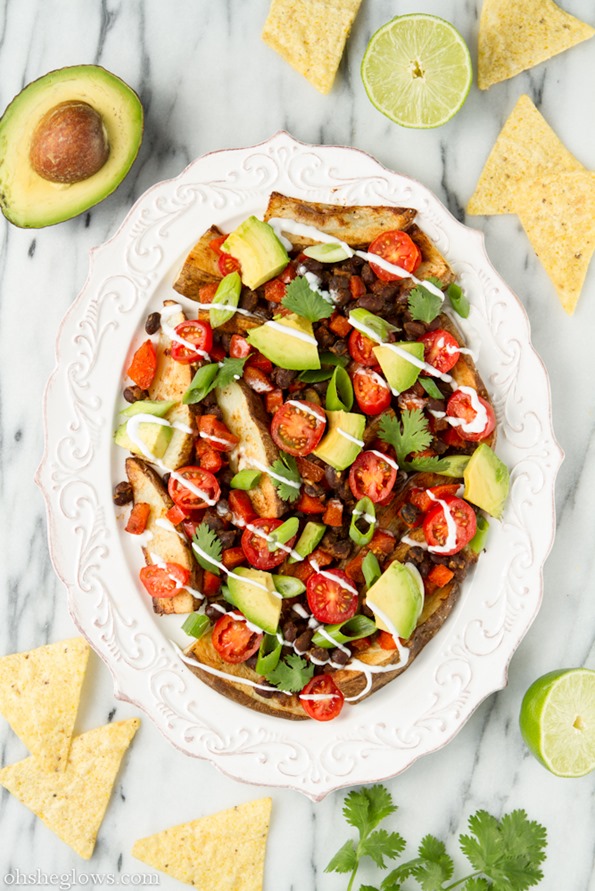 Here are the 2013 lunch/dinner recipes that had the most page views:
3. Green Powerhouse Pesto Plate
1. Rad Rainbow Raw Pad Thai (<—2013 winner!!)
Did you have a favourite recipe form 2013? Share below!
Wishing you all the best 2014 has to offer.