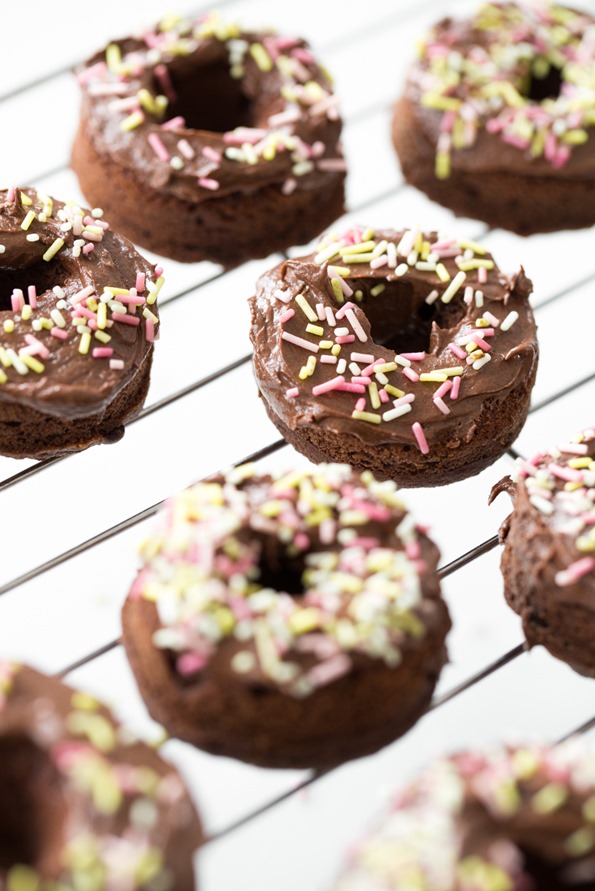 Not only is Ashley a good friend and one of my favourite bloggers, but she just came out with her first cookbook this month called Baked Doughnuts for Everyone! Her cookbook features 101 gluten-free doughnuts and around 50 gorgeous photographs shot by Ashley herself. The book is stunning, colourful, and oozing with baked doughnut inspiration. While most of the recipes in the book aren't vegan, you will find around 10 recipes that are completely vegan!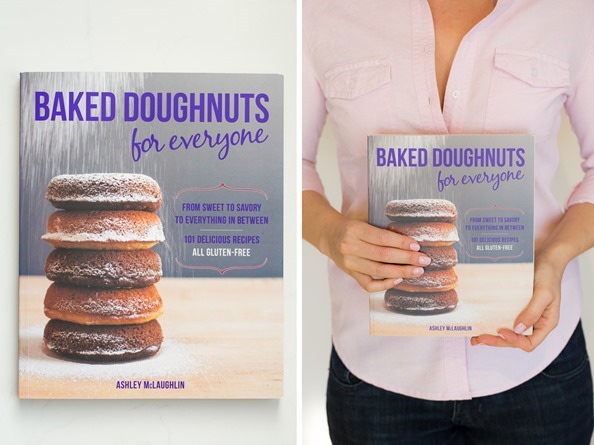 Ashley is just as she appears on her blog – funny, down to earth, and extremely talented. I only wish we lived closer!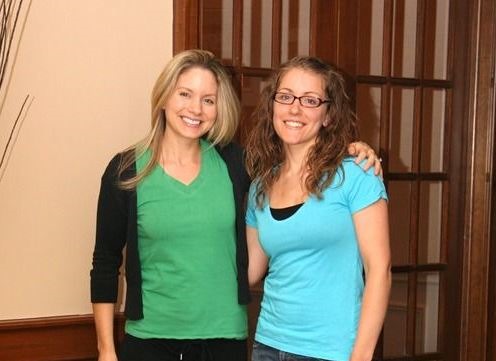 I thought it would be fun to hear from the author herself. See below for a Q&A I did with Ashley:
Can you tell us why you wrote this book and what it's all about?
The idea for Baked Doughnuts for Everyone actually originated with the publisher. They contacted me to see if I would be interested in writing a gluten-free, baked doughnut cookbook since they knew I had a slew of gluten-free baked doughnut recipes already on my blog.  Of course my answer was, YES!!! The book is all about baked doughnuts!  You will find everything from doughnut shop standbys, fruit-filled combinations, decadent indulgences, savory specialties, and so much more. There is even a recipe for dog-doughnuts!
What was it like seeing your book on the shelf for the first time?
It was absolutely surreal!  Everything started to really sink in when I held a copy of the book in my hands, then saw a stack of them in a store, and then saw people instagramming photos of the book. It's still hard to believe.  I am filled with excitement and gratitude.
I know there are a lot of readers out there who want to write a book of their own someday. Can you talk a bit about how you came to writing your first cookbook?
I was extremely fortunate to have the publisher come to me with this idea, so I was able to skip some of the process. However, I still had to write a proposal so it could be presented to the publishing team for approval.  Thankfully, it was approved! I overnighted 2 batches of doughnuts for their meeting which may have helped convince them this book needed to happen. ;)  I feel extremely fortunate to have had this opportunity and am thrilled with how everything has turned out.
I had a lot of ups and downs throughout the cookbook development process so I'm curious
to know what was the most difficult part about the process for you?
I think the hardest part was staying organized. There's no tutorial on how to write a cookbook, or how to stay organized while writing a cookbook, so I found this to be pretty challenging. I'm a fairly organized person but felt like a hot mess for the three months I was writing this book. I would also say the time frame was incredibly daunting. I had three short months to test, photograph, and write the entire book.  I worked non-stop to get it finished on time and don't remember leaving my house very much, except for daily trips to the grocery store, haha.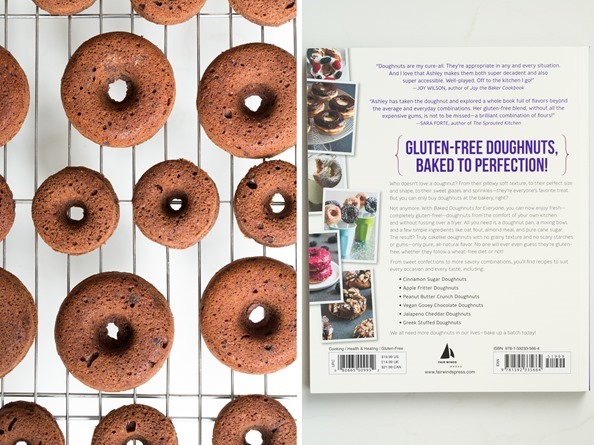 Were there any flavours you were certain wouldn't work, but they ended up surprising you?
Or vice versa? Not exactly, but I think there were a LOT of flavors that ended up being way more delicious than I expected. A few off the top of my head are: Blackberry Basil, Dried Fig and Goat Cheese, Carrot Cake, Strawberry Lavender, Everything [from the savory chapter], Red Velvet, and Tiramisu. Okay, I think I could have named half the book here, haha.  There were numerous flavors I wasn't sure would translate well into a doughnut but so many of the recipes ended up being such a pleasant surprise.
All of your recipes are gluten-free and made without the use of gums (such
as xanthan gum). As someone who hasn't had much success baking with xanthan gum, I appreciate this! Many of your go-to flours in this book are oat flour, sweet rice flour, almond meal, and coconut flour. Which is your favourite gluten-free flour to bake with and why? Thanks for making mention of this. I strive to keep my gluten-free baking as simple as possible, while creating a texture that no one ever suspects to be gluten-free. In the case of these doughnuts the gluten-free flours actually work in their favor. I don't think there is a way to duplicate the same soft, cakey texture using "regular" [gluten] flours. Picking a favorite flour is difficult because they really work together to create something magical.  But, if you make me choose I would have to say almond meal. Its moisture content from the fats adds a mild, nutty flavor and thick texture, which takes gluten-free baking to a whole new level.  No more starchy, crumbly, grainy baked goods here!  While gluten-free baking can seem daunting, my hope is that this book will help ease peoples' fears! That is one reason I tried to keep the same flours throughout the entire book

If you could live off of one doughnut for the rest of your life which one would you choose?
This is the hardest question ever and changes by the day.  I think the most delicious flavor and creation I'm most proud of is the Apple Fritter Doughnut. While it differs from the bakery fritter you may be familiar with, this baked version will most definitely knock your socks off.
I see there are a handful of vegan doughnuts in your book (thank you!) and I can't decide which one to make first. Help? I think the Vegan Gooey Chocolate Doughnuts are my favorite! This was actually a recipe that happened by accident a few years back. I was making doughnuts for my sister-in-law and they didn't bake all the way through. I was annoyed at first but we dug into them anyway and decided they were absolutely delicious and addicting and needed to become an actual recipe.  One of my favorite things to do is prep the wet and dry ingredients separately while I'm getting ready for a dinner party. Then, just before dinner, I'll whisk the ingredients together and place them in the oven.  By the time dinner is over dessert is ready! The only other thing you need is a scoop of vanilla bean coconut milk ice cream to finish things off right.
Well, on that note, I see gooey chocolate doughnuts in my future! Thanks again Ashley and congrats on your new cookbook!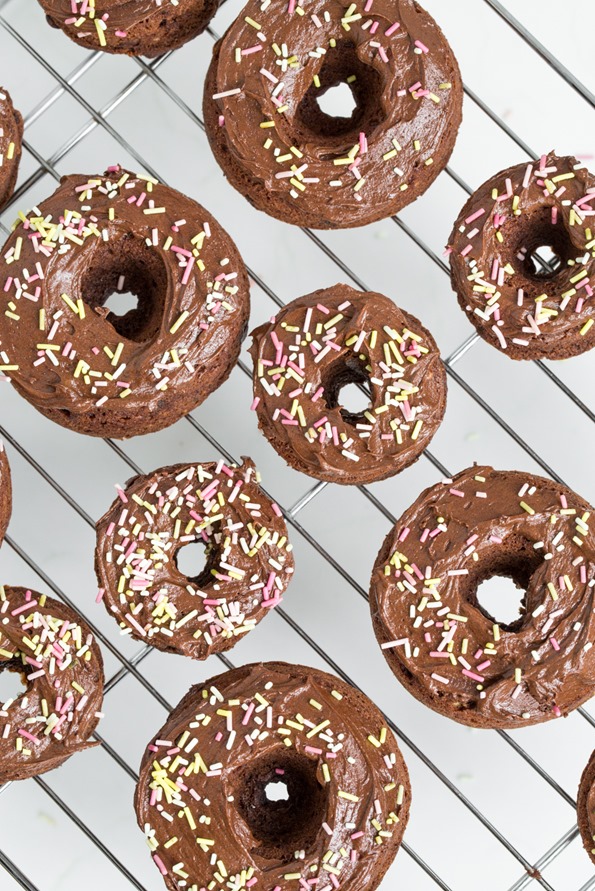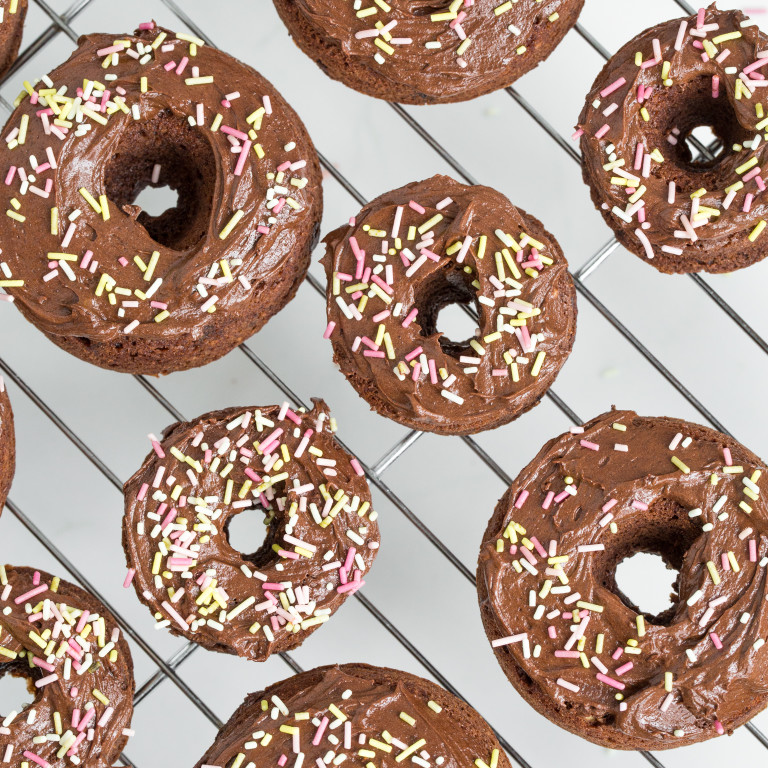 Ashley's Triple Chocolate Doughnuts

Yield

10-12 standard doughnuts
Prep time

Cook time

Total time

Angela's note: Gooey, moist, and dense these vegan and gluten-free doughnuts will satisfy your every chocolate craving and then some! Vegan + GF doughnuts are sensitive to ingredient changes, so it's important not to make any substitutions in this recipe. Please note that sweet rice flour is not the same thing as rice flour and they are not interchangeable. Printed with permission from the book Baked Doughnuts for Everyone by Ashley McLaughlin. Excerpted by arrangement with Fair Winds Press. Copyright © 2013.
Ingredients
For the doughnuts:
1/2 cup oat flour
1/2 cup sweet rice flour
1/2 cup pure cane sugar
1/4 cup unsweetened cocoa powder
2 tablespoons almond meal
2 tablespoons coconut flour
2 tablespoons ground flax meal
1 teaspoon baking powder
1/2 teaspoon baking soda
1/2 teaspoon salt
3/4 cup unsweetened almond milk
1/4 cup unsweetened applesauce
3 tablespoons oil (I used grapeseed oil-AL)
1/2 cup vegan dark chocolate chips (I used Enjoy Life mini chips-AL)
For the chocolate frosting:
2-3 tablespoons unsweetened almond milk
2/3 cup powdered sugar
3 tablespoons vegan butter
1/4 cup cocoa powder
vegan sprinkles, for garnish (I used Let's Do Sprinklez -AL)
Directions
Preheat oven to 350F and grease a doughnut pan.

For the doughnuts

: Combine the dry ingredients in a large bowl and stir until combined. In another bowl, whisk all of the wet ingredients (milk, applesauce, oil) together until fully combined.
Pour the wet mixture into the dry ingredients and stir with a wooden spoon until just combined, being careful not to overmix (stop when you no longer see dry flour). Let batter sit for 5 minutes. Do not stir after this point. The batter will be very thick and not pourable.
Spoon the batter into the doughnut molds, filling to just below the top of each mold (3 to 6 mm) from the top. Lightly smooth out the top of the batter with a small silicone spatula. Do not pack the batter down.
Bake for 18-23 minutes. A toothpick inserted into the centre should come out clean (unless you stab it into a melted chocolate chip, that is!). Let cool in the pan for 5 minutes. Slide a thin spatula around the edges of the doughnut to help loosen them out. Then place on a cooling rack and allow to fully cool before topping.

For the frosting

: Add the frosting ingredients into a medium bowl and beat with electric mixers until smooth, adjusting the amount of milk or sugar, if necessary. Spread the frosting onto cooled doughnuts and garnish with sprinkles, if desired.
Tip:
Note: I baked the doughnuts for a bit longer than called for (23 minutes) and used a regular size pan (6 doughnut) and a mini pan (12 doughnuts), baking both at the same time.
Nutrition Information
(click to expand)
It's Giveaway Time!
If you'd like a chance at winning your own copy of Baked Doughnuts for Everyone PLUS a set of fancy measuring spoons, simply leave a comment below to enter! Let me know your favourite flavour of doughnut, if you'd like! Thanks to Ashley for the generous giveaway!
This giveaway is open to anyone in the U.S., Canada, and U.K. Contest will run until Friday October 11th. Good luck!
WINNER UPDATE:
The winner of the Baked Doughnuts for Everyone giveaway goes to #519 – Christine H. Her favourite doughnut flavour is "Double chocolate with sprinkles!"
Congrats Christine!