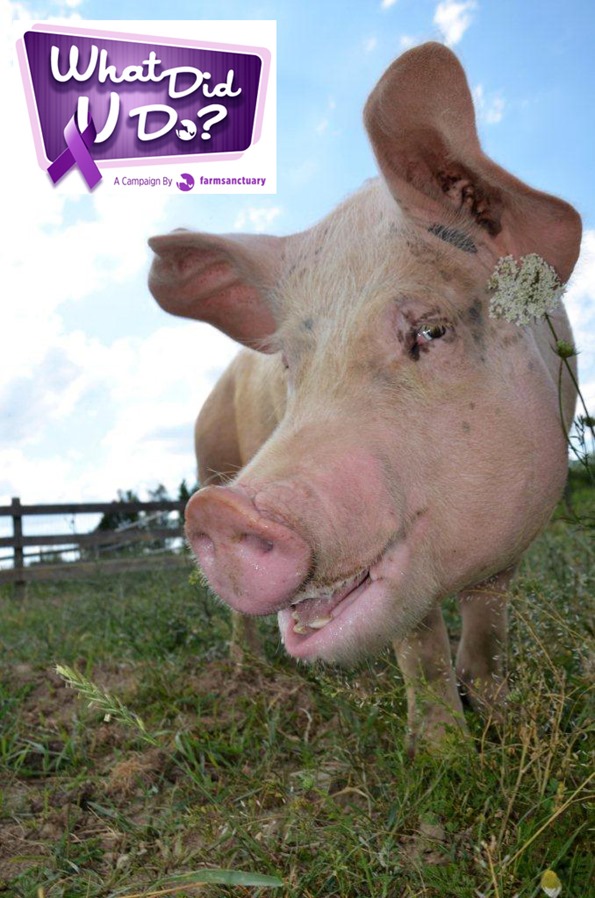 Image courtesy of Farm Sanctuary
Recently, my friends at the Farm Sanctuary invited me to participate in their "What Did You Do?" campaign which is going on from September 23rd until the World Day for Farmed Animals, on October 2nd. I've been such a huge fan of the Farm Sanctuary for years, I didn't even hesitate to say count me in!
For those of you who aren't familiar, Farm Sanctuary is the largest farm animal rescue and protection organization in the United States. Guided by their incredibly talented and passionate President, Gene Baur, the team rescues hundreds of farm animals each year. Many of these animals are found on the brink of death due to cruel factory farm conditions. They've lived a life of torment and isolation with broken spirits, and they are often depressed and fearful of humans. But the Farm Sanctuary gives these animals a new lease on life. Their various shelters, located in New York and California, encourage visitors and volunteers to meet and connect with the animals, recognizing their inherent intelligence, value, and playful, kind spirits. Many are surprised to learn that farm animals have unique, intelligent personalities much like the pets we love and cherish in our own homes. They also form strong bonds with other animals, and you can see this in action in this short video below:
Without the help of donations and Farm Sanctuary members, many of these animals would not receive the second chance they deserve. That's where Farm Sanctuary's "What Did You Do?" campaign comes into play and why we need your help. Here is a short video describing the campaign in more detail. You can also visit their website for more information.
I joined TEAM MOO, which should come as no surprise! As I wrote in last week's post, I used to have a cow collection as a child so this seems like a natural fit. :) Although I have to say, I'm partial to all the animals and it was really hard to pick a team! Decision making was never my strong point…
Oh hay cutie.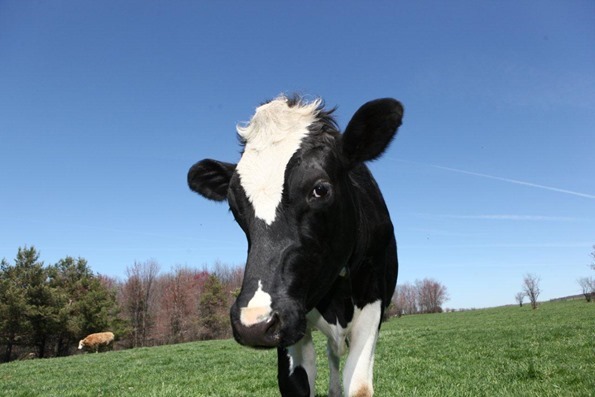 Image courtesy of Farm Sanctuary
How to participate?
I'm asking you to consider donating to TEAM MOO to help raise funds for this great cause! We would be extremely grateful for any support you can give. You can also join the team, start your own fundraiser, or donate to any one of the other teams (Cluck, Oink, and Gobble). The goal for our team is $25,000 (which will be matched by Angel donors!) and we can only reach it with your help! Click to donate or find out more if you so desire.
But wait, there's more…
To give you even more incentive to donate, I'm offering a signed copy of my upcoming book, The Oh She Glows Cookbook, to one lucky donor! Simply email [email protected] and let me know that you made a donation (no need to tell me how much!) and you'll be automatically entered for a signed copy of my cookbook, which is due out March 2014. The winner will be selected at random and the book will be mailed to you as soon as it's ready with a special note included inside! I'll announce the winner early in October when the campaign is over.
So what do you think?? Let's raise some money for the animals!