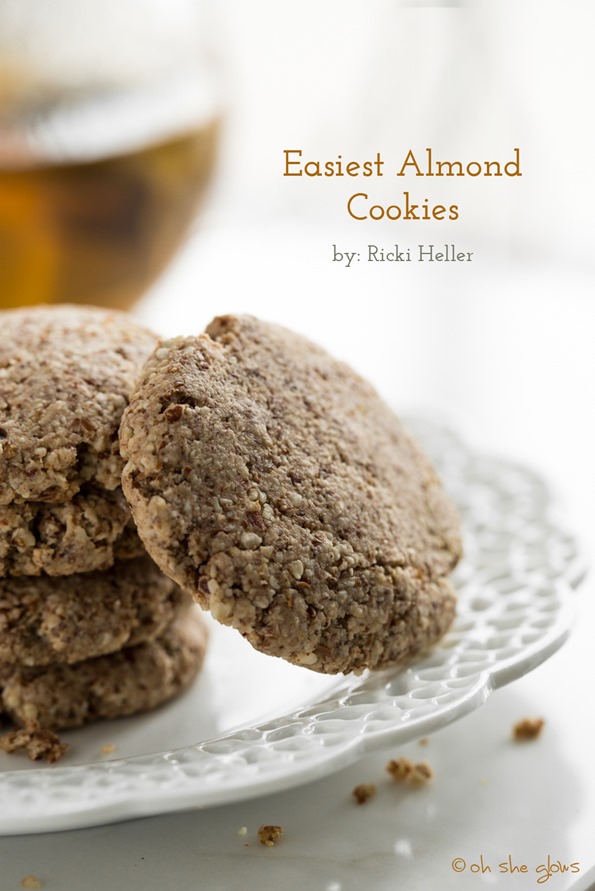 Naturally Sweet & Gluten Free is a new cookbook by my Toronto-based friend, Ricki Heller. Many of you know Ricki as the long-time blogger behind the recipe blog, Diet, Dessert, & Dogs (which is now Ricki Heller.com). Her first cookbook, Sweet Freedom, is a cherished book in my collection so I was grateful to receive a review copy of her latest work.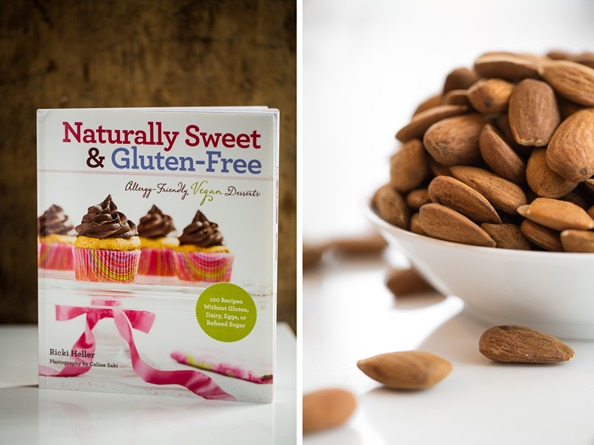 Naturally Sweet & Gluten Free features 100 dessert recipes all free of gluten, eggs, and dairy. Many recipes are also free of corn, soy, or nuts. Ricki transforms classic dessert favourites that we all know and love, such as cinnamon crumb cake or cheesecake. As she writes in the intro, "you won't see any 'out there' recipes in this book – no seaweed cookies, miso frosting, or mushroom pudding." Sweeteners like stevia, coconut sugar & coconut nectar, and agave nectar are used throughout this book and all of the flours she bakes with (such as millet flour, garfava bean flour, potato starch, almond flour, and more) are gluten-free.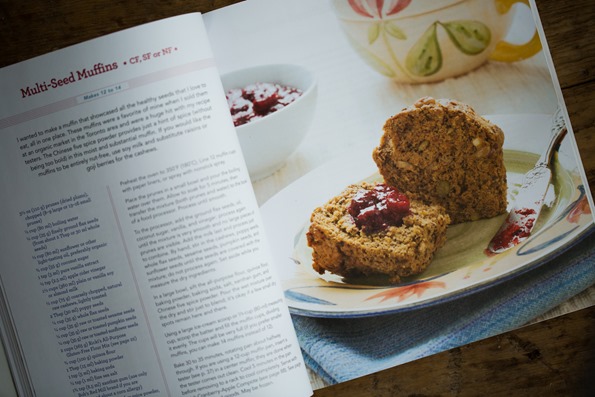 60 lovely photographs, shot by the talented Celine Saki, are scattered throughout the book.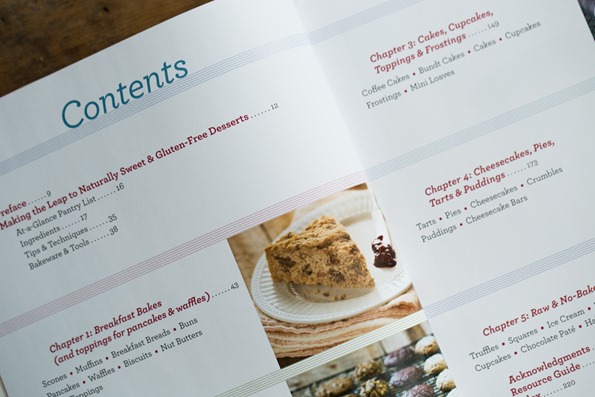 I'm sharing a recipe straight from the book with you today – Easiest Almond Cookies. These cookies require just one processor bowl and about 10 minutes of prep time. If you are a fan of ultra-soft, nutty cookies these are for you. I made a couple minor substitutions in the recipe so be sure to see the footnote for details! Congrats again, Ricki, on your new cookbook!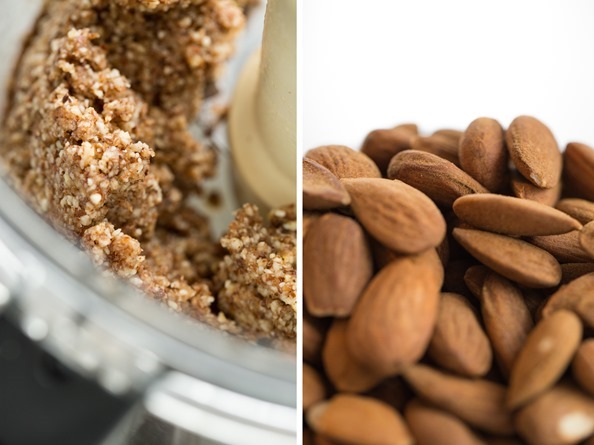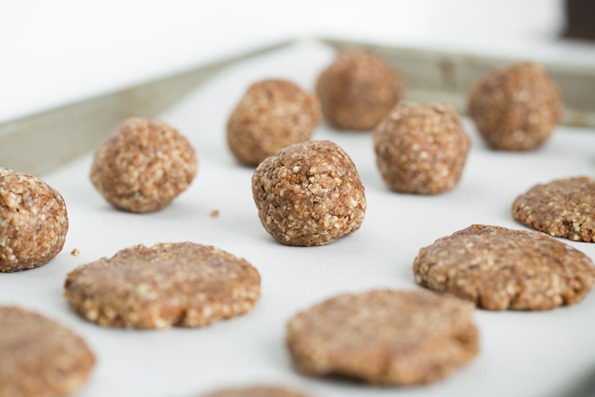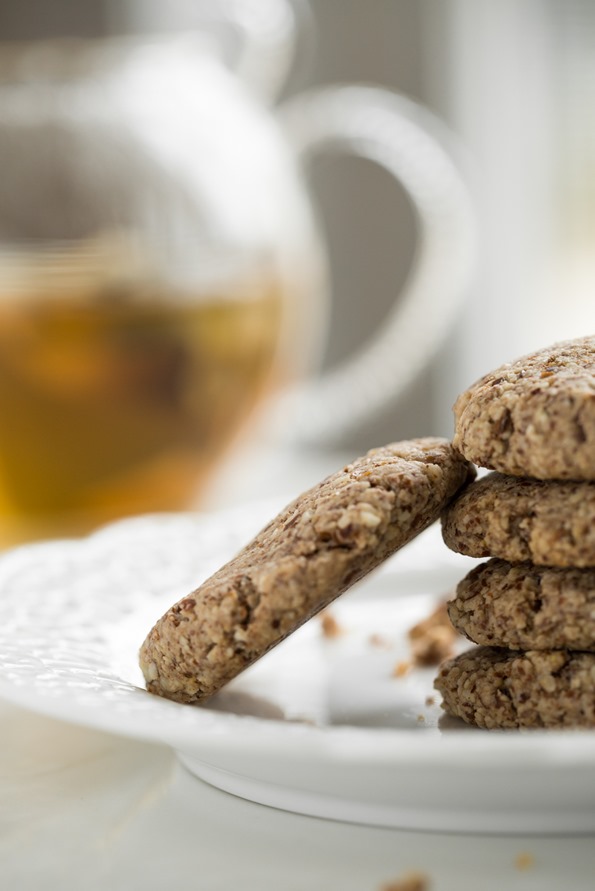 Easiest Almond Cookies by Ricki Heller
This recipe is from Naturally Sweet & Gluten Free by Ricki Heller. Recipe re-printed with permission from Sellers Publishing, 2013.
Yield: 15 cookies
Ingredients:
2 cups (12 oz or 340 g) natural raw skin on almonds, preferably organic
1/4 cup (25 g) finely ground flax seeds (from about 2 Tbsp or 30 ml whole)
1/2 tsp (2.5 ml) baking soda
1/4 tsp (1 ml) fine sea salt
1/4 cup (60 ml) agave nectar
2 Tbsp (30 ml) sunflower or other light-tasting oil, preferably organic
1 tsp (5 ml) pure vanilla extract
1 tsp (5 ml) pure almond extract
1 Tbsp (15 ml) water, if necessary
1. Preheat the oven to 350˚F (180˚C). Line 2 cookie sheets with parchment paper, or spray with nonstick spray.
2. In the bowl of a food processor, whir the almonds, flax, baking soda, and salt until you have a very fine meal (it should be the consistency of a coarse cornmeal or fine breadcrumbs, with no large pieces of almond visible). Watch that you don't blend so long as to obtain almond butter, however!
3. Add the agave nectar, oil, and extracts, and process again just until the mixture holds together and leaves the sides of the bowl. It should look like a moist dough. If the mixture is too dry, add the water and pulse quickly to blend.
4. Using a small ice-cream scoop or tablespoon (15 ml), scoop the dough and roll into balls; place them about 2 inches (5 cm) apart on the prepared cookie sheets. Wet your palms (or use a silicone spatula) and press down to flatten each ball to about ¼ inch (6 mm) thick.
5. Bake for 8 to 10 minutes, rotating the sheets about halfway through baking, until the edges are barely golden brown and the cookies are dry in the center (the tops will still be light). Allow to cool completely before removing from the cookie sheets; the cookies firm up as they cool.
Angela's notes: 1) I swapped agave for maple syrup, 2) I swapped sunflower oil for virgin coconut oil, and 3) I baked the cookies on 1 baking sheet for a good 10 minutes, until lightly browned on the bottoms.

On an unrelated note – Is anyone having problems with the new recipe tool that I've been using over the past week or so? (see the No Bake Elvis Bars post for an example, if you don't know what I'm talking about). I heard from a reader that it's printing out ads along with the recipe for her. This hasn't happened on our end before, so I'm just wondering if it's happening elsewhere too. If you have experienced this issue please let me know what web browser and operating system you are using. Hopefully we'll have it fixed soon! Thanks for your patience as we work out the quirks. :)
Happy Friday the 13th!!