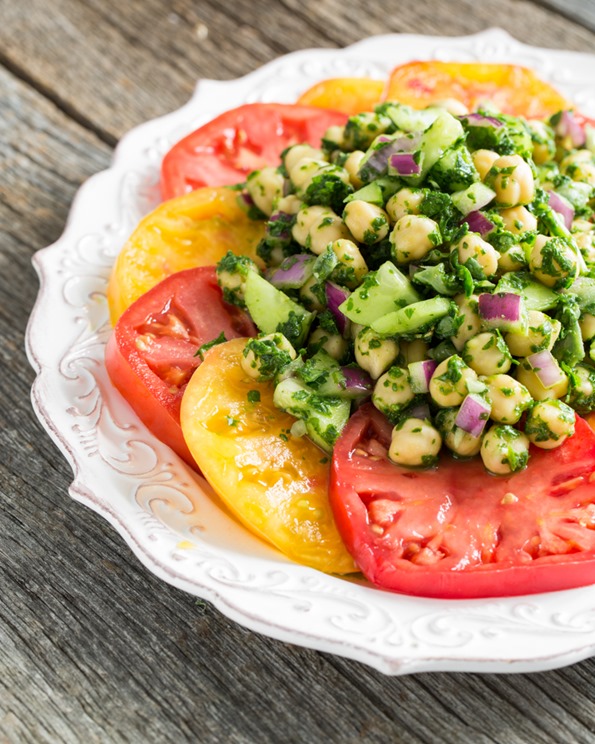 The flavour of food made from scratch never ceases to amaze me. I've been on a big "from scratch" kick ever since I wrapped up the recipes for my book; thankfully, it's no longer a battle to motivate myself in the kitchen now that I'm not in there for 12 hours a day. I'm making things like the amazing Homemade Almond Milk, ice cream (hopefully coming soon), and also taking the time to do some weekend meal prep again. Getting back to the basics with food always feels so good. Plus, it helps save a little moula too!
Dried beans are one of those foods that are so easy to prepare from scratch, but it's one of the first things that I let slide on when I'm busy. I'm not opposed to using canned beans – they are great for quick meals – but I never regret cooking them from scratch. When I first cooked chickpeas a few years ago, I was amazed by how much the beans grow when soaked overnight. They get all plump and beautiful, much like soaked almonds. And they just taste so much better than canned beans, not to mention I find they digest easier too. I've been known to eat a whole bowl of fresh cooked chickpeas with just a sprinkle of Herbamare and pepper. Sometimes simple just can't be beat.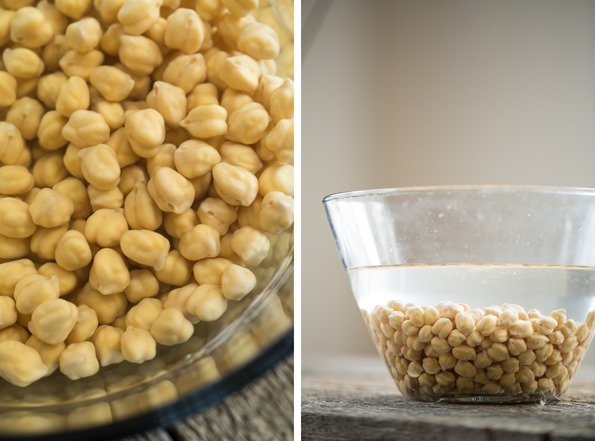 One of the things I struggle with when it comes to blogging is finding a balance with the recipes that I share. It's a constant balancing act not to feature too much of this or too much of that. Not to share overly complicated recipes, but also not overly easy or obvious recipes. To share unique recipes, without making them alien or intimidating. It's easy to overthink things, but when I remind myself to simply share food that I truly LOVE to eat on a regular basis, I hope it all falls into place. This is one of those recipes.
I've been on a huge lime + cilantro + cumin kick the past few weeks, but I promise this is the last one for a while. Cilantro and cumin isn't everyone's cup of tea (or so I've heard many times), so I tried a version of this recipe with parsley and I'm happy to report that it worked really well in place of cilantro. I imagine other herbs would work too. You can change up the spices if you'd like too. Who knows, maybe you will come out with your very own recipe at the end of it all. Even though the recipes I share are quite specific in their measurements, don't be afraid to play around with them. Cooking is more of an art than a science and it's open to interpretation on so many levels. When I first started to cook I was really scared to modify ingredients in recipes, but there's a freedom that comes with practice. That's when cooking really gets fun. Trust yourself.
I made this recipe for a get together last week. Whenever we have a potluck, I'm usually the "salad girl" and often the "vegan-but-you-won't-believe-it dessert girl". I'm known for my hearty, grain and bean based salads virtually everywhere I go. More often than not, I'm fighting my friends and family for the leftovers! This recipe received a lot of great feedback. It's inspired by a blog favourite from a few years back; some of you might remember the cilantro lime chickpea salad. If you've never had minced spinach in a salad before, it's a sneaky way to pack in a ton of greens into a salad without even realizing it. Would you believe there is a whole bag of spinach hiding in there plus over a cup of fresh herbs? It makes this high-protein recipe full of green power. Not to mention, the vitamin C in the lime juice helps with iron absorption from the iron-rich chickpeas and spinach. In fact, just 1 serving of this salad contains 45% of your daily iron requirement. Yee-haw.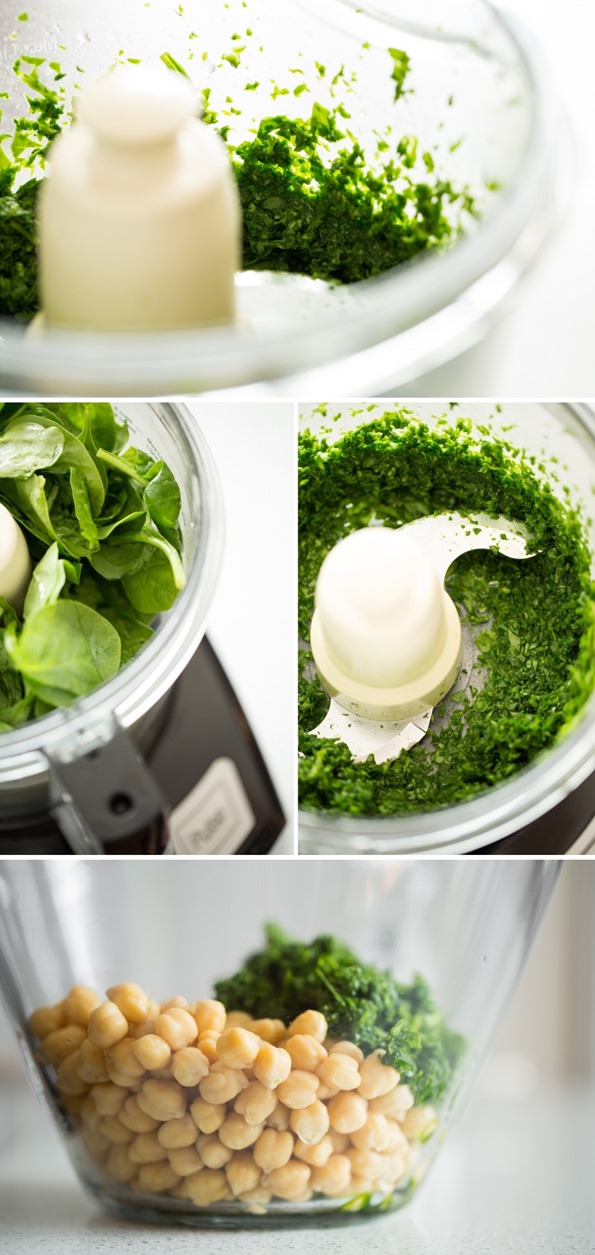 I added cucumber to my most recent batch, but I wouldn't recommend it. The salt in the dressing made the cucumber release too much water and it was a watery mess on the bottom, which diluted the flavours. Boo, hiss. If you do add extra veggies, I suggest adding them after the fact.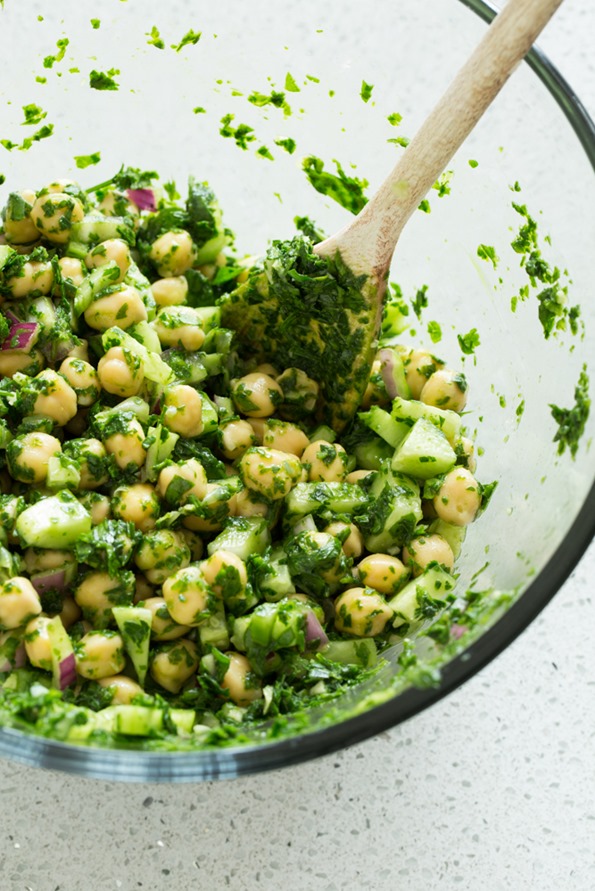 I had a couple heirloom tomatoes kicking around and I thought they'd make a pretty base for the salad. However, it's probably not the most practical serving suggestion. For more staying power, serve it on top of a bed of grains. It's also great stuffed into a pita and paired with my favourite Lemon Tahini Dressing. The options are endless…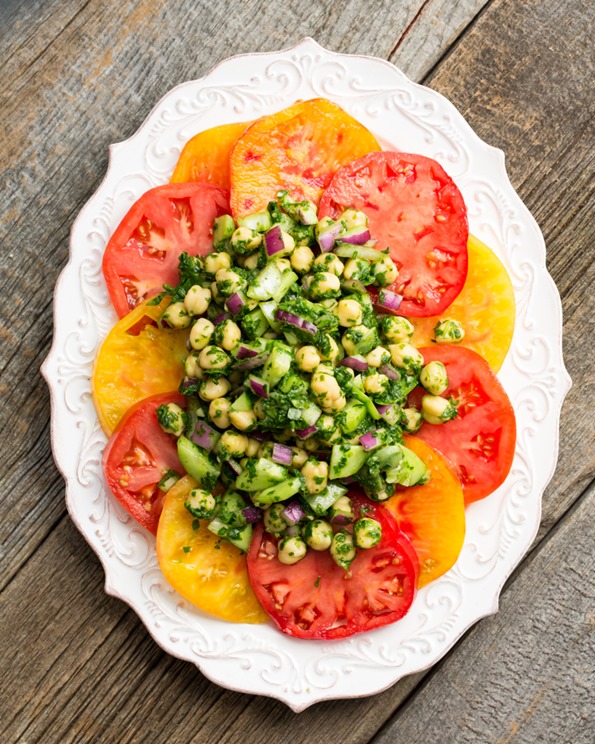 Eat Your Greens Chickpea Medley
Vegan, gluten-free, grain-free, nut-free

Yield

6
Soak time

720
Prep time

Cook time

Total time

Ingredients
For the chickpea medley
2 cups dried/uncooked chickpeas (makes 5 1/2-6 cups cooked)
1 (5-ounce) package baby spinach
1 1/2 cups cilantro, large stems removed (or parsley)
3/4 cup red onion, chopped finely
For the dressing
1/4 cup fresh lime juice2 tablespoons extra virgin olive oil2 garlic cloves, minced1 tsp ground cumin1 tsp maple syrup (or other liquid sweetener), or more to taste3/4 tsp fine sea salt + ground pepper, or to taste
Directions
To cook chickpeas: Soak 2 cups dried chickpeas in a large bowl of water overnight (I find around 12 hours or a bit longer is ideal). Soaking beans makes them digest easier and it also cuts down on cooking time. Drain and rinse the beans in the morning and add to a large pot of water. Bring to a boil, reduce heat to medium, and simmer, uncovered, until fork tender, about 40 minutes (this will vary depending on how fresh your dried beans are). Feel free to set the timer, walk away, and go about your business!
Rinse and drain the spinach and cilantro (or parsley). Spin until dry in a salad spinner.
In a food processor, add the spinach and cilantro and pulse until chopped very small. You can do this in a couple batches if your processor is smaller. Add the processed spinach and cilantro, drained cooked chickpeas, and chopped onion into a large bowl and stir.
In a small jar, whisk together the lime juice, olive oil, minced garlic, cumin, maple syrup, and salt.
Pour the dressing on top of the spinach chickpea mixture and stir well. Let stand for about 10 minutes (or overnight) to let the flavours develop. Will keep for a few days, or longer, in the fridge.
Nutrition Information
(click to expand)