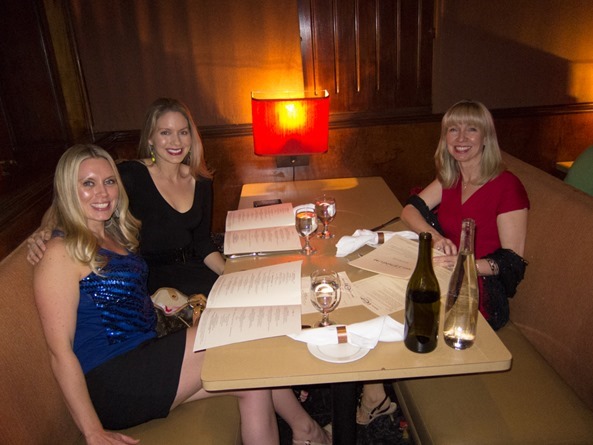 When I finally uploaded my photos from my recent trip to San Francisco, I didn't quite know where to begin. So, I'm starting with my favourite memory from the entire trip!
A dinner celebration at no other than the famous, Millennium restaurant. This restaurant has been on my "must-visit" list for years so when my mom asked me to choose a restaurant to celebrate my 30th, it was an easy decision. The reservation was made months in advance.
Millennium restaurant calls itself a vegetarian restaurant, but they don't use any animal products so everything on the menu is vegan. It's easily one of the most gourmet vegan restaurants I've dined at, offering unique and inspiring flavour combinations throughout the menu. Other similar gourmet vegan restaurants that come to mind are Candle 79 in NYC and Karyn's on Green in Chicago, but I have to say, Millennium's creative menu offerings are like nothing I've seen.
[Please don't mind the iffy photo quality – I was snapping pics with my phone and point & shoot all weekend and was really just happy to to take a break from lugging a big camera around all day.]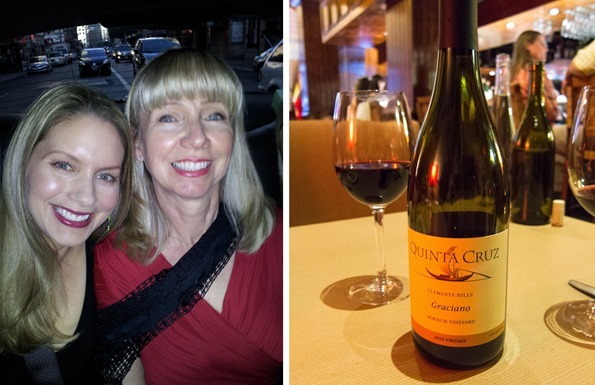 First things first, we ordered a bottle of wine – Quinta Cruz "Graciano" – a bold and spicy Spanish variety.
Next, I ordered the Roasted Beet Salad to start. It was one of my favourite salads in a long time! I would've licked the plate clean if I could.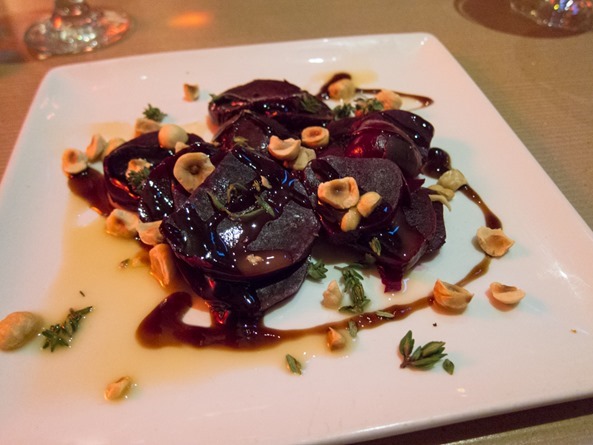 In the name of variety, all three of us ordered the Grilled Spring Onion & Radicchio Risotto for our main dish. Who can turn down a vegan risotto? Not us, apparently!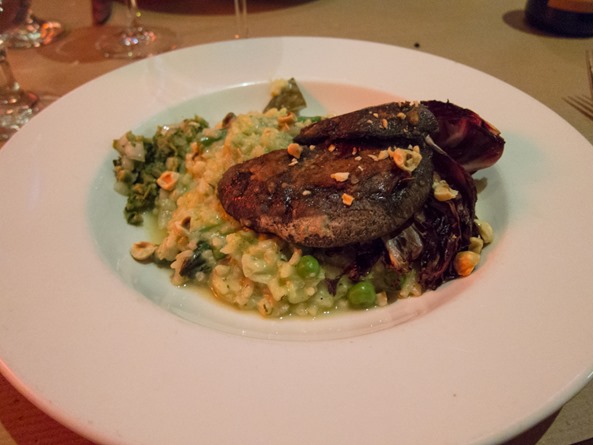 This dish is made with Arborio, kamut, and farro with cashew cream, balsamic-rosemary glazed Portobello mushroom, runner cannellini beans, kale & Cara Cara orange salad, pistachio-herb charmoula and Arborio crusted fried artichokes. See what I mean about the unique flavour combinations? It's a lovely risotto without a hint of dairy. What can't cashew cream do?

For dessert, I ordered the Chocolate Almond Midnight torte made with almond cashew crust, mocha chocolate filling, raspberry sauce, and white chocolate mousse. Dear me! Oh, and some house-made truffles on the side. I wish I got a close-up of this dish, but I was clearly distracted by sparkly things…
A lovely server brought this out and sang happy birthday to me. My own birthday serenade! I was touched and turning a lovely shade of beet salad.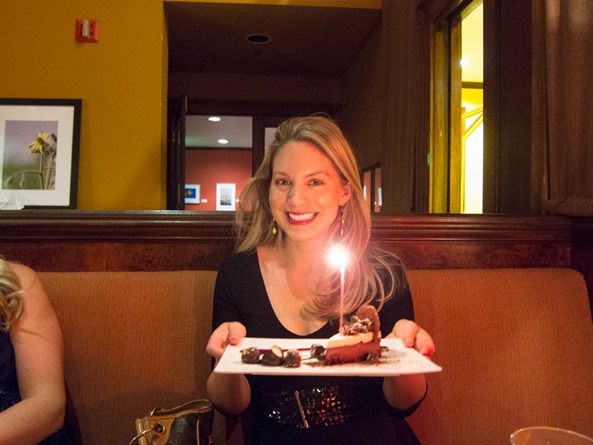 Don't mind my hair about to burst into flames via birthday candle…minor detail.
If chocolate and a song wasn't enough excitement, there was another surprise in store. Moments later, executive chef, Eric Tucker, came out to wish me happy birthday and he presented me with a signed copy of one of Millennium's cookbooks, The Artful Vegan. It was so great to meet the person behind all of this inspiring food! I had a major fan girl moment. My mom arranged all of these surprises beforehand – what a gem she is!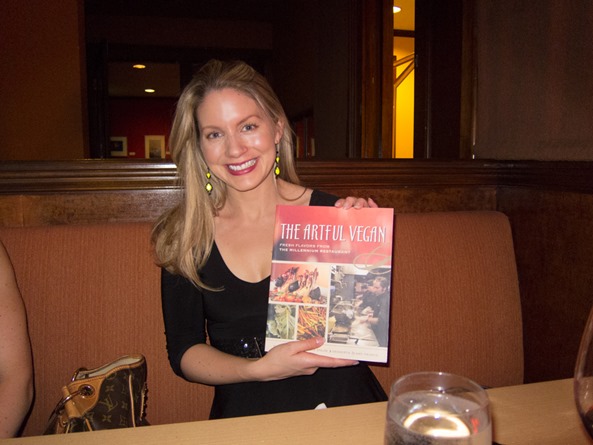 More blushing ensued. I was now sweating. Is it hot in here?
Inside the cover Eric wrote, "Cook Inspired". I'd like to create a small frame with these words and hang it near my kitchen! It reminds me to always use my life experiences as inspiration for the food I create in my kitchen. When I try to force a recipe, it doesn't tend to work anyway. When it comes from the heart, it's usually a success.
After all this, my mom and sis gave me their card and gift. Inside my mom's card, I found a letter that she wrote to me looking back on the past 30 years. It was beautiful. The tears flowed like the wine!
"The future holds so much for you. Remember to enjoy your 30's – I can tell you that the years go by far too quickly – fill it with purpose so that you don't look back with regret."
It was a night that I won't soon forget. The best part was that I got to share it with two of my favourite women while being surrounded in a place that fits so perfectly with my own aspirations and goals. I am counting my blessings. A big thanks to my mom, sis, and Millennium restaurant for making it such a special occasion. You really know how to treat a girl.