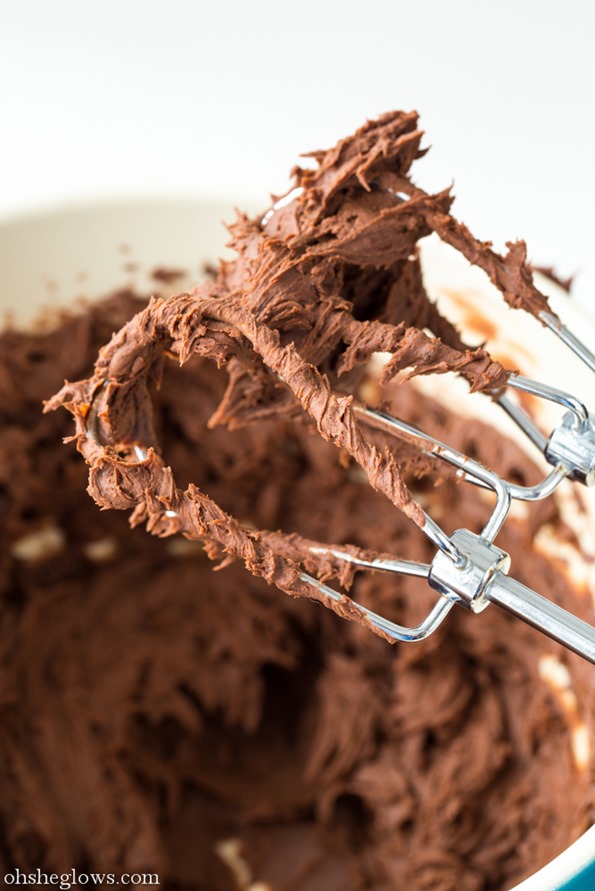 This frosting is quite possibly one of the best to come out of my kitchen. It's dangerous in the best way possible – creamy and rich without being overly sweet. I really don't know how I was able to save enough for the chocolate cupcakes.
Best of all, it's just two simple ingredients: Full-fat coconut milk and chocolate. That's it.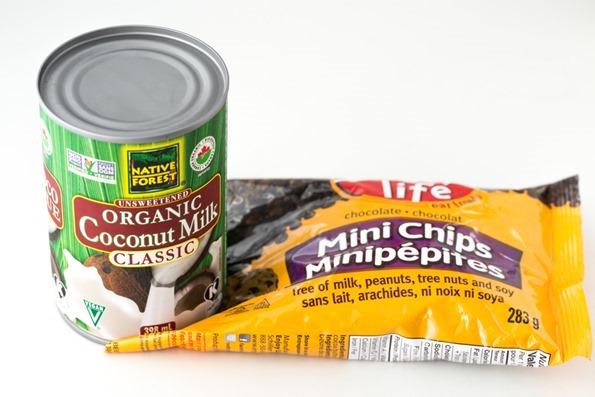 Yes, you really can make a luxurious, creamy frosting without butter or shortening! Unlike regular frosting, there's no fussing with icing sugar messing up your kitchen. Don't you hate it when the icing sugar leaves a coating of powder over all your appliances and counter? I sure do.
With this recipe, the only thing that got messy was my face because I couldn't stop eating it.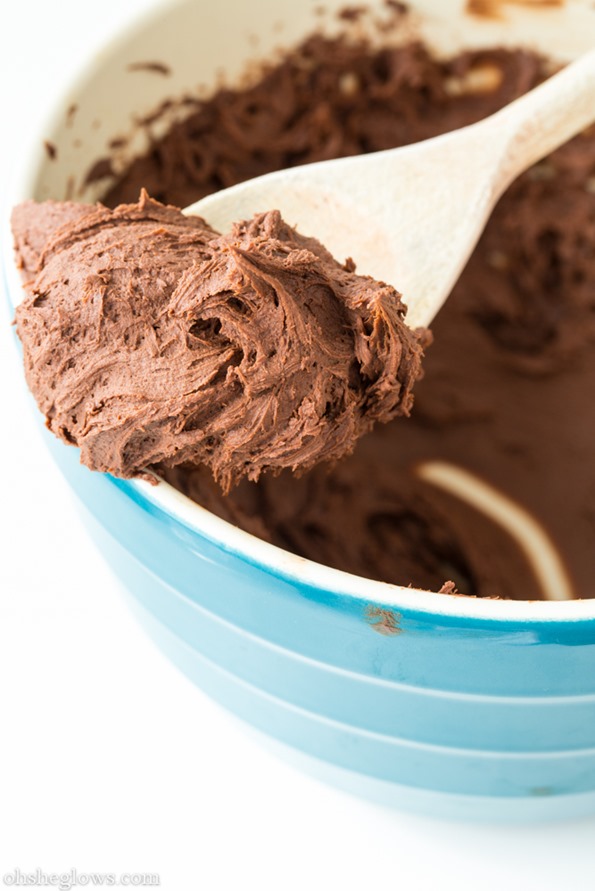 The flavour and sweetness of this frosting will vary depending on the chocolate you use. Most chocolate should work just fine, although I would caution against using a super bitter variety. Stick to under 70% cocoa and you should be safe. If worst comes to worst, you can always add a bit of sweetener if need be. I threw in a pinch of fine grain sea salt at the end to enhance the sweetness.
Insert face into bowl here.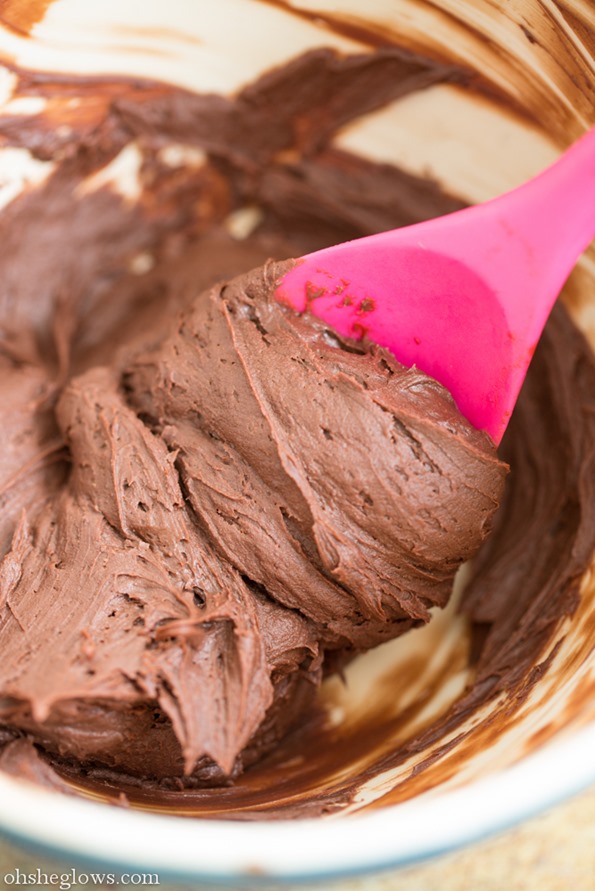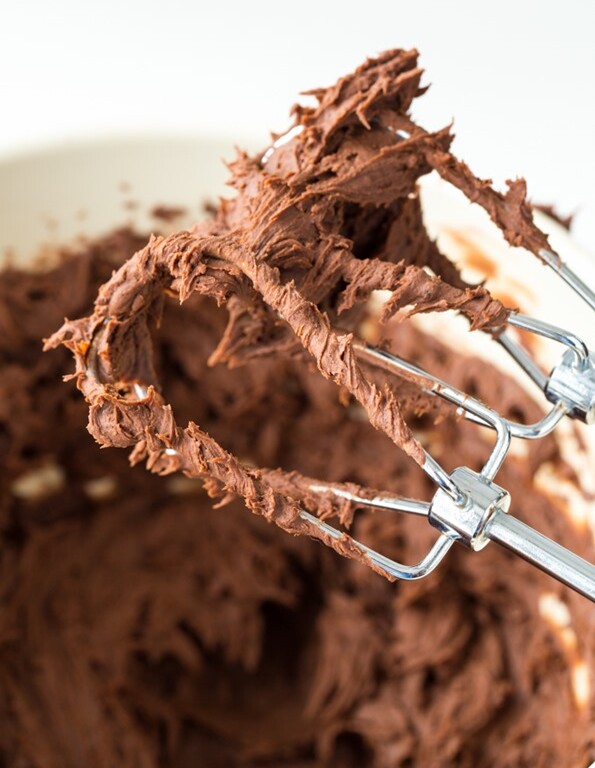 2-Ingredient Chocolate Fudge Frosting
Vegan, gluten-free, nut-free

Yield

1 and 3/4 cups
Prep time

Cook time

0 minutes
Total time

A luxurious fudge frosting with just two ingredients - no butter or shortening required!
Ingredients
1 can (400 ml) full-fat coconut milk
1 bag dark, non-dairy chocolate chips (approx 285 grams)
Directions
Chill can of full-fat coconut milk in the fridge overnight. When ready, flip can over and open with can opener. Pour off the water (you can save it for a smoothie or discard). Scoop only the solid white coconut cream into a pot. Add the chocolate chips into the pot as well and gently melt the coconut cream and the chocolate chips together over low heat. Stir frequently and be careful not to burn.
Transfer this mixture into a bowl (cover with wrap) and then into the fridge for 2-3 hours (or overnight) until it firms up enough to whip into frosting. You really just have to eyeball it as I expect the timing for individual batches will differ depending on how cold your fridge is. I put it in the fridge overnight and then left it on the counter for the entire morning until I was ready to frost the cupcakes in the afternoon.
When it's firmed enough to your liking, whip it with electric beaters until smooth and creamy. If it's still too firm, you can leave it out on the counter for a bit longer. I didn't need to add any milk to thin it out or any sugar to sweeten – it was just perfect as is! If your batch tastes bitter, you can always add a bit of sweetener to your taste. I also like to add a small pinch of fine grain sea salt to make the flavours pop.
Tip:
Note: On a hot day, this frosting could melt. Be sure to keep frosted cupcakes in the fridge until ready to enjoy.
Looking for a vegan cupcake recipe? Find my favourite chocolate cupcakes here.
Nutrition Information
(click to expand)
~~~
A note on coconut milk:
Many of you have had trouble making whipped coconut cream with certain brands because some cans don't always separate. A reader let me know that Thai Kitchen has changed their formula so that it doesn't separate anymore. Apparently they are coming out with small cans of pure coconut cream instead. Be on the look out! I used Native Forest with decent result, although I have had some duds.
Happy Victoria Day to my fellow Canadians!