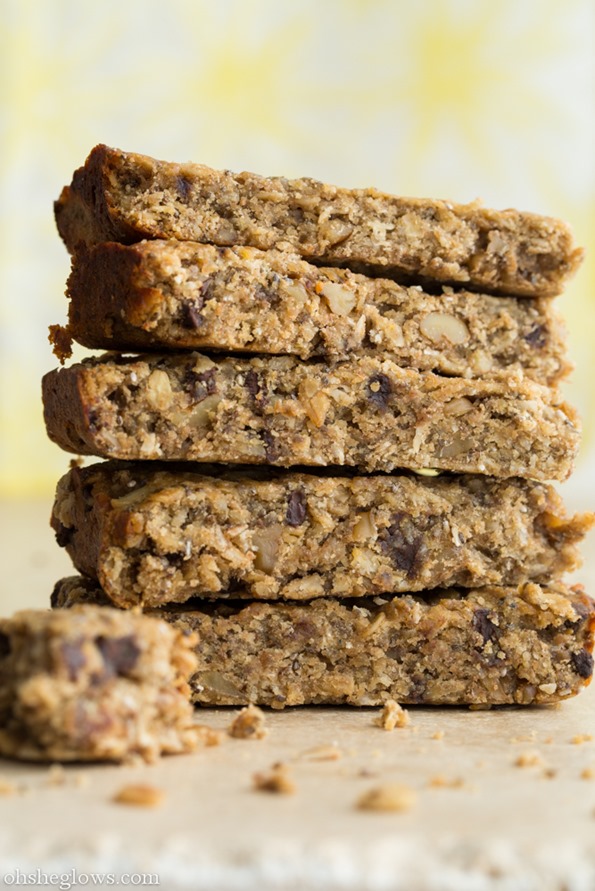 Whenever my heart feels heavy, lost, or confused I tend to turn to the kitchen to distract myself. Seeking comfort in food isn't as bad as those ridiculous diet magazines make it out to be. Food can bring us all together and make us pause to enjoy the simple pleasures in life. Sometimes, a big pot of chili and garlic bread, creamy avocado pasta, or warm walnut banana bread is just the thing we need in that moment. Other days, it's a big kale salad or a juicy basket of strawberries and coconut cream. Monday night, I made pasta with homemade spaghetti sauce while we watched the news. I felt like a zombie as I cooked, but I knew we needed something to settle our bellies.
It's been an emotional week to say the least. I find myself extra sensitive about everything, trying to make sense of all the loss in this world. I haven't made any sense of it yet and there's no feeling of progress made in my mind. Despite this heavy heart, I can't help but be inspired by all the good out there. The selfless people helping in a time of need. The bravery and generosity going on is a beautiful thing to see. Sometimes I don't always see the good, but it's there. Love always prevails.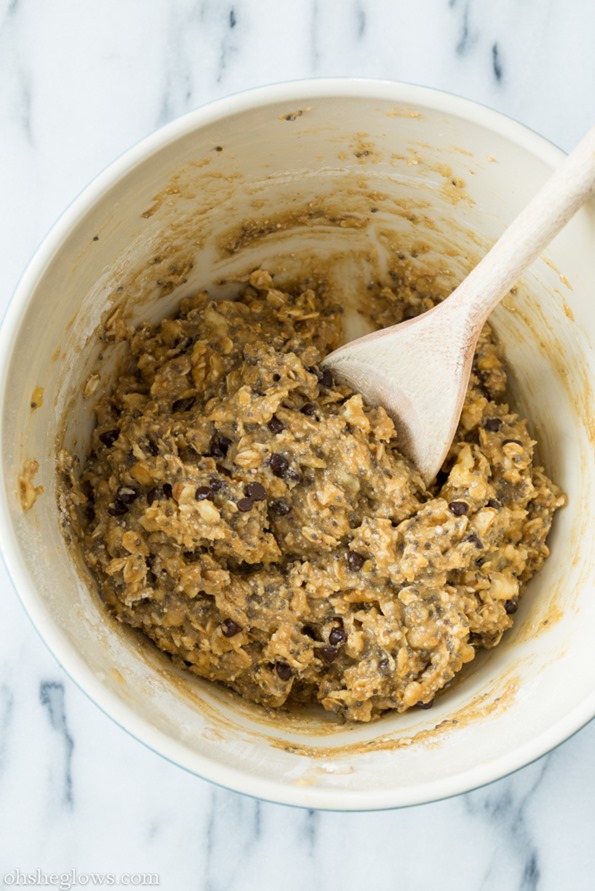 These banana bread bars were my solution to another comfort food craving yesterday. Think of them as soft, doughy granola bars filled with crunchy walnuts, omega-3 lovin' chia seeds, and a sprinkling of dark chocolate chips. The wet batter is made up of spotty bananas, a generous scoop of protein-packed peanut butter, a splash of vanilla, and just a hint of sweetener to round it all out. I've been enjoying them around the clock, so it's safe to say they work nicely as breakfast, snack, or even dessert. Your call.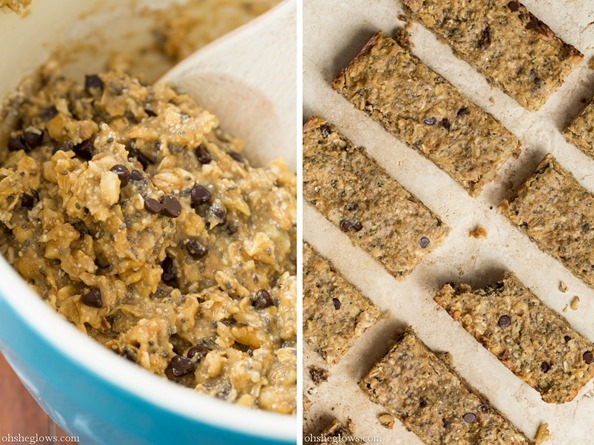 Banana Bread Protein Bars
Vegan, gluten-free, oil-free, soy-free (if using Enjoy Life chocolate)
Email, text, or print this recipe
Yield: 10 bars
Dry ingredients:
2/3 cup gluten-free rolled oats
1/2 cup raw buckwheat groats*, ground into flour
1/2 cup chopped walnuts
1/4 cup shredded unsweetened coconut
3 tbsp chia seeds
3 tbsp mini dark chocolate chips (such as Enjoy Life brand)
1/4 tsp cinnamon
1/4 tsp fine grain sea salt
Wet ingredients:
3/4 cup mashed ripe banana (about 2 small-medium)
1/2 cup natural smooth peanut butter
1/4 cup coconut nectar syrup (or brown rice syrup)
1 tsp pure vanilla extract
1. Preheat oven to 350F and line an 8-inch square pan with 2 pieces of parchment paper, one going each way. Tip – to get the parchment to stick to the pan, give the base a spray with olive oil and do this for the next paper too.
2. Add raw buckwheat groats into a high-speed blender and blend on high until a fine flour forms. Whisk all dry ingredients together in a mixing bowl.
3. Mash bananas until smooth and measure out 3/4 cup. Stir together the banana and all the wet ingredients in a bowl.
4. Add the wet mixture to the dry mixture and stir well until combined. The dough should be very sticky!
5. Scoop batter into prepared pan. Place a piece of parchment paper on top of the batter and press it down to spread out the batter evenly. You can also remove the paper and wet your hands lightly and spread it out that way. Make sure it's as even as possible.
6. Bake at 350F for 22-26 minutes, or until the edges are golden brown and the bread is firm to touch. Cool in the pan completely (I left it for 1 hour) before removing and slicing into bars.
Notes: Raw buckwheat groats are not the same as kasha or toasted buckwheat. Raw groats have a milder flavour than toasted. You can find raw groats online, in some health food stores, or the bulk bins of Whole Foods. I buy mine in bulk from Upaya Naturals online. You might be able to substitute the ground buckwheat for oat flour, but I have not tried this myself. If anyone tries it, please leave a comment and report back.