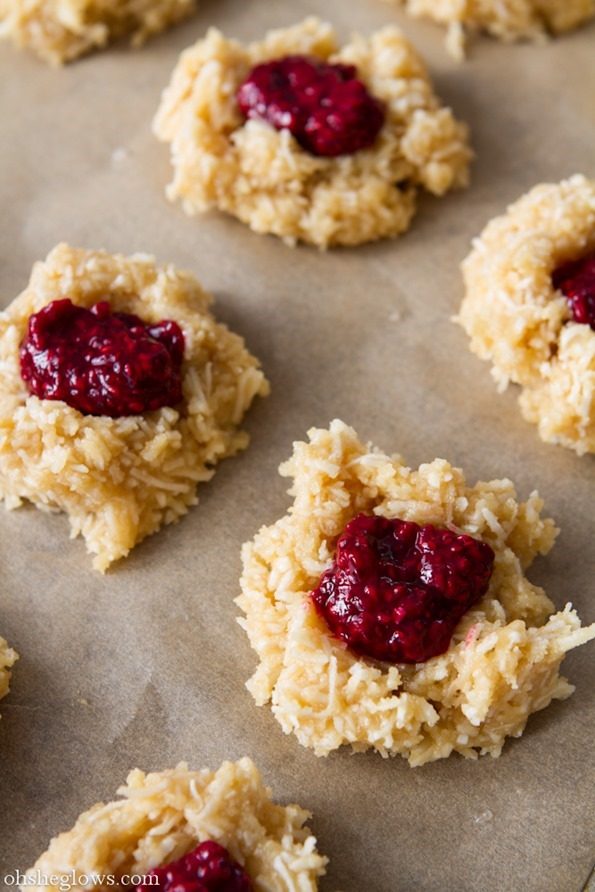 I was so excited when I found this bag of organic jelly beans free of artificial colors and gelatin at the grocery store (Fortinos, for those of you in Ontario).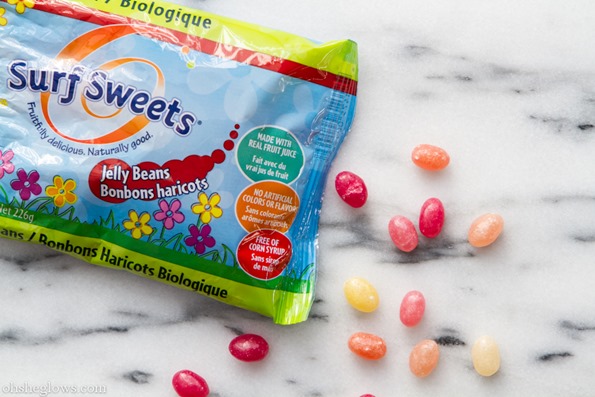 The ingredients list appeared to be vegan (Organic Evaporated Cane Juice, Organic Tapioca Syrup, Organic Grape Juice Concentrate, Pectin, Citric Acid, Ascorbic Acid, Colors Added (including Black Carrot Juice Concentrate, Turmeric, Annatto), Natural Flavors, Confectioner's Glaze, Carnauba Wax, Organic Sunflower Oil), but after I did a little research on the company's website I discovered the jelly beans are vegetarian but not vegan (they didn't say why so I emailed them to inquire). It turns out confectioner's glaze is the culprit. It's a clear coating used for candy (and other non-edible products under the name "shellac") and is derived from secretions of the female lac bug. After a quick Google search I came across Vegan Sweets jelly beans. If anyone knows of any other vegan jelly bean brands out there, feel free to give them a shout-out below!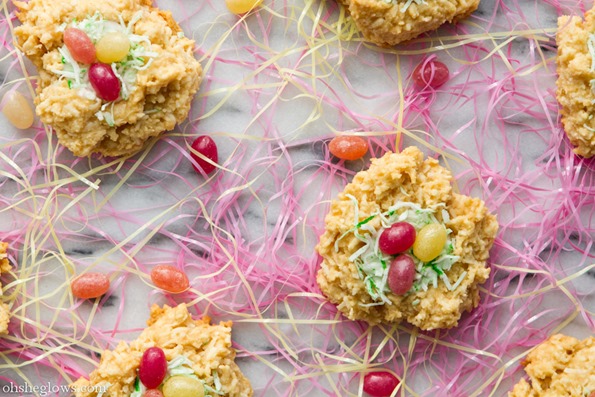 Anyway, I discovered this little recipe snafu, of course, after making my lovely Easter macaroon nests. All the pictures were shot and edited and the post was written up ready to be published. Rather than giving you a recipe that wasn't 100% vegan, I decided to go back to the drawing board and create something new. Thankfully, the answer came to me quickly – macaroon thumbprints. Since the "nests" already looked like the beginnings of a thumbprint cookie all I had to do was fill the well with jam. It just so happened that I had a fresh batch of chia seed jam waiting in the fridge. Last week, I made a batch using a bag of frozen raspberries. It worked like a charm!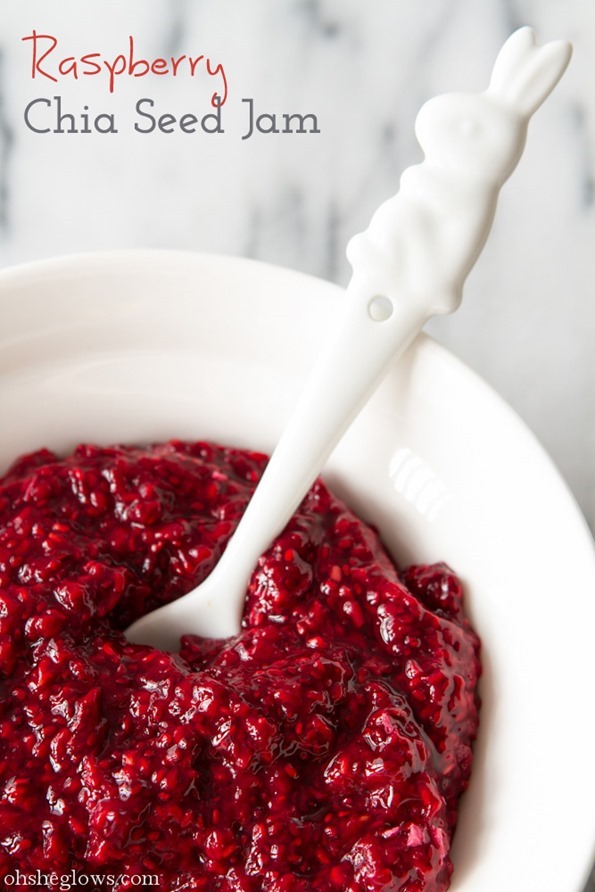 Love, love, love!
Macaroon thumbprints with raspberry chia jam, it is. You know what, I think I like these even better than the original recipe. Much more my style, anyway.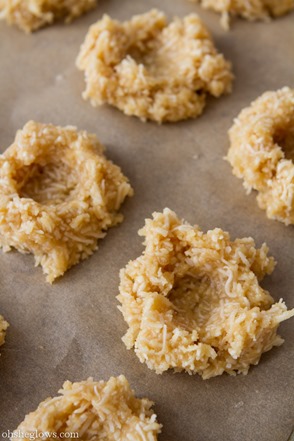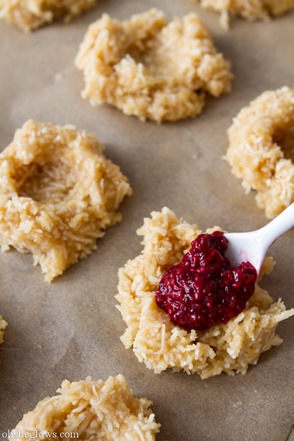 The macaroon dough comes together so quickly. Then you simply shape the dough into nests (I just typed breasts – those work too!), fill with jam, and bake at a low temperature – 275F seemed to work nicely for me. Baking at a high heat can brown these babies long before they are cooked through so it's best to take a slow and steady approach with the heat. I'm sure they would also work beautifully in the dehydrator if you have one.
Oh and one last thing I should mention. I used unsweetened flaked coconut as opposed to unsweetened shredded coconut (which I normally use in my recipes). I used the longer flakes because I thought it would yield a more rustic looking cookie, but if you only have the shredded stuff on hand that will work fine too.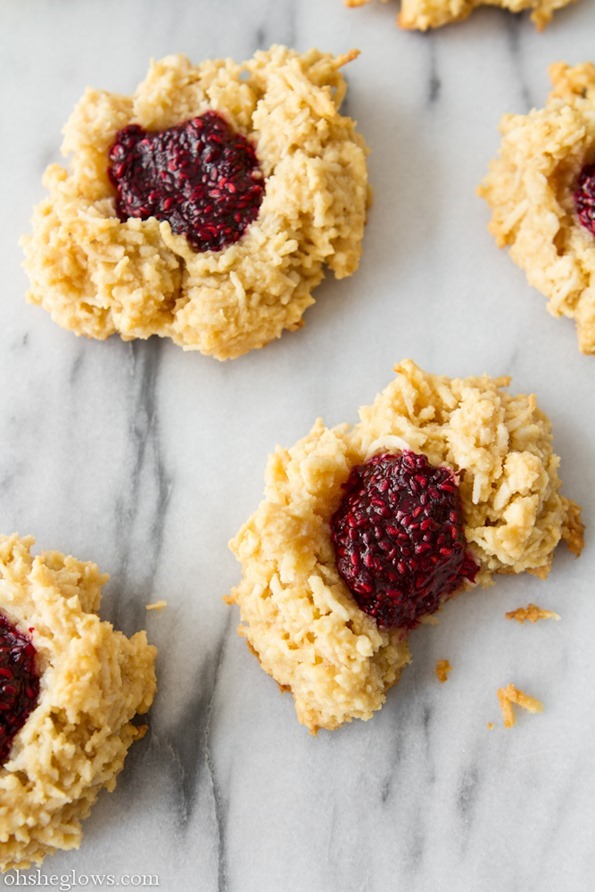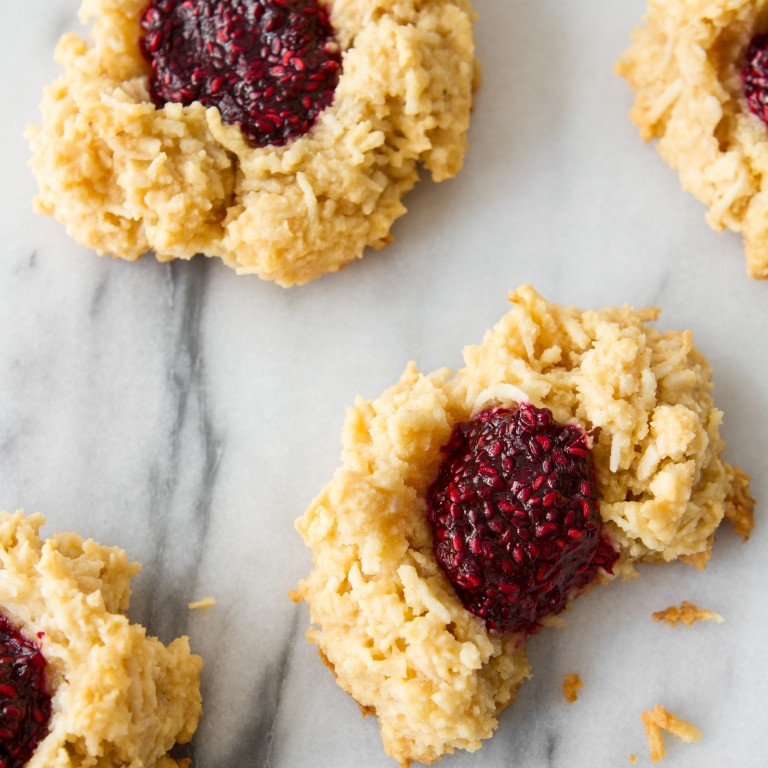 Coconut Macaroon Thumbprints with Raspberry Chia Seed Jam
Vegan, gluten-free, oil-free, soy-free

Yield

10 Macaroons
Prep time

Cook time

Total time

Ingredients
For the Macaroons
1.5 cups unsweetened flaked coconut
1 cup almond flour (or almond meal)
scant 1/2 tsp fine grain sea salt
1/2 cup pure maple syrup
1/4 cup coconut butter, softened (no subs- this binds the cookies together)
1 tsp pure vanilla extract
For the Chia Seed Jam (makes about 1 cup)
3 cups frozen raspberries
1/4 cup pure maple syrup, or to taste
2 tbsp chia seeds
1 tsp pure vanilla extract
Directions
For the chia seed jam: Add frozen raspberries and maple syrup into a medium pot and bring to a simmer. After 5 minutes or so, stir in the chia seeds. Continue to cook down the mixture for about 15 minutes, or until thickened. Remove from heat and stir in vanilla. Chill in the fridge for a couple hours to thicken it up even more.
Preheat oven to 275°F and line a baking sheet with a non-stick mat or parchment paper. If you have a non-stick mat, use it because it will help prevent browning on the bottom.
In a large bowl, combine the coconut, almond flour (or meal), and salt.
Melt the coconut butter over a very low heat. I suggest using a double boiler so it doesn't burn.
Add the maple syrup, softened coconut butter, and vanilla into the dry mixture and stir very well until combined. The dough will be very wet and sticky, but this is normal.
Grab a couple tablespoons of dough at a time with your hands and drop it onto the baking sheet. With a wet finger, press a well into the middle and lightly shape the outsides if necessary. Repeat for the rest. Fill each well with jam. The macaroons don't spread out so there's no need to space them far apart.
Bake at 275°F for 20 minutes. Rotate the pan and bake for another 10-20 minutes (I baked for 40 mins. total – but you may need less depending on your oven) until the bottoms are lightly golden and browned, but not burned. If you have a hot oven, I suggest watching it closely or even reducing the heat to 250F. Place pan on a cooling rack for 5-10 minutes and then transfer each macaroon onto the cooling rack until completely cool. The macaroons will be very soft at first, but will firm as they cool. I enjoy them the most chilled, straight from the fridge.
Tip:
You can probably swap the maple syrup for another liquid sweetener of your choice. Also, if you can't have almonds, you might be able to swap the almond flour for oat flour. I haven't tried this yet myself though so be sure to report back if you try it out.
Nutrition Information
(click to expand)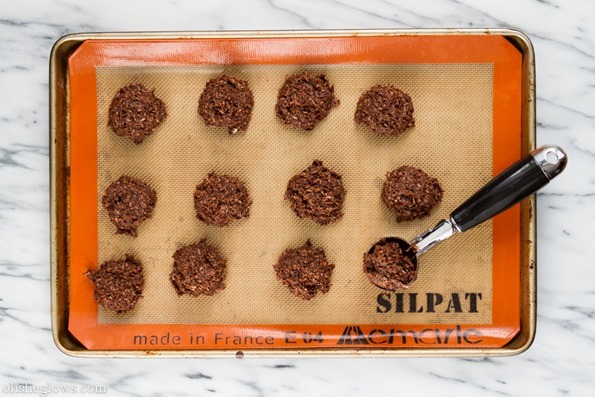 For no-bake chocolate macaroons, be sure to see this post.
I hope you have a great start to your (hopefully short) work week!