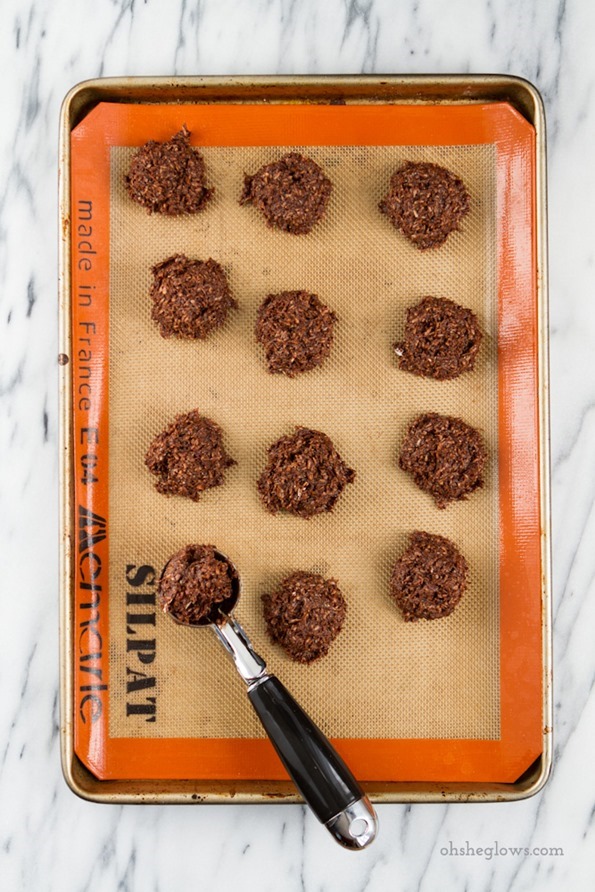 The desire for change is strong, this need to explore and grow roots somewhere that will make the next stage of our lives fall into place. Eric and I are searching and questioning where that should be. Maybe it's the process of searching that makes life fulfilling; the constant quest to grow, explore, and see more of the world. To make more of an impact and step outside of our comfort zone. Or maybe it's the opposite – feeling content wherever you are and loving it anyway.
Moving is by no means a foreign concept to me. Growing up, my family moved around a lot due to my dad's ever changing jobs and I often wonder if that's why I have a personality that loves to be in constant motion. The first 4 years of my life were spent in Riverview, New Brunswick living and breathing everything that snow forts and a snowsuit could offer.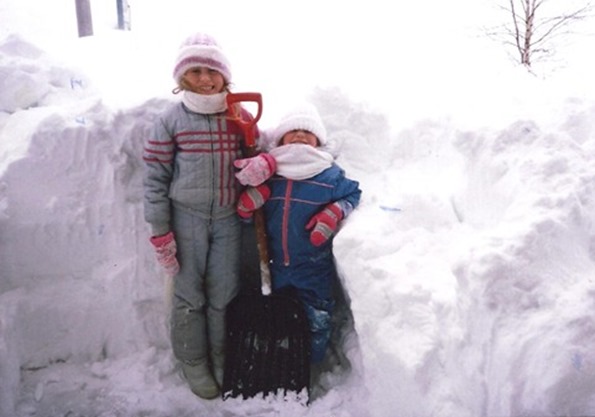 From New Brunswick, we ventured to Florida (Oldsmar and Palm Harbor) to North Carolina (Charlotte) to Georgia (Woodstock) to Ontario (Cambridge) back to New Brunswick (Riverview) and finally back to Ontario (Milton, Guelph, Toronto, Milton, Oakville). Each move brought about a lot of anxiety, but it also promised adventure, new experiences, and new friends. In my case, it also resulted in a strange mixture of accents, or at least that's what my friends told me. The Maritimer with the southern accent! She talks funny!
When we sold our house and moved last spring, we decided to rent for the time being because we had no idea where we wanted to buy. Well, we still have no solid idea. It's probably safe to stick around nearby, but something seems to be nudging us to explore other parts of Canada and beyond. Do we take the leap and try something new or do we stick with what feels safe and familiar? Whether we end up making a big move is yet to be seen, but we're keeping our eyes open, evaluating options, and listening to our hearts. In the meantime, we're trying to appreciate life right now as directionless and unsettled as it may seem at times. Really, what else can you do?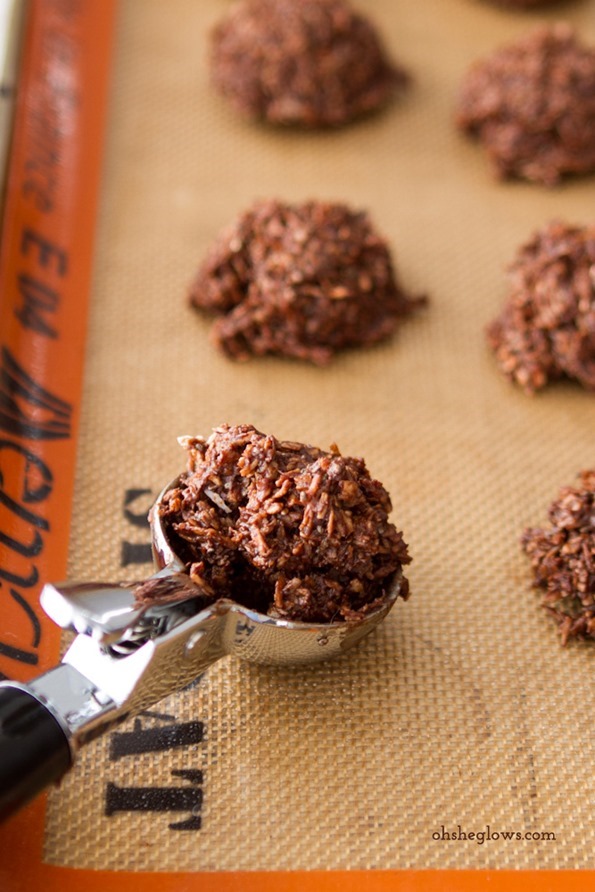 I found myself with a macaroon craving this weekend, but the thought of turning on the oven just didn't appeal to me after a marathon cupboard clean-out session earlier that day. Maybe it's because spring is just a couple days away (can you believe it?), but I've been looking to get outside more and enjoy simpler foods. Well when the sun is shining, that is.
I don't know about you, but I'm a bit tired of winter produce. It's a bit like how I feel about pumpkin at the end of November. I don't want to even look at it. So I couldn't bring myself to peel the darn butternut squash that's been sitting on the counter for way too long. Maybe in a few days, I tell the squash. For now, chocolate seems like a good alternative to peeling squash as I eagerly await spring produce. Even better if I can throw it into the freezer and head outside for a brisk walk.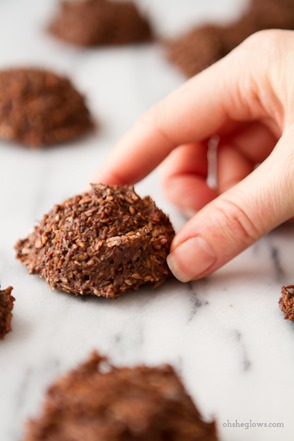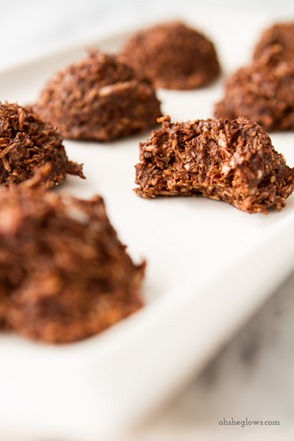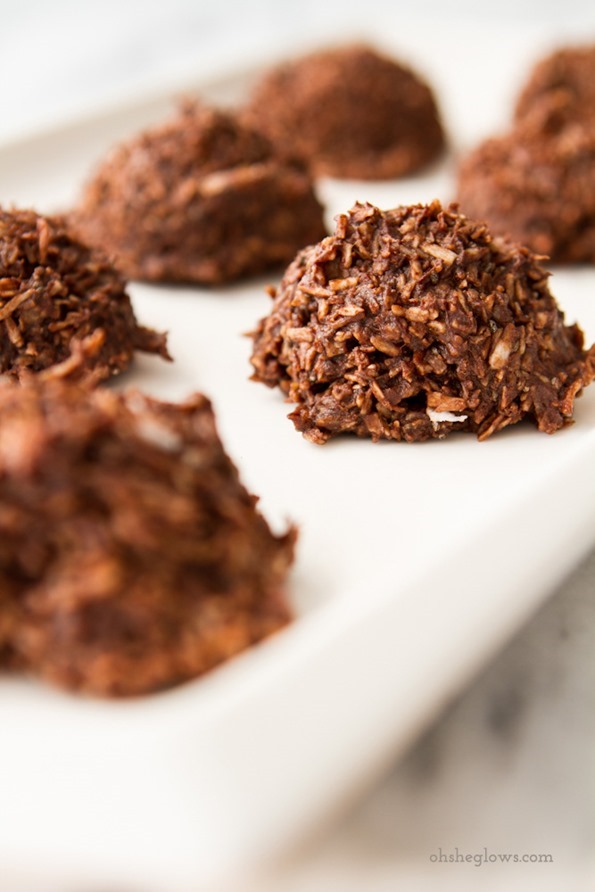 No Bake Chocolate Macaroons
Vegan, gluten-free, nut-free, grain-free
Email, text, or print this recipe
Yield: 12 macaroons
Ingredients:
1 banana, finely mashed
1/4 cup coconut oil, melted
1/4 cup pure maple syrup (or other liquid sweetener)*
1/2 tsp pure vanilla extract
6 tbsp cocoa powder, sifted
1.5 cups unsweetened shredded coconut
1 tbsp chia seeds (optional)
small pinch of fine grain sea salt, to taste
1. In a medium mixing bowl, mash the banana until most of the clumps are gone. Stir in the melted coconut oil, maple syrup, and vanilla.
2. Sift in the cocoa powder and stir until combined. Now stir in the coconut, optional chia seeds, and fine grain sea salt to taste.
3. Line a baking sheet with parchment paper or a non-stick mat. Using a spoon or retractable ice cream scooper, scoop rounds onto the sheet. Place sheet in the freezer for around 20 minutes, or until macaroons are firm. Store in the freezer until ready to enjoy. They will soften at room temperature.
Note: 1/4 cup pure maple syrup results in a lightly sweet macaroon. Feel free to adjust the sweetener to your own taste buds, especially because some cocoa powders may be stronger than others.
For nutritional info, see here.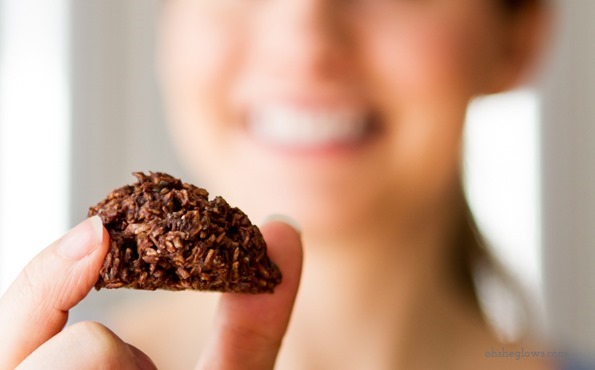 I believe we were both on our third macaroon when this picture was taken. Thankfully it's blurred or you would've witnessed chocolate spread all over my mouth and face. That's the sign of a good dessert!