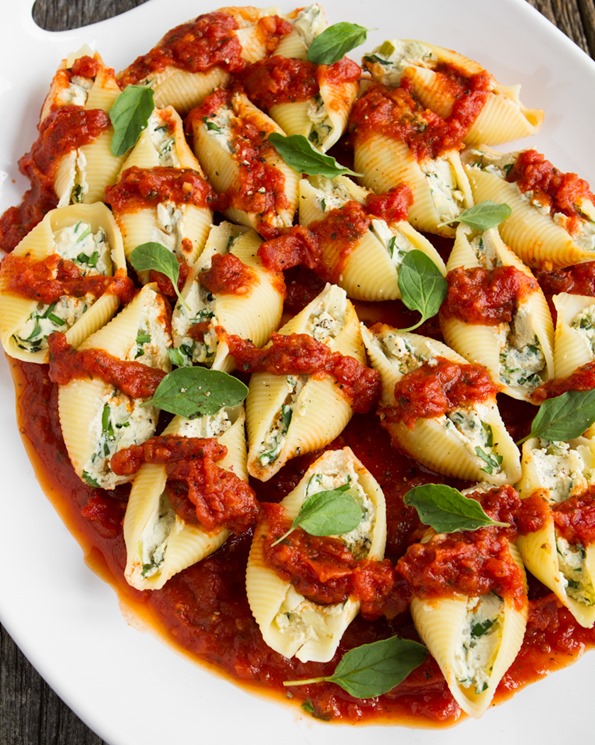 I made this recipe several months ago and completely forgot about sharing it with you. Not because it was unmemorable – quite the opposite – but recipes and photos occasionally get lost in the bunch if I'm not careful. The photos on my computer are a bit out of control (or so says my husband). I'm trying to work up the courage to tell Eric that I've filled up yet another hard drive, but that is another story.
This stuffed shell pasta is inspired by Terry Walters, author of Clean Food and Clean Start cookbooks. There's a recipe for basic stuffed shells in her Clean Food cookbook, so I played around with it by adding more veggies and fresh herbs. The outcome is a tasty tofu "ricotta-like" cheese that can be added to stuffed shells, spread on lasagna, or even turned into eggplant rollatini if you are so inclined. Of course, it doesn't taste exactly like ricotta cheese (not that I even remember what it tastes like!), but it sure is a tasty dairy-free alternative.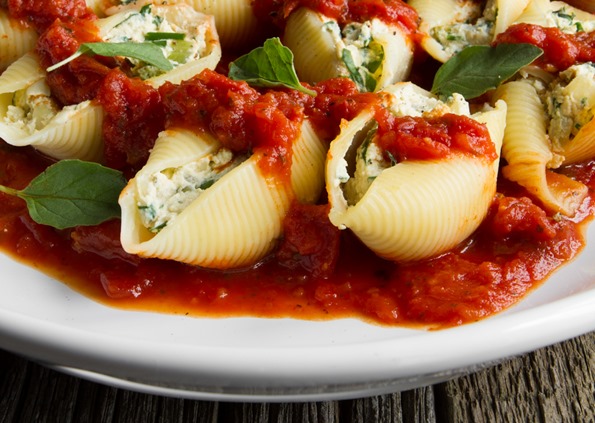 Speaking of eggplant rollatini, here's a photo when I made it last summer – served on a bed of julienned carrot and zucchini "pasta" with a sprinkle of almond parmesan cheese. A lovely summer meal. Edit: I've added the directions for prepping the eggplant in the comments section.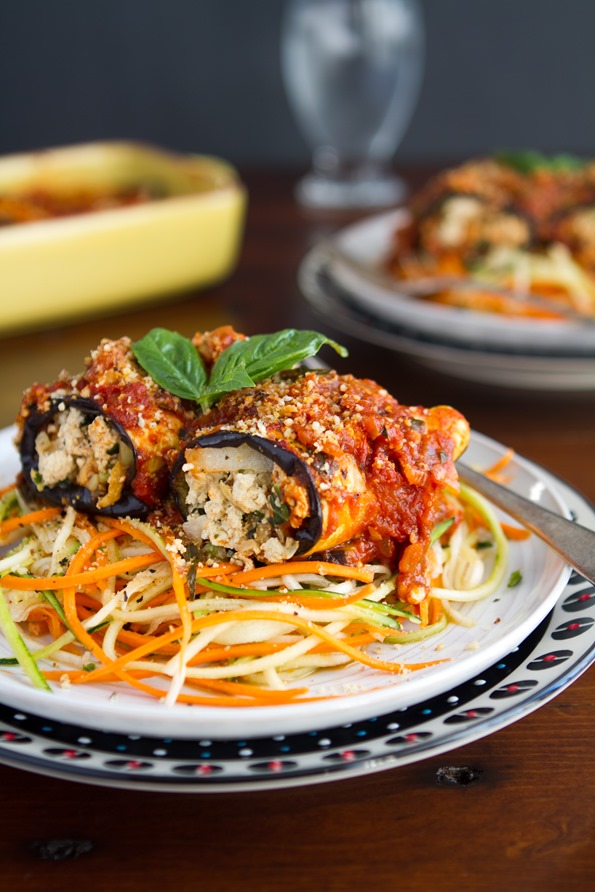 I haven't been able to find any gluten-free dairy-free jumbo shells yet, but I'm sure they exist. If you know of any brands, please give them a shout-out in the comments! For those of you looking for a soy alternative, maybe give nut-cheese a try instead. I have a cheese recipe in my lasagna recipe that could probably be used for stuffed shells also.
As for the tofu, you can crumble it by hand or you can use a food processor. I've made it both ways and I can't decide which I prefer. Crumbling by hand is a bit messy, but it saves cleaning the processor while using the processor is a bit quicker and results in a creamier texture. It's really up to you how you make it.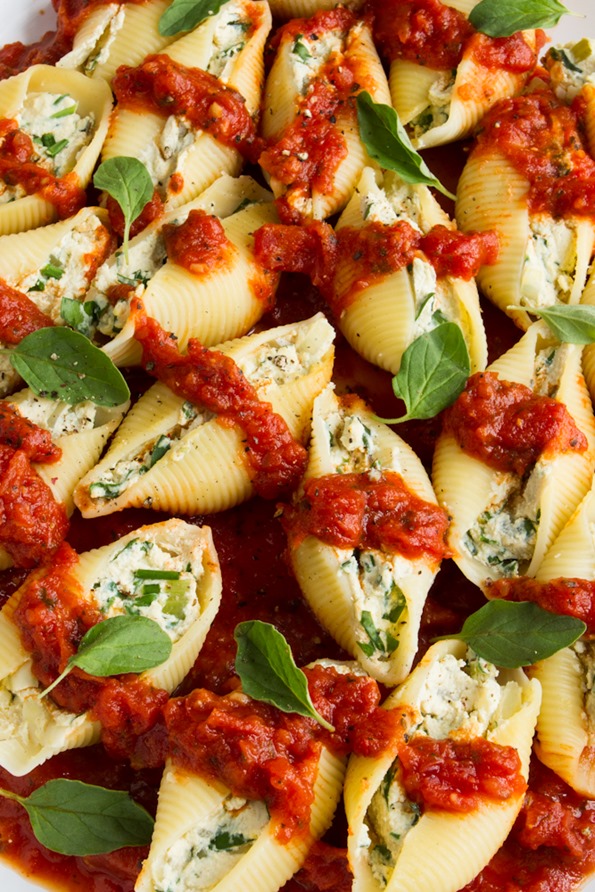 Jumbo Stuffed Shells
Adapted from: Clean Food by Terry Walters
Email, text, or print this recipe
Yield: approx. 30 shells or 6 servings
3.5 cups pasta sauce
340 grams jumbo pasta shells (I used 30 shells or 2/3 of the box – but make extra as some break)
Tofu Ricotta:
3 garlic cloves, minced
1 medium sweet onion, diced
2 tsp extra virgin olive oil
2 celery stalks, diced
1/2 cup packed fresh basil leaves, minced
1/2 cup packed fresh parsley, minced
1 (14oz) package extra-firm or firm tofu, pressed
3 tbsp nutritional yeast
3/4-1 tsp fine grain sea salt, or to taste
Freshly ground black pepper, to taste
1 tbsp fresh lemon juice
1/2 tsp cayenne pepper or red pepper flakes (optional)
1. Rinse block of tofu and wrap with paper towels followed by 2-3 tea towels. Place it on a cutting board or plate and add several heavy cookbooks on top. Press tofu for about 20-25 minutes to drain out the water. Alternatively, you can use a tofu press.
2. Grease a very large casserole dish. I used about 30 shells, but you'll need to cook more than that as some shells will break during the cooking process. Cook shells in a pot of boiling water until al dente, about 8-11 minutes. Be careful not to overcook. Drain shells and set aside to cool.
3. Preheat oven to 400F. For the tofu ricotta: In a large skillet, sauté the garlic and onion in the oil for about 5 minutes. Season with salt and pepper. Add in the chopped celery, basil, and parsley and sauté for another 5 minutes or so. Feel free to throw in some spinach for extra greens.
4. For the tofu, you can either crumble it into the skillet with your hands or you can give it a whirl in the food processor and then stir it into the skillet. If you use the processor, the texture will be very creamy like ricotta cheese and if you crumble it with your hands it will be more chunky/crumbly. It's up to you how you want to make it. I usually opt to crumble it by hand so I don't dirty the processor. Stir in the nutritional yeast, salt, pepper, lemon, and cayenne all to taste. Over medium heat, cook for about 8-10 minutes or until most of the water cooks off.
5. Spoon about 1 cup of marinara sauce into the casserole dish and spread around. Add about 2 tbsp of tofu ricotta into each stuffed shell and place shells on top of marinara sauce. Cover shells with the remaining 2-2.5 cups marinara sauce and any leftover tofu ricotta. You can add vegan cheese on top, but I don't bother. Cover dish with tin foil and poke several air holes. Bake at 400F for about 20 minutes or until heated throughout. Serve with a basic green salad and garlic bread, if desired.
For nutritional info, see here.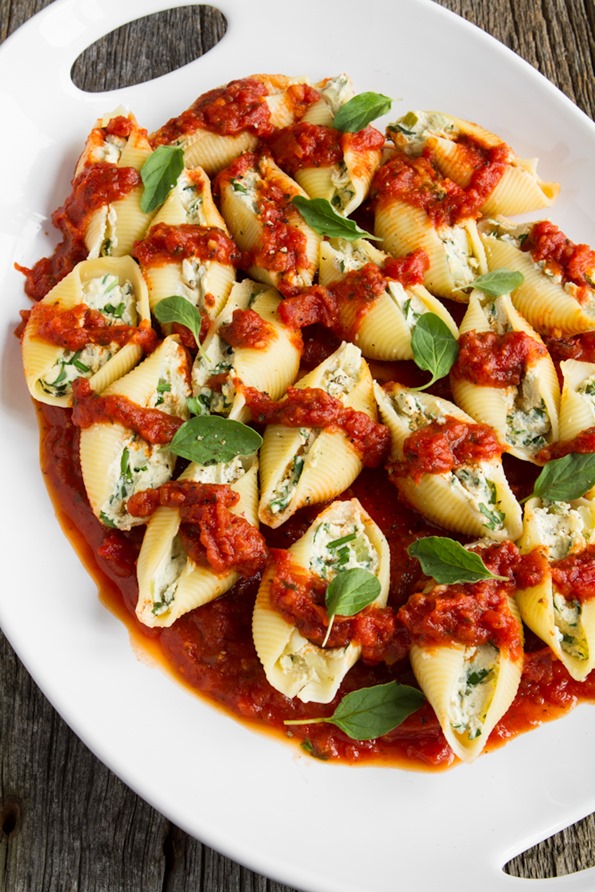 Vida Vegan Con Giveaway Winner!

I'm excited to announce that the winner of the VVC giveaway is Traci! Congrats! Traci wrote,"I am from Portland and will be home visiting during that time! OH WHAT A TREAT that would be!"
Traci I will shoot you an email today to get things rolling. Thanks again to Grace for her generous ticket donation and to everyone for participating. I really appreciate all of your lovely comments by the way.
If you are still thinking about attending the conference (and I think you should!!), there are still tickets for sale.