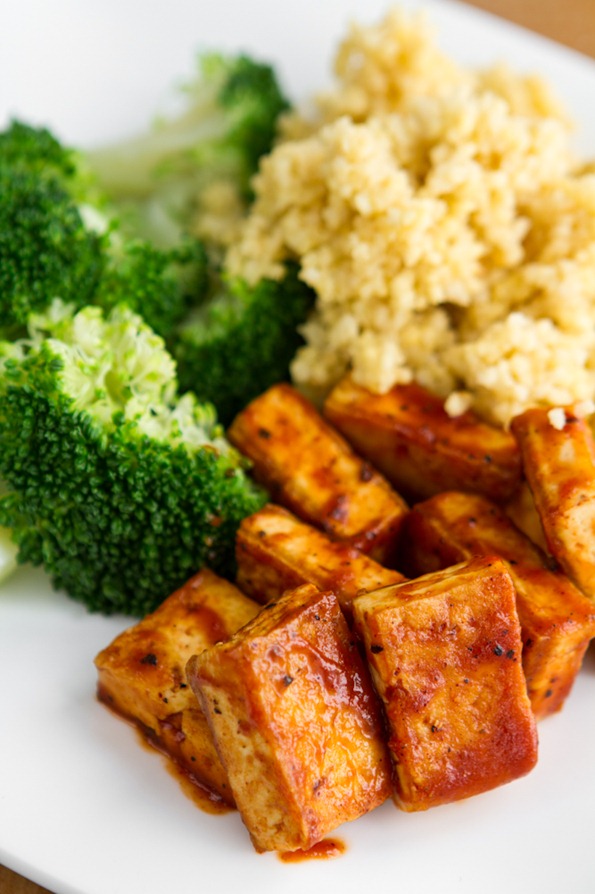 Don't mind me for disappearing for a couple days. I had an eye infection with eyes so puffy I could barely see the light of day. It was so random. Luckily, the doc gave me some eye drops and my eyes are rapidly on the mend, even though I don't think one single eye drop has actually landed in my eye.
Now that I'm back in action, I have a quick and easy recipe to share. This is another staple meal that I find myself going back to when I just want to get back to the basics. While this recipe might not be the most ground-breaking or inventive, it sure is a wholesome, balanced meal that can be thrown together in 15-30 minutes.
I usually start off by preparing a quick cooking grain like millet or quinoa. Or if we have leftover grains in the fridge, the meal comes together even faster. Millet and quinoa both take about 20 minutes to cook, so I always start off with prepping the grain first. See the directions in these recipes for how to cook millet or how to cook quinoa. I cook my grains in vegetable broth for more flavour and I also like to stir in garlic powder and season with Herbamare to make it pop.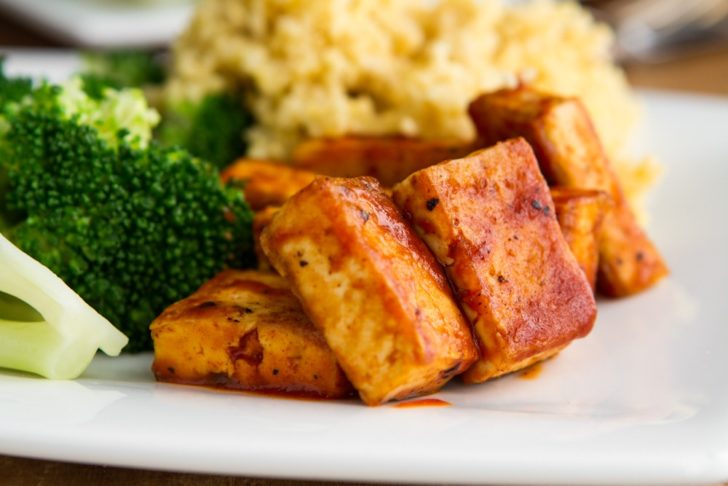 Next up, BBQ tofu!
This part is simple too. Just pan fry pressed tofu until crispy and then coat it in your favourite BBQ sauce. I use Stubb's Original BBQ sauce.
While the tofu is frying, I steam broccoli or other vegetables that we might have on hand. A simple side salad also works. I like to serve this dish with a drizzle of BBQ sauce on the grains and broccoli to add more flavour. Millet is definitely not my favourite grain to eat plain, but I do enjoy it with a fun sauce to add some zip.
Nothing fancy or complicated here. Just good food with a little help from a bottle of sauce.
By the way, BBQ tofu is also great served in a sandwich or wrap.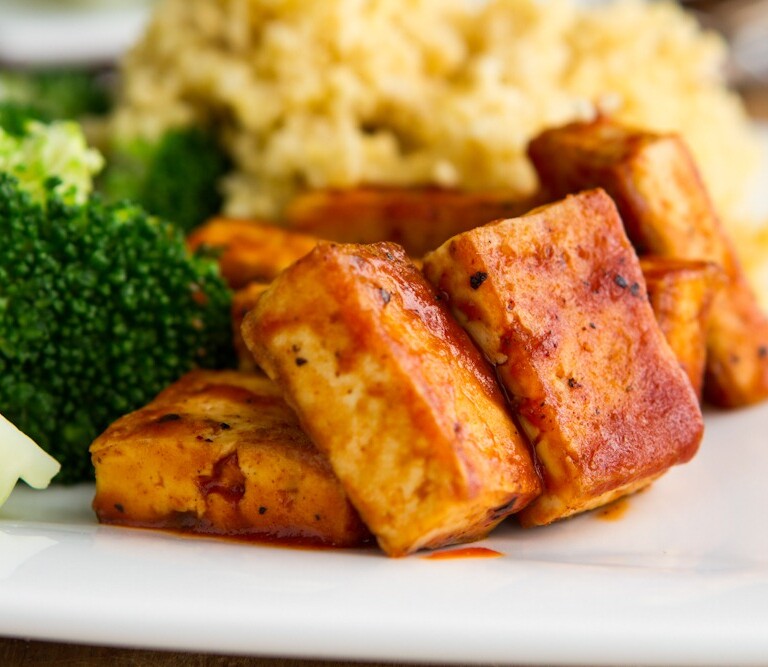 Easy BBQ Tofu

Yield

3 servings
Prep time

Cook time

Total time

A super easy BBQ Tofu recipe that comes together in minutes.
Ingredients
1 package organic firm tofu (I love Sol Organic Firm Tofu)
1 tbsp high heat safe oil (such as grapeseed or coconut oil)
Herbamare/sea salt and pepper, for seasoning
Garlic powder, for seasoning
1/4 cup of your favourite BBQ sauce, plus more for serving if desired (I use Stubb's)
Directions
Press tofu for at least 30-45 minutes, or if you are able, overnight in a tofu press. I got a Tofu Xpress recently and it's my new best friend.
Preheat a skillet over medium-high heat. Slice tofu into about 32 rectangles (or as many as you desire).
Add 1 tbsp of oil to the skillet and then carefully add the tofu. Be careful as the oil can splatter. Spread tofu out into a single layer, season with salt, pepper, and garlic powder, and fry for about 5 minutes over medium-high heat. (Tediously) flip each piece of tofu (a couple forks works for me) and fry for another 5-6 minutes, or until golden all over and charred in some spots. I like to cook it until it's nice and crisp.
Remove from heat and stir in the BBQ sauce to coat the tofu. Serve immediately with more sauce on the side if desired.
Nutrition Information
(click to expand)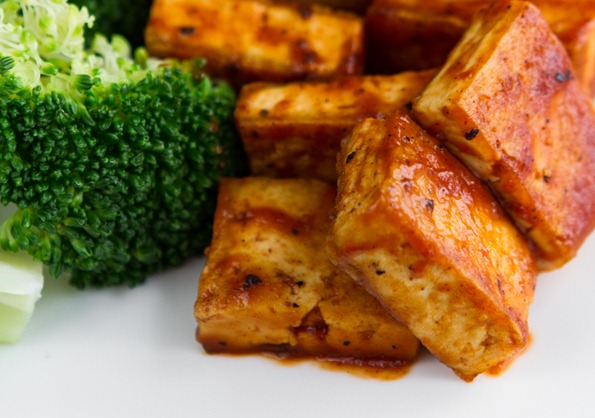 We had a few tech-related issues on the blog Monday night into yesterday morning. Everything should be looking normal again, but if you are still seeing a scrambled page please let me know!