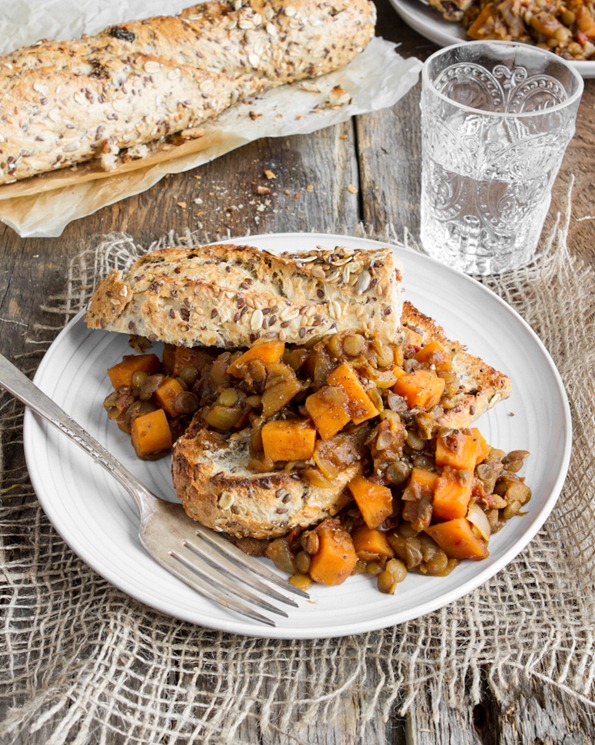 Oh, January. Your detoxes, cleanses, juice fasts, diet commercials, and cellulite cream jeans are starting to get on my nerves. Just so you know I'm tuning you out, so don't bother trying to lure me in with 6 easy payments or strict diet plans. It's just not my thing. My approach to January – or any other month for that matter – is to eat food that makes me feel good and less of what doesn't. But this approach doesn't really sell, does it?
Soup, chili, and casseroles – these are the warm, comfort foods on my mind most days. Today, I'm sharing my take on maple baked beans, using hearty, chewy lentils for a fun twist. Lentils may seem boring to many, but I find them just the opposite. Their subtle flavour can blend into just about any vegan dish. Much like tofu, lentils are a great canvas for many different flavours, spices, and cuisines. I even adore them plain with a dusting of Herbamare and splash of vinegar. It's a rather homely snack, but I'd devour the entire bowl before noticing.
Adding more fuel to my lentil loving fire – Canada is the world's largest producer of lentils. It's in my blood, eh? Their relative proximity, along with being a super cheap protein source, make them a regular staple in my diet. Of course, it doesn't hurt that they are nutritional powerhouses too. One cooked cup provides around 17.86 grams of protein, 6.5 mg iron, and 15.64 grams of fibre (source) making it a stick-to-your-ribs plant food that can go the distance. Pair them with Vitamin C rich sweet potato and you'll boost your iron absorption even more.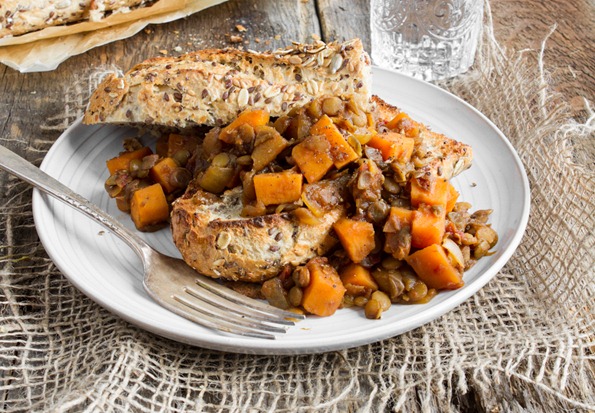 Maple Baked Lentils with Sweet Potato
A bit of apple cider vinegar rounds out the sweetness of the dish and I encourage you to adjust the amounts to your own taste as you may like more or less pop from the vinegar. Serve this over some toasted bread, or even with a salad, and you have yourself a budget-friendly vegan meal during the peak of winter. To save on cook time, make the lentils beforehand and simply mix everything together and pop into the oven.
Email, text, or print this recipe
Yield: 4-6 servings
2 cups dry green lentils
1 sweet onion, diced
3 garlic cloves, minced
1 sweet apple, peeled and diced (I used Gala)
1 medium sweet potato, peeled and diced small*
14-oz can diced tomatoes (about 1.5 cups)
2.5 tbsp pure maple syrup
2 tbsp blackstrap molasses
2 tsp regular mustard
1/2-1 tsp fine grain sea salt + ground pepper, to taste
1-2.5 tbsp apple cider vinegar, to taste
1. Rinse and drain lentils. In a large oven-safe pot or Dutch oven*, add lentils along with 4 cups of water. Turn heat to high and bring to a boil. Reduce heat to low-medium and simmer for about 30 minutes, uncovered, stirring often. Add more water if necessary. Lentils are ready when they are just tender (but not mushy) and most of the water is absorbed.
2. Preheat oven to 375F. Add onion, garlic, apple, sweet potato, tomatoes (with juice), maple syrup, blackstrap molasses, mustard, salt, and pepper to the pot with the lentils. Stir well to combine. Add half of the apple cider vinegar (you'll add the rest later if desired).
3. Cover with lid (or tin foil in a pinch) and bake at 375 for 20-25 minutes. Remove from oven, uncover, and stir. Bake for another 8-12 minutes, uncovered, until the sweet potato is tender. Stir in the rest of the apple cider vinegar if desired and season with salt and pepper to taste before serving.
4. Serve over toasted bread or with a salad.
Nutritional Info (without bun): based on six and four servings.
Notes: If you don't have an oven-safe pot or Dutch oven, simply transfer the mixture into a casserole dish and cover with tin foil before baking. 2) Dice the sweet potato small to decrease cook time.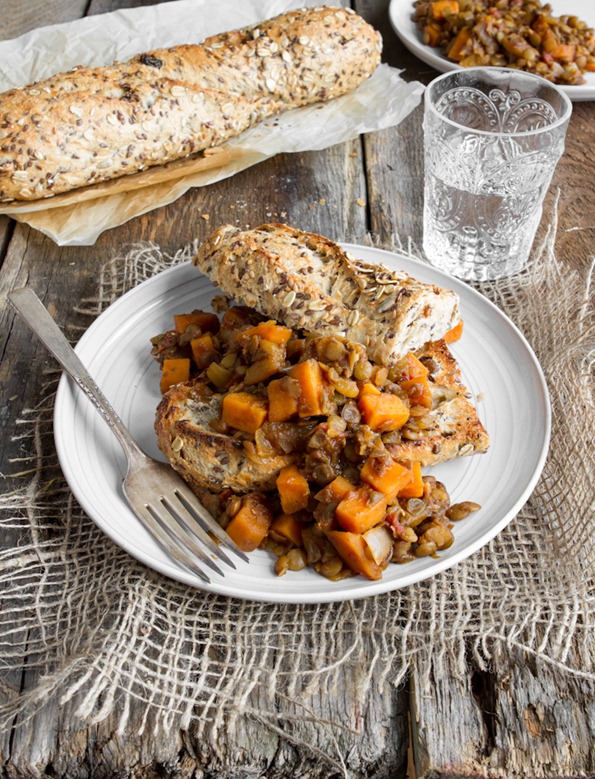 What are your favourite vegan comfort foods?