In my post, Replacing Dairy Milk, a few of you commented that you avoid several brands of non-dairy milk because they contain an ingredient called carrageenan. This was the first time I had heard anything about this ingredient, or at least the first time I took any notice. I assumed that it was a safe ingredient, especially because it is found in some organic products. But as we know, just because something is allowed in our food does not mean it's necessarily good for us. It's frustrating as a consumer to believe we are buying quality ingredients only to find out they could be harmful to our health.
Anyway, I knew I had to look into this further. And I don't like what I'm reading. In fact, I'm pretty ticked off.
At first blush, carrageenan sounds seemingly harmless – it's derived from red seaweed and is used as a thickener, stabilizer, and/or emulsifier in many dairy (sour cream, yogurt, ice cream, etc), dairy alternatives (non-dairy milk, non-dairy cheese, etc), and deli meat products. As it turns out, research links carrageenan to gastrointestinal inflammation, lesions, and even colon cancer in animals. Individuals with Inflammatory Bowel Disease or other gastrointestinal disorders are cautioned to avoid this ingredient as it can make symptoms – and inflammation – even worse. As someone who has suffered from IBS for many years, I was shocked to find this information out. This was the first I had heard of it.
For a review of the research on carrageenan see this PDF document by Cornucopia.org. Please look into this ingredient and make your own informed opinion.
For a long and detailed list of carrageenan in many dairy and non-dairy food products (and safe products as well), please see this Cornucopia shopping guide – it's extremely helpful. You might be surprised at many of the brands that contain this ingredient. I know I sure was.
I realize there is no conclusive evidence with regard to human consumption of this ingredient, but I'm not willing to take that risk when there are other options, especially because I have suffered from IBS on and off for half my life. I will no longer support President's Choice Organic Almond Milk or Blue Diamond's Almond Breeze – two of several brands that contain carrageenan. Instead, I'm going to purchase Whole Foods 365 organic almond milk which is one of the carrageenan-free brands or I will make my own milk at home (more on this in my next post). I'm anxious to see if I notice a difference.
For the complete list of carrageenan-free products, be sure to check out the shopping guide linked above.
As I mentioned in my intro post, we have a lot to learn from each other and this is a perfect example. I'm thankful for all of you sharing your experiences and knowledge in the comments. I'm learning too. I hope that by writing about this today, more awareness is brought to this ingredient. With other thickeners/emulsifiers readily available (such as organic guar gum and organic locust bean gum) there is no excuse for food businesses to continue to put carrageenan into our food at the potential risk of our health.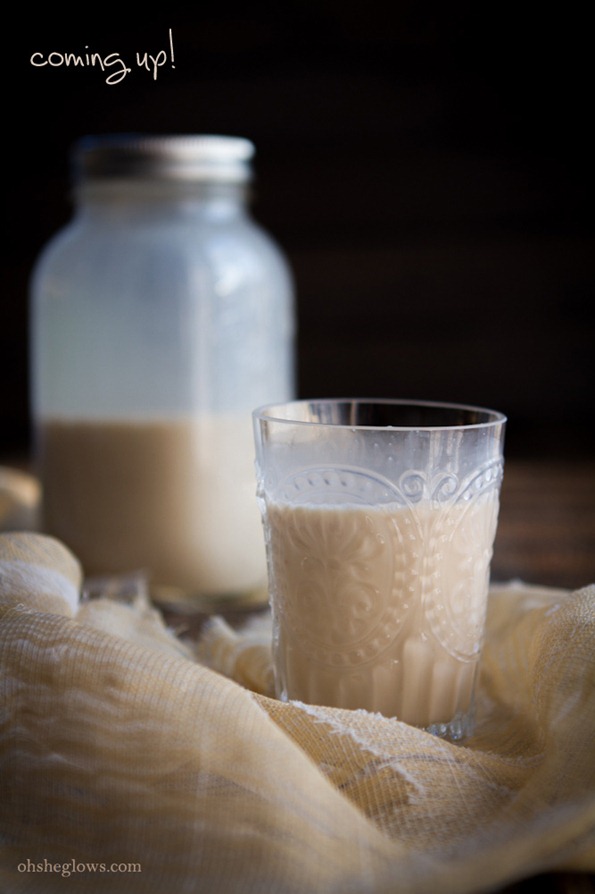 I was already planning a post on homemade milk, but now it seems even more timely and appropriate. Easy, homemade milk coming on up. I think you'll really like the ingredients list in this one.
Have you heard anything about carrageenan before? Do you avoid it on labels or will you in the future?