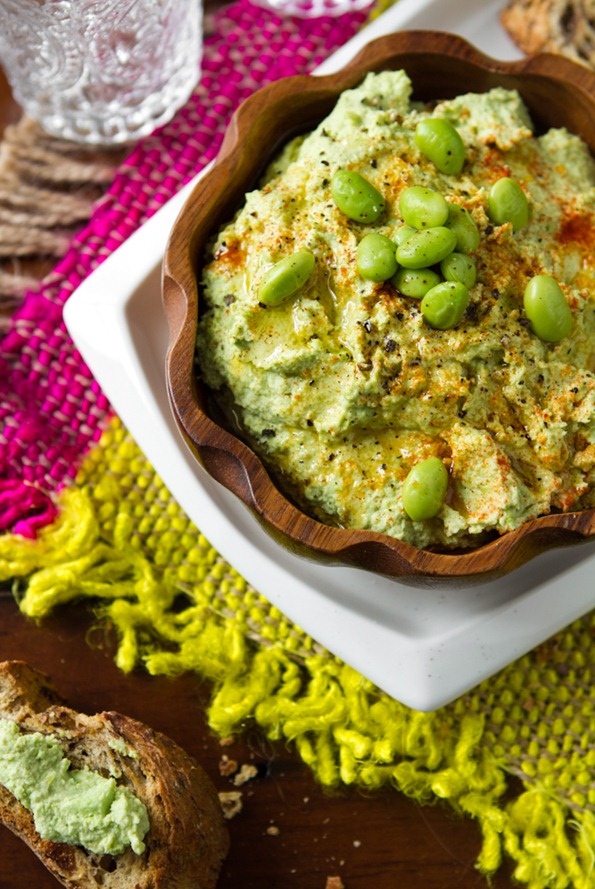 I don't say this often, but I occasionally reach my tolerable upper limit for sweets. After working on the dessert chapter for my book while simultaneously creating holiday cookie recipes for the blog, these words have come out of my mouth more than a few times lately.
You know what I can't eat too much of? Hummus, that's what. I don't think I've ever said to myself, "gee, I think I overdid it with the hummus". It's just not possible (or maybe I'm not eating enough hummus. Hmmm).
Humour me for a moment while I tell you what drives me absolutely insane. The other week, I'm standing in the checkout line skimming a women's magazine and the writer advises us dear hummus lovers to stick to a 2 tablespoon serving of hummus at holiday parties because "those healthy calories can really add up". What the hell. I'm pretty sure I can squeeze more than 2 tablespoons onto one lonely toasted pita wedge. It was a miracle my annoyance didn't burst that magazine into flames right then and there. The nerve.
[I clearly have some unresolved issues from reading too many teen magazines as a gullible teenager. Breathe.]
In honour of taking a short break from the holiday cookie madness, I'd like to show you this feel-good green appetizer that I made for a recent Christmas party. Based off my favourite food group, hummus (which forms the base of my food pyramid), this edamame spread is a familiar twist on an old classic using traditional hummus ingredients like garlic, lemon, tahini, and olive oil. It's absolutely fool-proof. Add a pinch of smoked paprika on top and you have a festive red and green holiday appetizer thrown together in minutes flat.
I encourage you to enjoy much more than 2 tablespoons of this healthy green dip! We sure did.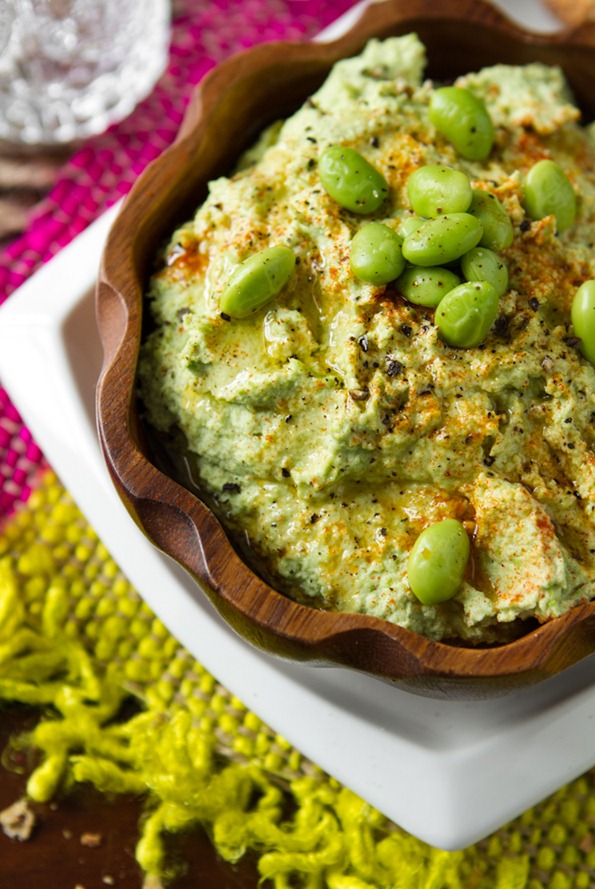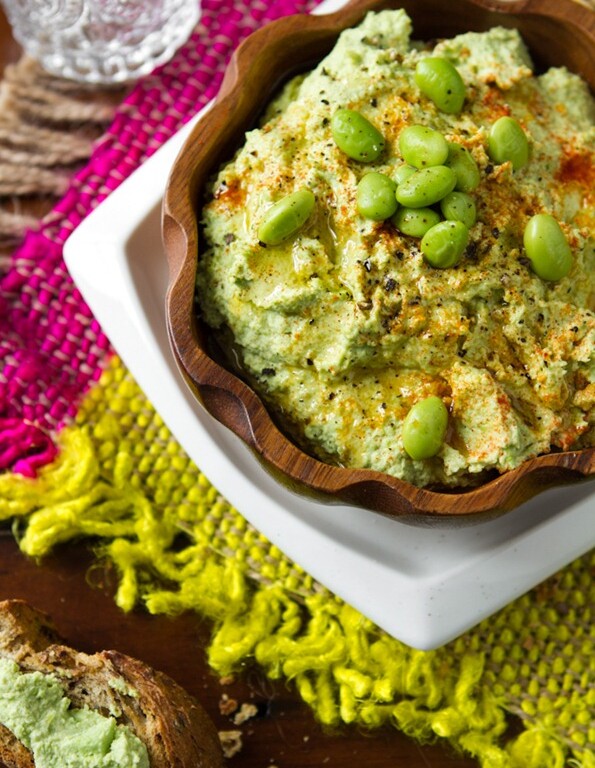 Edamame Hummus
Vegan, gluten-free, nut-free

Yield

2 heaping cups
Prep time

Cook time

0 minutes
Total time

Based off my favourite food group, hummus, this edamame spread is a familiar twist on an old classic using traditional hummus ingredients like garlic, lemon, tahini, and olive oil.
Ingredients
1 (500g) bag frozen organic shelled edamame (equal to 3 cups thawed/drained)
2 garlic cloves, peeled
3-4 tbsp fresh lemon juice (I used 4 tbsp)
1/4 cup tahini (stir well before measuring)
2-4 tbsp water, to thin as needed (I used 3 tbsp)
1/2-1 tsp fine grain sea salt, or to taste (I used 3/4 tsp)
1/4 tsp ground coriander seeds, optional
1/8th tsp cayenne pepper, optional
To garnish
smoked paprika
freshly ground black pepper
extra virgin olive oil
edamame
Directions
If starting with thawed edamame, rinse and drain before using. If starting with frozen edamame, simmer in a pot of water until edamame is heated through. Rinse and drain before using. You can also remove the skins of the edamame for a slightly smoother spread, but I didn't bother. Set aside a handful of edamame beans for garnish just before serving.
With motor running on food processor, drop in 2 garlic cloves to mince.
Next, add edamame to processor and process until somewhat smooth, stopping to scrape down the side of the bowl as necessary.
Add in the lemon juice, tahini, and water and process again until smooth. Don't be afraid to let the processor run for a few minutes and get it really smooth!
Add salt to taste along with optional cayenne pepper and ground coriander. Process again until combined.
Scoop into a serving bowl. Garnish with smoked paprika, freshly ground black pepper, a generous drizzle of olive oil, and reserved edamame. Serve with crostini, toasted pita chips, crudités, and/or crackers.
Nutrition Information
(click to expand)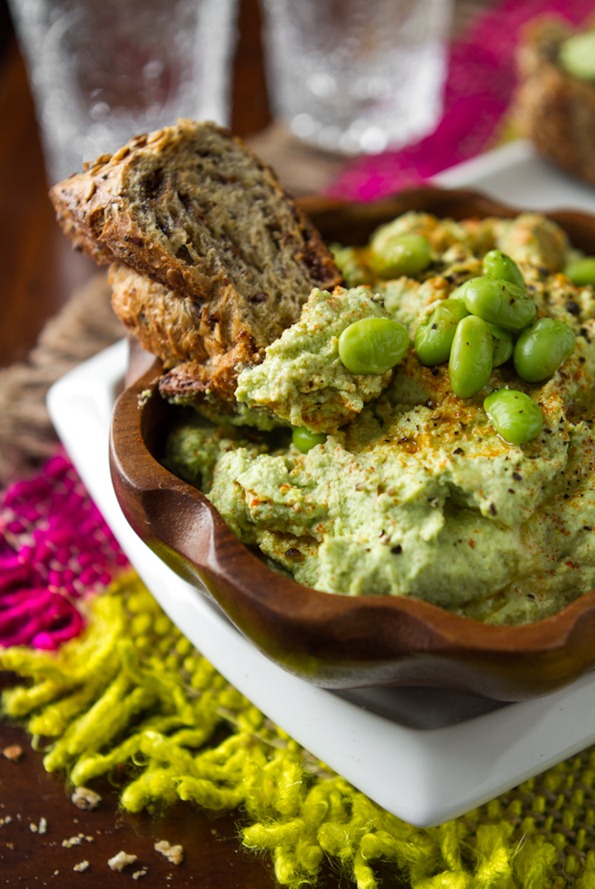 If you'd like to check out my other favourite hummus spreads, see these recipes below:
The hummus that changed everything Red lentil hummus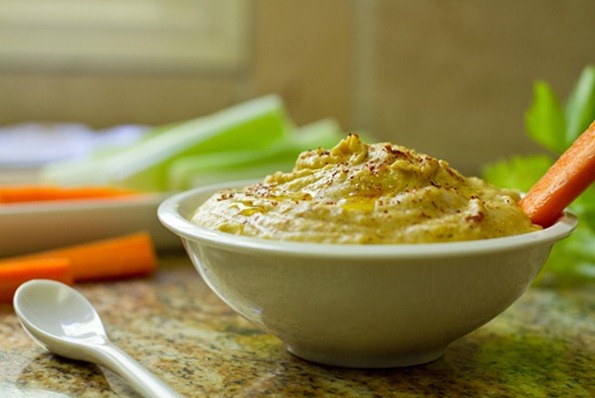 Happy 12/12/12!