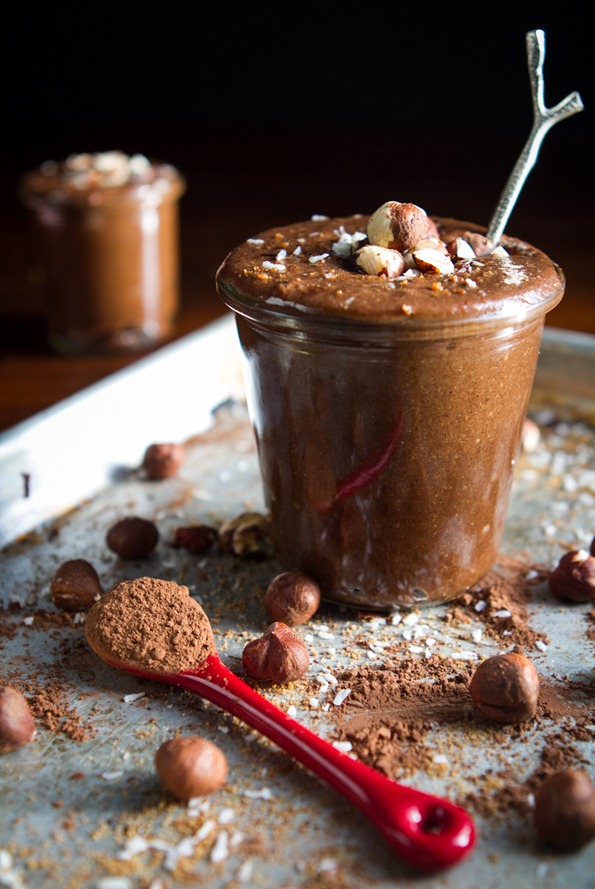 When I have great ambitions to re-create a favourite food product at home, it usually takes the right moment of inspiration to push me along. Or, it simply takes remembering to snap the photos before the husband and I eat the entire batch (such was the case with my vegan cookie recreation from Zephyr Café…doh).
This time, my inspiration came from spotting a huge bag of raw hazelnuts at Costco. I knew it was time to try and re-create my beloved Rawtella!
Rawtella is just about one of the best spreads I've ever tasted. It's made with raw hazelnuts, coconut sugar, and cacao nibs. My favourite is their coffee flavour which includes ground coffee beans creating a super crazy intense chocolate flavour. Ohhhh yeaaaaa.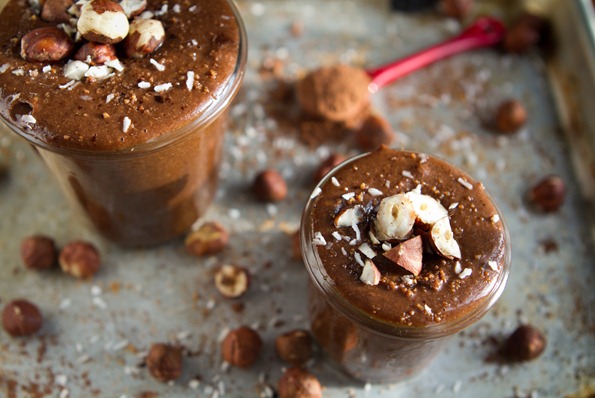 Instead of using raw hazelnuts, I roasted them because I wanted to remove the somewhat bitter-tasting skins. Roast the hazelnuts at 300F for about 13-15 minutes. As you can see, the skins darken and begin to loosen in the oven: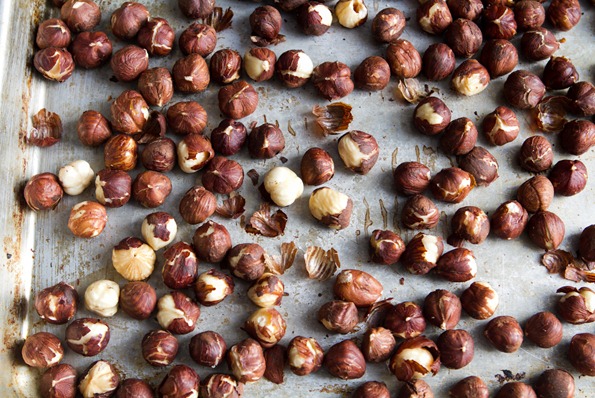 Now all you do is grab an old damp tea towel. Key word being OLD because this makes a huge mess! Place the roasted nuts on the damp towel and wrap the towel up as shown below.
Rub the hazelnuts vigorously with the tea towel to remove the skins.
After a couple minutes, it should look like this: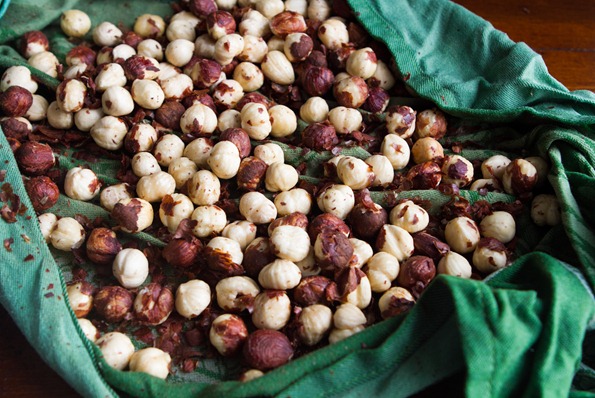 At this point, remove the nuts without skins and place them in the processor. Keep rubbing the others, but it's ok if all the skins don't come off. Mine never do!!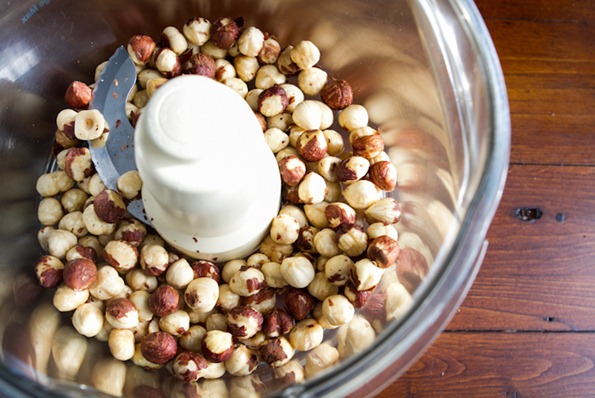 Here is a breakdown of how the hazelnuts should look at various stages of processing (click to enlarge):
Yes, it took a full 15-20 minutes for my processor to get the nutella as smooth as I wanted it. After you add the coconut sugar, it thickens up a lot, but if you keep processing and scraping down the sides, it will heat up and thin out. Patience is key here. I know, I know, it's hard when you just want to grab a spoonful of your homemade nutella. I didn't say this would be easy.
But, you'll be rewarded with a silky, intensely chocolate mocha latte frappe espresso (or something) knock-off of the store-bought stuff at a fraction of the cost. It probably goes without saying, but this would make a lovely gift for that special chocolate-crazed someone! Aka, me & YOU!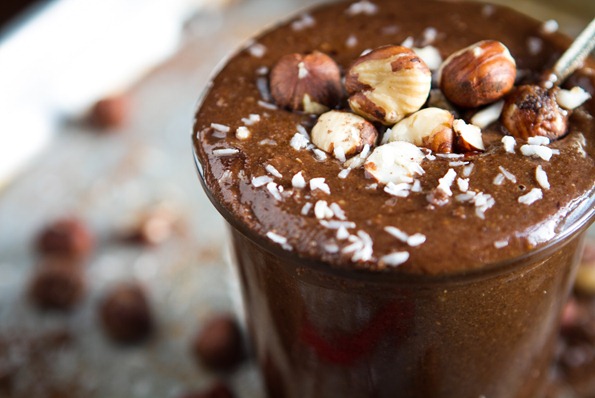 Homemade Mocha Nutella
Inspired by Rawtella
Yield: 1 & 1/4 cup
Ingredients:
2 cups raw hazelnuts
1.5-2 tbsp coconut oil
1 tsp pure vanilla extract
1/2 cup coconut sugar
1.5 tbsp cocoa powder
1/4-1/2 tsp espresso powder (I used 1/2 tsp)
1/4 tsp fine grain sea salt, or to taste
1. Preheat oven to 300F and roast the hazelnuts for 13-14 minutes, watching closely, especially if you aren't sure of your actual oven temperature. When ready, the skins will have darkened and some will have come loose.
2. Place nuts into the centre of an old damp tea towel. Cover it up like a purse and rub the nuts for a couple minutes to loosen the skins. Pick out the "naked" nuts and place into processor. Repeat towel rubbing for the rest. It's ok if all of the skins don't come off. Add the rest to processor.
3. Process the nuts, stopping to scrape down the bowl every minute or so. After 9-10 minutes of processing, add in the coconut oil and process until smooth. This will help thin it out a lot and I don't recommend skipping the oil.
4. Now add in the rest of the ingredients slowly and keep processing and scraping down the bowl for another 5-10 minutes, or until silky smooth. It took me 15-20 minutes total processing. The sugar will thicken up the spread significantly, but keep processing and the heat will smooth it out once again.
5. Store in an air-tight container in the fridge. It will harden slightly when chilled. Simply bring it to room temp or heat it to soften.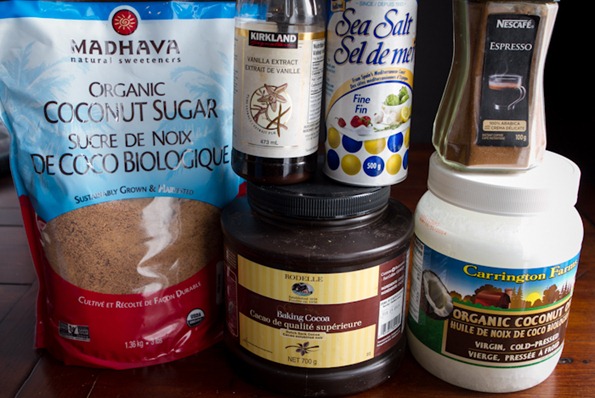 A few notes:
– Coconut sugar, coconut oil, vanilla, hazelnuts, and cocoa powder were all purchased at Costco. Espresso powder was purchased at my regular grocery store in the coffee section.
– I assume you can sub another sugar in place of the coconut sugar. Add it to taste. I don't recommend using a liquid sweetener like maple syrup because I find it can produce a strange thick texture in nut butters.
– You can probably sub the coconut oil for another light tasting oil like grapeseed oil. You can also use hazelnut oil for obvious reasons. I am leery about using extra virgin olive oil since it has quite a powerful flavour. Use at your own risk…
– Like all homemade nut butters, I don't recommend making them without a heavy-duty food processor. I use a 12-cup Cuisinart and it works great for nut butters.
Want to know a secret? I don't think I've ever had actual Nutella before – (just Rawtella as an adult). Is that weird? I don't find Nutella is as big here in Canada as it seems to be in the US (or maybe I just lived under a rock as a kid).