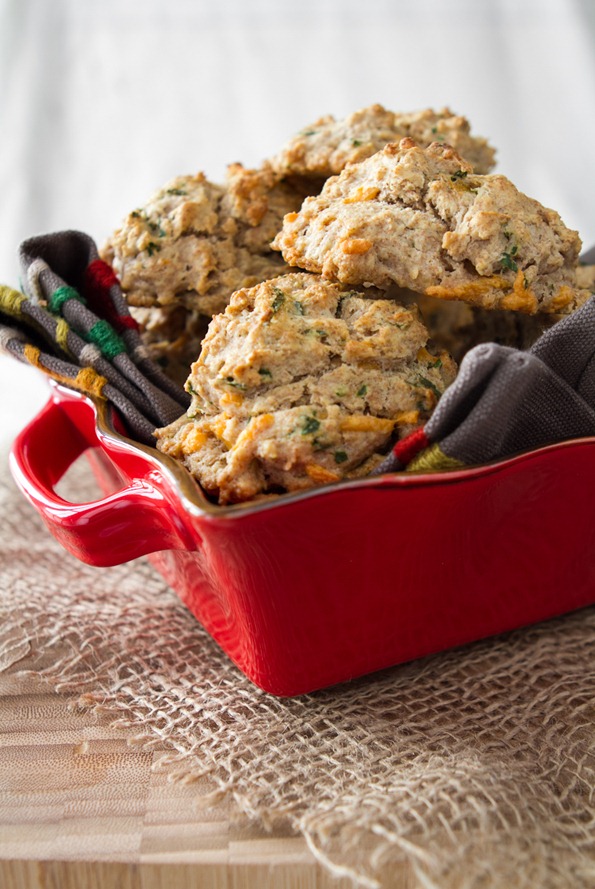 Last week, I set on a mission to create a quick and easy biscuit recipe free from shortening, butter, or lard. In terms of easy biscuit recipes, I knew a drop biscuit would fit the bill. When I'm making a meal around the holidays the last thing I want to add to my list is rolling dough in an already chaotic kitchen. That's why drop biscuits are a time-crunched cook's best friend!
You just mix, drop, and bake. No rolling pin required.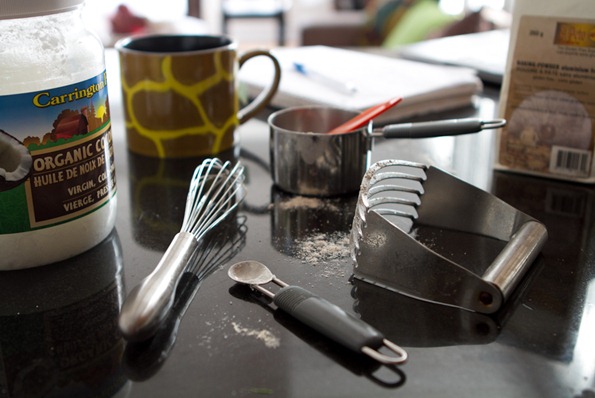 As for replacing the shortening/butter, I had a theory that chilled coconut oil could do the trick. My only concern was how it would impact the flavour (I'll give you my thoughts on this below).
I spread coconut oil onto a parchment-lined pan and then stuck it in the freezer for 5-10 minutes: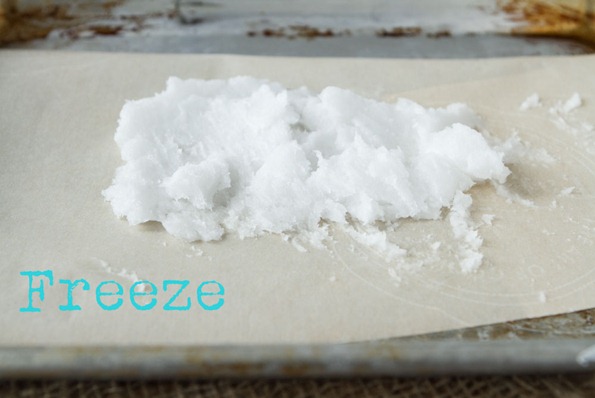 After freezing, the coconut oil is hard as a rock and ready to be cut into the dry ingredients: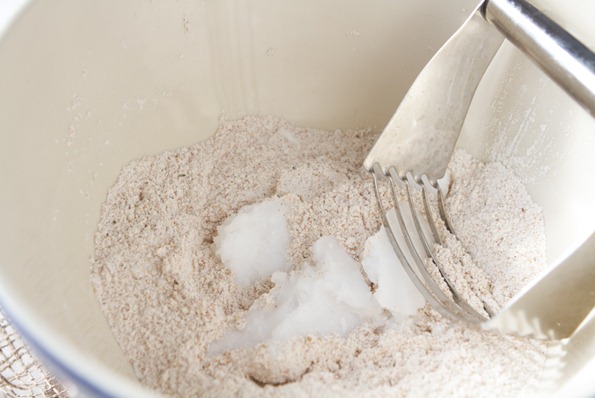 Cut in the coconut oil until it's the size of peas.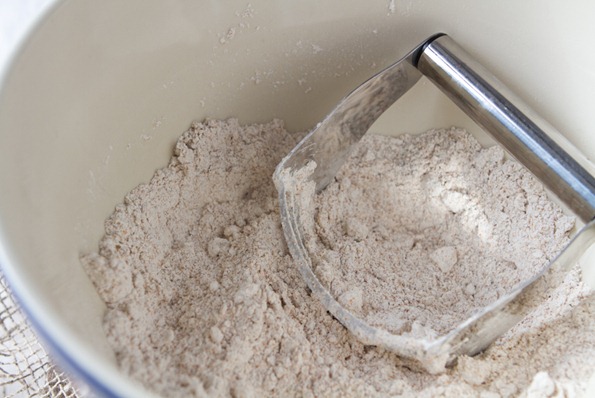 Add the (freezer chilled) almond milk and stir until just combined. Fold in the fresh herbs and vegan shredded cheese.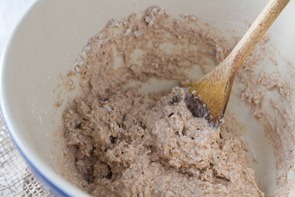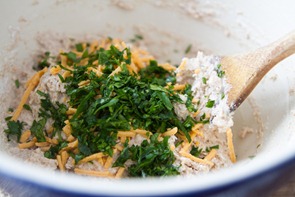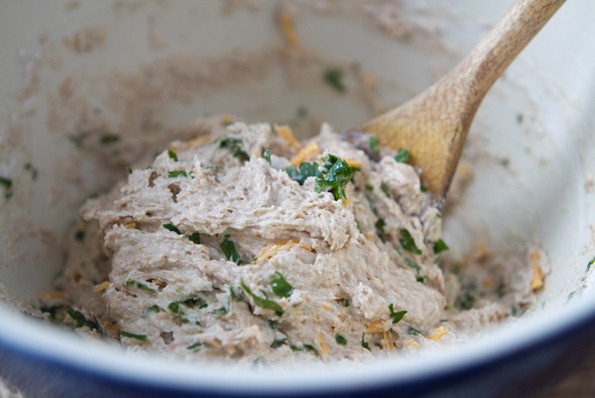 Now for the best part – simply drop 8-10 spoonfuls of dough onto a prepared baking sheet. Easy! Bake for 18-20 minutes at 425F until golden and crispy. The outer shell and bottoms get so nicely crisp, crunchy, and golden while the interior stays soft and "buttery". Serve with vegan gravy, cranberry sauce, and/or a pat of vegan butter.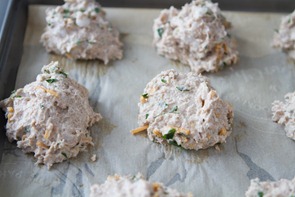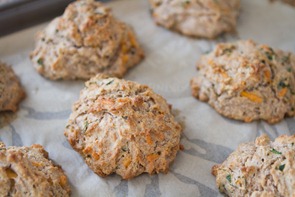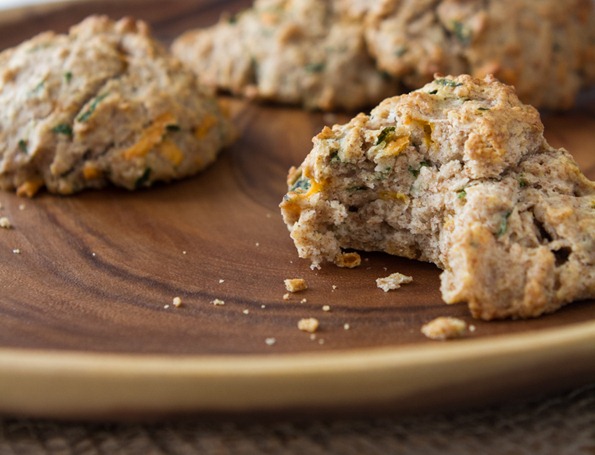 Herb and Cheese Drop Biscuits
Vegan, nut-free, soy-free

Yield

8-10 biscuits
Prep time

Cook time

Total time

Ingredients
1 cup (120g) whole wheat pastry flour
1 cup (130g) unbleached all-purpose flour
1 tbsp aluminum-free baking powder
1 tbsp natural cane sugar
1/2 tsp fine grain sea salt
1/4 tsp garlic powder
1 tsp minced fresh rosemary
1 tsp fresh thyme leaves
1/4 cup fresh parsley leaves, minced
5.5 tbsp coconut oil, frozen
1 cup unsweetened and unflavoured almond milk
1/4-1/3 cup vegan shredded cheese (I used Daiya), optional
Directions
Preheat oven to 425°F and line a large baking sheet with parchment paper.
2. Line a small plate with parchment paper and spread on the coconut oil into a layer about 1/2-inch wide. Place in the freezer until solid, for about 5-10 minutes. Place the cup of milk in the freezer to chill as well.
Meanwhile, whisk the flours, baking powder, sugar, salt, and garlic powder together in a large bowl.
Using a pastry cutter, cut the frozen coconut oil into the dry ingredients until it's the size of small peas. Make sure not to leave any large chunks.
Pour chilled almond milk over the dry ingredients + coconut oil mixture and stir until just combined. If your scoops of flour were heavy-handed you may need to add a tablespoon or two more milk. Fold in the herbs and shredded cheeze.
Drop about 8-10 biscuits all over the baking sheet, leaving 2-3 inches between each biscuit. Bake for 10 minutes, rotate the pan, and then bake for an additional 8-10 minutes longer watching closely. Biscuits are ready when golden. Serve warm.
Tip:
I do not recommend making these ahead of time. When stored in a container, they will lose their crisp exterior.
Nutrition Information
(click to expand)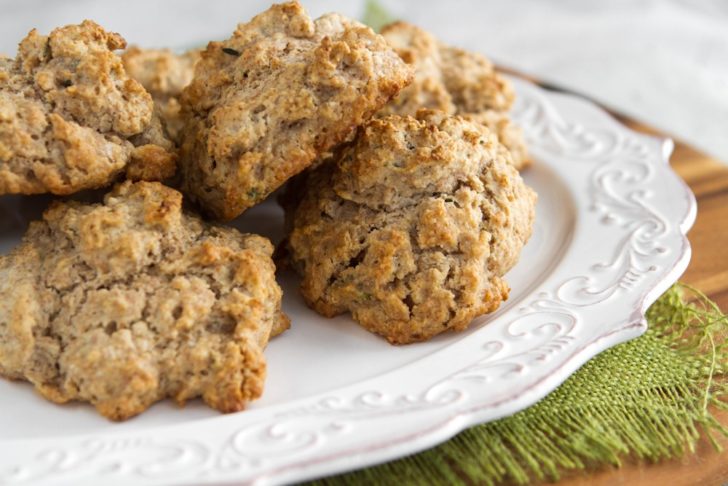 Substitution Questions
Do the biscuits taste too much like coconut? My taste buds told me no. While there is a hint of coconut, it's not overpowering; if anything, it adds a very light sweetness to the biscuits. Considering we ate our weight in biscuits last week, I'd say they went over quite well.
Can I make these without the vegan cheese? Yes you most certainly can!
Can I omit the sugar? I compared trials with and without the sugar and the sugar was by far the best-tasting version. I don't recommend leaving it out – they taste a bit flat without it.
Can I use different herbs? What about dry herbs? Feel free to play around with the herbs and mix-ins! I used a few different combos in my trials and they were all quite good. While I always prefer the flavour of fresh herbs, you can use dried if you wish. I would probably use half the amount of rosemary and thyme (1/2 tsp each).
Can I sub different flours? I made a trial using only whole wheat pastry flour and I wasn't as happy with the flavour and texture, which is why I stuck with 1 cup unbleached AP flour and 1 cup whole wheat pastry flour. If anyone tries this recipe using all-purpose gluten-free flour (or other flours), please let us know how it turns out in the comments!
Oh and whatever you do, serve them warm. :)