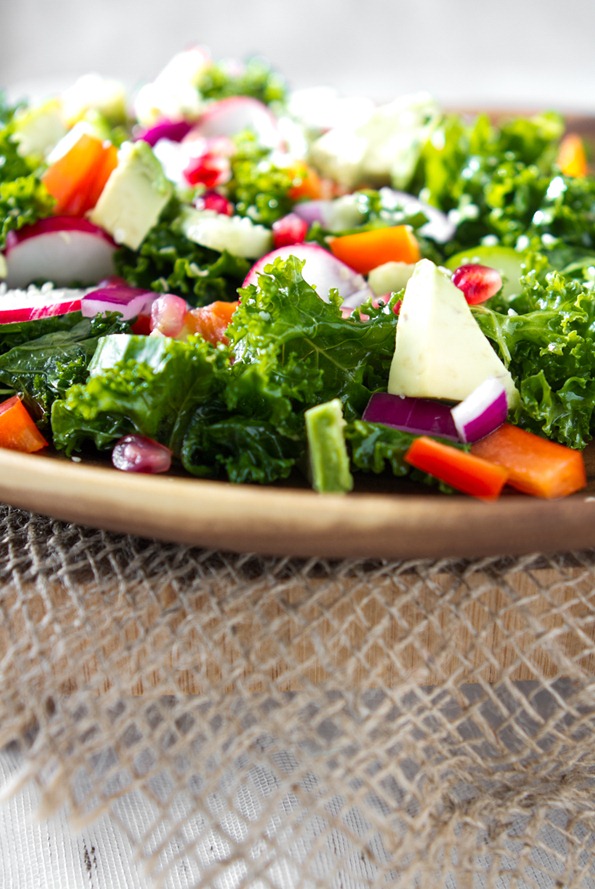 Lately, I've had a few requests to blog about some of my favourite quick and easy lunches. This made me laugh at first because many of my lunches involve standing over a stove sampling the recipes I'm testing that day and then inhaling the cold food that's left on the plate after a long photo shoot. That's just how many days go around here, but I've been making more of an effort to take time out for lunch and make sure I'm eating a balanced, less rushed meal.
This kale salad is something I've been enjoying for lunch over the past few weeks. When I get on a certain lunch kick, I'm basically happy eating it every day until I get tired of it and move on. I figured it was time to share my little lunchtime obsession with you today. The beauty of a kale salad is that the leaves don't wilt (like romaine, for example), making it something you can prepare ahead of time and pack for lunch. Plus, the longer it sits, the softer the leaves get. Win-win. I love to serve it with fruit and/or crackers and hummus.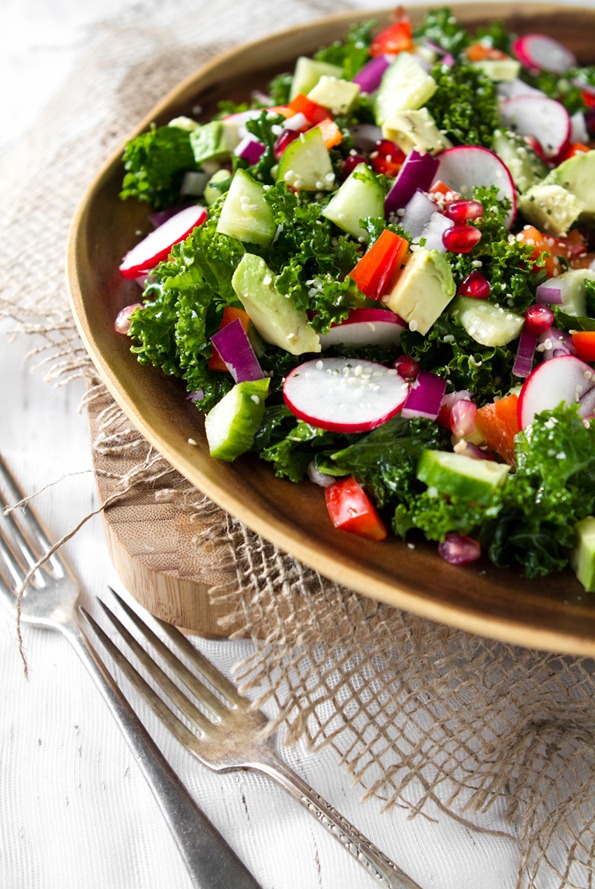 Here is my no-brainer "recipe" for making a massaged kale salad.
1 tbsp oil (I love flax, hemp, or avocado oil for dressings) + 2 tbsp fresh lemon juice + 1 tsp pure maple syrup. Massage into the kale leaves. Let this "marinate" while you prep the vegetables.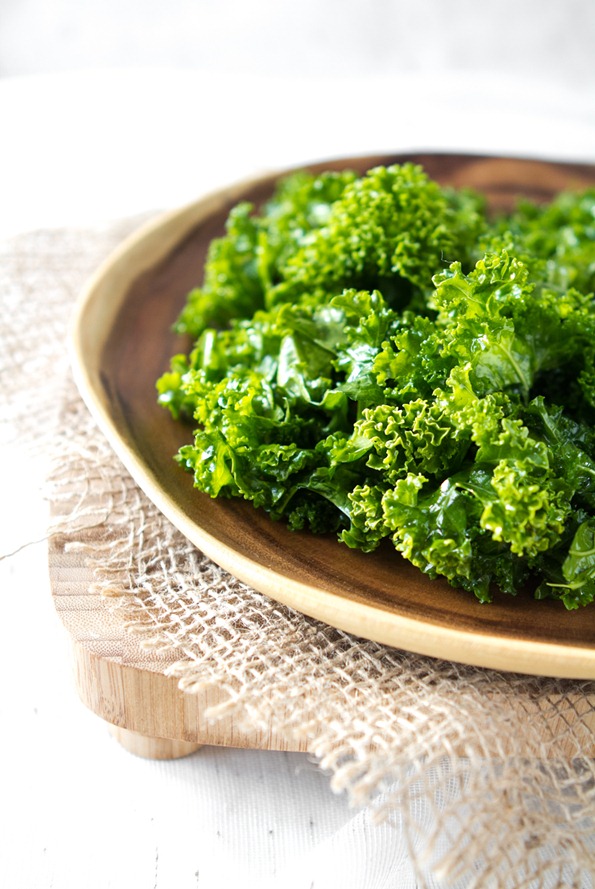 While the kale is "marinating", I get busy chopping up a storm! Whatever veggies I have in the crisper go into my salads. Right now, I'm loving celery, pomegranate, radish, red onion, and avocado. I also love to sprinkle on hemp seeds for extra protein.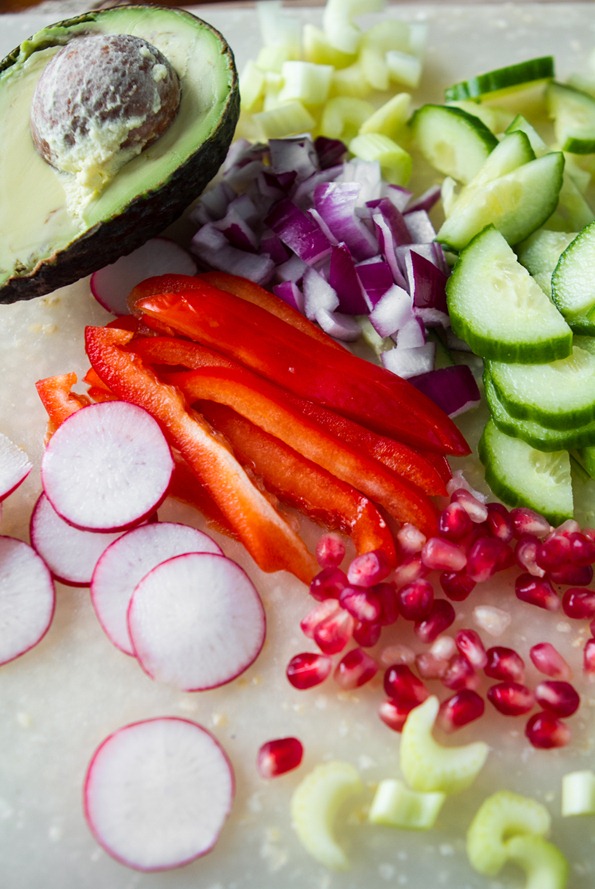 Throw it all together and you have one of my favourite kale salads, ready in minutes!
Sharing is optional (and highly discouraged…bahah)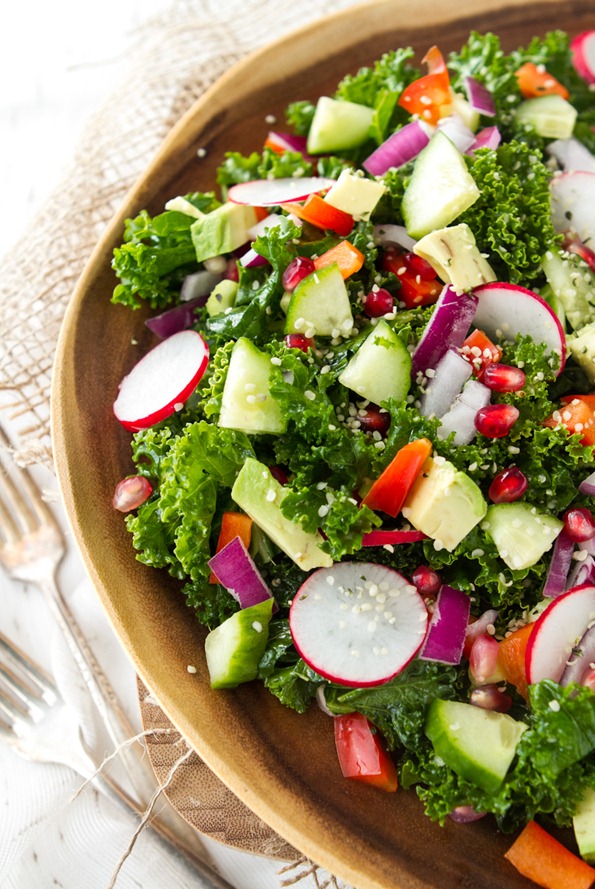 My Go-To Kale Salad
Email, text, or print this recipe
Yield: 1 large serving or 2 smaller servings
Kale:
4 cups (packed) torn kale leaves, stems removed
1 tbsp hemp, flax, or avocado oil (or use extra virgin olive oil in a pinch)
2 tbsp fresh lemon juice
1 tsp pure maple syrup, or to taste
Herbamare (or sea salt) and cayenne pepper, to taste
Vegetables:
1 radish, thinly sliced into rounds
1/2 large avocado, chopped
1/2 English cucumber, chopped
1/2 red pepper, chopped
1 celery stalk, chopped
1/3 cup red onion, chopped
handful pomegranate seeds
1-2 tbsp hemp seeds
1. Tear leaves off kale stems and discard stems. You can save the stems for juicing or blending if you wish. Break leaves into bite-sized pieces. Wash and dry thoroughly.
2. Place kale in a large bowl and drizzle on the dressing ingredients (oil, lemon, maple syrup). With your hands, "massage" the dressing into the kale until all leaves are coated. Sprinkle on Herbamare (or sea salt) and a touch of cayenne pepper if desired.
3. While the salad marinates, chop the vegetables. Mix into kale and serve, topped with hemp seeds if you desire.