Update: Nov 9th – I am so excited to let you know that we raised $10,073 for Hurricane Sandy relief. I am simply blown away. Thank you all for your generosity!
I created a spreadsheet with your entries and we had a total of 591 people entered for the draw. All contest winners today were selected using Random.org.
The winner of my Vegan/GF Foodie Box is #79 – Charlotte Cromwell!

The winner of the Blendtec is #556 – Maria Winson!
Like many of you, I've been glued to the TV watching the coverage of Hurricane Sandy over the past week. My heart goes out to everyone who was impacted. As a spectator, it's difficult to wrap my mind around the devastation, let alone what it's like to be in the heart of it all. We were pretty fortunate here in Ontario, relatively speaking.
My second blog giveaway was planned for today, but I felt compelled to turn it into something that could help those in need. We've had great success in the past with the Japan Disaster fundraiser and Shop 4 A Cause and I know with your support we can also make this one a huge success as well.
Fundraising Page Update!! Thanks to the Canadian Red Cross, we now have our own fundraising page set up directly through their website. This means no transaction fees! Hooray. A big thanks to Teilo and Catherine for setting this up and the Red Cross team who put the page together! All links are now updated in this post to direct you to the new page. Don't worry if you donated previously through Canada Helps – all of your info has been added into my spreadsheet for the giveaway draw. Thanks for your amazing support! The fundraising amount on the Canadian Red Cross page also reflects the total amount we've raised, including those earlier donations on Canada Helps. If you have any questions do not hesitate to ask!
So. My goal is to raise 50 billion by Tues. Nov. 6th. ;)
Ok, how does $3,000 sound? I know we can do that! Update: We raised $3,560 in less than 24 hours! Let's see if we can hit $5,000?
As a thank you for making a donation, I will be doing two random draws for some pretty sweet prizes.
Giveaway #1) Vegan/GF Foodie Gift Box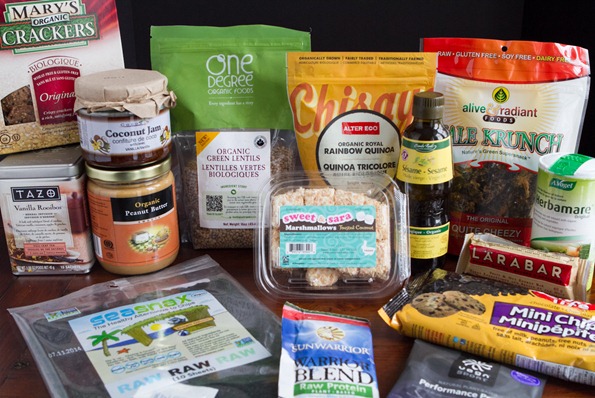 Oh boy did I have fun at the grocery store this week. I hand selected a huge gift box bursting with some of my favourite food products. So far, I've resisted busting open the kale chips…those are my FAV and they are taunting me…..must focus…
I'll ship this box worldwide, so everyone who donates has a chance at winning. All products are gluten-free and vegan and many are also organic, fair trade, or raw. You can click the picture to scope out the loot closer up.
Included in the delicious gift box

:
Cocovie Coconut Jam (my love!)
Nuts 2 You Organic Roasted Peanut Butter
One Degree Organic Green Lentils
Alter Ego Organic Rainbow Quinoa
Sweet & Sara Toasted Coconut Marshmallows
Emile Noel Organic Sesame Oil
Alive & Radiant Cheezy Kale Chips
Herbamare (my fav herbed sea salt seasoning)
1 peanut butter Larabar
Enjoy Life Mini Chocolate Chips
SeaSnax
TAZO Vanilla Rooibos tea (15 sachets)
Single serving of Vega Chocolate Performance Protein Powder
Single serving of Sunwarrior Vanilla Warrior Blend Protein Powder
box of Mary's Crackers in Original
Giveaway #2) Blendtec Total Blender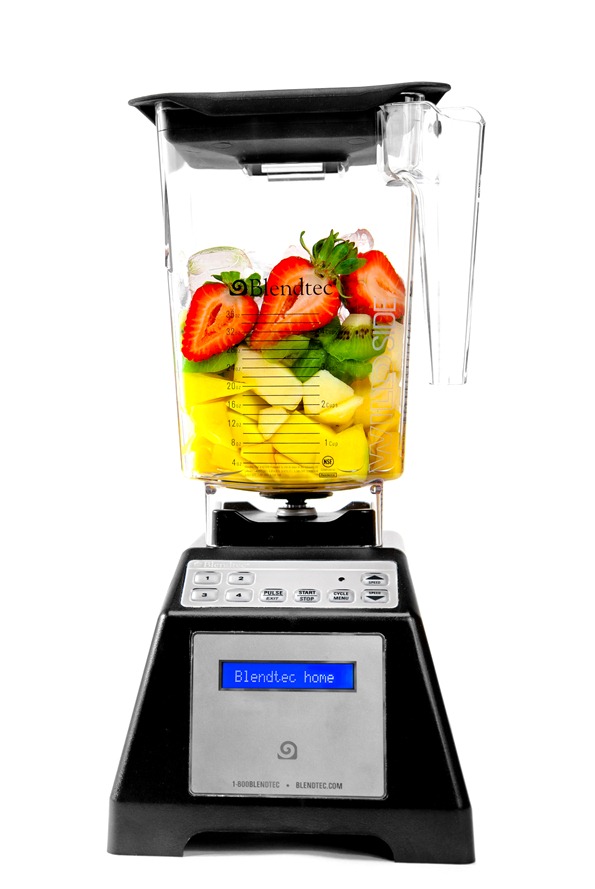 Blendtec has agreed to donate yet another Blendtec Total Blender (valued at $454.95 USD)! Major kudos to Blendtec for their generosity. This prize is eligible to anyone in North America.
Giveaway details:
To be eligible for the giveaway, I ask that your donation is a minimum of $5. If you can give more, that would be great too! Please be sure to check the box that says you give permission for me to see your info – this way I will be able to contact you if you should win.
I will randomly chose two prize winners (one for the foodie gift box and one for the Blendtec) on Tues. Nov 6th. Winners will be announced on the blog shortly thereafter.
If you'd like to spread the word about the Fundraiser, feel free to share this post on Twitter, Facebook, Google+, etc. Thank you in advance for your support!