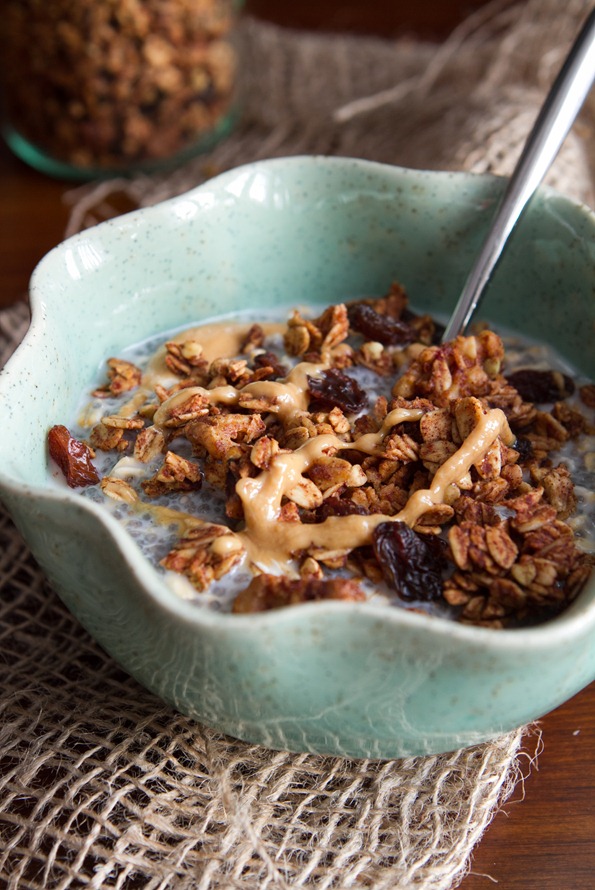 Recently, Lisa from Vegan Culinary Crusade and Nicole from A Dash of Compassion launched Tiny Treats – an e-cookbook devoted to 25 recipes free of wheat, soy, eggs, dairy, and refined flour/sugar. Needless to say, I was excited to check it out when Lisa offered to send me a copy. The recipes are unique, healthy, and elegant all at the same time, not to mention the photography and page layouts could be straight out of a food magazine. You can really tell how much time and love went into creating this book!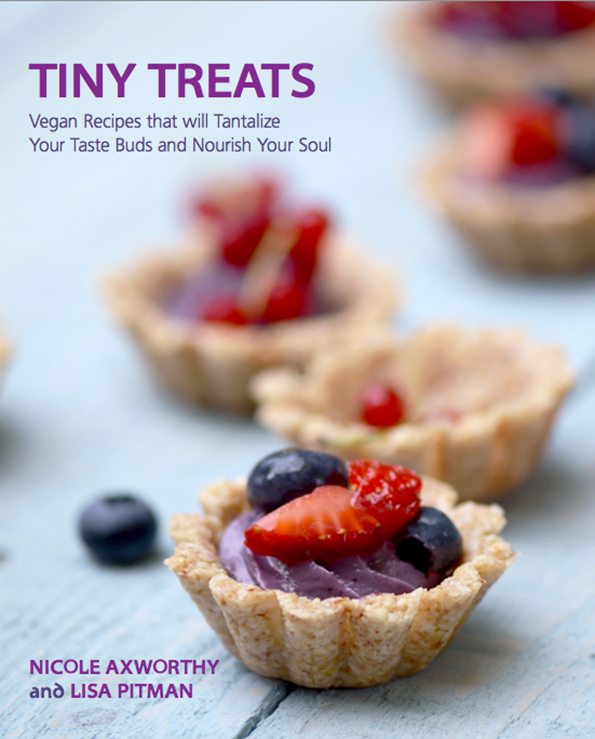 The best part, aside from the wholesome desserts, is that Lisa and Nicole are donating a third of all ebook proceeds to the Elephant Nature Park in Northern Thailand. You can read all about Lisa's volunteer efforts at the Elephant Nature Park on her blog here and here. If you wish, help support their mission by purchasing an ebook here.
Lisa and Nicole generously allowed me to share a teaser recipe from the ebook today – Cinnamon Bun Granola!
I have one word to describe this granola:
CINNABON.
You know, the smell that has tortured people in shopping malls everywhere for years? I sure do. Well, now that smell can be found in your own house! A big, gooey cinnamon bun….in granola form.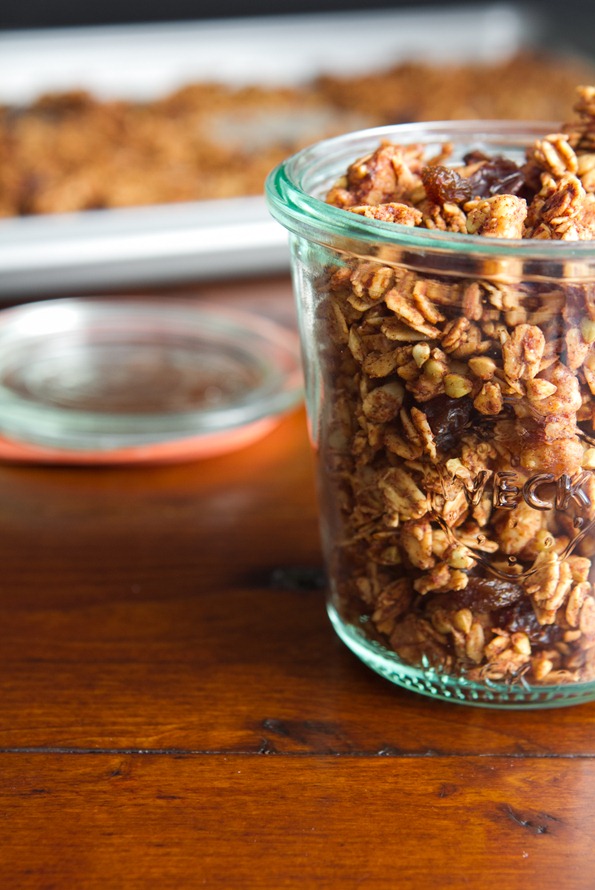 Cinnamon Bun Granola from Tiny Treats Ebook
Shared with permission by Lisa Pitman and Nicole Axworthy. Tiny Treats Ebook. Copyright 2012.
From Lisa and Nicole: If we ever open a vegan B&B, this will be on each breakfast-in-bed tray. We would keep the guestrooms full by serving it up differently each day–in a layered parfait glass with sliced apples and almond yogurt, or on top of our favourite banana soft serve, or in special tea cup with a substantial splash of coconut milk. The options are endless.
Email, text, or print this recipe.
GRANOLA
2 cups (215g) rolled oats
1/2 cup (95g) raw buckwheat groats
1/2 cup (65g) raw walnuts, chopped
1/2 cup (50g) unsweetened shredded coconut
1/4 cup (40g) raisins
1 tbsp (15mL) ground cinnamon
1/2 tsp (2.5mL) sea salt
1/4 tsp (1.25mL) fresh ground nutmeg
1/2 cup (120mL) pure maple syrup
1/4 cup (50g) Medjool dates, pitted
2 tbsp (30mL) melted coconut oil
2 tbsp (30mL) water
2 tsp (10mL) pure vanilla extract
INSTRUCTIONS
1. In a large bowl, stir together the oats, buckwheat, walnuts, shredded coconut, raisins, cinnamon, salt and nutmeg.
2. Using a blender, blend the maple syrup, dates, coconut oil, water and vanilla extract into a smooth, thick sauce.
3. Pour the sauce into the bowl with the dry ingredients and stir until all the dry ingredients are well coated.
DEHYDRATOR METHOD
4. Transfer the granola to a Teflex-lined dehydrator tray and spread into a thin (about 1/2 inch thick), even layer. Dehydrate for 8 to 10 hours at 115F.
OVEN METHOD
4. Preheat the oven to 300F. Transfer the mixture to a baking tray lined with parchment paper and spread into a thin, even layer. Bake for 25 minutes, gently stirring every 10 minutes to ensure even browning. Allow to cool completely before gently breaking into clusters. Store in an air-tight container in the fridge or at room temperature.
Makes about 6 cups of granola.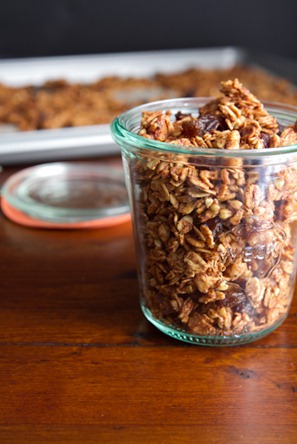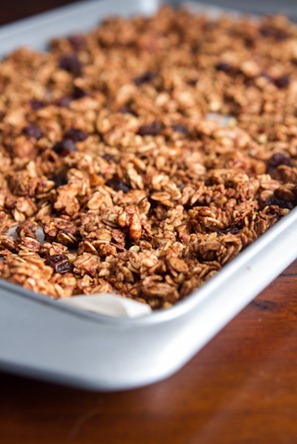 I made this granola in the oven and it turned out lovely. Next time, I will have to try it in my dehydrator…if I can wait that long!
If you'd like to purchase your own copy of Tiny Treats, you can do so here for $9.99. Big thanks to Lisa and Nicole for allowing me to share this amazing recipe with you all today!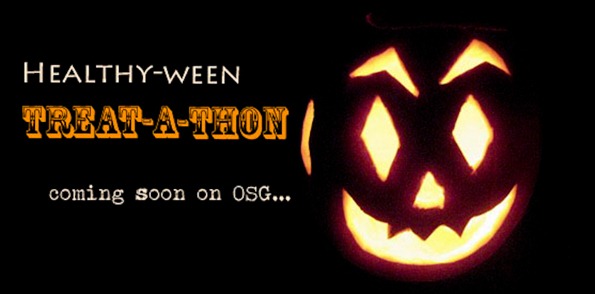 I've been working on a bunch of treats to share with you this month, so stay tuned for some delicious, spooky fun! If you have a Halloween treat you'd like healthy-ween-ized (just go with it), let me know in the comments below. I'll try to pick a couple to add to my list.
Just please don't ask me to make a cat litter cake (Sketchie doesn't want one either).