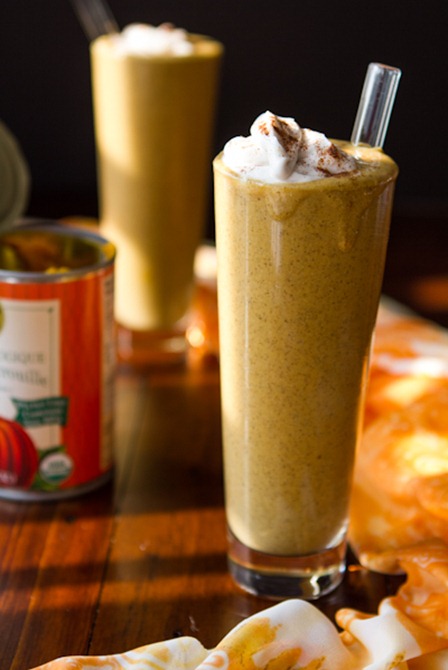 Another weekend is upon us! You know what that means – kicking back, unwinding from a busy back-to-school week, and making this creamy pumpkin pie smoothie to reward all your hard efforts. Whoever said you shouldn't reward yourself with food really needs to try this smoothie. Seriously!
Thanks to adding soaked rolled oats and chia seeds, this smoothie is extra thick and has a bit more staying power than most. I think it's my best pumpkin smoothie to date! Enjoy it for a snack, breakfast, or even dessert. If it's still hot where you are like it is here, you might find yourself cooling off with this smoothie outside. Extra ice, is a must. Oh, and if you are feeling crazy top it all off with some homemade Coconut Whipped Cream – I know you've been waiting for the perfect recipe!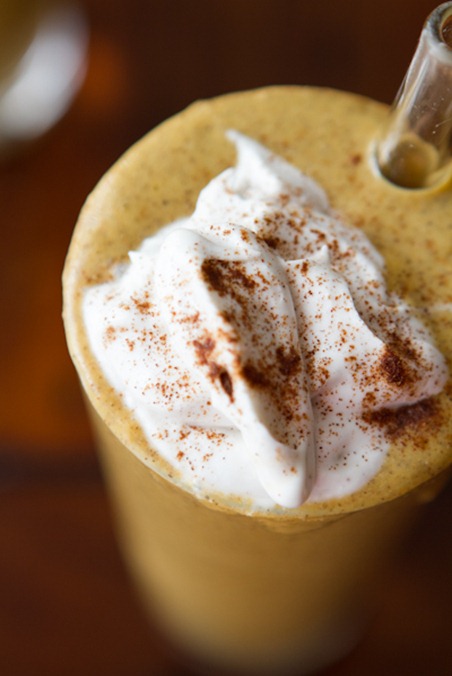 The best part is this recipe makes 4 CUPS worth (yes!), so if you are feeling generous you can share it with a loved one. Or if you are lucky and have a husband who doesn't like pumpkin, you get it all to yourself. Double yes. I have one of these glasses wrapped up in the back of the fridge for later. [Later probably meaning, as soon as I hit publish on this post…]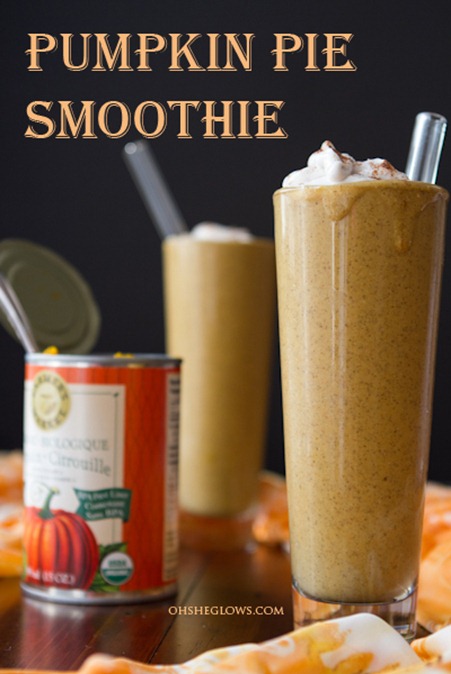 Creamy Pumpkin Pie Smoothie for Two
Print, Email, or Text This Recipe
Adapted from Pumpkin Pie Smoothie & Pumpkin Gingerbread Smoothie.
2 years ago: Muhammara Roasted Red Pepper Walnut Dip
Yield: 4 cups
Ingredients:
2 cups almond milk
1/2 cup rolled oats
2 tbsp chia seeds
1 cup canned pumpkin
1/2 tbsp blackstrap molasses
1 frozen ripe banana
2 tsp cinnamon
1/2 tsp ground ginger
1/4 tsp ground nutmeg
1.5-2 tbsp pure maple syrup
Coconut Whipped Cream, for garnish
1. In a medium-sized bowl whisk together the milk, oats, and chia seeds. Place in fridge for 1 hour or preferably overnight.
2. Add soaked oat mixture to blender along with the pumpkin, molasses, frozen banana, and spices. Blend until smooth. Add about 5 ice cubes and blend until ice cold.
3. Add maple syrup to taste. I found 1.5 tbsp was perfect for me.
4. Serve with Coconut Whipped Cream and a sprinkle of cinnamon on top!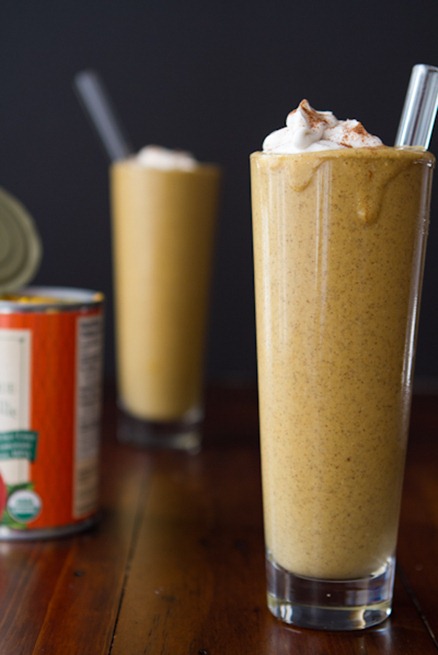 Advertising Update

:

I want to take a moment today to fill you in on an advertising change that happened on my site as of Sept. 1st. I'm now with Federated Media in a non-exclusive agreement meaning that I can host my own advertising as well as ad campaigns from FM and other networks, such as AdSense. There have been some kinks to iron out over the past few days (to say the least), so I thought I'd fill you in on what's going on.

My advertising goals:

I have committed myself to providing meat and dairy-free advertising on Oh She Glows. This is an ethical choice that fits with my vegan lifestyle and vision for the blog. I can't promise the ads will always be perfect, but I'm going to do the best that I can to keep blatant meat and dairy ads off the site.

Thankfully this was agreed upon with my advertiser before we went live on Sept 1st, but on Wednesday I found out a meat ad was in fact running on my site in the US. Many of the ad campaigns are only shown on U.S. IP addresses, so I had no idea this was going on. I shut down all of my ads for a few hours until they were removed. This is certainly not the first time that meat and dairy ads have appeared without my knowledge. With my previous advertiser, I had no control over which ads were displayed. I ended up emailing them from time-to-time to ask for removal of animal/dairy ads or specific ads which did not fit with my vision for the site. However, I could only do so if my US readers made me aware they were running. It was by no means a good system.

The good news is I now have my FM ad campaigns set to "manual approval" so nothing should run without my approval. I've already declined several meat and dairy ad campaigns over the past few days, so things should be looking better around here. I'm also trying to keep the Google Ads non-offensive. I've blocked many categories so far including weight loss gimmicks, diet pill, and wrinkle cream ads. Keep in mind, ads can slide through under vague categories so they may pop up from time to time.

I want to encourage you to contact us if you see any ad that is concerning or offensive. Send to: adinquiries [at] ohsheglows [dot] com along with a screenshot and URL of the ad. Like I said, we can't catch everything so your help is appreciated.

Selling ads to animal-friendly companies:

I can now sell ads for my site. My goal is to advertise animal-friendly businesses supporting the vegan lifestyle. There are so many amazing companies out there (and growing every day!) and I would love to feature them on the blog. If you know of any businesses, large or small, that may be interested in advertising on OSG, please let us know: adinquires [at] ohsheglows [dot] com  You know what they say – you have to put it out in the universe for it to happen. It often feels like an uphill battle when double whopper ads are the norm, but I'm confident that we can make progress in this area.

As always, thank you for your patience during this time of transition!