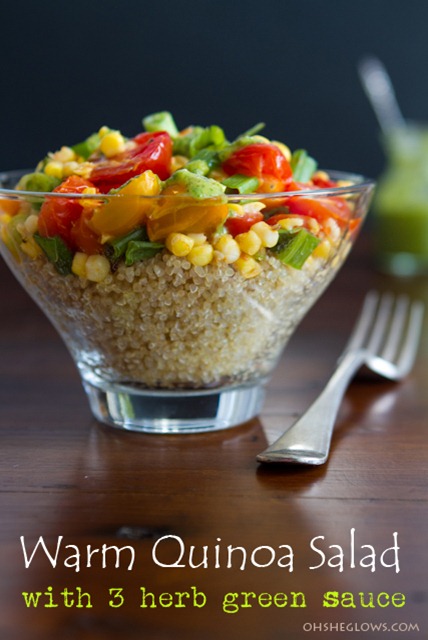 My weekend consisted of about 20+ hours cooking, baking, styling, and shooting cookbook recipes. It was intense, but luckily I always seem to have a lot of fun when there's food involved. I managed to cap off the weekend by gouging my middle finger with a processor blade. Middle finger indeed. Side note – Have you ever tried to type with a band-aid on? This could get ugly…
As Hillary said on Instagram, my kitchen photo made her twitch: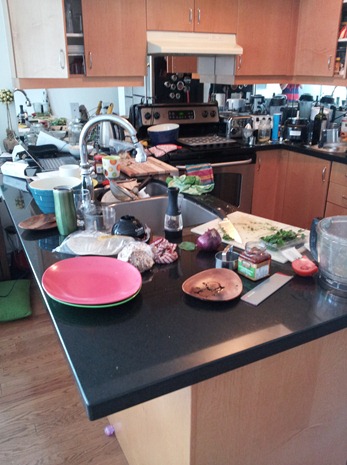 I feel you, Hillary.
Anyway, it felt so good to kick up my feet Sunday night! This quinoa salad fueled my weekend, in addition to 3 summer appetizers, 1 breakfast recipe, and 2 entrées. Luckily, we had friends over Saturday night to help us eat all the appetizers we were drowning in. The plates were empty within an hour, so I'll take that as a good sign!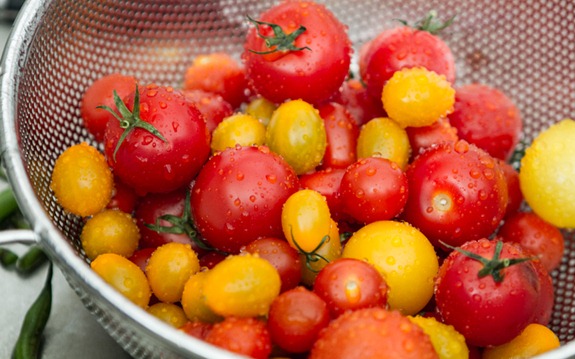 This quinoa salad is served warm, which seemed appropriate for the cooler temps we had over the weekend. It's all topped off with a lovely green sauce to infuse the dish with a tangy bite of fresh herbs, lemon, and olive oil. I used basil, chives, and dill because that's what I had on hand, but feel free to use any herbs you like.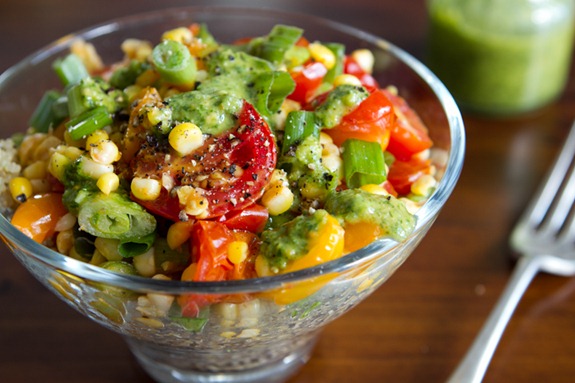 Warm Quinoa Salad with 3-Herb Green Sauce
Print, Email, or Text this recipe
Yield: 2-3 servings
Salad:
1 cup dry quinoa
1.5 cups water
1 tsp extra virgin olive oil
2 garlic cloves, minced
0.45kg/1 lb mixed cherry/Campari tomatoes
3 corn-on-the-cob, shucked
3 green onions, chopped
3-Herb Green Sauce: (yield = approx 1/3 cup)
1 clove garlic
1/2 cup lightly packed basil
1 tbsp fresh dill*
2 tbsp fresh chives
approx 1/4 cup yellow tomato*
3 tbsp extra virgin olive oil
1 tbsp fresh lemon juice
1/8th tsp fine grain sea salt, or to taste
1/2 tsp nutritional yeast (optional)
1. Rinse quinoa in a fine mesh strainer. Add quinoa to a medium-sized pot along with 1.5 cups water and a pinch of salt. Bring to a boil, stir, reduce heat to low and cover with lid. Cook for 15-17 minutes. Remove from heat and let sit for 5 minutes with the lid on before fluffing with a fork.
2. Preheat a large skillet over medium heat. Chop tomatoes and mince garlic. Remove corn from the cob by slicing down the ear of the corn with a chef's knife. Add oil to skillet and the chopped veggies. Season generously with Herbamare or fine grain sea salt. Cook for about 7-8 minutes and remove from heat. Stir in chopped green onions.
3. Meanwhile, make the green sauce in a food processor. Start by dropping the garlic into the processor to mince. Now add in the herbs and mince again. Next add the liquids – tomatoes, oil, and lemon juice. Stop to scrape down the side of the bowl as needed. Season to taste & add opt. nooch.
4. To assemble, spoon quinoa into a bowl, layer the tomato and corn mix on top, and spoon on green sauce. Season with salt and pepper & enjoy!
Notes: 1) You can sub any fresh herbs that you like. 2) The yellow tomatoes in this green sauce acts as an oil-replacer. They thin out the sauce without needing a ton of oil. I used yellow tomatoes so the sauce would remain a lovely green colour. Red tomatoes will likely change the colour to be less vibrant.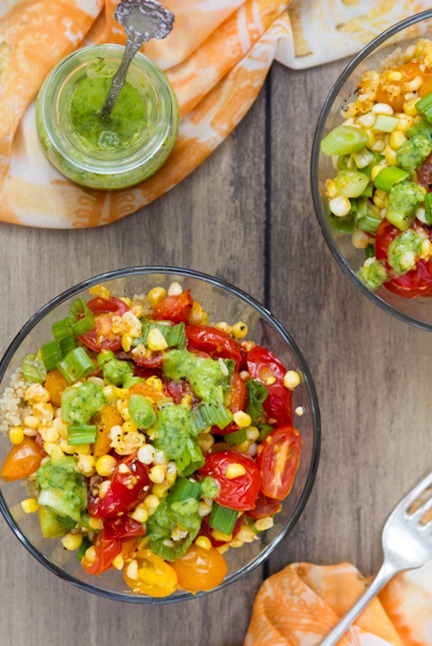 The fridge is overflowing with simple, healthy food. It's going to be a great week!