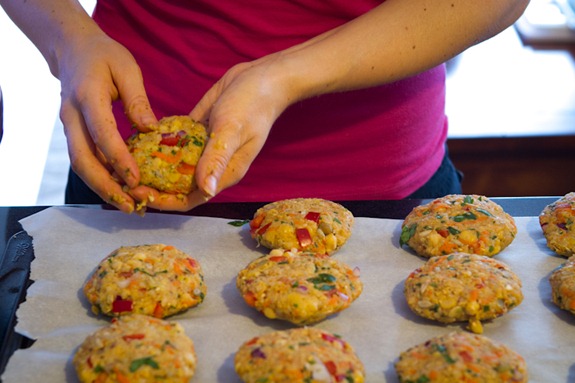 One of my goals for August (and onward) is to start making big batches of veggie burgers. I've been relying far too much on boxed frozen veggie burgers and the cost really starts to add up. I usually buy Amy's California burgers and they cost between $6-8 for 4 patties, depending on the grocery store. Plus, homemade veggie burgers are just so much better.
On Sunday, I made a double batch of Our Perfect Veggie Burgers and this week I made a double batch of Spicy BBQ Chickpea Burgers. I'll be bringing a bunch of them to Eric's big 3-0 birthday party on Saturday. There should be about 40 people!
I must say, these BBQ chickpea burgers are a new fav. The prep is a bit quicker than the other ones and I enjoy them just as much.
(Edited to add: After defrosting the Chickpea BBQ Burgers this weekend, the burgers did not hold well together.  They seem to have too much moisture after freezing.  I would recommend using the Our Perfect Veggie Burgers recipe, as I have had good results when freezing these.)
Using the Spicy BBQ Chickpea Burger recipe, I doubled all of the ingredients and made 16 patties. I've also been making beans from scratch to save more money. I soaked 2 cups of uncooked chickpeas overnight in a huge bowl of water. Once they have soaked, it's only about 35 minutes or so to cook them on the stovetop (throw in a piece of kombu for easier digestion). You can also make big batches of beans and legumes on the weekend and freeze them for quick weeknight dinners. I'm slowly starting to get into the habit of doing this on a regular basis!
While the chickpeas and brown rice cook, prep the veggies: fresh parsley, red onion, shredded carrot, red pepper, jalapeno, and garlic.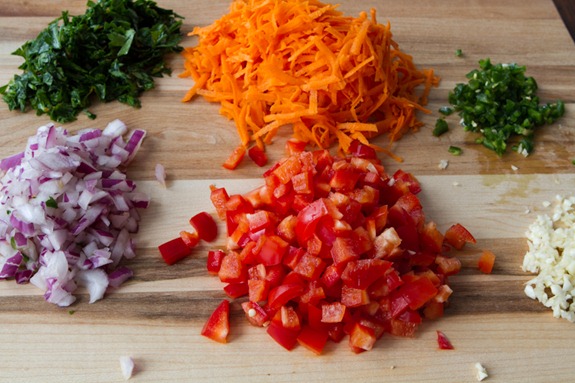 Place everything into a huge bowl. My biggest bowl still was not quite big enough for this double batch, but I managed ok!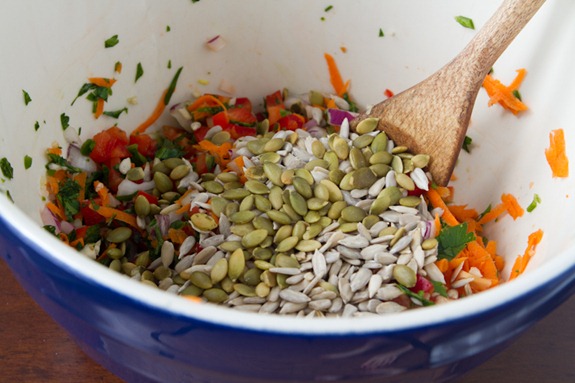 Stir in the pepita and sunflower seeds, along with the other ingredients like ground flax, seasonings, breadcrumbs, etc.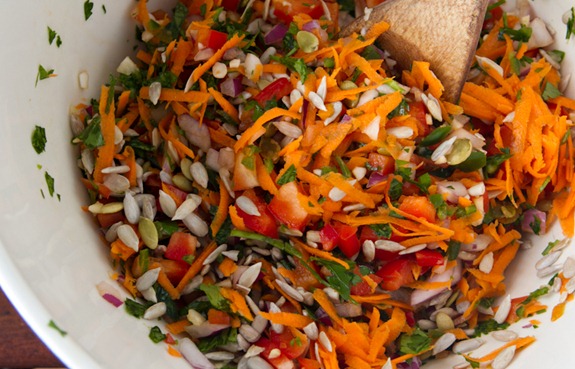 Because I made two big pots of chickpeas and brown rice, I decided to throw the rice and chickpeas in the food processor instead of mashing by hand like I did the first time. This saved a lot of time!
Stir it all up – you can even get in there with your hands to mix it up really good! Season it all to taste. Don't be shy with the salt – this huge bowl of batter needs a good dose to make it all pop. I used 1-1.5 tsp fine grain sea salt.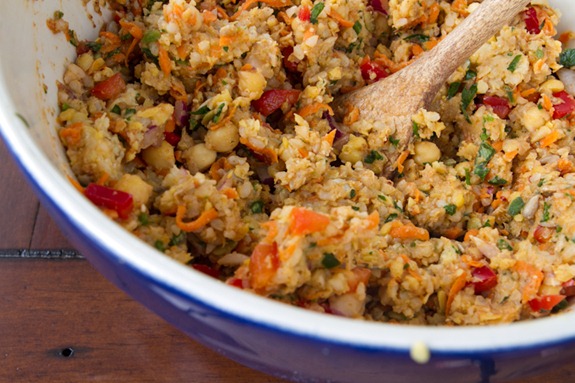 Now shape the batter into about 16 patties and place on a very large baking sheet lined with parchment paper.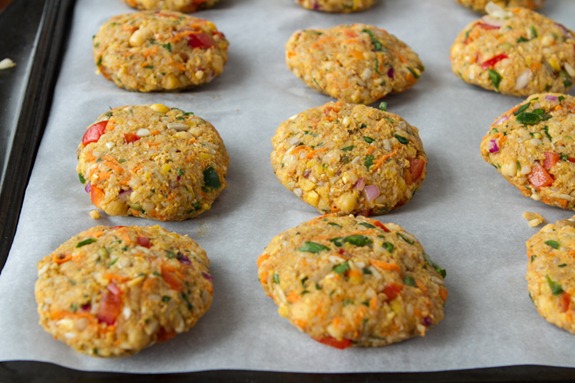 Cover with wrap.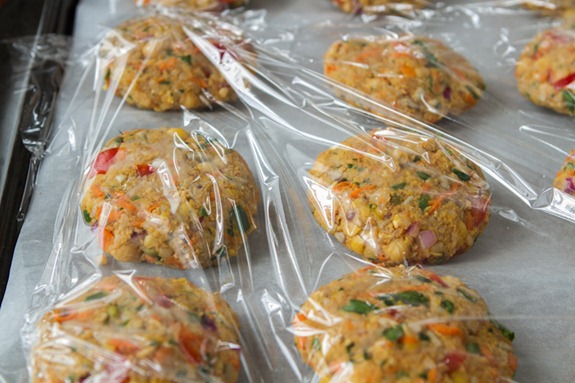 Clear out room in your freezer and place the baking sheet right in. Freeze the patties for about 45-60 mins or so.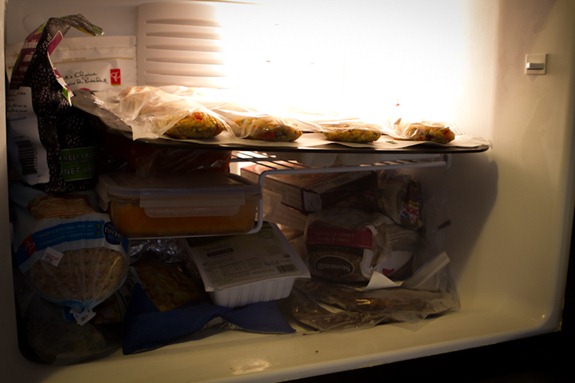 [my freezer needs an intervention…]
Once the raw patties are frozen, place them in a freezer safe bag. If there are any ice crystals on the burgers, scrape them off first. I use Ziplock BPA-free large freezer bags (with the zipper). Don't forget to wash the bags out and re-use when you are finished with the burgers!
I cut a piece of the parchment to place in between the layers so they don't stick. Take a straw and suck out the air and seal quickly. Easy!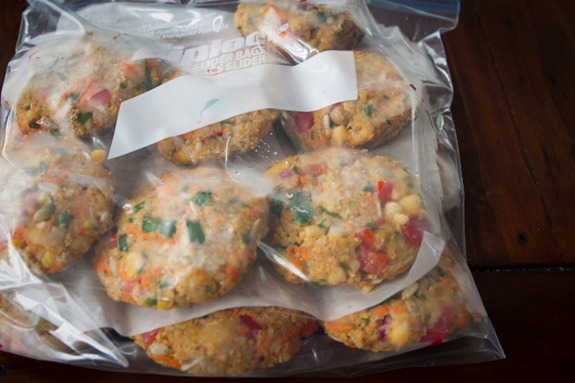 This is my first time freezing veggie burgers like this (I used to wrap them individually), but I've read this method should keep them fresh for up to 1 month in the freezer. Thaw on the counter or in the fridge before pan-frying.
It took me just under 1.5 hours to prep 16 veggie burgers – a lot less time than I thought and I saved quite a bit of money too.
While we're on the topic of make-ahead foods, what are your favourite dishes to prep in advance? Let me know in the comments!
~~~
It's now day 9 of The August Challenge and I've been documenting my daily feats on the August challenge page to stay accountable. Time is a flyin'! There are so many great comments on the page with many of you sharing your stories. You know, I had my doubts about this challenge from the get-go (if I could even do it and if you'd be interested), but I'm really happy with how things are going. August is shaping up to be a great month! And don't worry if you are starting late, jump in at any time. I'm already considering doing this into September because I'm enjoying it more than I thought I would.