Somehow it's Friday again! I don't know where these summer weeks are going, but I really wish they would s-l-o-w down. 
While I'm drowning in blog categorizing and manuscript writing this week, I thought today would be a nice time to round-up some of my favourite articles and posts of late.
1. A Fruit-Inspired Body Image Lesson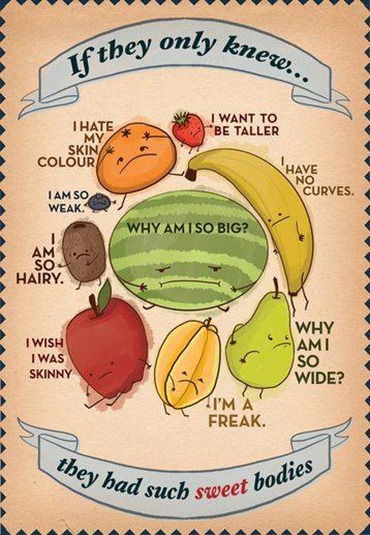 Sometimes, something so simple and light-hearted can be so powerful. I came across this fruit-inspired body image comic on Blisstree's facebook page a couple weeks ago (unfortunately, I could not find the original source, but leave a comment if you know and I'll add it in).
I know it sounds silly, but it brought a tear to my eye. A comic brought a freakin' tear to my eye!! Now, that's comical.
Anyone else think this should be printed on a t-shirt? I'd buy one…
2. When A Vegan Comes To Dinner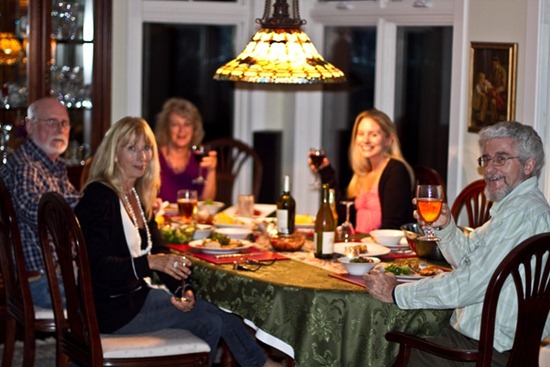 I absolutely adore Gena and look forward to her thought-provoking posts on Choosing Raw each week. Her recent article on Food 52 explores the anxiety that people often face when hosting a vegan for dinner and offers simple suggestions on what to prepare. It's yet another reminder that vegan meals need not be scary, strange, or processed.
3. Honey made from apples?

What is Bee Free Honee, you ask?
"Bee Free Honee is a unique sweetener with a slightly tart flavor. It is "apple honey" in that it is made from apples rather than by bees! We use only three all natural ingredients, apple, vegan quality sugar, and lemon juice. There is nothing artificial, no added color and no corn syrup." [source]
Check out this review for "Bee Free Honee" on Bianca's blog, Vegan Crunk. It's getting great reviews from what I've seen. I'm looking forward to trying it myself!
4. Check out this yummy Chocolate Oatmeal Pudding Breakfast Cake by Marla of Family Fresh Cooking.
5. Or maybe carrot cake is more your thing? I've been drooling over Susan's Carrot Cake Bars since earlier this month.
6. My Life as an Undercover Investigator:

[source]
Grab a tissue, seriously. This is a truly haunting story about Cody Carlson's experiences working as an undercover investigator in various factory farms in the US. Thanks to VegNews for posting it online.
7. Isa's Chocolate Peanut Butter Pillows:
I'm making these delicious cookies for a get together this weekend! It's been too long, too long my friends. It will be nothing short of a miracle if they actually make it to their destination.
8. Serious Eats Guide to Food Photography
An older article from last year that I just came across this week. It's mostly on shooting in restaurants, but still provides an overview of the basics.
9. SMALL COOL KITCHENS featured on The Kitchn! I don't know about you, but I love seeing other people's kitchens…especially small spaces that are maximized.  It gives me hope that I won't go crazy in mine.
10. The 10 Best Veg-Friendly Eateries in London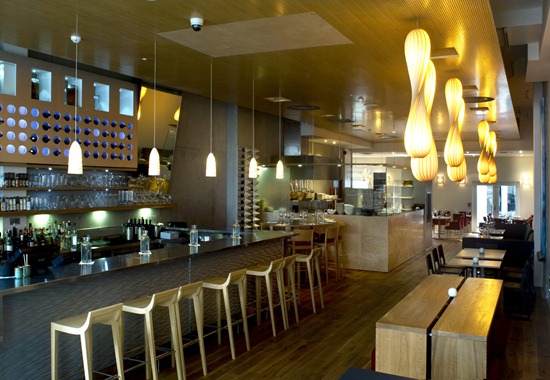 [source]
Just in time for the Olympics, Vegnews highlights London's top 10 veg-friendly eateries. Anyone reading from the London area? What do you think of this list?
How I wish I was in London right now!!
By the way, we're hoping to do a test launch of the blog this weekend, so if you see anything unusual not to worry.
I hope you enjoy the last (gasp) weekend of July. Make it a good one!