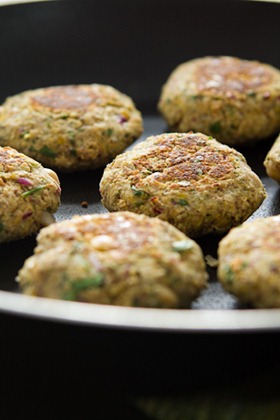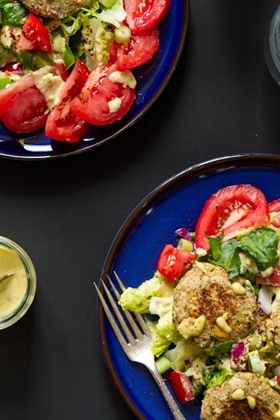 An unexpected passion that resulted from this blog is, without a doubt, my growing love for food photography. I could talk your ear off about lighting, camera equipment, props, my weaknesses and frustrations, difficult vs. easy subjects, and the best times of day to shoot. I find myself saying things like, "Look how beautiful the lighting looks outside…total GOLDEN hour!" or "Check out the way the light is hitting the apple on the table" or "My new lens fell face first into a bowl of cookie dough…"  or "I swear I'm going to throw this damn tripod out the window"
Before I started blogging, I don't think taking a picture of my food ever crossed my mind. Ok, that's not entirely true; I remember taking a few food photos while on our honeymoon in Europe…mostly of candy stores and gelato!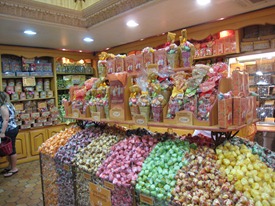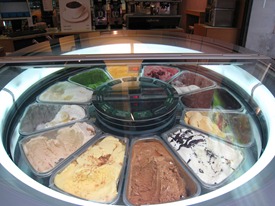 The more I think about my interest in photography, the more I find it parallels my own personal journey with food. It's been years now since I recovered from an eating disorder and my love for food has done a complete 180 since then. Food photography is simply another way to communicate my passion for food. I get excited when I see a vibrant dish or taste something incredible. It's fun to share that through a photo.
The amazing (and intimidating) thing about photography is the sheer amount there is to learn. I feel like a kid again, trying desperately to get the hang of riding a bike without training wheels. The challenge is what makes it interesting though and every photograph is the chance to try something different and learn something new. I went from let-me-just-snap-the-damn-photo-so-I-can-write-this-post, to actually enjoying the process.
Speaking of trying something new, it's amazing what a difference background colour can make in a photo. For the photos in today's post, I used a black piece of Bristol board to place the food on. I picked this up at Michael's on the weekend figuring I would try out a black background for a change. You can't go wrong for a prop that costs $1.49! I love the dramatic feeling black provides without overpowering the food like a print or bold colour can. Everything really seems to pop off the black background and the food takes centre stage, as it should.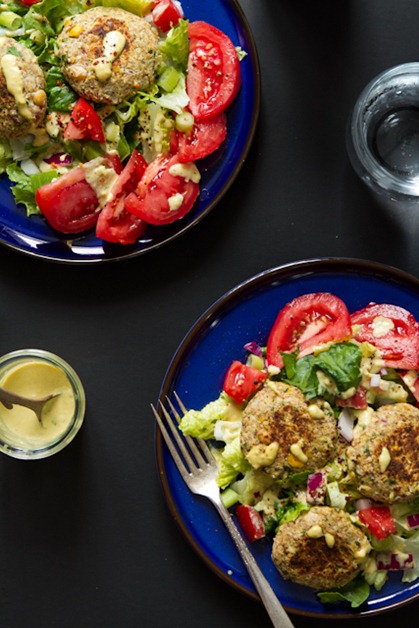 I also love using our kitchen countertop for a similar effect: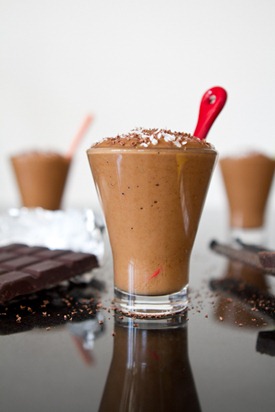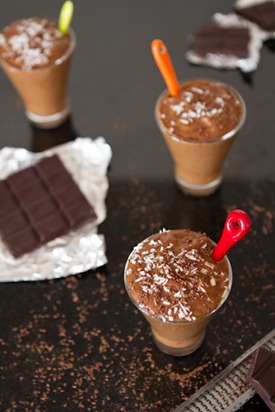 Plus, easy clean up.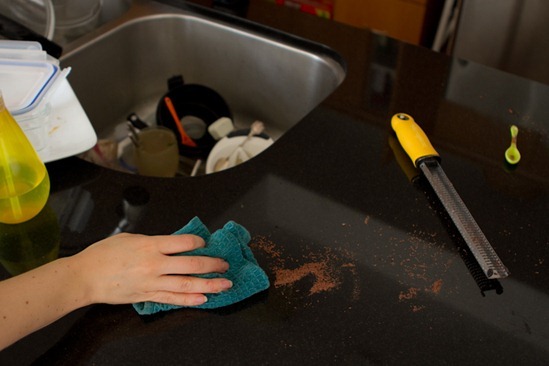 Although most days, the kitchen looks like this..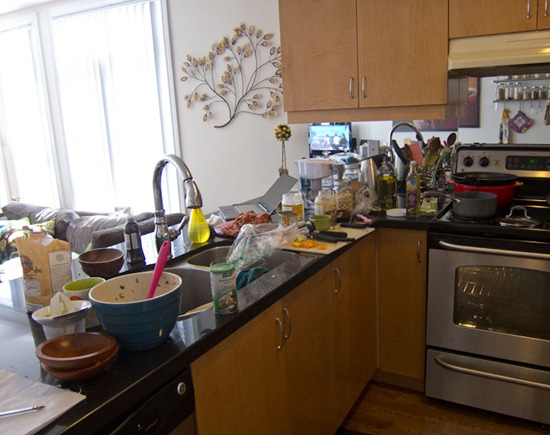 In this skillet picture, black also sets the backdrop for the photo allowing the falafel really pop and the light glisten off the pan.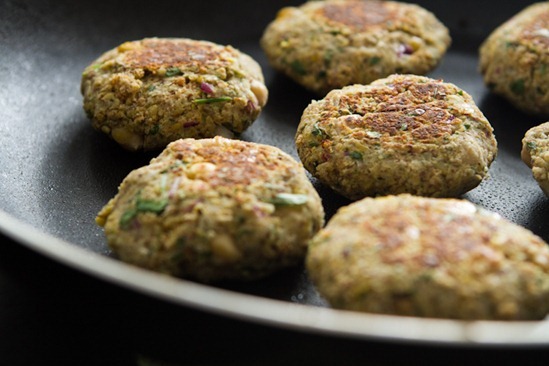 Moral of the story: Don't give up on creating new hobbies in your life, no matter what your skill level, age, or what you are already doing. Give it a shot. Who knows you might end up finding a new hobby that you will enjoy the rest of your life!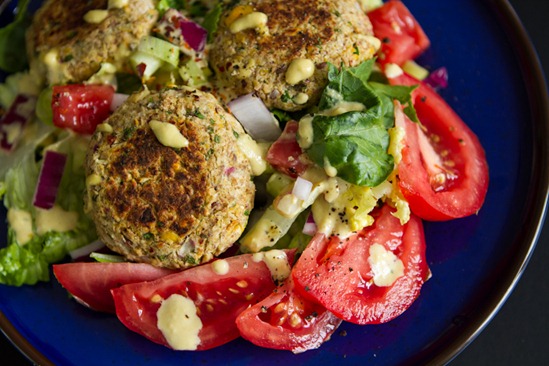 So, how 'bout that food?
This recipe today is my spin on traditional falafel. It's packed with omega rich ground flax and it's not fried, but you won't miss it. A bit of lemon juice mixed into the batter really makes the flavours pop. I served it on top of a simple salad drizzled with my favourite Lightened Up Lemon Tahini Dressing, but feel free to stuff it in a doughy pita, wrap, or even make a falafel burger.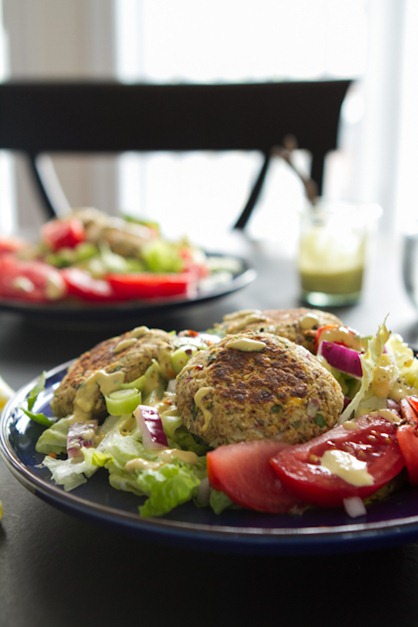 Falafel with a Twist
Print, Email, or Text this recipe
Yield: 7-9 patties
Ingredients:
1 cup dry/uncooked chickpeas (or 2 & 1/4 cups cooked)
3 large garlic cloves
1/2 cup red onion, roughly chopped
3 tbsp fresh lemon juice
1/4 cup packed fresh cilantro
1/4 cup packed fresh parsley
1/4 cup ground flax
1/4 cup breadcrumbs
1/2 tsp ground cumin
1/4 tsp red pepper flakes, optional
1/2 tsp fine grain sea salt, or to taste
1. 1. If cooking chickpeas from scratch soak overnight (or for 8 hours) and then follow these directions for cooking. Alternatively, use 2 & 1/4 cup canned chickpeas. Note: A reader suggests mashing the canned chickpeas (if using) with a potato masher instead of processing them. This will prevent them from forming a paste.
2. In a food processor, with the processor running, drop in 3 garlic cloves to mince. Now add most of the chickpeas (reserving about 1/4 cup to stir in later), and process a few seconds to chop. Now add the onion, lemon juice, and herbs. Process until just combined, being careful not to over-process. You want to leave texture. Preheat a large skillet over medium-high heat.
3. Scoop the mixture into a large bowl. Stir in the ground flax, breadcrumbs, cumin, reserved chickpeas, and salt and pepper to taste. Shape into patties, about 1/4 cup each and really pack the dough in tightly so it holds together.
4. Grease pre-heated skillet with cooking oil and then cook the patties on medium-high heat for about 5 minutes on each side, or until golden. For the salad: Add chopped tomato, red onion, a drizzle of hot sauce, cucumbers, falafel, and my Lightened Up Lemon Tahini Dressing.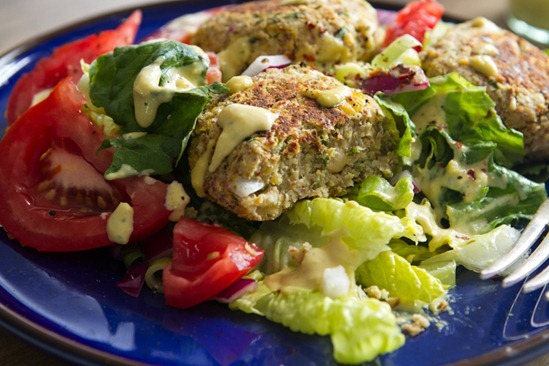 Have you ever discovered a hobby that seemed to come out of nowhere and now you can't imagine life without it?
Or are you bored with your current hobbies and looking to try something new?