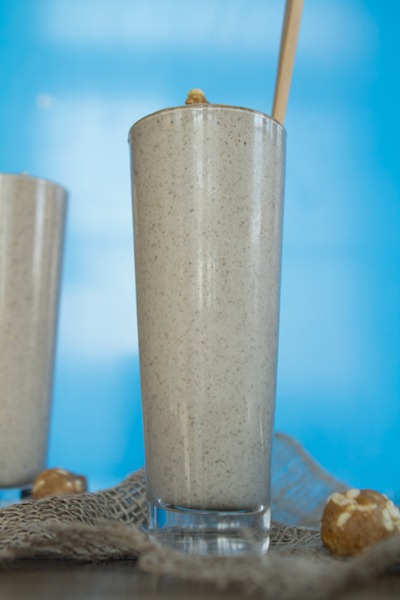 When I was in Calgary visiting my family, my sis made me a peanut butter oatmeal smoothie one morning for breakfast. I sipped on it (trying my best not to inhale it because it was so good), while I made my nephews "Auntie Angie's" special pancakes, of course with their eager help. And chocolate chips! Between the smoothie my sis made me and my nephews undying love for their Auntie, I felt a bit like a hero that morning. When I was back in Ontario, I found myself making it for a week straight to comfort my homesick self.
After mentioning it on the blog, I received a few requests for the recipe so I thought I would make a version at home and share it with you. This recipe today is more of a dessert version of my sister's breakfast smoothie, but I will tell you what she put in the breakfast version: almond milk, a heaping tablespoon of natural peanut butter, rolled oats (I think she probably used 1/4 cup?), a large banana, and ice. The rolled oats really help thicken it up and give it a bit more staying power. She also likes to add in a tbsp of coconut oil for its health benefits, and in her own smoothie she also adds honey and Greek yogurt.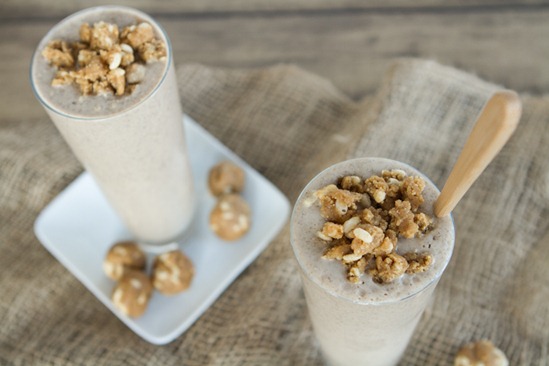 This recipe today is a cross between my Peanut Butter Crunch Blizzard and Kristi's PB Oatmeal breakfast smoothie. Oh boy, it's a doozy! In my blizzard recipes, I made banana soft serve in the processor for the "ice cream" base, but in this one, I made it smoothie style for a larger serving size. Like in my blizzard recipes, the key here is to use frozen bananas for an ice cream like texture. I also added chia seeds instead of oats for thickening and made some quick and easy PB crunch balls.
After pouring the smoothies into glasses, I crumbled the peanut butter balls into the smoothie and ate it with a spoon! All by myself, I might add, because Eric loathes peanut butter. I'm pretty sure if he hears me beg, "JUST TRY IT, You can grow to LOVE peanut butter, I promise!" one more time, he may divorce me.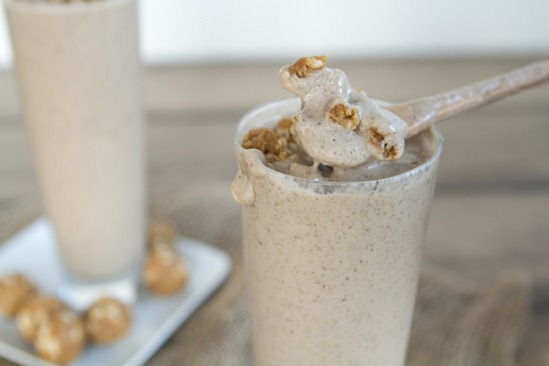 Where's a PB lovin' sis when you need her?!
I had every good intention of saving the second smoothie for tonight's dessert, but I quickly threw that plan out the window when I guzzled it at 6:45am this morning. There is no hope for me.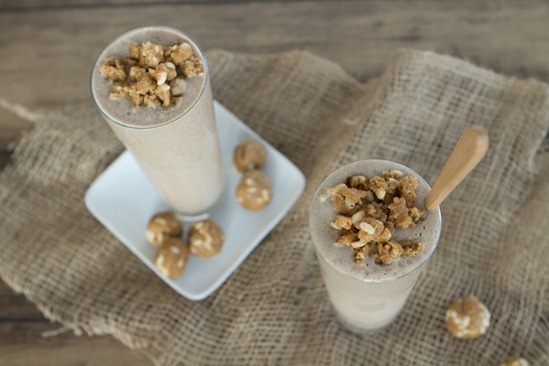 Peanut Butter Bomb Smoothie for Two
Print, Email, or Text this recipe
Yield: 3 cups
for the smoothies:
2 cups almond milk
2 large frozen ripe bananas
1 tbsp chia seeds
3 tbsp natural peanut butter
1/4 tsp pure vanilla extract
ice, if desired
Peanut butter crunch balls (below), crumbled on top
for the peanut butter crunch balls: (yield: 19-20 mini bites)
1 cup rolled oats, ground into flour (or use 1 cup + 2 tbsp oat flour)
1 tbsp packed brown sugar
1/4 tsp fine grain sea salt
3 tbsp natural peanut butter
2 tbsp pure maple syrup
1 tbsp almond milk
1/4 tsp pure vanilla extract
1/4 cup rice crisp cereal
1. In the blender, grind the rolled oats into a flour or just use oat flour. In a food processor, process together the ingredients for the crunch balls (except for the rice crisp cereal). Adjust to taste. If batter is dry, add a touch more liquid. Stir in the cereal and form into tiny balls. I made about 19. Store leftovers in freezer.
2. In a blender, add the smoothie ingredients, except for the crunch balls, and blend until smooth. Add ice if desired. Pour into two glasses and top with crumbled crunch balls. Serve immediately with a spoon!