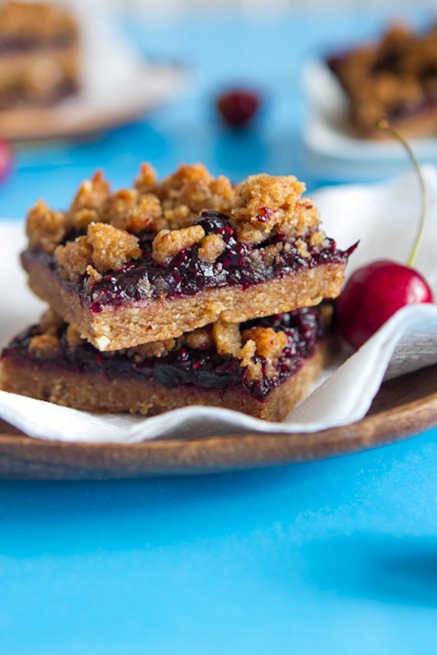 Here's a fun summer square that highlights two of my favourite foods – summer cherries and almonds! I don't know what it is, but I just love the combination of almonds and cherries.
Add a touch of almond extract and it puts me over the edge in bliss.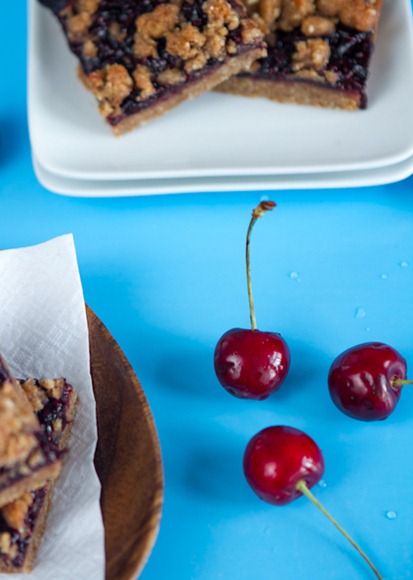 I adapted my Raspberry Almond Thumbprint Cookies to make this recipe because I absolutely love the almond cookie dough. The magic is in the almond meal base; it creates a lovely "buttery" flavour without any added oil required.
These squares are lightly sweetened which allows the almonds and cherries to really shine and it's also gluten-free making it a treat many people can enjoy. For the fruit layer, I made cherry chia jam, but feel free to use any jam – prepared or homemade – as you wish. Blueberries, strawberries, raspberries, and blackberries would all work well here!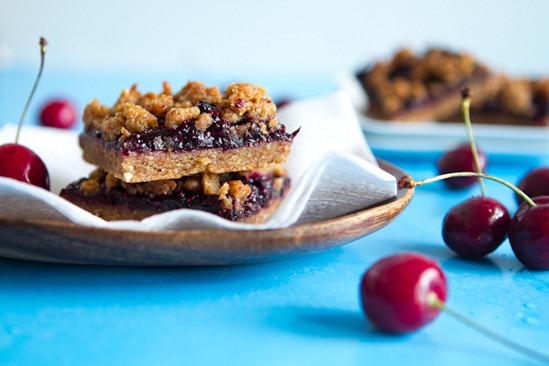 Triple Almond Cherry Crumble Squares
These are so wholesome I found them on my breakfast plate crumbled over blueberry vegan overnight oats one morning. Enjoy them on their own or serve with a scoop of ice cream for dessert. I used agave in this recipe because I was out of maple syrup and it worked great. Feel free to use whichever you wish, keeping in mind that agave is a bit sweeter per tablespoon so you might need an extra tablespoon of maple syrup if you go that route. Be sure to poke holes in the dough with a fork before baking. I didn't do this and the dough puffed up on me in the middle, but it was easily fixed with a poke once out of the oven.
Print, Email, or Text this recipe (I was having problems with Recipage not loading this morning, if this happens to you please let me know!)
Adapted from my Raspberry Almond Thumbprint Cookies.
Yield: 1 (8-inch) pan cut into as many squares as you wish!
Almond squares:
1 & 1/2 cup raw almonds, ground into meal (or 1.5 cups + 2 tbsp almond meal)
1/4 cup brown rice flour
2 tbsp ground flax seed
1 tsp baking powder
scant 1/2 tsp kosher salt
1/2 cup almond butter
6 tbsp agave nectar (or maple syrup)
1/2 tsp almond extract
Cherry Almond Chia Seed Jam:
3 cups pitted cherries, roughly chopped
2.5 tbsp agave nectar (or maple syrup)
2 tbsp chia seeds
1/2 tsp almond extract
1. Preheat the oven to 350F and line an 8-inch square pan with two pieces of parchment paper, one going each direction.
2. Place almonds into a high-speed blender and grind into flour, making sure not to process too long or the oils will release. Or use store bought almond meal (use approx 1.5 cups + 2 tbsp almond meal).
3. In a large bowl, whisk the dry ingredients together (almond meal, rice flour, ground flax, baking powder, and salt). Use your fingers to break up any clumps of almond meal. In a small bowl, mix together the almond butter, agave, and almond extract. Add wet mixture to dry mixture and stir until thoroughly combined. I got in there with my hands and kneaded the dough together a few times!
4. Set aside 1/2 cup of packed dough for crumbling on top of the jam later. Press the rest of the dough into the prepared pan. You may need to lightly wet your fingers as it's sticky! Smooth it out and poke it with a fork about 8-10 times all over.
5. Pre-bake the almond base for 8 minutes at 350F. Remove and set aside.
6. Meanwhile, prepare the chia seed jam (or just use about 3/4-1 cup jam of choice). Add pitted cherries and agave into a medium-sized pot. Bring to a low boil and reduce heat to medium-low. Simmer for about 10 mins, stirring frequently. Stir in chia seeds and cook until thickened, about 5 mins more. Remove from heat and stir in the almond extract. Try not to burn your tongue shoveling it in your mouth!
7. Spread jam over the almond base and smooth out. Now crumble the reserved dough on top. Bake at 350F for another 12-13 minutes or so, watching closely. Crumble topping will be golden when ready. Cool in pan on a wire rack before attempting to remove, about 30-45 mins. If you are impatient like me, just cut yourself a square right out of the pan while you wait!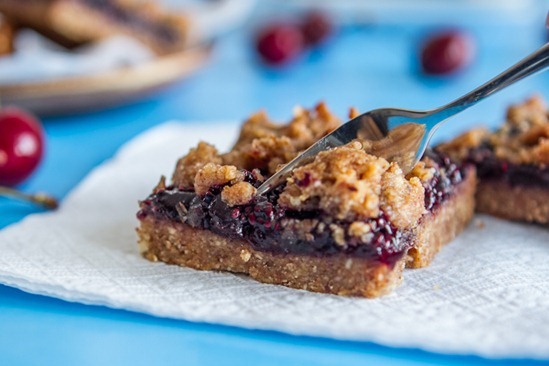 Come to mama!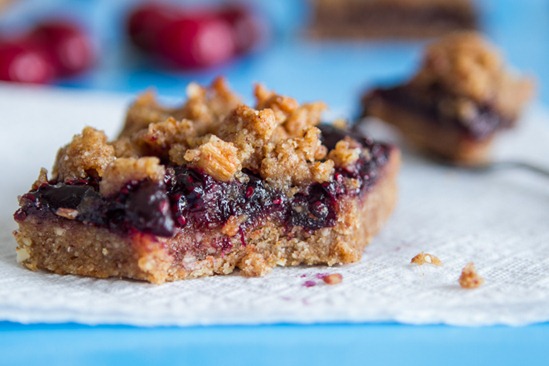 I need to hide these from Eric….he's obsessed with them and I'm trying to save some for company this weekend. Outlook not good.
If you like these crumble bars but can't have nuts, you might want to check out my oat-based square recipes below!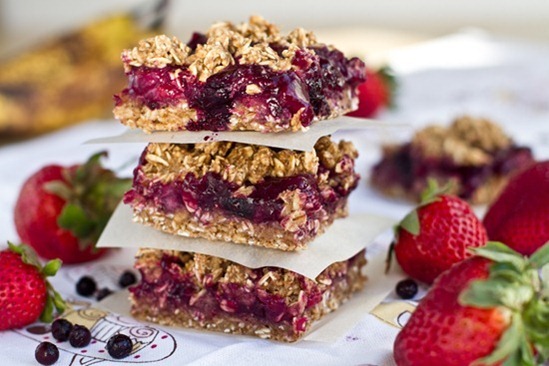 and Healthy Strawberry Oat Squares (replace the 2 tbsp almond milk with another non-dairy milk if you need it nut-free)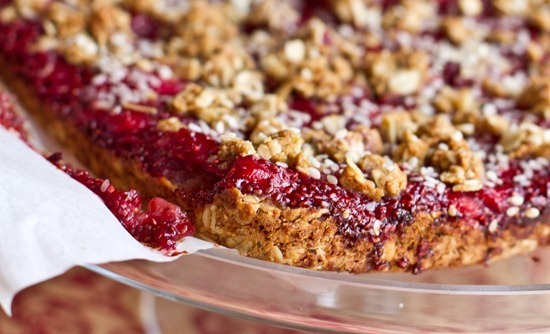 Now onto the next bag of cherries…muhauha.