[Beet, Apple, and Orange Salad in a Homemade Raspberry Vinaigrette]
Despite the torrential downpour we are getting this morning, fun things are going down…
It's June 1st.
Friday.
And it's also the kick-off of the June Salad-A-Day Challenge, also know as the month that many of us will amp up our veggie intake, crank out some amazing salads, and renew our energy during the last month of spring. I'm absolutely thrilled by your response to this challenge. I'm not sure if I would be successful doing this challenge on my own, but I know with your enthusiasm it shouldn't be very hard.
In spirit of kicking things off, here are another 5 favourite salad recipes. The beauty of many of these recipes is that one recipe makes a few servings so you can enjoy them for a few days and save on prep time as well. Or share with your family members! Don't feel like your salad has to be completely different and extravagant everyday, but if you want to do that you can too. How the challenge works is completely up to YOU. Most of all, have fun with it.
Don't forget to check out 6 more salad recipes in Monday's post. Keep your eyes peeled next week for a new salad recipe inspired by one of my favourite vegan restaurants.
1) Citrus Beet Salad with Creamy Avocado Lime Dressing (plus a trick for roasting beets)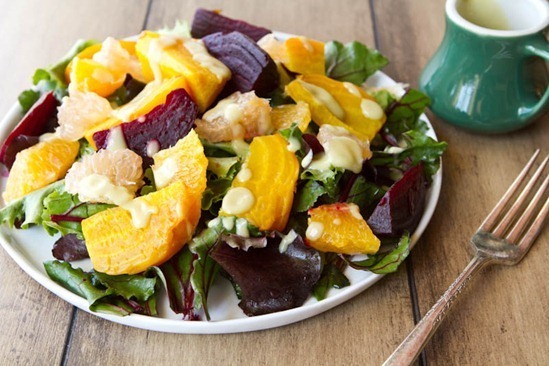 Beets are anti-inflammatory, rich in antioxidants, support detoxification, and are high in folate, manganese, fibre, potassium, vitamin C, iron, and more. [source] A handful of reasons to dig in! Feel free to add nuts, seeds, and grains if you want to give this salad a boost.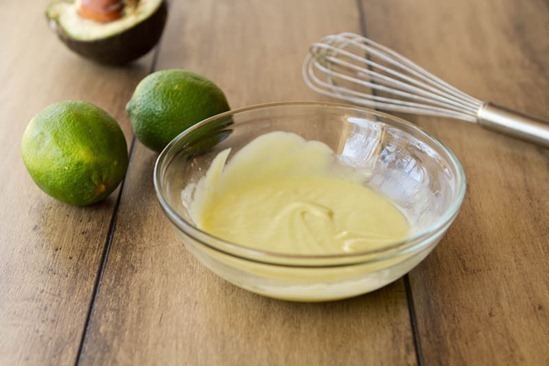 2) Over the Rainbow Salad with Lemon-Tahini Dressing (plus an easy trick for preparing cabbage)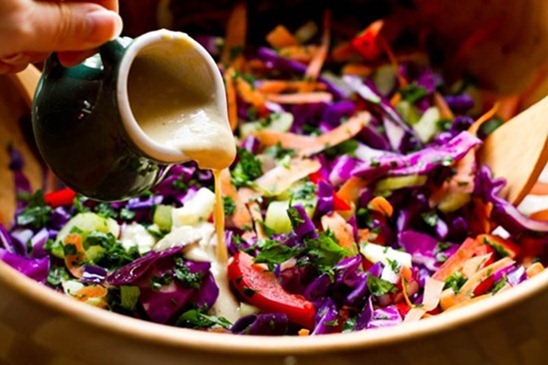 This salad made me feel so good…I was doing a happy dance in the kitchen. It was just the right mix of veggies, healthy fats, protein, and carbs to keep my energy buzzing along. As a former cabbage hater, this salad completely surprised me! I hope it surprises you too.
3) Back on Track Wheat berry and Bean Salad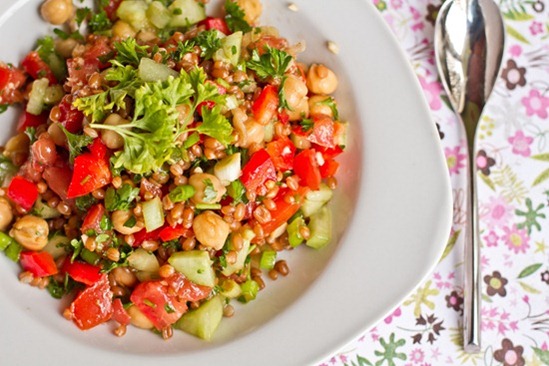 This is my go-to healthy salad "secret weapon" that I make whenever I need a nutritional boost. Not only is
it one of the most popular salad recipes on the blog, but it's a personal favourite as well. You can have fun changing it up too. See this version for a fun twist.
4) Avocado-Lime Black Bean Salad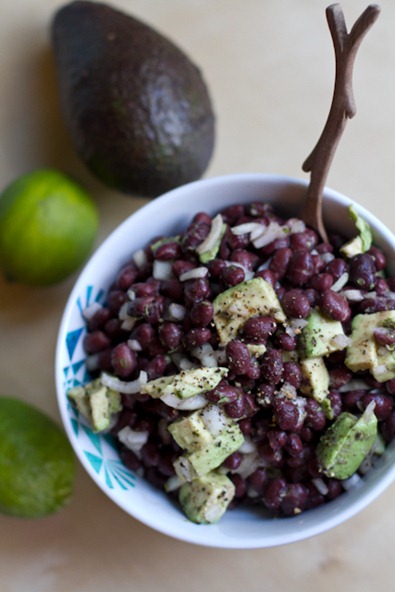 I fell in love with this quick and easy black bean salad as soon as I tasted it. The hint of lime and spicy kick from the cumin makes for a delicious and healthy salad full of protein, healthy fats, and flavour. It's great mashed up a little and thrown into a wrap too.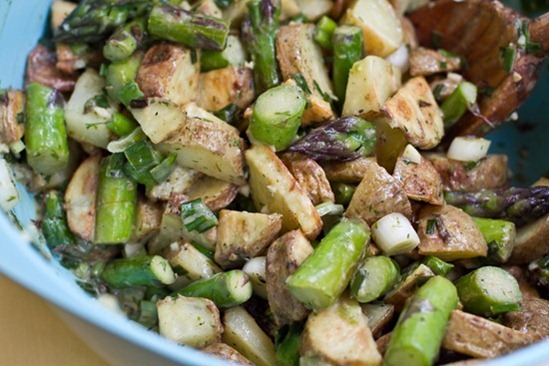 This is not your average potato salad drenched in mayonnaise and served cold. Instead, it's served warm and lightly coated with an irresistible chive, dill, and green onion dressing.
It is nice alongside Our Perfect Veggie Burgers too.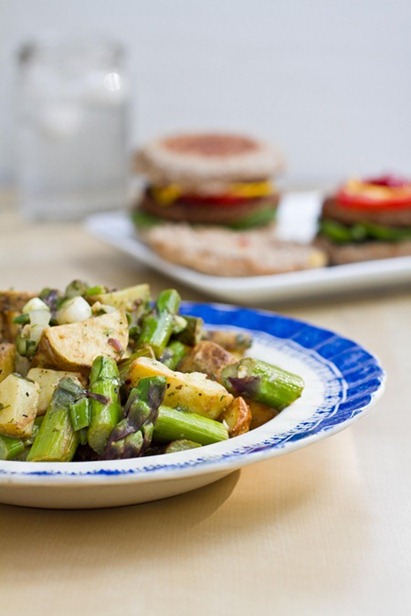 How you can join in:
– Blog about the challenge and post pics & recipes of your salads throughout the month of June.
– Tweet, Pin, Facebook, and/or Instagram your salad creations using the hashtag: #saladaday
– leave me a comment and let me know how you are doing!
– encourage your friends, coworkers, and family members to take part too.