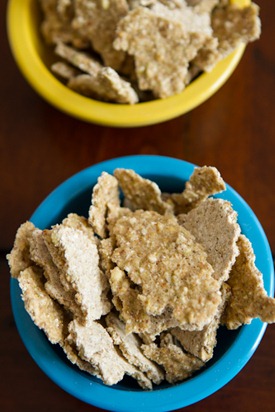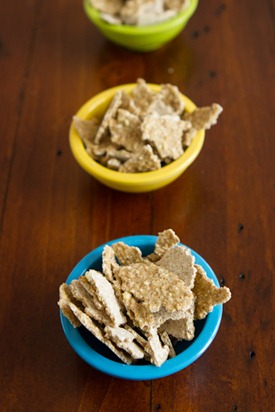 While visiting NYC last year, I had the pleasure of checking out One Lucky Duck – a vegan café specializing in raw and organic food. After seeing One Lucky Duck on so many blogs over the years, I was like a kid in a candy store when I stepped inside. And I had no idea what to buy! Everything looked amazing from their raw macaroons to raw chocolate chip cookies, all handmade in small batches. To this day, I still regret not buying a bag of their raw chocolate chip cookies!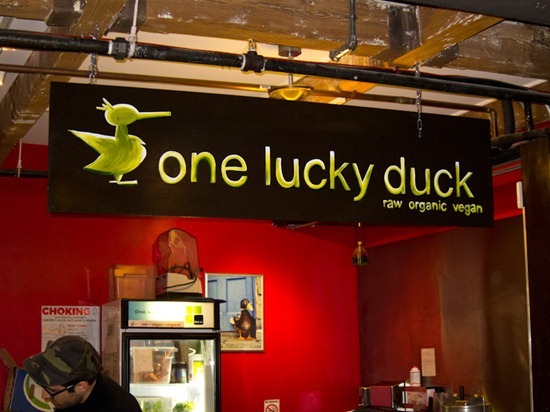 As you can see, there are all kinds of gourmet goodies one the walls, with fresh juice and snacks in the cooler.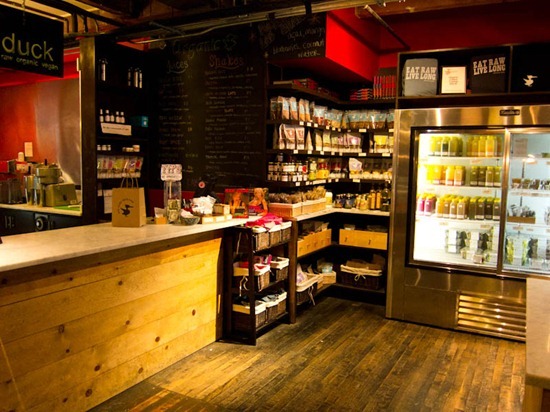 After ogling their walls for an awkward amount of time, I finally decided on raw chocolate macaroons, raw chocolate, and buckwheat crispies. Oh and a shot of wheatgrass juice for good measure. A shot of wheatgrass means that you get to eat everything you buy…wink, wink.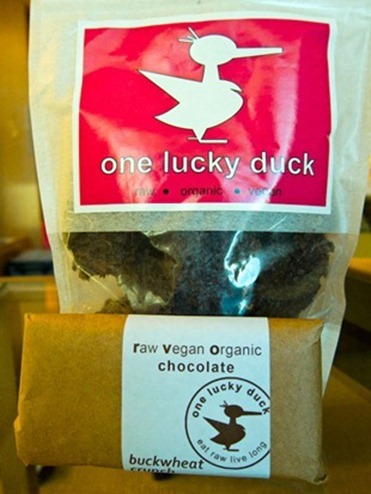 I LOVED the macaroons. I didn't care for the chocolate that much, but I've never been a big fan of many raw chocolate bars I've tried. I also loved the buckwheat crispies (below).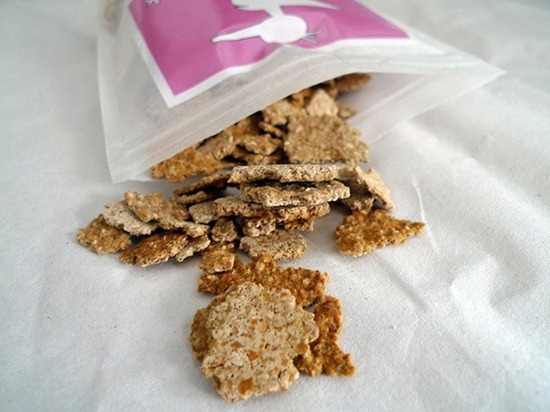 [source]
In my recap post I wrote, "Maybe I can make these at home?"
Well, I hope you weren't holding your breath! Seven months later I finally got around to it. :)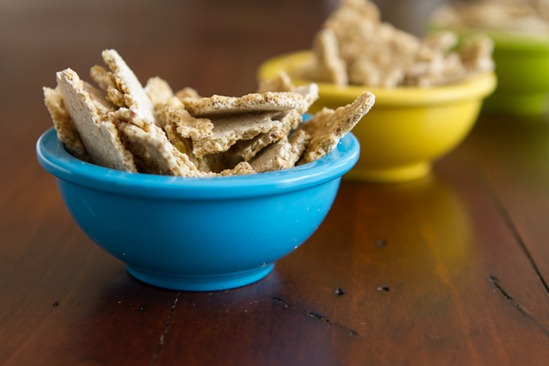 I filed the ingredients away in my mind and decided that the perfect way to break in my non-stick dehydrator mat was to take make buckwheat crispies. Nothing compares to the magic you feel when you eat One Lucky Duck goodies, but for an at-home version I was very pleased with the outcome.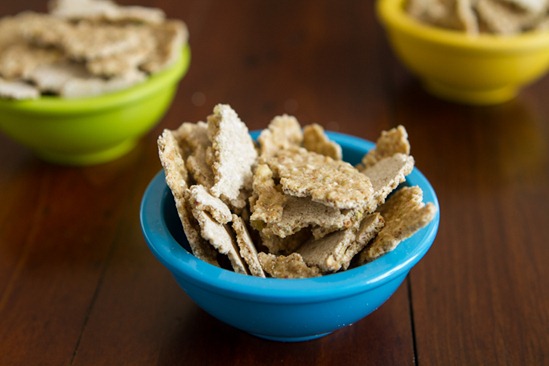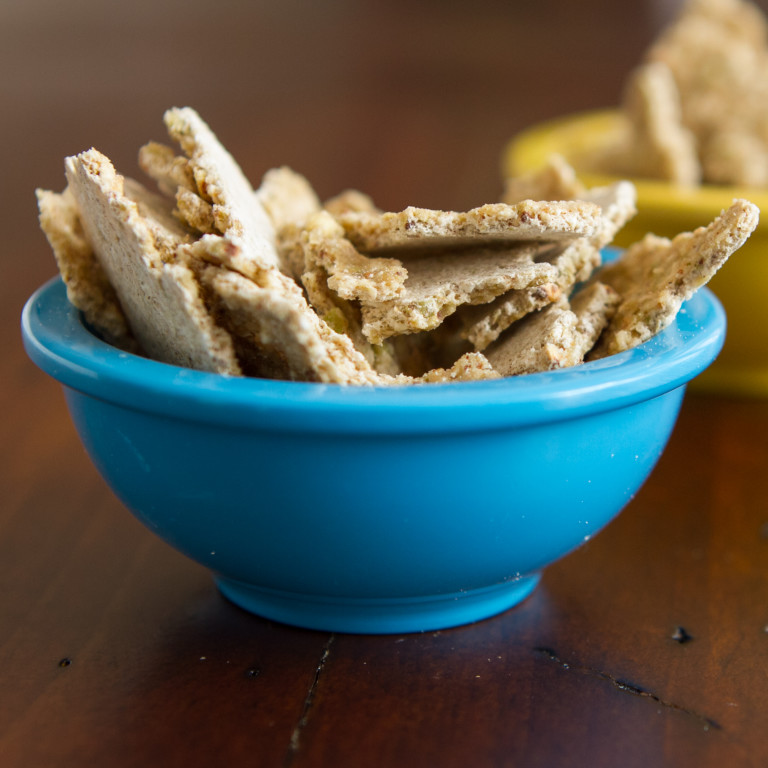 Vanilla Cinnamon Buckwheat Crispies
Vegan, gluten-free, nut-free, oil-free, soy-free

Yield

6 servings
Soak time

1-2 hours
Prep time

Cook time

0 minutes
Total time

Inspired by: One Lucky Duck
Ingredients
1 cup raw buckwheat groats (not kasha)
1/3 cup agave nectar (or maple syrup)
2 tsp pure vanilla extract
1/4 tsp fine grain sea salt
1/4 tsp ground cinnamon
Directions
Place buckwheat groats in a bowl and cover with water. Soak for 1-2 hours. Drain and rinse.
Place all ingredients into a food processor except for the salt. Process until mostly smooth. Add salt to taste and adjust sweetener if preferred.
Spread out the entire mixture onto 1-2 dehydrator trays lined with non-stick dehydrator mats. Spread out very thin.
Dehydrate for about 8 hours at 105F. When you are able to lift off the mixture, do so and break it up into a bunch of small pieces. Dehydrate for another 1-2 hours, or until crisp. Enjoy immediately and store the leftovers for 2-3 days in a container or baggie.
Nutrition Information
(click to expand)
Nutritional info (per serving, serves 6): 169 cals, 1 gram fat, 37 grams carbs, 10 grams fibre, 5 grams sugar, 4 grams protein.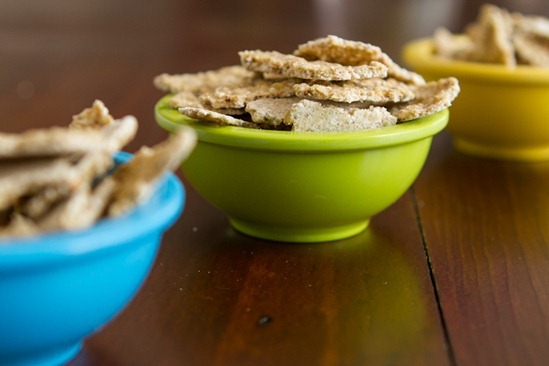 Now, to make these you do need a dehydrator and for that I'm sorry because I know it's not a common kitchen appliance. With that being said, I really wanted to be able to tell you that you can make them in the oven, but I'm afraid that my oven attempt failed horribly. I baked it at a low heat around 250F and the mixture ended up burning and it was also very bendy instead of crispy. Sadly, I do not recommend trying this recipe in your oven, unless your oven is magical.
If you do have a dehydrator, you will love how easy this recipe is. All you do is soak raw buckwheat groats for a couple hours, rinse and drain the groats, and then throw them into a processor with agave, sea salt, cinnamon, and vanilla. Pour it onto a non-stick dehydrator mat and dehydrate!
After about 8 hours, I broke the mixture up (essentially, it was one huge crispie!) and then dehydrated for another hour or two until super crisp.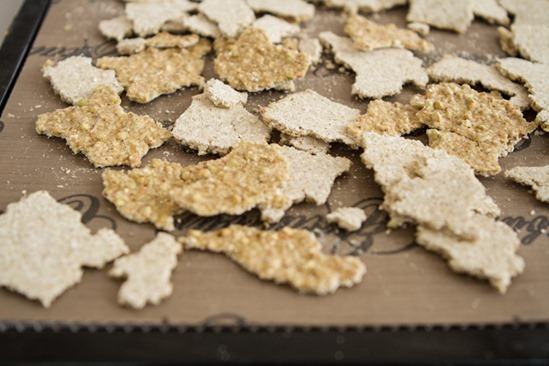 If you have the chance to visit One Lucky Duck, run, don't walk. Their raw chocolate macaroons were some of the best I've tasted. Hopefully one day, I'll be back for another visit.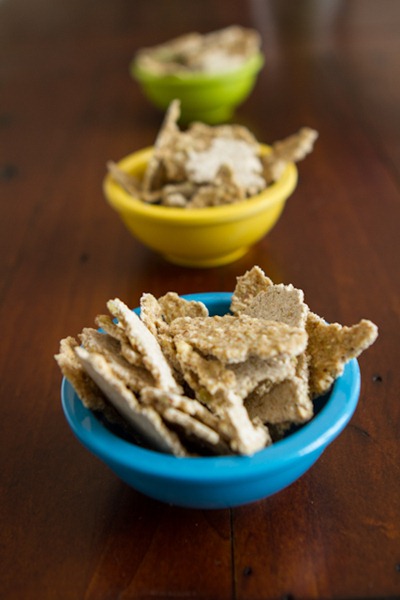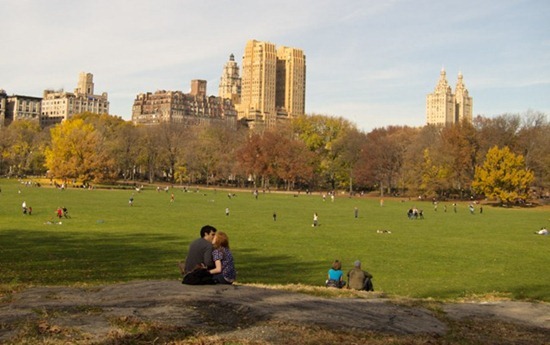 If you'd like to check out my vegan restaurant & bakery reviews (and all the sightseeing) while visiting NYC, see these posts below:
– Where's Waldo? (the clues- would you have guessed it?)
– NYC Part 1 (Central Park, our hotel, sightseeing)
– NYC Part 2 (Café Blossom, sightseeing)
– NYC Part 3 (Candle 79, Radio City Music Hall)
– NYC Part 4 (Le Pain Quotidien, Top of the Rock, WTC memorial, Blossom restaurant, Chelsea Market, Times Square/Naked Cowboy!)
– NYC Part 5 (shopping, Union Square Market, Angelica's Café, celeb sighting, Babycakes, Atlas café)
– NYC Part 6 (undocumented…muahuah)