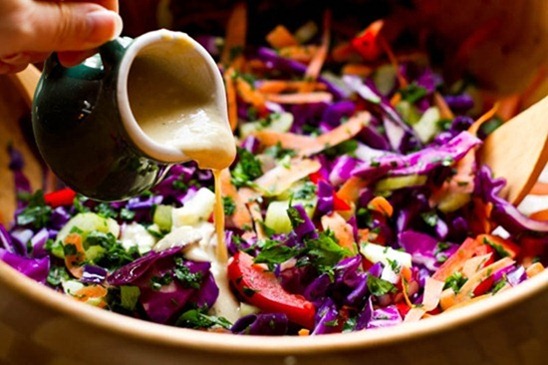 It's been a while since I've done a challenge on the blog and as I mentioned last week I've had an idea cooking in my mind for a while now. In spirit of some friendly inspiration and accountability, I'm challenging myself and all of you lovely readers to enjoy one salad each and every day for the month of June.
I have a tendency to fall off the salad bandwagon, so this challenge is an effort to bring salads back into my life and amp up the veggies in my diet as summer approaches. And I hope you will be on board too! If you already do enjoy a salad each day, I challenge you to mix up your go-to salads using new ingredients, toppings, and dressings all month long.
The challenge kicks off on Friday June 1st, but I'm giving you a few days notice in case you want to prepare. Or start today! Fill the crisper. Hit up the farmer's market. Sharpen your knives. And prepare yourself for renewed energy during the last month of spring.
Below are 6 reader favourite salads to get you started. I will be posting 5 other salad recipes shortly and hopefully a recap of my favourite easy homemade dressings for those of us who want to ditch the bottled stuff and try something new. A new salad recipe will also be featured on the blog each week during the challenge.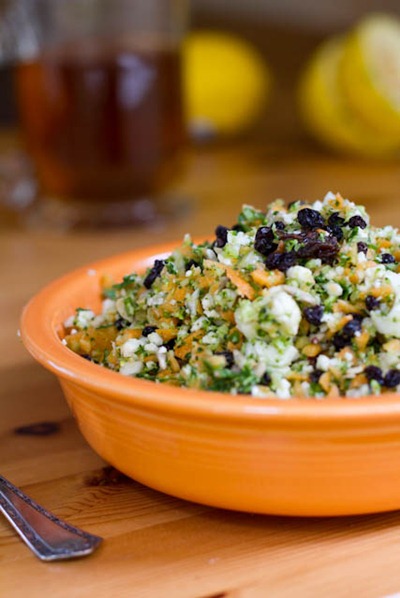 If you want to feel energized and balanced, this is the salad to start off with! It's inspired by the Detox Salad at Whole Foods. I love it drizzled with a touch of maple syrup and sprinkle of cinnamon just before serving. You will never look at raw broccoli and cauliflower the same way again…trust me on this one.
2) Spring Salad with Strawberry Basil Lemon Dressing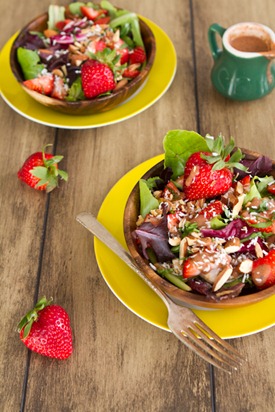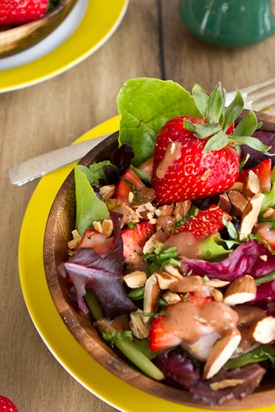 A pretty salad to honour spring and use up all of those fresh strawberries! The dressing is made up of strawberries and basil, along with fresh lemon juice, a touch of olive oil, pure maple syrup, fine grain sea salt, & black pepper. It's healthy and light, yet creamy and indulgent tasting. Pour it on top of mixed greens, chopped strawberries, and toasted coconut and slivered almonds for a healthy yet "fancy" salad.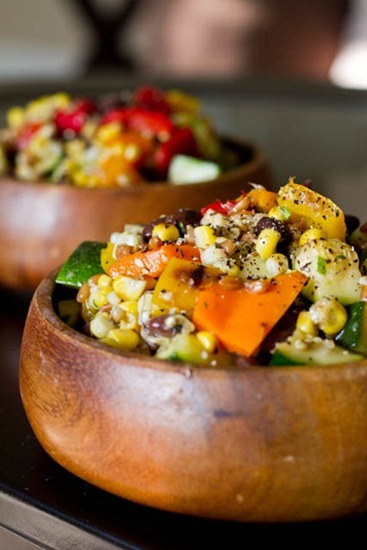 Mmm…one of my favs! Light, fresh, filling, and easy to throw together for any long weekend gathering. The fresh corn lends a light sweetness to the zesty lime dressing. A generous dusting of salt and pepper before serving really makes everything come together. You can also make this the day before and let the flavours develop overnight in the fridge. Just throw it into a container and you're good to go!
4) Red Quinoa and Black Bean Vegetable Salad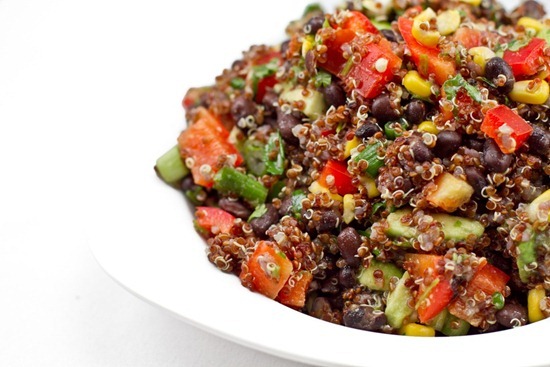 Extremely light, fresh, and packed with protein and healthy fats, this tangy cilantro and lime salad will have you dreaming of Summer.
5) Layered Salad with Orange-Ginger Dressing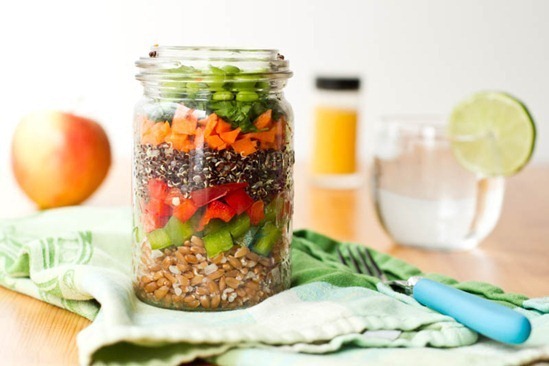 Just like the Whole Foods layered salad, but now made in the comfort of your own home. With some advance prep work, you can enjoy this salad all week long. You can also layer it in a big glass bowl for a party or BBQ, or even quicker, just mix it all up together and pour on the dressing!
6) High Protein Almond Quinoa Berry Salad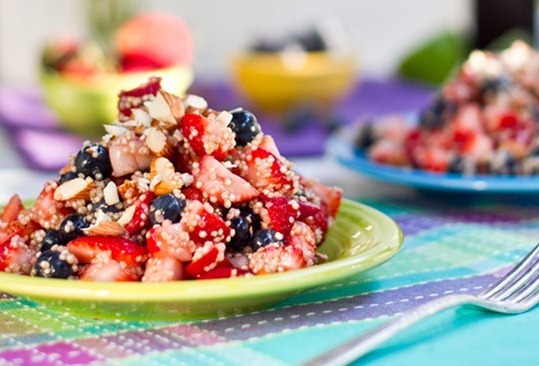 Use this fun fruit salad as a side dish, breakfast, or even dessert! Strawberries, blueberries, cherries, almonds, and fluffy quinoa are mixed with a lovely maple-balsamic-lime dressing. This would make a great fruit salad to bring to a summer BBQ or gathering too.
Want to join me in this challenge?
There are many different ways you can participate…
– Leave a comment below and commit to the salad challenge! woot woot
– Blog about the challenge and post pics & recipes of your salads throughout the month of June.
– Tweet, Pin, and/or Instagram your salad creations using the hashtag: #saladaday