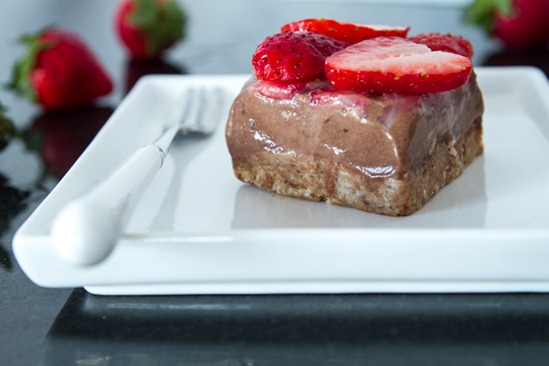 Since I made my chocolate avocado tortes (see no bake version and cooked crust version), they quickly became a favourite warm weather dessert – cold, decadent, and also two of the 21 most popular dessert recipes on the blog in 2011. The avocado is masked by the chocolate and creates a cream-like texture, richness, and body as a great base for all that chocolate goodness.
I've had a few requests to make an avocado-free version due to allergies. For this version, I ended up making a no-bake almond-oat-date-coconut oil crust (instead of this raw chocolate crust) and I used a can of coconut milk and medjool dates as main ingredients in the chocolate cream part. The can of full fat coconut milk replaces the creamy avocado and the medjool dates replace the maple syrup. I replaced the maple syrup because I thought medjool dates would add thickness to the mixture since the coconut milk isn't as thick as pureed avocado. I'm not saying that it's not possible to make one with a liquid sweetener, but this was my first attempt. I'm sure there will be others too!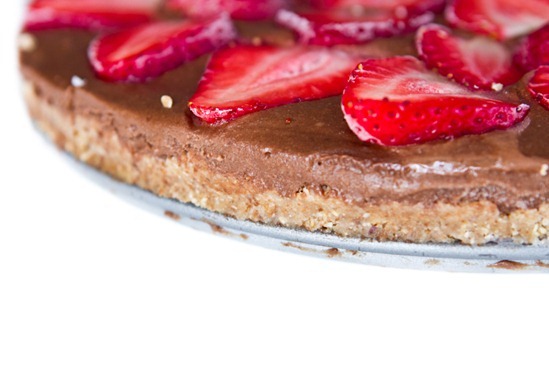 I love how this version turned out. It's still decadent like the last version, but also a bit lighter because I left out the cup of chocolate chips. The chocolate filling reminds me a lot of chocolate coconut milk ice cream. Because of this, the torte doesn't get quite as firm as the original because it has more of an ice cream texture. Originally, I tried chilling this version in the fridge overnight, but it never got firm enough. Once I transferred it to the freezer it was cold enough to set. The original torte firms up more because the chocolate chips harden as it chills. Either way, both versions need to be chilled and I like that this version is a bit lighter. Treat it like an ice cream cake and you are good to go!
Oh, and feel free to add sliced strawberries or other seasonal berries on top just before serving. A homemade berry sauce – just puree some berries with a touch of sweetener – would also be nice drizzled over top. Don't make the same mistake that I did and freeze the strawberries along with the torte. Add them just before serving, and you'll be in much better shape for slicing and eating.
Frozen strawberries, are also a pain in the butt to photograph!
As you can see: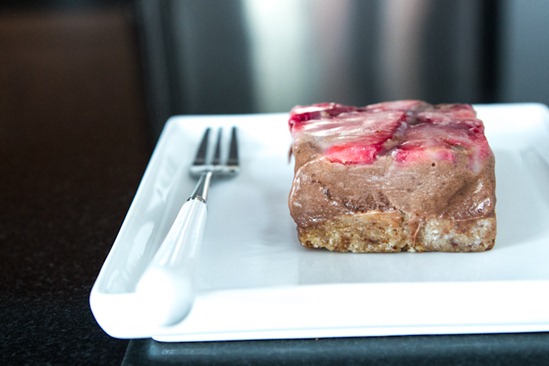 I got fed up with photographing frozen strawberries (they turn pale and icy), so I added fresh ones on top.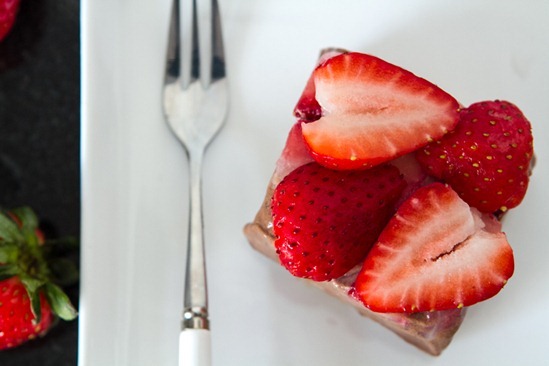 Problem solved. :)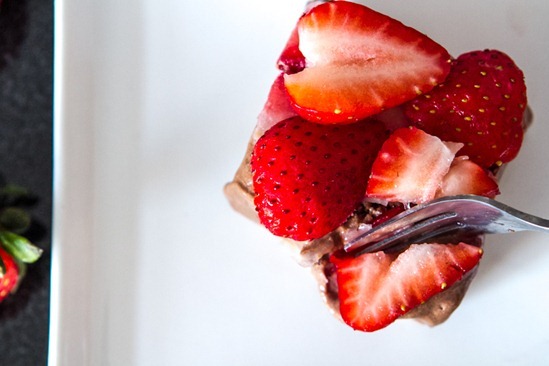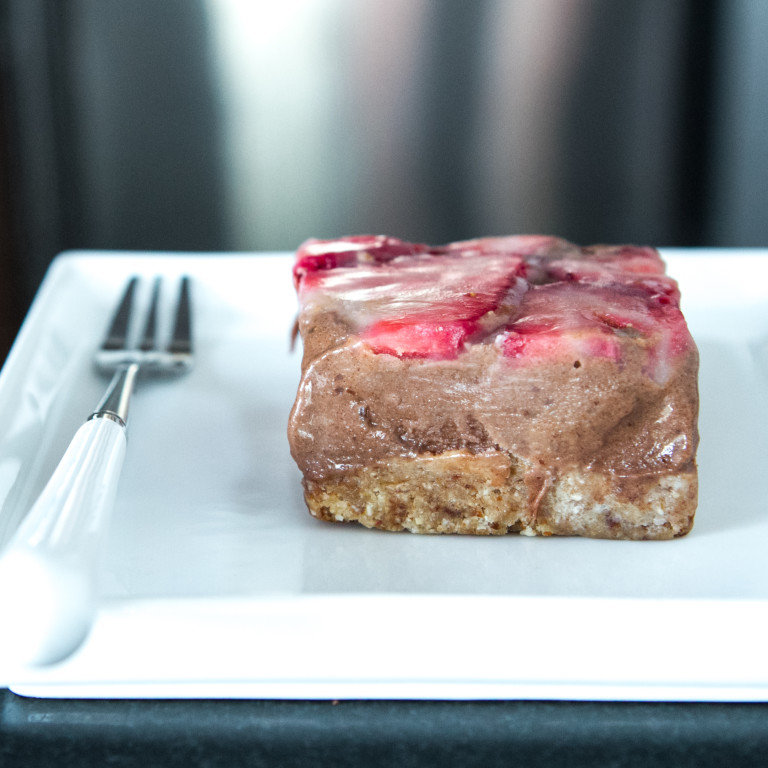 No-Bake Chocolate Coconut Ice Cream Torte
Vegan, no bake/raw, soy-free

Yield
16 squares or triangles
Prep time

Cook time
0 minutes
Chill time
2 hours
Total time

No-bake. All-natural. Vegan. Gluten-free option. Soy-free. Refined sugar-free. Chocolate Coconut Ice cream. Lovely almond-oat-date-coconut oil base. Fresh, seasonal berries on top. It's light enough for summer, but rich enough for a special treat.
Ingredients
For the crust
1 cup whole raw almonds
1 1/2 cups rolled oats*
150 grams medjool dates (about 10), pitted*
1/4-1/2 tsp fine grain sea salt, to taste
1/4 cup coconut oil
For the chocolate torte
300 grams medjool dates (about 22-24), pitted*, to taste
One can (398 ml) full-fat coconut milk
4 tbsp cocoa powder or raw cacao powder
2 tbsp cornstarch or arrowroot powder
2 tbsp cashew nut butter (or other nut butter)
1 tsp pure vanilla extract
2 tbsp agave nectar (or other liquid sweetener), or to taste
1/2 tsp fine grain sea salt, or to taste
Fresh strawberries or other berries, for garnish
Directions
Grease a 10 inch springform cake pan with coconut oil very well. I used a springform pan so it would be easy to slice and get out of the pan. Set aside.
In a food processor, process the crust ingredients together until crumbly and sticky. You want it to look a bit coarser than sand. Press this mixture into the prepared cake pan, evenly and firm.
In the processor (give it a quick wipe!), add all the torte ingredients except the agave, salt, and strawberries. Process until super smooth. Add the agave and salt to taste. Adjust sweetness if necessary. Pour this mixture on top of the prepared crust and smooth out.
Carefully place the torte in the freezer (uncovered is fine) for several hours until firm. I'm not entirely sure how long it will take to set since I started mine in the fridge. When it's ready and firm enough, place on the counter for about 10 minutes to soften up a bit. Slice, garnish with berries, and serve immediately. Will melt quickly! I sliced my pieces into squares/triangles and made about 16 pieces.
Tip:
I weighed the medjool dates with the pits still in them. I suggest weighing them if possible since medjool dates vary in size so much. For gluten-free version, use certified GF oats and check all other ingredients.
Nutrition Information
(click to expand)
For nutritional info,
see here
.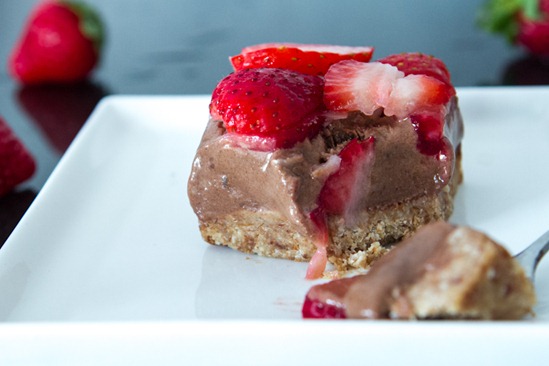 Yup, I'd say it's a winner…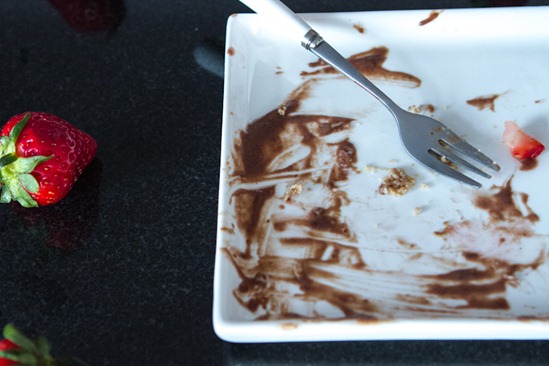 Enjoy!