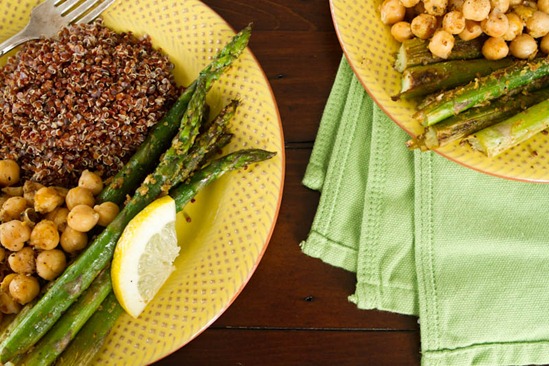 My favourite way to cook is to just grab things from the fridge and improvise. If you asked me to do this 5 years ago, I would've looked at you like you had two heads. It gets easier with practice though. Something that used to cause me so much stress is now one of my favourite ways to unwind and relax. Other days, I seem to be allergic to cooking and will do anything to avoid it. Like on a Friday. We're going to take advantage of this beautiful spring weather and walk downtown for beer & burgers tonight. Now that is relaxing!
When I do cook, my goal is to have a balance of the following:
veggies
grains
protein
healthy fats
It's a goal and not always reality, mind you. Life isn't always perfectly balanced and well-rounded and I don't expect all of my meals to be either. But I do try my best, even if some nights we sit down – happily – to big bowls of cereal.
For quick meals, I like to sauté vegetables because they are ready in about 10 minutes or so. Steaming is also quick and healthy. I also rely on quick-cooking grains like quinoa and couscous if I'm in a rush. Quinoa is ready in about 15 minutes and couscous in about 10 minutes. That's hard to beat.
For this meal, I threw asparagus into a skillet with olive oil, lemon juice, zest, breadcrumbs, nutritional yeast, Herbamare, and pepper. Meanwhile, I cooked the quinoa on the stove-top. Just before serving, I threw in a (drained and rinsed) can of chickpeas and heated it with the asparagus mixture.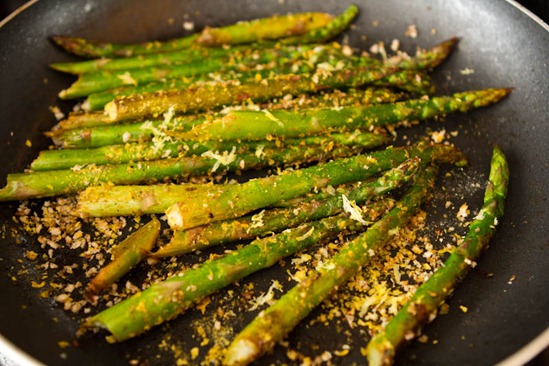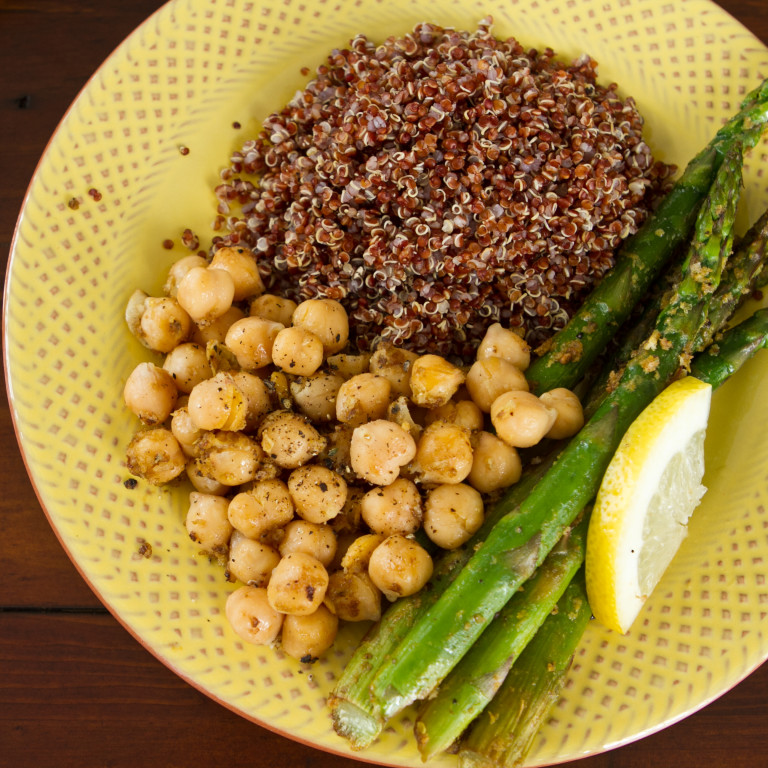 20 Minute Vegan Dinner for Two
Vegan, gluten-free, soy-free

Yield

2 servings
Prep time

Cook time

Total time

Ingredients
For the quinoa
1/2 cup uncooked quinoa
3/4 cup water
Herbamare or salt, to taste
pat of soy-free Earth Balance spread, stirred in at end
For the asparagus & chickpeas
1 bunch asparagus, rinsed and ends broken off
1 tbsp extra virgin olive oil
1 tbsp fresh lemon juice
2 tbsp nutritional yeast
1 tbsp breadcrumbs (Panko)
Lots of Herbamare (or kosher salt) + freshly ground black pepper
Pinch or two of lemon zest
Can of chickpeas (BPA-free), drained and rinsed
Directions
Rinse and drain the quinoa in a fine mesh strainer. Add into pot with water and stir. Bring to a boil, uncovered, and then reduce heat to low and cover. Simmer on low for about 15 minutes or until the water is absorbed and quinoa is fluffy. Set aside (you can leave the lid on until ready to serve). Stir in a pat of Earth Balance and season with Herbamare or salt and pepper.
In a large skillet, over medium heat, sauté the asparagus in the olive oil and lemon juice and season generously with Herbamare and pepper. Add a minced garlic clove if preferred. Cook for about 10 minutes, tossing frequently, until tender and slightly browned. Reduce heat and stir in the breadcrumbs, nutritional yeast, and zest. Drain and rinse a can of chickpeas and stir into the asparagus mixture then sauté until heated through.
Nutrition Information
(click to expand)
This meal serves two portions at about 450 calories each.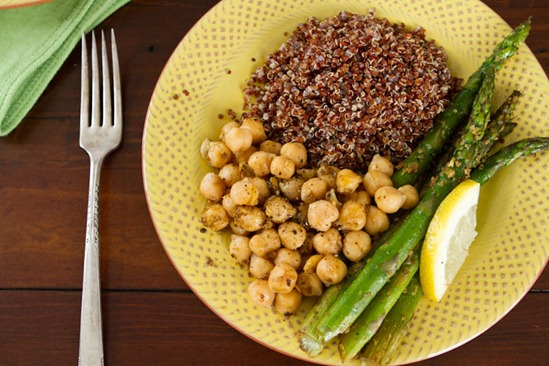 There's no need to go to complicated measures for a meal that feels special. Sometimes simple trumps anything else. Plus, it's fancy…did you see that lemon slice?
What are your favourite staple dinners?
In other news, the Vegan Online Shopping Guide is now updated as of this morning. There are SO many cool stores to check out. Thanks for all your suggestions!