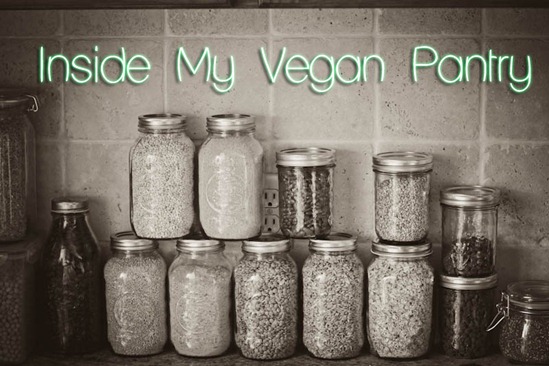 One of the requests I receive often is to write a post on building a vegan pantry, providing a list of the ingredients that I use the most. I'm a bit embarrassed by how long this post has taken me to put together, but as they say, better late than never. Or is it better never than late…heh.
This post is by no means exhaustive (nor do I think you need all or even most in your own pantry), but it does highlight many of my favourite foods that I have relied on for about 3 years now. Feel free to use it as inspiration for your own pantry. I also haven't included vegetables or fruit because my favourites tend to change based on the seasons. Underneath each photo, I'll list the name of the foods from left to right. You can also click on each picture to enlarge the photo if you wish to have a closer view of the product.
This post will also be linked from the top of the blog (see: "My vegan Pantry") for easy access. You'll find a printable PDF at the bottom of this post so you can print the list out and bring it to the store as a shopping list if you want. I hope you find it useful.
My best tip for building a pantry is to buy in bulk whenever possible whether in store, online, and/or via a buying club such as with ONFC (see my note below for discussion). One of the great things about eating a vegan or vegetarian diet is that many of the staple foods we enjoy cost just pennies per serving. Once you have a good base of grains, spices, and legumes built up the rest is just icing on the cake.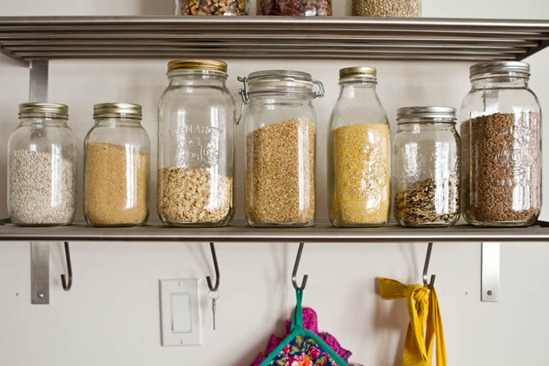 Grains:
Pearled Barley
Couscous
Rolled, Old-Fashioned Oats
Short-grain brown rice
Millet
Wild & brown rice
Speltberries
Not shown: Farro, kamut & brown rice pastas
Some of my fav flours:
whole wheat pastry flour
light spelt flour
oat flour
almond meal or almond flour
kamut flour
brown rice flour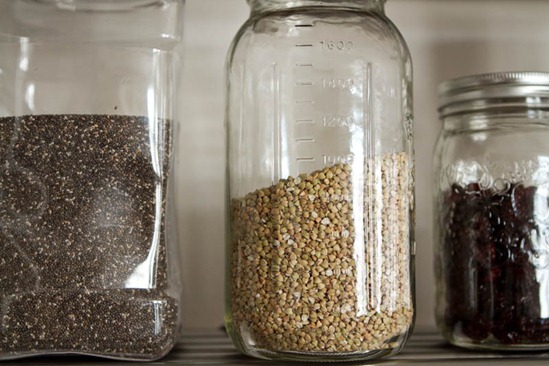 Buckwheat is in a class of its own. It can be used just like a grain, but it's technically a fruit seed (and often called a "pseudocereal"). I buy Raw Buckwheat Groats, which differ in flavour from kasha (toasted buckwheat). Personally, I prefer the flavour of raw buckwheat.
One of my favourite ways to enjoy raw buckwheat is in this raw, no cook breakfast porridge. It's sooo good and fun for spring and summer mornings. You can also blend it up at night and there is no work in the morning, similar to vegan overnight oats.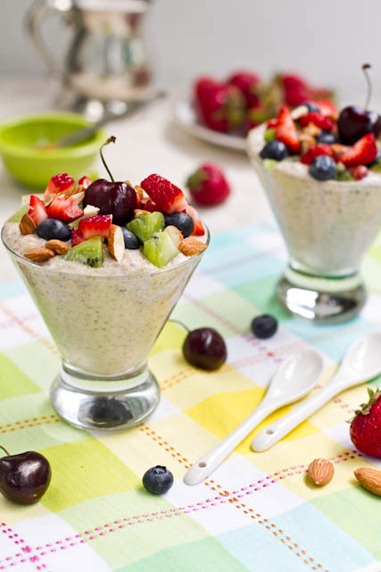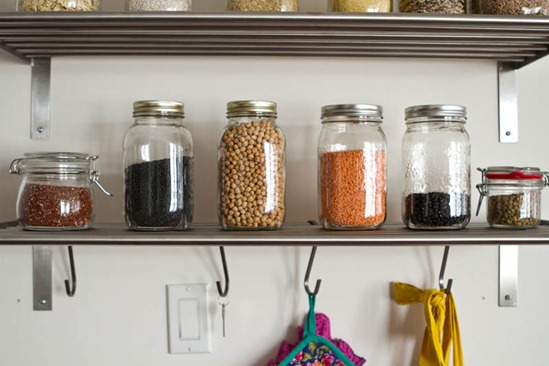 Beans/Legumes:
Quinoa (technically a pseudocereal, but since it's a complete protein I list it here)
Black Beluga Lentils
Chickpeas
Red Lentils
Black Beans
Green Lentils
Firm or Super firm organic, non-GMO tofu
Not shown: Red kidney beans, navy beans, black eyed peas, split peas, edamame
You might also want to try cooking beans with a piece of kombu to aid digestion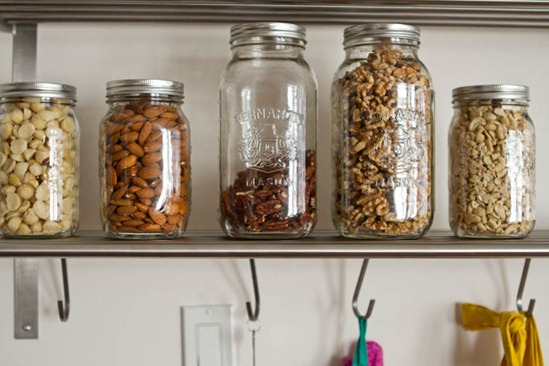 Nuts: (all raw)
Macadamia
Almonds
Pecans
Walnuts
Cashews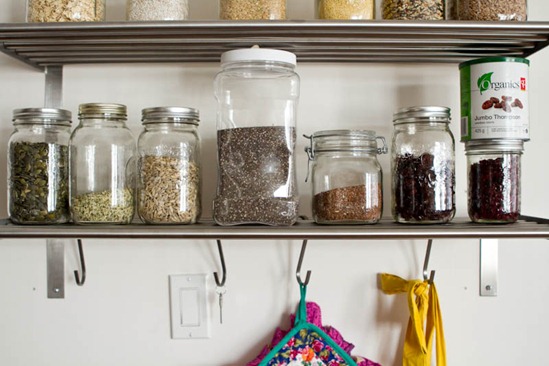 Seeds & Dried Fruit: (seeds are all raw)
Pepita Seeds
Hemp Seeds
Sunflower Seeds
Chia Seeds
Whole Flax Seed
Dried & sweetened Tart Cherries
Dried & Sweetened Cranberries
Raisins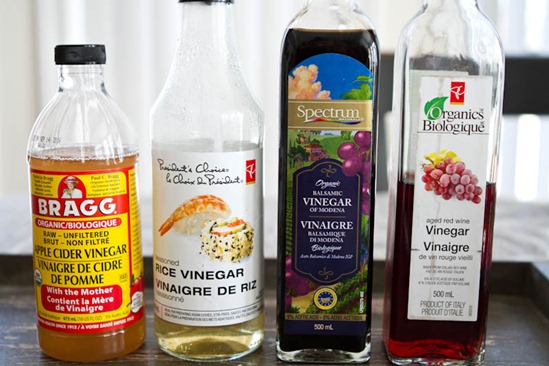 Vinegars:
Raw Apple Cider Vinegar
Rice Vinegar
Organic Balsamic Vinegar
Organic Red Wine Vinegar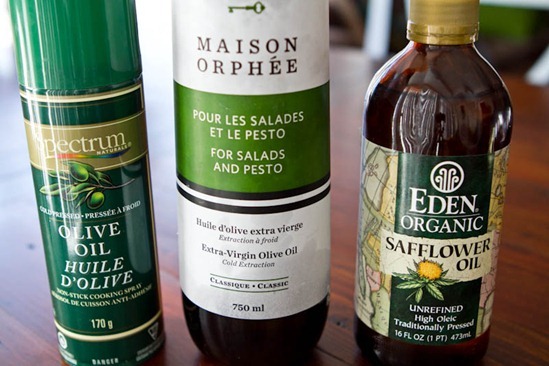 Oils:
Spectrum cold-pressed Olive Oil spray
Cold pressed Extra Virgin Olive Oil
Unrefined Safflower Oil or toasted sesame oil
Occasionally, soy-free Earth Balance in the red tub.
Not shown: cold-pressed organic extra virgin coconut oil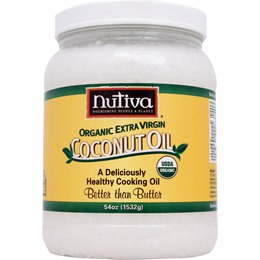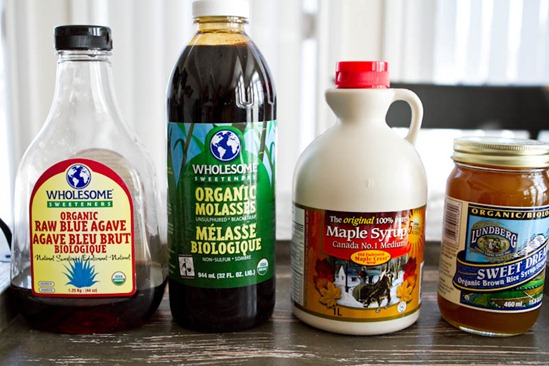 Sweeteners:
(I stock a lot since I'm big into baking)
Raw Agave
Organic Molasses
Pure Maple Syrup
Brown Rice Syrup (unfortunately controversial right now, due to discoveries of arsenic in some syrups and other brown rice products)
Organic Dark Brown Sugar
Organic Sucanat sugar
Organic Cane Sugar
Raw Coconut Sugar
Medjool Dates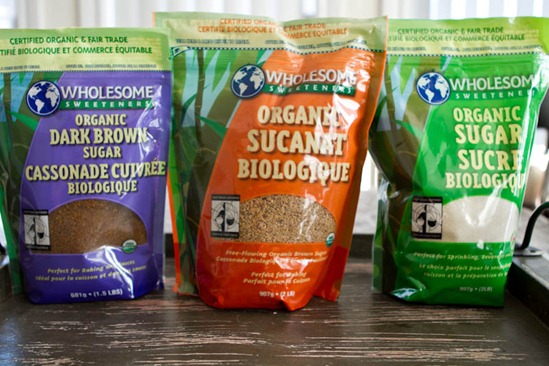 At first glance, you might think that sugar is vegan, but unfortunately some brands use animal bone char to whiten the sugar. Yet another reason to move away from refined & bleached white sugar whenever possible.
I've also recently discovered coconut sugar, but I'll be talking about that in another post.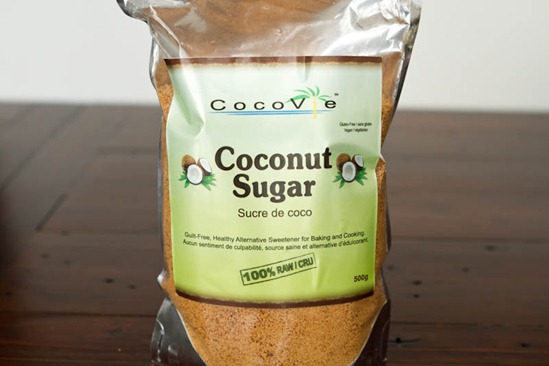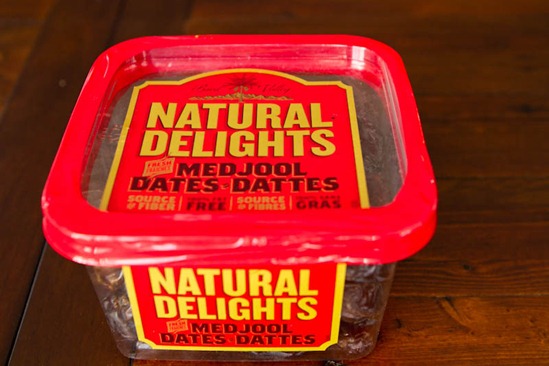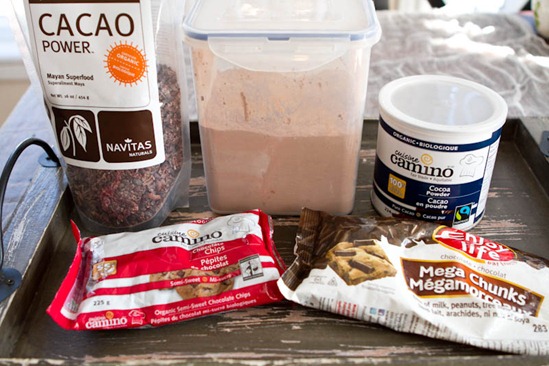 Chocolate certainly deserves its own category!
Camino Semi-Sweet Chocolate Chips
Enjoy Life Chocolate Chips (I enjoy the mini chips much more than the chunks actually)
I often end up buying my chocolate chips in bulk though and just make sure they don't contain dairy
Cacao nibs
Carob Powder (I buy from Bulk Barn)
Camino Cocoa Powder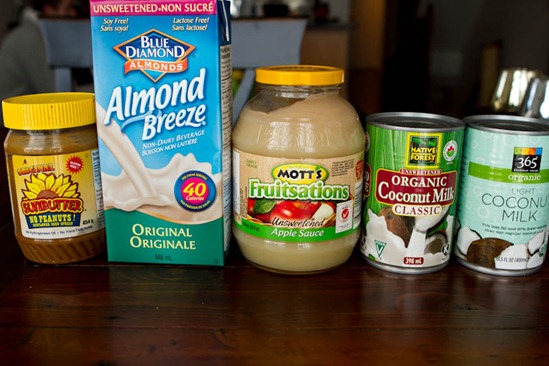 Odds & Ends:
Nut & seed butters: Sweetened sunflower seed butter, raw almond butter, roasted natural PB
Almond Milk (I usually buy "unsweetened, original" for ease of use in recipes)
Unsweetened applesauce
Full fat coconut milk
Light coconut milk
Not shown: Coconut Butter (I often make my own)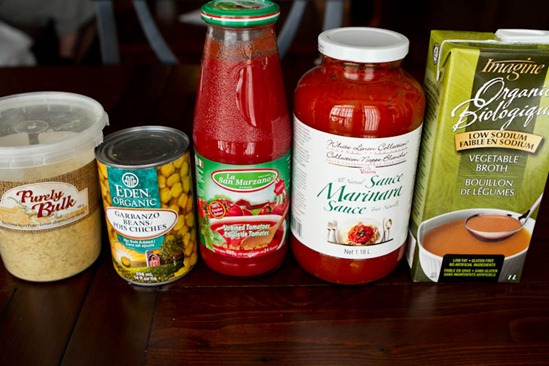 Odds & Ends Part II
BPA-free Canned Beans
Strained Tomatoes
White Linen Collection Marinara Sauce from Costco
Low-Sodium Veggie Broth (or bouillon cubes for more cost savings)
Not shown: Low-sodium tamari, Aluminum-free baking powder, Cornstarch or arrowroot flour
Finally, my spice collection- which went from virtually nothing 5 years ago to a big and growing collection at present day. My love for spices grows as I experiment more in the kitchen. There is never any need to eat boring & bland food on a healthy diet.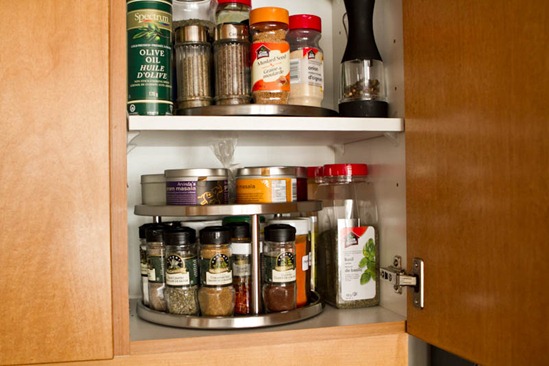 My spice collection:
(I put a star beside the ones I use most frequently)
anise seed
allspice
basil*
bay leaves*
caraway
cayenne*
celery seed
chili powder*
Chinese 5 spice
cinnamon*
cream of tartar
cumin*
curry masala*
dill*
dry mustard
Fine and coarse sea salt*
garam masala*
garlic powder*
ginger*
ground cardamom
ground cloves
ground coriander seed
ground nutmeg
Herbamare***
kelp granule
Kosher salt* (unbleached, better flavour than regular table salt)
marjoram
mustard seeds
nutmeg*
onion powder*
oregano*
paprika*
red pepper flakes*
rosemary
sage leaves*
smoked paprika*
star anise
thyme leaves
turmeric
Whole Black peppercorns*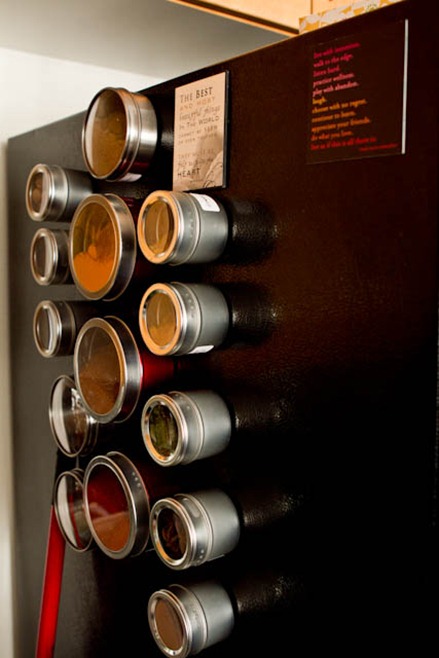 For a printable PDF of this list, click here.
Finally, I'd love to have a discussion about vegan-friendly stores (both online and in person) to purchase food products. I think a list of resources would be wonderful for new vegans and long-time vegans alike, especially when price-comparing and trying to save a few bucks.
If you'd like to join in on the discussion and offer your suggestions or even ask a question on where to find something, feel free to do so below! I will help as much as I can and I'm sure many of you have great pieces of advice too!